Bold steps that launched a revolution
20 years after a group of friends launched solar power panels in rural Sri Lanka
The trio first met in Toronto, 20 years ago and the relationship blossomed into entrepreneurship; chasing an idea together, convinced it would work and committed to its sustenance.
Result: solar powered panels for mostly, un- electrified rural homes that triggered a revolution in the use of this energy source. From virtually a few dozen solar panels installed in rural homes before 1996, the industry – thanks to the conviction of this trio – has grown to over 100,000 units, today.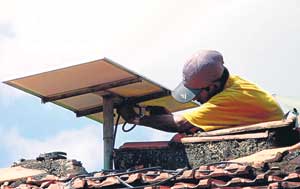 installing the system
When Viren Perera and Lalith Gunaratne, two cousins, completed their university studies in Canada, they were bitten by the travel bug and wanted to travel for the next two years.
"We planned to go to London to Australia, work there for a year and then return to Canada to settle down," recalled Perera. Pradip Jayawardene was working in Toronto at the time.
But seven months into their good-time holiday in Sri Lanka changed all that – and their future too. In Colombo they cottoned on the idea of putting together a solar powered motor pump. It was mid-1985.
"There was a lot of sun, lot of people didn't have electricity and this idea had potential and scope. We first thought of mobile solar water pumps for farmers mainly for irrigation but with a secondary use for lighting," Perera said. They discussed plans with legendary inventor Ray Wijewardene who put them in touch with P. Sumanasekera, founder of Vidya Shilpa, which was manufacturing scientific and lab equipment for schools and also dealing with solar PV modules and systems.
Says Gunaratne: "He was a pioneer in providing electricity to CEB. He took us under his wing and helped us to make the first prototype solar powered motor pump."
The young 'drifters' sensing a business opportunity and a national urgency to provide an easy solution to electrify rural homes, changed plans to visit Australia and went back to Canada.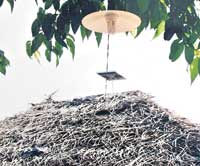 One of the first few panels
Together with Jayawardene, they set up Power & Sun Pvt. Ltd and in Canada worked on sourcing parts to manufacture the panels in Sri Lanka. At that point they learnt about a USAID programme to help small business and made a request for a feasibility study to be undertaken on the potential for solar power.
"These two guys wearing shorts walked into our office in April 1985 and I was then asked by our senior partner to study their project," recalled Thilan Wijesinghe, then a rookie consultant for Coopers & Lybrand management consultants. Wijesinghe was himself raw in the field of management, having just returned from the US after completing studies in management & planning, accountancy and economics.
Coopers looked at the proposal but found that the internal rate of return (IRR – the international yardstick for a financially viable project) was below the accepted seven percent. It was not financially viable.
Luck however turned in favour of the trio. Wijesinghe was dropping off a USAID visiting consultant, who was also involved in the study, at the Galadari Hotel after a late evening working session when they bumped into Perera and Gunaratne in the lobby. The duo had come to the night club
"We then told them that it was not financially viable and planned such a recommendation," Wijesinghe said but Perera and "Lefty" (Gunaratne) didn't take no for an answer.
"They were absolutely convinced this would work and asked us not to look at this plan in terms of just numbers but as a national project. They were very convincing and persuasive," he said. Perera, happy-go-lucky and fun-loving, then changing the conversation persuaded Wijesinghe and his foreign colleague to join them in the night club. "We were all single," laughed Wijesinghe, who was impressed by the duo's determination.
The next morning, the 'refreshed' Cooper's team looked at the figures again, reworked it with some new data and – hey presto – came up with a better IRR and a more financially viable project.
Twenty years down the road the solar project has proved to a successful business and social enterprise, a model for other countries when it came under the Shell wing, and financially viable.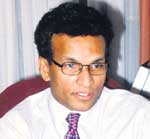 Thilan Wijesinghe
The Coopers feasibility study on the potential for solar power was the only research of its kind at the time and was carried out in 1,500 households in various districts.
It found that a few rural households used car batteries to generate power with the head of the household taking the battery on his motor cycle and charging it every 3-4 weeks. One of the most interesting discoveries was that the bigger demand for solar panels came from towns and villages that already had access to electricity, not those that didn't have this precious commodity.
In towns where the power lines were all over the cost of getting electricity however to one's house was too high while in the villages without power, they didn't have a clue about power and cost and relied on politicians who had promised power.
Thus residents who were aware about the need to get power and the prohibitive cost of getting power from the nearest lamp post, realized that solar power could cost much less.
Power & Sun eventually set up the factory with funding from DFCC and NDB and started operations in 1988 but almost immediately ran into a major problem – the JVP insurrection.
The first panels under the brand name SUNTEC were launched on July 10 and at the end of the month there was absolute anarchy in the country. The company sold 150 units in August but never bettered that mark for many years due to the unrest.
Nevertheless the company had 23 teams going across the country organizing demonstrations and promotion on the use of solar power.
Lessons for entrepreneurs
Says Gunaratne; "the JVP insurrection was the problem but one of the ways we tackled restrictions on doing business was to come up with innovative methods of reaching the village."
Power & Sun placed an advertisement in newspapers announcing the new technology and asked young people to send an essay on how this technology could benefit their village. There were 600 responses, and the interest "just blew us away," recalled Gunaratne.
The company ran 3-day training programmes with 20 participants at a time, and gave them a low down on solar power and its impact. The youth visited their factory and "we felt among them would have been sympathizers or even JVPers. So we were able to break barriers in the village and continue to do business."
But the uncertainty was killing the business and the banks were not willing to plough in more funds into a venture that was turning out to be a losing proposition.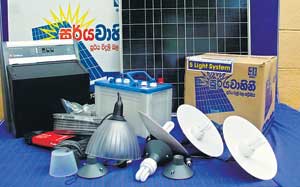 The new range of products
Jayawardene, getting into the conversation as the three happily went down memory lane in an interview with The Sunday Times FT at the Colombo Swimming Club, said at the time solar power was popular in most countries. "We too felt it would work in Sri Lanka."
The trio brought together an interesting combination of economics (Perera), engineering (Gunaratne) and marketing (Jayawardene) into the business but none had any theoretical knowledge of solar power.
"It was new experience but a lot was based on common sense and what we thought was right," said Perera.
No one at that time realized solar power had a captive market. There were 2.5 million homes in Sri Lanka without electricity in 1986 and Power & Sun projections for 2000 found that at the current rate of power expansion, then, there would still be two million homes without electricity, providing a tremendous opportunity for an alternate low-cost energy source. The opportunities were actually unlimited and still are for solar power, probably the cheapest amongst other options. With the rapid growth in housing the expansion in national grid power is unable to keep pace with the number of new housing. Power & Sun projections found that if in 1986 there were three million homes, that number was seen rising to five million by 2000.
There are now 14 companies in the same business, with Jayawardene's own firm – Suriyavahini Ltd – among the biggest. The potential and target in coming years for the industry is to reach 600,000 households with solar panels.
Initially the company sold the solar panel for Rs 7,000 while the customer separately obtained the lights and battery. A basic unit has five light points and power for the radio and a black and white TV. (Now a total package is offered by solar companies).
Subsequently the World Bank came into the picture after the three directors lobbied with the government for support.
By that time however, the company was losing money rapidly and at this point Perera and Gunaratne, the one-time drifters, decided to seek their fortunes elsewhere while remaining shareholders in the company. "We felt it was a drain on the resources for all three to remain. Jayawardene continued to run the business," Perera said.
Perera together with Wijesinghe, who was earlier coaxed to join the trio as a director at Power & Sun, moved on the launch Asia Capital which stunned the business world by acquiring majority stakes in the Oberoi Hotel and Trans Asia. The main investor in this alliance was Malaysian businessman Azmi Wan Hamza who – in a little known fact - also took a 50 percent stake in the troubled Power & Sun to bail out the firm. The company was then re-named Solar Power & Light Co.
The World Bank entered the picture with a funding mechanism for solar units through SEEDS, the economic arm of Sarvodaya. Shell entered the scene in 1999-2000 and acquired the company with Jayawardene moving on to be managing director of the Shell-run solar power firm. Jayawardene says Shell invested two million US dollars in the project and the solar power industry took off with Sri Lanka being the biggest solar power market in world in terms of per capita except for Bangladesh which had a slightly higher share.
The Sri Lanka project was well run and became a model for emulation by many countries with officials from Brazil, Africa, Indonesia, Nepal and the Philippines visiting here to learn about its success.
Jayawardene says the industry, with Sri Lanka strapped for inexpensive energy, is now looking at the urban market which never came into the picture before. "There are some two billion people in the world who have access to solar power. In 2025, 16 percent of the global energy needs will come from solar – the same as hydropower today," Jayawardene says
Any regrets for starting a business that almost failed? "Absolutely not," says Perera. "This was a major, major step that shaped our lives."
Gunaratne, now into management consulting and also a solar industry specialist who has presented many papers abroad, said if they didn't take this step, they would be in Canada leading an ordinary suburban life with a mortgage to boot.
Any comeback by the trio to set off another revolution? Perera, who runs an eco-resort described as the best yoga retreat in the world, laughs in response: "then it was the right combination of knavish, energy and enthusiasm. We don't have that anymore."
Light moments and anecdotes
Though Perera, Jayawardene and Gunaratne went through tough times in the initial years of this project there were also the light moments and the joy of working in the village.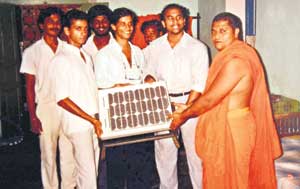 Pradip, Viren and Lalith handover a panel 20 years ago
One of Power & Sun's first agents who is still with Jayawardene at Suriyavahini today sold a solar unit to a couple whose little son was born with some kind of defect. A lot of phlegm is produced in the brain and has to be sucked out through a small hole in the throat by a machine. The solar power system was essentially purchased to power the machine.
"The child is now about two years old and the agent visits them regularly and ensures the machine is running perfectly. If there are repayment arrears of the solar power system, the agent takes care of it himself," said Jayawardene.
In another instance, Pradip Jayawardene, most active in the industry than the other two, was given a sheaf of paddy as a blessing when he quit Shell to start his own company. "This is traditionally given to the gods after the first harvest, but he gave it to me because his child had passed the exams with the help of solar power," he said.
Viren Perera recalls that at Power & Sun, things always went wrong. There were always problems but lessons were learnt and suggestions valued so much so that when he launched Asia Capital, "issues that would freak others were nothing to me as we had gone through crises after crises on a daily basis with one worst case scenario following another at Power & Sun." His keyword now in problem-solving is "common sense."
Even when the JVP crisis blew up in their faces, life went on and the trio had a great time. "In the worst of times when everything was virtually caving in -- we'll put things on ice and go to the club for a drink … have a whale of a time – return home at 5 in the morning and come back to the office on time."
They had a glass partition in the office which separates the directors and the rest of the 20-odd staff at the factory.
"At the beginning we were conscious in keeping a straight face despite our troubles and the staff would watch us to gauge our reaction. Invariably we would talk about the previous night and end up howling with laughter – then we come up with a crazy idea that becomes a solution," Perera says, adding that the staff would see us and probably think that the "company may not be in a bad shape as feared".
The three directors also did everything themselves along with the workers – that meant unloading goods or sweeping the floors.
Underprivileged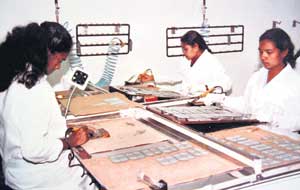 The factory
When Jayawardene worries over a business problem, he goes to the field, meets customers, gets rejuvenated and returns to office, refreshed.
Lalith Gunaratne recalls how his car would be filled with rice and food from rural folk whenever they visited. "You feel bad about this hospitality.
"Here we were selling them a solar system and they treat us as if we brought them light and a miracle to help their kids."