The great reformer of education
The 'Father of Free Education,' C. W. W. Kannangara was born 122 years ago in the month of October. He was born on October 13, 1884. It has been universally accepted that no other Minister has done more for the promotion of education in Sri Lanka. His proposal to let a child have his or her education from kindergarten to university without paying a cent was indeed a revolutionary concept. No wonder he had to go through with it in the teeth of bitter opposition from the socially and economically privileged groups including several of his senior political colleagues.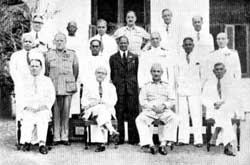 As a member of the Board of Ministers, C. W. W. Kannangara (third row second from left) was a member of the War Council set up in 1942 during World War II.
The legislation to end fees for tuition from school to university was introduced by him as Minister of Education in the pre-independence State Council when the Executive Committee system was in operation. The move turned out to be one of the earliest social welfare schemes in Sri Lanka.
In addition to free education, during his 17-year period of service as Minister of Education, he initiated extensive reforms. The two-tiered school system with English for the privileged classes and vernacular for the rural masses was abolished. He introduced the mother tongue as the medium of instruction and reformed the curriculum with a vocational and cultural bias. Pirivena education was upgraded and the university was inaugurated. He was instrumental in establishing a series of Central Schools (Madya Maha Vidyalayas) modelled on Royal College. These took secondary education to the doorstep of the rural student and developed over the years to become the foremost educational institutions in the outstations.
Christopher William Wijekoon Kannangara (1884-1969) was born in Ambalangoda and completed a brilliant school career at Richmond College, Galle. He became a teacher and first taught at Richmond and later at Wesley College. He then took to law, setting up his practice in Galle in 1910. His involvement with martial law victims drew him into national politics and he entered the Legislative Council in 1923 by winning a bye-election for the Southern Province seat. He won the elections that followed and was elected to the State Council in 1931 and 1936. It was ironical that after he established free education, he was defeated at the first Parliamentary election in 1947. He then served as Ambassador in Indonesia and returned to win the Agalawatte seat in 1952 and become Minister of Local Government and Housing.