Kandy's latest 'Green Park'
Green Park Resort is the newest addition to Kandy's small luxury hotels.
Situated in one of the best scenic locations in George E. de Silva Mawatha, the Green Park Resort can be reached from Dodanwala Junction and from the Anniewatta side.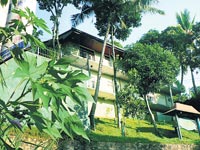 The Resort with green environment
Green Park Resort, which enjoys an 'A' Grade classification from Sri Lanka Tourist Board, has well appointed eight rooms; out of two are family rooms.
The Resort is just nine months old and already a popular place for weddings.
'We mainly promote this resort as a family hotel and our top clientele is Sri Lankan Holiday makers. But we always go for the foreign markets as well. Weddings and private parties, gigs and corporate functions are our target markets' said Ranjith Kariyawasam, the proprietor of the Resort.
The main restaurant can accommodate 150 pax in functional style and about 75 as theatre style for conferences.
Green Park Resort is a family business and it has a restaurant chain in and out Kandy.
Green Park Restaurant, Green Park Food Corner in Peradeniya are two properties run by Ranjith's brother.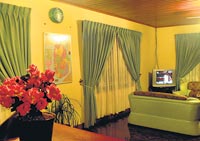 Lobby and the TV Room
The rooms have all modern facilities with hot and cold water, A/c, telephone and a view of Kandy town and breathtaking Hantane range.
Apart from that, a TV room and coffee shop are two popular places for family gatherings.
'We will be introducing television sets to each room soon' Ranjith said.
Green Park Resort is popular for its culinary range. Apart from traditional Kandyan dishes, Chinese, Western, Indian and Far Eastern cuisines are popular in the hotel.
''As our family business is culinary, we are at its best. Food is the main attraction of the Resort and we give the best of ours at functions and weddings' he added.
Green Park Resort Catering is also popular among top functions in Kandy.
'Also our take away is well known among office executives and takeaway dinner is one of the popular attractions with families in Kandy' he said.
Excursion and tours are also possible with Green Park Resort trained guides.
'We offer excursion to foreigners only. Generally Sri Lankan clientele is not very keen in going on excursions and nature tours. Knuckles, Hantane and Meemure tours could be arranged on request and general Kandy city tour, Peradeniya and Pinnawela are popular attractions' Ranjith said.
'Our rates are very reasonable.We sell F/B double for Rs. 3600/-, H/B for Rs.2800/- and B/B for Rs. 2000/-' he said.
Website of Green Park Resort is www.greenparkresort.com
Pix by Nilan Maligaspe