Geetha goes on line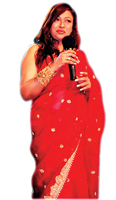 Veteran actress Geeta Kumarasinghe
When veteran actress Geeta Kumarasinghe launched her website www.geethaonline.com at the Water's Edge at Battaramulla, it was indeed a memorable night, not only for her but for all those present especially lovers of the Sinahla cinema.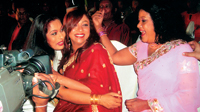 Geetha among Malanee& Anoja

The actress herself came on stage to give a performance much to the delight of her friends and fans who were gathered at the venue, majority of them from the film industry itself. She danced to the beat of her old film songs cheered on by the crowd.
The idea of a website in her name had come about as a discussion with friends and how best she would reach her fans who are spread out around the world and are keen to get to know about Geeta's ascent to stardom as well her future projects.
It was a nostalgic evening for many of those present with popular songs and sequences from Geeta's best loved films being shown on a wide screen as well as performance by her fellow actors and actress to make the launch a memorable one.
Veteran film director Tissa Abeysekera who spoke on the occasion said Geeta's was not only a beautiful face but was also an intelligent actress. "When I directed her all I told her was to stand in front of the camera as she is a natural actress," he said.
He also said there was a childlike quality to Geeta as well which he hoped she will continue to have as she progresses in her journey in the film industry.
Geeta who spoke on the occasion thanked all the people who helped her in her long journey in the Sinhala film industry and said the website launch was a landmark in her career.
Many of her contemporaries in the Sinhala film industry such s Malini Fonseka, Anoja Weerasinghe, Ravindra Randeniya was among those who joined Geeta to celebrate the special evening.
Geeta who entered the Sinhala silver screen with her debutante performance in "Lasanaa kella" in 1975 has since acted in more than 80 films and won several awards including the President's award for both her acting as well as film production, a unique feat for any actress.
The web launch was followed by a sumptuous dinner for the invitees as well as live music by a band.