The centre of all attraction
By Ishani Ranasinghe
Cynosure… An interesting name for an interesting group of people? To say these six 'young adults' are energetic would be somewhat of an understatement. They are so full of life, love, what they do and by the looks of it, they are having a blast!
Two weeks ago, I had the fortune of meeting up with them to hear a little more about their band, about what they wanted to do and also listen to their original which is set to be released soon.
After a quick round of introductions, we settled down to hear about this band that people are suddenly starting to notice. None of them were comfortable speaking about themselves, instead they opted to speak about each other with the person in question being allowed to join in here and there. So with all that sorted, we went back to when they first started, which was just last year at TNL Onstage, their first performance.
"We actually get together two weeks before the show," says Shazri Junaid, the lead vocalist of the group. He continues, "We all met in school (St. Peter's College), where we used to play in different bands."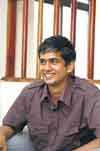 Shazri
Speaking about Shazri, 'jovial,' 'optimistic' and 'always punctual' are some of the words his band members use to describe him. Influenced by the music of Gavin DeGraw and Cold Play, his band members point out with a laugh that he even went and bought himself a cap to look like Gavin DeGraw. A person who lived and continues to live on his music, "especially when I am in a bad mood," he says that music was something that always managed to cheer him up, clearly showing his love for it. He is known to bug one of his fellow band members to death, and apparently has quite a fan base (and we know this is true without a doubt, because at this point he is definitely turning red).
At present Shazri just wants to try out new stuff, and do crazy things that he may never get to do much later in life. But looking at the future, in the case of the band, he hopes that they will soon release an album. "I am also interested in getting into the Human Resource Management field as well," he adds.
Speaking a little about TNL Onstage, "We first took part in it to get more exposure, but we never thought we would actually make it to the finals," says Peter Vitachi, their rhythm guitarist. He adds that their main aim was to get to the first round, but evidently they were good enough to get far, and they sure were surprised. Now seems like a good time to get to know a bit about Peter… what say you?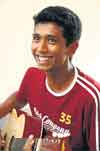 Peter
Peter is apparently the kind of guy you can take home to your mum. He loves to give advice, "but I never keep to it," he quips. More into punk and slow rock, he says that the music he listens to is the stuff he can play along to.
Hopes for the future? In terms of the band, Peter says that eighty percent of what he wants had been achieved, "but I like to see us doing a little more variety in music, in the future. As for his career, he says that he wants to get into marketing. "Oh yes, I also really like sports," he adds.
Another band member very much into sports is bass guitarist Ahmad Nuski, who is also the youngest in the band. He is someone who started out being very much into heavy metal, once he joined the band, he went through a change. Apparently he loves chatting online and is known for never knowing what song they have to play. As the others put it, for some very odd reason, he is the one who is attracting all the girls.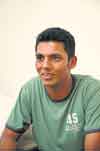 Nuski
Finally getting his chance to get in a few words, Ahmad adds, "Being a part of the band has been so much fun." Speaking about himself, he says he is still schooling and is studying in the mathematics stream, "I want to get into the National University of Singapore for my degree."
Yet another member who went through the change from heavy metal to alternate and punk… and as the others put it, become a man, is Shivane Wickramasekara. The lead guitarist for the band, the others claim he loves to sleep… a lot. He loves music and draws in influences from the likes of Jason Mraz and Fall Out Boy. Known to be the rebel of the band, another thing which the others claim is that Shivane loves jumping around the stage to which he quips looking very disappointed, "I can't do that anymore, because of Shazry."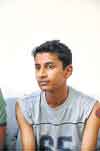 Shivane
"Personally he is one of the best guitarists I have met and a really good friend," says Peter, adding that he is also a back up singer, but given the chance he can sing better. Looking at what he wants next in terms of the band, "definitely an album and possibly a video," Shivane says, adding that what he wants more than anything is to see the same band members go along with no one dropping out.
Speaking about himself, Shivane adds that he loves piercings (that I don't doubt), and adds laughing "and I want to play drums," while looking at their drummer Ruvin De Silva.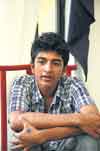 Ruvin
Ruvin, who is hoping to do a degree in multimedia and loves listening to the likes of Norah Jones and Yellow Card, is mostly into punk music. Having learned to play the drums on his own, the others admit him to be a very good drummer. Interestingly, others claim that he likes to think that he is at times Spiderman… and you are never bored when he is around.
So his plans for the future?
"I really hope we get to do a video," Ruvin says, explaining that it would be the first time an alternate band has done one. Interestingly enough he really wants to act. So at this point I thought he wanted to act in Sri Lankan theatre, but I am way off course – at least in terms of the location. He wants to be a star in Hollywood… yes, you read it right. He seems quite serious about it, "I was actually going to make a movie, but that never really worked out." He also confesses to having written to Universal Studios, giving up the dream only, because he couldn't afford it… maybe someday.
While all this chaos is going around, there is one member, who is very quiet throughout the interview. Shamal Gunewardena, who plays the key board, loves Bob Marley along with U2 and Cold Play. He is the more classical person in the band, and is apparently the more talented of all of them. The others see him as more of a shy person, who likes to act dumb, and would do anything to stay in the band (apparently switch from bass to key boards, even though he hates it.)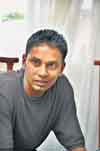 Shamal
Speaking of what he hopes the band would achieve in the future, Shamal says that the video will be a really good thing for them, "and we get to be on TV," he adds with a grin.
Well, now that we have met all the band members of the group, let's move on to their original, which is set to be released soon. Titled "On A Road", the song talks about the choices you have to make, with regards to what you want to do with life. "We wrote this straight after our A/levels, when we really didn't know what we wanted to do individually," says Peter, while Ruvin adds that this was a time when so many people had opinions on what they should do. "But we wanted to do what we liked, and what we thought was best for us."
Well the lyrics say it all, "take a pick, take a look around. Wanna live my life the way I want…"
Cynosure… a very unique name. They say that Cynosure means the centre of attraction, and when they first started they use to go, "Oh I am the cynosure in the band." So when it came to choosing a name for the band, they figured why not, because after all they do want to make a mark in the music scene.
The band plays mainly punk, slow rock and alternative, and claims to be a very talented band. They joke about it, saying that they can all sing, except Peter. They all come from different backgrounds, and their original track clearly shows this. But they have a certain chemistry with each other, which put together, makes these very different six people very good.
You know what? Cynosure just might be one of those bands you should watch out for. Because if they stick to what they believe in, they will go far.