Tapping talent
By Rochelle Jansen
Shannon (10 years old): "I'm bored"
Shannon (24 years later): "I'm content"

Extreme statements from a man who, as a cheeky little boy walked up to his dance teacher, after attending just two weeks of classes, announced he was bored with the regular routine and began

experimenting and creating his own exercises.
Yet the man I met last week was far from that cheeky little boy.
How would you describe yourself? I asked Shannon Raymond. It did not take him long to reply in just one word - "content".
"I try to live a life of simplicity," said Shannon, "it's not an easy motto to live by, though. Yet, I believe in living each moment to its fullest and living it with no regrets," he concluded.
I can't believe this soft spoken, contemplative person is the same guy I saw gyrating on stage eight years ago in 'Andrew Lloyd Webber - the musicals".
'Extreme' is the word that comes to my mind when I search for a word to describe him. It was no surprise then to find the leaflet (which he then handed me, reminding me of the reason for my visit) containing the details of the dance studio he was opening, to be headed 'EXTREME'. Shannon seems to be at point of his life where he just doesn't need to embark on any new enterprise. So,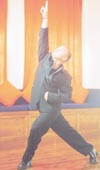 why open a dance studio?
" Well, dance to me is the freedom of creative expression. I can't live without dance. I've been interested in dance since I was ten years-old and I am thankful to the encouragement and opportunities given to me by my parents, 'Aunty' Oosha and Jerome.
"I decided to open the studio with the aim of giving people the opportunity of overcoming the difficulties I encountered when I started learning dance. To teach people to enjoy tap in a structured environment."
Which brings me to my next question. What forms of dance would he teach at 'EXTREME - dance studio'?
"Tap, stomp and street jazz."
Okay, I know what tap is. But what is 'stomp' and 'street jazz'?
"Stomp," explains Shannon patiently, " is a sort of street tap. It's all about creating rhythm with whatever you have - trash cans, brooms whatever comes your way. It's not the traditional tap.
"And 'street jazz' is the sort of hip-hop dance you see in Janet Jackson video clips."
What's the most difficult aspect of tap, I ask Shannon.
" Making it look easy! That's the hardest part. You have to have a keen sense of rhythm and be prepared to work really hard."
What if a person has no rhythm, could you teach that person to dance?
"Everyone has a rhythm. Our hearts beat to rhythm. The difference is some people have the ability to identify their sense of rhythm and for some others, the rhythm within them has to be brought out."
I'm curious. Why dance 'studio' and not dance 'school'?
"Because I don't want students to just come for classes go home and come again the following week as part of a routine. I want there to be more interaction. I hope to have assessments of each student monthly so the students themselves could learn choreography, thus encouraging their creativity. They will also have access to my library of books and videos on dance which I hope to discuss and analyse with them. I don't want it to be like the rigid, uniform 'schools' we have here.
"The students will also be encouraged to wear anything that gives them freedom of movement. There will be no restriction to leotards. There won't be a 'mind set' as such.
" Students will have the opportunity to express themselves rather than be brainwashed into just doing what they are told.
"- That's why a dance 'studio' and that's why it's 'EXTREME'."
Besides his degree which qualifies him for his family business ( and he was just 17-years-old when he qualified, making him the youngest qualified mortician in Sri Lanka), Shannon Raymond also holds a degree in Performing Arts from the Tony Bartuccio Dance Centre in Melbourne, Australia.
He was also accepted to two London schools, including the London Dance Studio (the centre that produces the most number of dancers for the musicals performed at the West End), but the lack of finances and unfortunately even the denial of the presidential scholarship prevented him from pursuing his studies in dance. Who knows if fate had deemed otherwise he probably might have been dancing in the West End today. But as he contentedly puts it, " It probably wasn't meant to be and I have no regrets."
Has he danced abroad for any musicals?
" I've danced at Victoria State Opera in Wagner's 'Tanheussen', I've also participated in dance marathons in London. And I also taught at Goldburn Dance Academy........"
Er, Shannon........Shannon (a little louder).
"Oops sorry, my mind wandered back to that time. You see Goldburn is a little town. My dance classes were quite radical and shocked quite a few parents at first, but I was invited to come back at the end of my stint. It was also here that I realised I wanted to teach dance. There was an eight year-old girl with polio who used to accompany her sister to classes. I knew she wanted to dance but was too afraid to join in with the other children. So together with her mother, we decided to arrange individual lessons for her. I worked a simple dance routine for her and when she had mastered it, she performed it for the other children. The look of joy on her face, the tears streaming down every face in that room (including mine), the sense of fulfillment and happiness at knowing I had helped that little girl build her confidence and have the courage to do something she so wanted to do was amazing. So you see, everyone can dance."
Shannon Raymond will be opening the 'EXTREME' dance studio next month. As he intends to limit the number of pupils in a class, he will hold auditions to determine how keen the student is to learn. His wife, Dinesha, herself a dancer, will help him with administrative work. For further details, they could be contacted on 071750271or 077795997.