Super cruisers
By Laila Nasry
At the traffic lights, a gorgeous car pulls up alongside. You instantly turn and stare, wide-eyed in awe and disbelief, gathering enough breath to whisper, 'Oh man, what a beauty'. It's absolutely 'purr-fect'. Sleek, shiny, savvy...it makes you run out of adjectives trying to describe it. And then the light turns green and the cool car zooms off and you are left sighing... with exasperated drivers honking like mad behind you.

Shehara's silver Beetle: 'Real fun to drive'
'Cool' vehicles are not a new phenomenon on the streets of Colombo. The Jags, the Mercs, the BMWs, convertibles, sports cars... fascinating four wheelers most of us drool over, whiz back and forth almost always attracting more than a second glance. So what would it be like to own one of these 'attention getters'?
Driving around in a shiny silver Volkswagen Beetle with a sunroof, Shehara de Silva has old people staring and kids in school vans waving at her on the road. A gift from her dad, this is her second Beetle, she having previously owned a bright cherry red one, which signalled her presence wherever she went. "Gosh, people used to spot me from a mile away. I couldn't go anywhere without people telling my dad where I have been." Not quite appreciating the attention her car generates, she says, "Now it's much less, because more and more people are used to seeing Beetles on the road."

STI 7: the optimum performer
Shehara nevertheless, finds it real fun to drive. "It just doesn't start and go put...put...put," she says of her car, which has a 1.8 petrol turbo engine. "I love the power the turbo engine offers. I just need it, to put my foot down and show those taxi drivers a thing or two," she says with obvious enjoyment. Very much a car enthusiast at heart, she lowers her stereo and enjoys listening to the engine every time the turbo kicks in.
Driving a super car in our kind of narrow roads with reckless drivers doesn't bother Shehara at all. "Once you learn to drive in Sri Lanka, it's OK," she says but recounted an occasion where her previous car was scratched through no fault of hers. However she finds the conditions of the road simply awful. "It's a crime to drive a good car on any road here," she says, though left with little choice, her car being put to daily use. "Thankfully the car is not low and it has a good suspension so I don't feel the pot holes too much."
The car has a sophisticated alarm system, so car thieves don't even think about it. "There is this laser thing and if anyone gets within two feet of the car, it goes off."

Rajitha with his Westfield
Rajitha Cooke has what can be termed as an ultimate tanning machine. A smooth, low, roof-less sports car that was initially used for racing. The yellow Westfield is an instant eye catcher. With a unique design and few of its kind here in Sri Lanka, it has most people craning their necks for a second glance, an occurrence Rajitha is quite used to "especially at traffic lights."
The Westfield which makes driving real good is taken for a spin only in the evenings and during the weekends, says its owner adding it's far from a practical day to day car. Besides the possibility of someone bumping into it, Rajitha says, "it's a very light car and as a result, I am extra cautious when driving it." In order to avoid any outside tampering of the car he always parks it in places where he 'can see it.'
The bumpy pot-holed roads of Colombo are well weathered by the Westfield like any other normal car. However in case of an accident or breakdown the downside is there are no spares available here. "We have to get them down from England."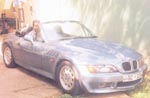 Richard, ready for a spin in his BMW Convertible
One of the first owners of a Rav 4 in Sri Lanka, Idris Shabeer is all modesty and nonchalance. "A lot of people have it now and there are newer models." Nevertheless three years ago what made him opt for this fancy four-wheeler was the pathetic state of the roads. "I wanted to get a jeep which was suitable to be driven on the roads of Colombo," he says matter-of-factly.
"The vehicle's Break Horse Power (BHP), speed, and other cool features like alloy wheels, straight exhaust, "did the trick" when it came to choosing between the different models of jeeps available in the market. Obviously glad about his choice he says, "my friends keep telling me it's nice."
"When I first got it I was very careful when driving it around," he admits, something, which has diminished with the newness of the vehicle. Nevertheless having a jazzy vehicle, Idris has to contend with those who want a share of it. "Once someone stole the viper in my vehicle," he recalled. "But spares are not a problem," says Idris who's looking to change his present Rav 4 for the current new model.
A connoisseur of cars, Richard de Zoysa drives a STI 7, an optimum performance car. "It's built to withstand the most gruelling rallies in the world," he says of this sedan style car with eurodynamics. "It's an off road vehicle with least resistance" making it all the more viable in our pot-holed roads. However Richard is quick to add, "Some roads are spectacular like the one leading to Kandalama. I took it for a drive and it was very good."
Richard "a swift driver but a careful one", also owns a BMW Convertible which he considers "a good investment". "The design is fantastic," he says of the car and is sure that in 25 years time it will be a classic car.
So do the cars get a lot of attention from passers-by? "They probably do but I'm too absorbed in my driving to notice. I keep my eyes peeled on the road. Because one false move and that can be it."
"I love to drive nice cars. It's a passion, not an obsession," says Richard, something no doubt all the rest will agree with.