Here comes the bridal dresser
By Esther Williams
If you were a bride-to be with a wedding in about four months, wouldn't you like someone to organize your attire and all those trailing behind you on that memorable day? Fathima Zuhiri does just that. Her Salon Cuts and Looks is now set for designing bridal outfits together with bouquets, make-up, mehendi and hair dressing that make up the ensemble.

Having been in the field of beauty culture for over 13 years, Fathima finds it a remarkable experience as the task of enhancing one's beauty and personality lies in her hands. "I have a fairly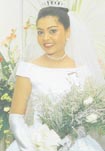 good clientele, some who have been with me for years and I don't disappoint any of them," she says.
Equipped with a team of seamstresses for sewing and others for embroidery, and handwork with beads and sequins, she delights in designing bridal wear based on personality, figure and face structure. She has designs that after consultation with her clients, she could modify to bring out the best in them. It is this aspect of her profession that she finds most interesting.
Besides bridal designing, Salon Cuts and Looks offers Shahnaz Herbals and aromatherapy - a treatment using oil extracts from flowers that is used to treat acne and scalp disorders effectively. High Frequency is also used for stimulating blood circulation and scalp massage.
Fathima now plans to introduce facials using natural products (fruit pulp and juice) and make packs that can be used by career women as well as housewives. Being a member of SLAHAB - the Sri Lanka Association of Hair Dressers and Beauticians, Fathima and her team are kept abreast of the latest trends in beauty through the seminars organized by International Resource Persons. The Association meets often to upgrade themselves as well as assist beginners.
Fathima's fashions have been displayed on Swarnavahini and at a coffee evening at the Galadari Hotel. In addition she has had demonstrations at ladies associations. She has also been the official hairdresser for Ms. Working Girl, an annual contest organized by the Lions Club.

---
Do you have psychic powers?
One of the foremost beliefs of the world famous clairvoyant and astrologer, the late Maurice Woodruff, was that few people recognise that they do have a psychic sense, or take the trouble to develop it. 'Yet what is intuition or a hunch if not a sudden flash of psychic insight?' he said. Have you ever considered that you might be psychic in some degree? Have you ever experienced strange feelings akin to telepathy or the supernatural that might be evidence of a stronger psychic sense in you than you realise? Here's a fascinating new quiz, to find out just how psychic you are. It's guaranteed to make you think...........

• 1. Have you ever successfully predicted the future in a way that impresses other people?

• 2. Would you say you had good powers of intuition?

• 3. Are you usually fairly confident about playing your hunches?

• 4. Do you have what is usually called 'a way with animals'?

• 5. Do you honestly believe that animals understand when you talk to them?

• 6. Have you ever experienced the uncanny feeling that something important was at that moment happening to someone close to you, although that person was in fact far away?

• 7. Do you get regular feelings of the 'I have been here before' variety?

• 8. Do you prefer a feeling or understanding approach to problems rather than a logical one?

• 9. Do your friends sometimes seem strangely present to you when in fact you are alone?

• 10. Are you convinced the traditional five human senses are an incomplete list?

• 11. Do you believe straightforward telepathy is possible without trickery or pre-arrangement?

• 12. Have you had clear examples of telepathic communication with another person in your own life?

• 13. When you meet a person for the first time do you normally get a definite and positive feeling of either sympathy or dislike?

• 14. Do you ever sense the exact words people are going to say before they utter him?

• 15. Do you believe that certain surroundings - a room, a house - can have their own special influence on us?

• 16. Does the advice you give other people usually turn out well for them?

• 17. Are you subject to sudden unexpected flashes of insight or perception that you cannot explain?

• 18. Would you willingly submit to any form of experiment or test involving clairvoyance or similar psychic powers?

• 19. Have you ever read another's thoughts?

• 20. Are you interested in telling the future?

Now for the results.

The maximum score is 200, and if you attained this, you are undoubtedly psychic, and probably knew it anyway!

A score of between 150 and 200 clearly reveals, you as a person with a strong psychic sense, which must at some time or another have made its presence felt to you, even if vaguely or in a mystifying way. You would do well to cultivate the sense - if its existence and practice appeal to you.

If you scored between 100 and 150, you have a slightly stronger psychic sense than average, and it might possibly be developed further if you were willing. Far more people are in fact psychic than they usually realise, and you are undoubtedly above the average in this respect.

Any score below 100 may be taken as meaning you possess little psychic gifts. At the same time, play your hunches (when they come) logically, and you may well be surprised how often they prove right.

Asia Features