---
Full speed to disaster
By Hiranthi Fernando
It was the Thai Pongal long weekend and several families were in a holiday mood, on the Intercity train from Kandy to Colombo. But it was to be a train-ride to disaster. With brakes malfunctioning, the 'Intercity' went off the rails near Rambukkana, ending up in a paddy field.

A battered and bruised Buddhika. Pic by M. A. Pushpa kumara
The horrific crash last Sunday, said to be the country's worst rail disaster ever, left at least 15 dead and over 150 injured.
While some were lucky to get off lightly with minor injuries, several victims are still in hospital nursing serious spinal and head injuries.
U. Sellammah, 53, and her husband were travelling to Colombo to celebrate Thai Pongal with their son and daughter living in Kotahena. Sellammah is believed to have been killed instantly in the crash while her husband was admitted to the Kandy Hospital with a head injury and a broken arm. "We knew they were coming to Colombo for Thai Pongal," said U. Jeganathan, her son. "They always take that train to travel to Colombo. When we heard the news of the crash on the radio, we rushed to the Kegalle Hospital fearing they could be injured. There we found my mother's body in the mortuary. We were informed that my father had been transferred to Kandy Hospital." Sellammah's funeral was held on Tuesday. Her husband, who is 70, attended the funeral and was readmitted to the Colombo National Hospital while relatives gathered at her son's home in Kotahena after the funeral.
"The Railway authorities came on Tuesday and paid Rs. 10,000 for funeral expenses," L. Somasunderam, Sella-mmah's cousin said. Sellammah's chain and bangles were missing. "We don't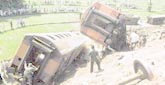 know whether the hospital authorities removed them for safe keeping or whether they were stolen."
Punchinona and her 20-year-old daughter Chithra Kumari were travelling on the Intercity to meet a proctor in Colombo. "The train left Kandy at 6.30 a.m.," Punchinona said. "We felt it was travelling faster than usual and at Kadugannawa, we heard that there were no brakes. However there was nothing we could do. By then, we were travelling at about 100 miles per hour. We closed the windows to stop the dust sweeping in. The carriages were swinging from side to side and we had to cling on for dear life as we were getting thrown about. We were in the third carriage and I saw the second carriage getting uncoupled and being thrown off. At that point I lost consciousness."
When Punchinona came round, she was in a paddy field, unable to move. Her daughter was crying for help and three people came to their aid. Punchinona lost consciousness again and when she later opened her eyes she was at the Kegalle Hospital. There, she was X-rayed and transferred to Colombo.
An attendant at the Kandy Hospital, Punchinona is now in an orthopaedic collar and has dressings on her head and over one eye. Suffering from a spine injury, she is paralysed from neck down, able to move only her hands. "The doctor said they have to operate. There is no use my living if I am to be permanently paralysed," she said in despair.
K.D. Rukmani, from Pannipitiya had gone to Gampola, her husband's hometown to visit his sister. She was returning to Colombo last Sunday with her husband and two young sons, aged 11 and 9. Her younger son Buddhika is now lying battered and bruised, one arm encased in a huge plaster. He has three broken front teeth. Rukmani herself had sustained head injuries and bleeding from her ear. She had been discharged on Tuesday but is at her son's bedside.
"We felt the train travelling at breakneck speed but there was nothing we could do," Rukmani recalled. "The four of us hugged each other and waited, wondering what was to become of us. As our carriage toppled, I lost consciousness. My husband saw my son Buddhika hanging on to a window and took him out. He kept a cool head throughout the accident and pulled us all out of the wreckage." Ruk-mani said her elder son was also badly bruised, had a head injury and found it difficult to walk.
"That day was my son's birthday and he wanted to go to the zoo," said another patient who was suffering from paralysis due to spinal injuries. He was travelling with his wife and two children. Sunil's (not his real name) hometown was Matale and he travelled often on this train. He realised they were travelling too fast by the time they reached Kadugannawa. "A little farther on, I saw the wheels on fire," Sunil recalled. "I shouted to the guard who had his head out of a window, to slow the train. I started to close the windows and pulled the emergency cord. Suddenly the train jumped the track and I grabbed my family and held on to them, clinging to a seat. After that I passed out.
"I can only move one hand," he said.
His wife and children are also injured. He is in the armed forces and his commander had brought them down to Colombo by chopper. He was being cared for at the hospital with a male nurse from the forces by his bedside.
Upul Mallikarachchi from Nugawala in Kandy was one of the luckier ones. Though badly bruised and suffering a broken nose he had just been discharged from hospital. "I felt the train going fast and shuddering," he recalled. Then the train toppled and everything went black. "When I became conscious, I found I was standing. The broken carriages were lying on their side with debris all over. There was blood everywhere. It was a gory scene. I heard a child crying and saw it was my two-year-old son, who was wedged in a corner. My wife had also fallen and was covered with debris from the seats and luggage. I shouted for help and got them both out." Upul's wife is still warded but his son fortunately had escaped injury.
The DMO of Rambukkana hospital says that the injured were only given preliminary treatment at Rambukkana and transferred to Kegalle Hospital. According to Kegalle Hospital authorities, 149 patients had been brought in that day, of whom 19 were transferred to Kandy, 18 to Peradeniya and 12 to Colombo. Seven patients died at Kegalle. All bodies have now been claimed. The Administrative Officer at Kandy General Hospital said that 25 patients had been brought in of whom two were dead on arrival. Only two patients are still in hospital.
Dr. Anil Jasinghe, of the Accident Service, Colombo National Hospital said of the16 patients brought in, one was dead on arrival and one died soon after. About ten patients are still in hospital. One is in the Intensive Care Unit with severe chest injuries, two more are paralysed due to spinal injuries.
An accident of this nature, which leaves so many dead and injured is indeed tragic and a terrifying experience for those involved. While the Railway authorities have been prompt in paying Rs.10,000 as funeral expenses, one wonders what would happen to those hapless victims who may be permanently disabled.
Piyal de Silva, General Manager, Railways (GMR) said that they had paid funeral expenses of Rs.10,000 to the families of the deceased. For those injured, there is provision in the Railway Ordinance to pay compensation but the compensation would depend on the extent of injuries sustained. The ministerial committee probing the accident would meet and discuss this matter within two days, he said.