A model working environment
By Akhry Ameer
The company brochure mentioned a cinema in its factory. Aroused by this curious feature, which to my knowledge was unique, a visit was organised. I found out that almost every aspect of this factory was true to the word - 'unique'.

As the gates opened my attention was attracted to another object unique to Sri Lanka – a real Mercedes Benz limousine complete with TV, mini bar and the works.

Roshan Perera
Dainichi Creations Lanka (Pvt) Ltd, BOI company based in the Gampaha district, manufactures ceramic ornaments and souvenirs for some of the biggest brand names of the world. The company, which started with just 30 workers five years ago, today has over 3,000 employees working round the clock with no hierarchical supervisors but staff among them overseeing the production. The only known authoritative body in this organisation is the Board consisting of a brother and sister, who run the entire operation.
A factory newcomer begins with a free three-month stint at the company training school. The teachers are the best seniors drawn from the 11 departments and the trainees are taught all skills from A to Z and on how the company operates. At the end of the three months, pending the results of an examination, each worker is assigned to a department he or she scores the highest marks in. The unsuccessful students may be content that they learnt a new skill at the expense of the company. However, the school hasn't been functioning for a long period of time because the employee dropout rate at the factory is virtually nil.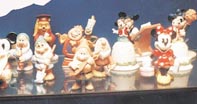 A range of Disney ornaments created by Dainichi Creations on display at the factory.
On the production floor you actually do not see a supervisor walking around, as the supervisor is also busy performing the same duties that others do. The only way of differentiating one is by the colour-coded scarf the supervisor wears. The main form of control is a notice board in each department. The board carries a journal in which all production information is logged by the staff. The transparency of information goes to the extent of revealing the target dates, total quantity, etc. On the journal the staff log data such as the number of units handled by them, number of rejects, etc. Along with the above, the board also carries photographs of the best and the worst on the floor.
Explaining this process, Roshan Perera, Chairman-Managing Director of Dainichi says; "It's all about responsibility and recognition." He discovered this method after having personally worked on the lines himself. The system works without a hitch as the duties are rotated every year. This means that the most senior in each department who serves as a supervisor for the current year is succeeded by the next in line the following year.
Journalists
In addition each department has a journalist on a rotation basis who forms part of the editorial committee for the monthly magazine printed by the company. The magazine is an all-purpose one and carries details of company events, educational articles on various production aspects, social knowledge such as cost of living indicators, best and worst employees, news on staff members, etc. "The rotating structure means that no one can take a swipe at another unnecessarily as that person will have to face the same music when the other one takes over," Perera explained.

Any outsider would find it difficult to understand this system, until you come across an executive seated in front of a computer preparing complex spreadsheets of production data. Each of these executives are none other than production floor employees who work on a rotation basis and have picked up office skills within the first month of service.

However, the company provides staff with excellent welfare benefits, but most are not monetary. The company spends on improving the quality of life. One of the interesting aspects is the cinema and how it operates. At the end of every production cycle, which happens every three days or so, a movie is shown in the theatre which is also used as a dance floor and recreation centre as well.
Movies
The ticket to the movies is the timely accomplishment of the production target for the respective production cycle. The movies are in English, Hindi and Sinhala. Besides, they are also entitled to join classes in dancing, karate and English which are conducted free of charge at various times in such a way that it does not interfere with the work. The six-acre factory complex also houses a netball and volleyball court. The staff is also provided with transport, free meals and uniforms. Hostel facilities are provided for those who live far away.

The success of these initiatives is proven by the fact that Dainichi Creations today has its own netball and volleyball teams, a dance troupe and an entertainment committee. The entertainment committee comprising workers organises regular events and get-togethers funded by the company for the employees. Dainichi also has a day care centre for children of employees who have no one to tend them while they are at work.
Welfare
The company also operates a welfare shop purely for the benefit of the staff. Dainichi Creations makes use of the economies of scale when buying supplies for its free meals and provides some of these essential items at wholesale rates to the staff.

In addition, the company also buys other items such as clothing in bulk for sale to the staff at cost. All this is provided in addition to wages ranging from Rs. 4,000 to Rs. 9,000 based on experience and seniority.

The ceramic manufacturer also has its fair share of strategic initiatives in terms of global competitiveness. One of its competitive advantages in Sri Lanka is its ability to create its own moulds, The use of silicon moulds which give out finer details gives it an advantage in the world market.

Dainichi's clientele includes some of the leading names in the world such as Hallmark, Disney Attractions Worldwide, Fitz & Floyd and Lenox. Its preferred customer status with Hallmark means that it is a direct supplier and is not subjected to quality checks. To maintain its status in quality the company sources its main raw material from Germany and Japan, as the local clay does not have consistent shrinkage factors.

To counter the move by international companies turning to China for cheaper ornaments, Dainichi Creations has also developed a secondary line using a resin material. Thus it is now able to offer its clients both an expensive high quality crystal ornament and an alternative mass-market product as well.
Research and Development
The company also has its own R&D department that is well recognised by clients, who often end up sending specifications in the form of pictures and text descriptions. Currently the department is getting ready to despatch masters turned out from such specifications for approval as part of the range for 2004.

Having such strengths and experience, Dainichi Creations recently launched its own brand called Belluci in the US and in Sri Lanka. Mr. Perera said he is confident that there is a market and aims to capture a share for Bellucci by offering a mid-price, which international brands cannot match due to the involvement of intermediaries.

From a trial and error operation to becoming a preferred supplier for an international brand with a unique management system, and now launching its own brand in a short span of five years; it can be concluded that this local porcelain manufacturer has got everything right to ensure that Bellucci becomes the first international brand for Sri Lanka.

---
News
IT graduate in computer marketing
By Hiran Senewiratne
A young man who graduated in information technology in the United States returned to Sri Lanka five years ago despite all the prospects and opportunities available there. He wanted to start an information technology (IT) company in Sri Lanka on his own.

"Maybe I think what prompted me to return was a moral obligation to serve my motherland and to introduce the latest computer technology for Sri Lankans at an affordable price," said Chinthaka Wijewickrama, recalling the early days of his business, Sala Enterprises. At 35 – what he considers to be the prime age of his life – he now competes with many bigger IT companies, despite having a much smaller advertising budget.

Wijewickrama is particularly proud of clinching a deal with Sri Lanka Telecom, the biggest telecommunications operator in the island, to supply them with Caller ID technology which helps users identify incoming calls.

Sala Enterprises has grown in the face of numerous obstacles and now markets many computer accessories such as fax modems, monitors, scanners, digital cameras and networks.

Wijewickrama recalled how, when he introduced an electronic spell checker, he encountered difficulties in marketing it as many people were not familiar with the product. Another obstacle was the absence of a brand name – so he had some difficulty in building his company's image.

He said he started with a capital of Rs. 50,000 and a few employees soon after he returned from the United States. He operated from the top floor of his father's business premises, called Dad's Corner – a food and ice cream outlet - in Kollupitiya.

He now has ten employees, some of them have been trained in Taiwan. His strategy of introducing innovative products to the local market has helped to establish himself and acquire an image. The company's annual turnover is now about Rs. 20 million.

Sala Enterprises recently launched a hard drive disk, a removable flash drive that can support up to 1 GB disk space. This can store and access any data just like a normal personal computer hard disk drive. Normal hard disk drives have a capacity of 32 – 128 MB.

Sri Lankan customers are now far more informed and intelligent when it comes to IT related items than they were when he started his business, Wijewickrama said. Apart from running his business, he also gives lectures on IT to marketing students at the Sri Jayewardenepura University and is an IT consultant to non-governmental organisations.

---
Estate-village integration by Kotagala plantations
Kotagala Plantations Ltd (KPL) has launched an estate-village integration project in collaboration with the Kalutara District Smallholders' Association.

The project is aimed at obtaining good leaf standards from tea smallholders and paying an attractive price for green leaf, and manufacturing good black tea and obtaining the best price in the region.

To achieve these objectives a systematic field programme has been launched by KPL to educate smallholders with the active participation of the Tea Small Holdings Development Authority (TSHDA), the National Institute of Plantations Management (NIPM) and the Tea Development Project sponsored by the ADB. Vogan and Geekiyanakanda estates managed by KPL conducted their field days last month.

---
Inflation up in 2001
Sri Lanka's third quarter 2001 economic growth was negative by 3.7 percent in comparison to the same period in 2000, the Central Bank said earlier last week.

It said this was due to the continuation of low and declining growth rates experienced in the previous two quarters. The gross national product also contracted by 3.2 percent in the third quarter of 2001.

GDP growth rates for the first and second quarters were 1.3 percent and 0.4 percent respectively, resulting in the average rate for the first three quarters of 2001 being a negative 0.7 percent.

The bank said that several adverse factors that confronted the Sri Lankan economy during this period were responsible for this unusual negative growth.

It cited a slowing down of world economic activity which crippled the demand for manufactured exports, failure of the north-east monsoon, the attack at Katunayake International Airport and general political uncertainty leading to the Parliamentary elections as causes of economic problems.

"Under these extremely difficult circumstances, a negative growth rate for the third quarter was unavoidable," it added.

In a separate statement, the bank said inflation rose last year due to the accumulated impact of international price increases, the direct and indirect effects of administered price adjustments and supply conditions due to a prolonged drought. The Colombo Consumers' Price Index (CCPI) in December rose to 10.8 percent, lower than the 14.9 percent increase seen in November. The annual average increase was 14.2 percent last month.

The Colombo District Consumer Price Index increased on a point-to-point basis by 9.7 percent in December from 11.2 percent in the previous month. The annual average increase in December was 10.3 percent, slightly up from 10.2 percent in November.

Meanwhile the bank said it has undertaken a modernisation programme to meet the emerging needs and challenges of the local and international environment.

Accordingly, the activities of the Banking Department have been reconstituted into four departments to have a better focus on international reserves, domestic banking operations and budgetary controls.

A new Department named Regional Development Department has also been established by merging the Rural Credit Department and Development Finance Department in order to have a better focus on regional development. These changes are effective from January 1, the bank said.