Designing dreams
By Ruwanthi Herat Gunaratne
A dress designed by an avid fan of the medical profession? Hard to believe is it not? Not for nineteen-year-old Shanith Fernando.

"I got into designing around seven or eight years ago," said Shanith laughing at my bemused expression. "At first I basically designed clothes for my relatives and then I really started getting into the field." His sister's wedding had been the very first time that Shanith was able to present his designs to the public. "It just took off after that," reminisces Shanith, a past pupil of Alethea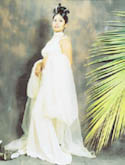 International School. "I started designing for her friends, and took on other bridals as well."
Shanith's sister has her own hairdressing salon so they merged their ideas and started offering a completed package where he would design the outfit and she would dress the bride, do the hair and makeup. Their salon is in Negombo but they do have a branch in Katuneriya and cater to a varied group of customers.
Shanith feels that age and gender is no barrier when it comes to dress designing, for he designs for both men and women of any age group. So would he be willing to dress a great-grandmother? "No problem," laughed Shanith, "I'll make sure the design will suit her size, looks and personality."
Shanith is planning to hold a solo show and is also applying to a few universities. To study fashion design? "No, designing is just something I like to do, but my first love is medicine," he smiles. "I am certain that I can combine both medical studies and designing. The majority of the universities appreciate the fact that I have found an outlet for my inner creativity."

---
Clothes Line
Astrological disaster
The worst word I could hear is 'astrologer'. Because astrologers decide the important occasions of a girl's life but not all occasions of a boy's life!

When a girl reaches puberty, most traditional Sri Lankan mothers - even though they are highly educated - take the girl's 'horoscope' to a an astrologer. And this unknown outsider decides all events and times leading to the time the girl comes out of her imprisonment in "the dark room", and also the food she should eat and not eat.

An unbelievable fact about them is they predict the qualities of a girl's future husband and her babies too. Doesn't it seem ridiculous? Can anyone predict the future excepting those who attain Nibbana?

I think some astrologers flatter people when they want extra money and sometimes they look down upon a horoscope especially when they feel jealous and have some personal grudges.

If astrologers are so good at prophecy, why can't they give a reasonable solution for ending this ethnic war and ensuring a peaceful Sri Lanka instead of foretelling a good time for a girl who has attained age to have a bath?

When it comes to the marriage, I think the luckiest person is the astrologer because he makes a good profit - sometimes even at the risk of ruining a young girl's life.

Some of them break well-matched marriage - proposals to earn some extra money. And our Sri Lankan mothers accept all they say. That is the worst part of it. They don't realise they sacrifice their daughters' happiness for the sayings of astrologers.

This is the twenty first century. Are we to follow certain age old norms and traditions even today?

Think about it - girls of my age finish their higher studies and find employment and then do they have to let a stranger make the most crucial decision of their lives?

Definitely not!

So, my dear girls of marriageable age, expand your horizons and make that crucial step for yourself. It is something I can never do in this life. Be strong! Good luck!

Miss Lullaby.

---
Disastrous leadership
Political violence is a big issue nowadays, and unfortunate results are clear. We all feel dread when we see a vehicle overloaded with political supporters, screaming their heads off, and also when we hear about various attacks due to political reasons. No, I'm not going to talk about politics but about something I see everyday, which reminds me, very unpleasantly of this much discussed issue.

I'm a student, completing my last year at a leading girls' school in Kandy. Recently a new committee of prefects was appointed. Although there are numerous tales of 'corruption', mainly due to family connections and the teacher's favourites (I am not going to dwell upon that either since such matters, are seen so often in society, that we have even come to regard them as common occurances).

The prefects, after their appointment seemed to be obsessed with the strange notion that they have every right to talk to and treat a fellow student in the most disgusting manner. I'm sure any adult witnessing these scenes would be shocked - this is supposed to be a girls' school too! There seems to be a problem of communication among the prefects. They know how to embarass someone by shouting to them across a crowded hall or a play ground.

What I find very ironic is that these prefects have gone through quite a few lectures and yet they have got a very wrong idea of leadership. The teacher - or the teachers-in-charge have supposedly advised them not to smile while on duty! It's quite absurd! They may think it's 'cool' to go on wearing grim expressions, but it is most depressing, when you confront a grumpy prefect first thing in the morning.

They have not also learnt the most important quality of leadership - equality. They favour their friends, they enter themselves and their friends in various competitions, whereas many students are not even aware of them. It is sad to say that many talented students have been suppressed, perhaps never will be recognized - due to this.

These people are the future leaders of the country, aren't they? Will they be up to it in such a condition? When you leave inequality and discrimination aside the job is done better with a smile and a kind word.

N - a puzzled student.
Kandy.

---
From my heart
In a beautiful garden of flowers,
The sweet fragrance lasts for hours.
Embraced in that sweet smell
This is what my heart longed to spell.
There's a precious garden of heaven above,
Where a golden flower bloomed in God's love,
It blossomed spreading silver rays
With God's touch in all its ways.
And now it's grown up one year old,
In stature and beauty moulded by God.
As I stepped on that heavenly path,
There I saw a great jubilation,
And joy swept through my heart,
Lifted with happiness and pride,
"In that holy garden - when roses sing,
Heavenly bells are rung
Little birdies clapp-and
Angels tap".
For today is a day of celebration,
Of thanksgiving for a wonderful creation
For God has been your strength and shield,
In your path with his blood ever sealed.
Yes-today is a glorious day of praise,
To our gracious maker ,
"Cause this is the day that are Lord has made.
So let's clap, and tap and lift our hearts,
For our father - creator of thy soul.

Manouri Karunarathne

---
May PEACE reign!
P is for peace that we cannot hold,

E is for eastern and northern provinces where the war grows ungracefully old,

A is for the question, "Are we safe?" the answer is always No,

C is for the cries mothers send to their sons, that are always filled with pain and woe,

E is for the everlasting peace our ancient ancestors did see, and the wish that we may live to see the peaceful day which is yet to be.

This is a gift I do not have in this pearl-like island of mine,

Now I'll just stop to pray,

That a bright everlasting peace will shine.

Lakshini Mendis

---
Disastrous affairs
I have heard many stories about boys who abandon girls. This story is about a boy who did just that. This incident happened to one of my friends. She began an affair with a guy. Later, with permission from their parents they got engaged. And planned to get married in two months time.

But his mother was a greedy woman and she said that the dowry was not enough and that she had found another girl who was very rich.

Because his mother brought up the subject, this guy also then liked the idea of marrying a rich girl. My friend couldn't believe that he chose the other girl over her.

He married the other girl and is leading a happy life but her life is ruined. And now she has lost her mind. She has to go for shock treatment twice a month.

I want to give a message to all girls - guys cannot be trusted or judged by appearance.

M.C.M.