Tuition:
Students' trap or gain?
By Ruwanthi Herat Gunaratne
The shrill ring of the alarm clock jolts him awake. It's still dark outside, but there's no time to laze in bed, even for a few more minutes. It's another week day and he's got a busy programme lined up as always. Rush to school, grab a quick bite for lunch, rush for three different classes, come home no earlier than 7:00 p.m. wash, study, sleep.

No, this is not military training. It's a day in the life of 17-year-old Nirmal who is to sit for his A/L examination in 2003. Whatever happened to lunch with the family and a game of cricket with the neighbours? "I don't have time for that," he laughs. "I've got to go for tuition."

Food, water, clothing, shelter - add to that list of basic necessities that we learnt of in kindergarten, one other - tuition.

Yes, private coaching has taken on a very prominent role in the lives of all our students. But why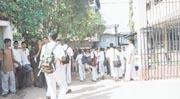 has it gained such importance in recent years?
Are the hordes of students we see at these tuition schools all in need of extra help? And why do they need this 'extra' when they spend so much time in school? Do parents feel the need for extra coaching for their children because school teachers are not devoting enough time to them? Or is it simply a case of following the current trend? The answers don't come easy.
Like Nirmal, the majority of the student population spend half their 'off school' hours and even school hours in some extreme cases running from one class to another. "Tuition has now become a necessity," says Mr. Tushan Wickremasinghe, the proprietor of SHAKTHI Institute at Bambalapitiya, which caters to well over 1000 students with classes for local and London A/L and O/L examinations. He feels that unlike ten years ago, both students and parents are very demanding. They want the best - and if that calibre of teachers is not available within their schools, the students opt for tuition.
But how is it that we don't have 'good' teachers in schools? Are they not the same teachers that give private tuition? No, says Mr. Bandara Dissanayake, head of Sakya, another tuition institute situated in Kohuwela which boasts of a student body of over 5000. The majority of teachers at this institution are not 'schoolteachers' but simply qualified professionals in the said subject.
In the good old days, teaching was considered a praiseworthy vocation. Teachers were respected and admired, setting not just academic standards for their young charges but also moulding their value systems. This latter aspect is not however what matters at the tuition classes. Here their value depends on their mastery of the subject. Says Mr. Dissanayake, "Our tuition teachers are compelled to keep abreast of the latest developments in the said field, do a lot of reference and basically be up to date on the subject in order to get more students." Schoolteachers, he feels lack this motivation as they get their monthly salary anyhow. So they are not likely to do as much research into the subject as the tuition teachers do.
In some cases, school teachers are overloaded with all kinds of extra curricular work and as a result do not have enough time and energy to teach. But is it not the prime and only objective of a teacher to teach? "It is," say a group of parents who wished to remain nameless. "It is not their fault, something has evidently gone wrong with the system."
The system has much to answer for. With University education, especially places in the much sought after medical and engineering faculties so limited, parents and students are obsessed with examination results, seeing them as the sole criterion of future success. Hence tuition teachers who can produce good results are the ones in demand. But as one parent pointed out, school teachers are sometimes to blame for this state of affairs for some willingly and conveniently abrogate their responsibilities with the attitude that, "the children are going for tuition whether the teachers do their bit or not, so what's the point in teaching."
Sadly, it seems to be a vicious cycle of teacher apathy sending more students to tuition classes. Many teachers feel that they are not as indispensable as they used to be a decade ago and have simply given up due to pure frustration. For when their students turn up with fantastic results they feel that their input has not been the crucial factor, since the students go in for so much tuition.
Mr. Rohan Rodrigo of the Rotary Hall in Nugegoda, yet another tuition institute that attracts large numbers, believes that students today, have more faith in their tuition teachers. He says that school teachers due to our present system get transferred all the time and as new teachers take their place, there is a lack of continuity in teaching. In some cases the students learn the same lesson in three different ways thanks to the teachers being transferred. "It's a situation the children are understandably and obviously not comfortable with."
But there are also schoolteachers who willingly according to Mr. Rodrigo suggest names and places that their students can go for tuition to.
But in that case why go to school? There seems to be benefits in that as well, as we were to find out. The students it seems want to indulge in all the extra curricular activities one is exposed to while still in school. And there is also the fact that the students are unable to sit for the A/L examination if they do not have a certain attendance percentage within their schools.
Unbelievable as it may seem students are prepared to go to great lengths to find the 'perfect' tuition teacher. "We have students who are schooling in Ratnapura and come to Nugegoda on a daily basis to attend classes - there are also the others who are now boarded in Colombo for the same reason," says Mr. Rodrigo.
Fine if you need a little help, go for it. But hasn't tuition also become almost a 'trend' today? Take Amal (not his real name) for instance. A seventeen-year-old student at a leading school in Colombo he attends six different tuition classes for the three subjects he is to sit for at the A/L examination to be held in 2003. But why? "My brother sat for the exam a few years back and my mother felt the need for me to go for tuition since compared to me, my brother hardly went for any and he began to regret that decision later on."
Amal started his classes very early, in fact before A/L classes commenced in school. "It's difficult to get the better tuition teachers when you get late to contact them. And besides what were the chances of me getting a good teacher in school? I really didn't know, so I had to go in for tuition. And now I'm glad I did so since I find it difficult to understand two of my schoolteachers, and therefore have more faith in my tuition teachers."
But doesn't going in for tuition affect the amount of work he can do in school? "It does to some extent. I still go out with my friends at night, but anything in the afternoon is best forgotten - since I'll never cut my tuition classes."
Another reason for the increase in the amount of students opting for tuition is according to a few parents the fact that the senior teachers were suddenly retired and most of the schools were compelled to take on youngsters fresh out of university to teach the higher grades. These teachers according to both parents and students lack experience, and their knowledge is limited to what they have learned through textbooks. So the students end up with nothing but a bunch of copied notes.
But aren't tuition costs prohibitive? Not so, if the children attend mass classes. Parents also say that since it is their children's education they are prepared to make any sacrifice to see them achieve success.
Some parents even keep vigil until the lessons have finished to take their children home, but feel any inconvenience they face is justified. There were also parents who had resigned from their jobs to take children for classes, as was the case of one mother we spoke to. So doesn't she miss having her salary? "I do," she smiles, "but the child's education is the number one priority."
Another mother says that she had to leave her home and her husband and two little sons behind in Ratnapura to come to Colombo to take her daughter for tuition - it is indeed a sad, yet unavoidable situation.
So, ten years down the line, parents may be paying admission fees for tuition institutes and not schools. For it seems that according to the present scenario it's 'a no tuition - no results situation'. The students believe they have no other option, for as Nirmal said, 'I sometimes get so confused but what if the tutor was able to tell me something no one else was able to?'
Meeting students' expectations
* "I have been conducting tuition classes for the past twelve years," said Mr. Upul Shantha Sannasgala, an A/L Sinhala Tuition Teacher, "and I truly believe that the students do require tuition. When anyone is faced with a challenge you learn to set yourself a target. And you are prepared to do whatever it takes to reach it. So if the students feel that it is difficult to work on their own towards the A/L, there is absolutely nothing wrong in getting a little extra help even if it means that one goes in for four tuition classes."

But how can even a tuition teacher relate to over a thousand students the way most tutors say they do?

"Take a school - there are usually around thirty students in a class, but have you ever seen their teachers keeping them absolutely quiet? Walk into one of my classes at any time - you will be surprised to see the discipline. The students all stand up to greet me when I walk in, they stand up when I'm about to leave and they hang on each and every word. It's all in the teacher's ability and the tuition teachers have nurtured this ability much more than the school teachers ever bother to do - and that is why tuition has grown more popular."

* Mrs. S. Alwis, an A/L Political Science teacher at a leading school in Colombo believes otherwise. "There really is no need for students to go in for tuition provided both the students and the teachers do their parts well." Mrs. Alwis feels that students in the present situation go in for tuition to go with the flow and that they somehow feel incomplete without that extra bit of coaching.

"No two students are the same in a classroom," said Mrs. Alwis. "Everything ultimately lies in the hands of the teacher - if the teacher is able to hold the attention of the students then all goes well, and the student too is content, but if that does not happen then pops up the problem."

Principals speak out
* "In my mind there is simply nothing wrong with going in for a little extra coaching if a student finds it difficult to cope with a particular subject, but the situation now is that students go in for tuition whether it is necessary or not," says Mr. H.L.B.Gomes, Principal of Royal College Colombo.

He feels that this is due to how the tuition classes are marketed. "Just take a look around. Numerous posters adorn the walls proclaiming that X number of students received such and such results. It's effective marketing and the poor students are falling prey to it.

"It's a rat race and parents too push their children to such an extent to get that extra mark. We always encourage the parents to come to us if there is a problem - but it doesn't always work. But the present reforms have helped to minimize the problem a little with the amount of practical and group work that has been introduced. Hopefully the situation will change."

* Says Mrs. K. Lakshman, Principal of Devi Balika Maha Vidyalaya, "We are not in a position to ask the students not to go for tuition. We simply ask them to come to school daily and to follow their school curriculum to the best of their ability. There are a number of students who have got fantastic results and feel that it's because of the school. But the problem lies in the fact that the examination is so competitive and everyone wants that extra mark, since that can determine the future."

According to Mrs. Lakshman the teachers feel that they are of no use since half the classroom is invariably,empty closer to the exams. She like Mr. Gomes, also feels that the new reforms might have turned the tide but that unless there is a law passed against it there is no way whatsoever that tuition will disappear from the lives of our students anytime soon.