Contents
---
Ladies & Gentlemen it's Lou Bega again
By Sanath Weerasuriya
After a couple of weeks silence,'Original Music Competition'will be back with Lou Bega of 'Just a Gigolo' fame.'Original Music Competition' comes again with the collaboration of M-entertainment , TV Times and Sony Music.

Lou Bega the man with the Borsalino hat as a trademark is back again!

Nearly two years after his mega smash hit Mambo No. 5,Lou Bega presents his brand new single Gentleman - a grooving track which will make his fans overly excited about the long-awaited second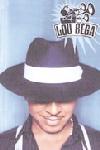 album, to be released soon.
A worldwide famous star from Germany? And even more, a star from Germany who is the incarnation of the perfect Latino musician? A combination which would have seemed hard to imagine - until the summer of 1999, until Lou Bega, from Munich, Germany, surprised the world with Mambo No. 5. Only a few weeks after the release, Lou Bega was at the top of the German single charts with this Perez Prado classic from the 1950s. For eleven full weeks, Lou Bega could not be moved off the pole position. And like an epidemic, Mambo fever spread from Germany all over the world. In France. Mambo No. 5 was at number one on the charts for 26 weeks and thus became the longest top hit of all time. And in more than twenty other countries, Mambo No. 5 was at the top of the single charts, as well.
The album A Little Bit of Mambo, too, conquered the top ranks of the album charts. A Little Bit of Mambo sold over six million times worldwide. Billboard noted the longplay at number 3 of the Billboard album charts. In the USA alone, more than 3.5 million units were sold.
He was nominated for the renowned Grammy award and travelled to Cannes to receive the World Music Award as "World Best Selling German Artiste" and "World Best New Male Artiste". Cher asked Lou Bega to accompany her on her US-tour as Special Guest. Lou Bega and his live band, consisting of ten members, travelled throughout America and performed in the 22 biggest cities of the US, which included New York and L.as Vegas.
And now Lou Bega, who composes and writes his own songs, as he did before, has finished his second album titled "Ladies and Gentlemen" and a first taste of the second album is Gentleman. With his unique sound and positive attitude, optimist Lou Bega is guaranteed to give his fans what they are looking for - a temperamental mix of joy, fun and passion.
'Ladies & Gentlemen' album is available now on Compact Disc and Cassette at M- entertainment
But still you can win five original albums of 'Ladies & Gentlemen' by answering the simple question on the coupon on this Sunday TV Times & Entertainment magazine.
To enter this contest, all you have to do is to answer the question on the coupon and send it to the address given below.
The address is "Listen to Original Music Contest-No. 53, C/o Maharaja Entertainments (Pvt.) Ltd., 330, T.B.Jayah Mawatha, Colombo. 10.
Tel: + 941672425-8, Fax + 941699070. E Mail: me @ lgo.lk
All the entries must be originals from the Sunday TV Times and no photocopies or faxes will be entertained.
All correct entries will be drawn by a panel of judges. The entries should reach the above address by August 28, the latest.
The decision of the judges will be final and the names of the winners will be announced in The Sunday TV Times accordingly.
Here are the winners of Contest Number. 49.
The winners of two Sony Original CDs are M.L. Azver of Badulla and Mr. Rienzie of Pannipitiya. The two audio winners are Ms. D. Fernando of Malabe and I.S.M.T. Kanagaratnam of Ja-Ela.
The 10% off gift vouchers go to Mahesh Lilaram of Bambalapitiya, Chinthaka Herath of Kandy, Prasangi Christina Wijeweera of Minuwangoda, Nigel Mark Adams of Pannipitiya, Faraza Fawzull of Colombo 7 and W. Suresh of Colombo 6.
The Poster winners are Jayalath Wickremasinghe of Eheliyagoda, Aroshan Fernando of Dehiwela, Kalana Yasodula of Gampaha, Tanta Silva of Moratuwa and Waruna Devinda Gamlath of Kandy.

---
"Irish Music Riot"
'Irish Music Riot', a gala muscial extravaganza with a star-studded line up gets off the ground next Saturday night August 25 at the CCC grounds in Colombo.

Taking centre stage will be 'Wild Fire', 'Phase Three', 'Misty' and 'In Harmony' who will also perform at Clancy's Irish Pub and Restaurant in Colombo during the week.

'Wild Fire' led by Derek Wickremanayake, 'Phase Three', led by Alston Joachim, 'Misty' and 'In Harmony' are few of the top bands in the music scene today.

The show kicks off at 8.00 p.m. with popular television personality Kumar de Silva as compere.

A special feature will be a fireworks display at midnight. There will also be several stalls on the grounds with delicious Irish and Continental food, and lots of Three Coins Beer for the hundreds of music lovers who are expected at the concert.

Tickets are priced at Rs. 350/- and are available at Clancy's, 29, Maitland Crescent, Colombo 7, Keells Crescat and Liberty Plaza.

The concert is sponsored by TNL 101.07 and Lite 89.2, while proceeds will be channelled to the Children's Cancer Hospital, Maharagama.

---
Gypsies : First Lankan band in Cyberspace
Lanka Internet, Sri Lanka's first Internet Service Provider, created history once again, when they undertook to host in the World Wide Web of the Internet, Sri Lanka's premier Pop Group "Gypsies".

This pioneering project is being done using the technological expertise of Lanka Internet and the

Official Website would include some of the latest features of Internet Technology.
Gypsies will be the first Sri Lankan Pop Group to have an Official Website and be privileged also to be the first Pop Group to use this most interactive communication medium through which they would be able to market their music albums/CDs/Cassettes using the on-line payment gateway facility. In this process, Gypsies will also make a pioneering move in introducing Sri Lankan Pop Music to the rest of the world.
With the Gypsies on the Internet, they would instantaneously expand their audience reach to all corners of the Globe and provide a much awaited opportunity for their avid fans, mainly expatriate Sri Lankans who have virtually grown with the Band for over 3 decades, with their electrifying music.
The Gypsies website will enable the band to accept international and local bookings and also provide a live communication channel for their fans from across the world to communicate with Gypsies Band Members. For this purpose, Lanka Internet will be providing Internet and Email facilities to all Members of the Band.
Another winning feature would be the live web-cast of selected Gypsies Concerts which will take place in Sri Lanka, via the Official Website.
The launch of this unique website will be in the form of a Grand Hi-Tech Launch Musical Concert by Gypsies in early October.
The Agreement to develop the official website of the Gypsies was signed last week between Gypsies Leader, Sunil Perera and Kalinga De Alwis, the Chairman of Lanka Internet Services Ltd.

---
Movie Scene
---
'Sudu Mal Kanda': A love story
Saliya Satharasinghe (Ranjan Ramanayake) son of a retired army officer is an efficient and hardworking young superintendent. As a youth he had to overcome many odd situations.

When he meets the family headed by Wilbert Medagoda, a successful businessman who had come up the hardway bring a little relief to Saliya's life. Of the two daughters in the family, Uthpala id an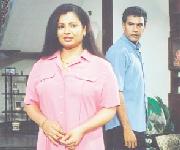 accountant who has only numbers in her head while the other Chathurika is kind-hearted.
This is the story line of the teleplay "Sudu Mal Kanda" scripted by Somaweera Senanayake with suggestions from producer Amarasena Waduge. The teledrama is directed by Sudath Senaratne.
It is a twenty episode teledrama which includes several interesting characters taking part in the other developments. The teledrama unravels the touching connection between a "Perera" working in Saliya's estate and his daughter, Sadeepa.
On other side there are separate stories of "Sirinatha", a shrewd young businessman and "Jayantha" who plays a role of a desperate youth living in poverty and poor social circumstances.
The principal roles are played by Ranjan Ramanayake, Roger Seneviratne, Dilani Abeywardena, Manel Jayasena, Suminda Sirisena and Kanchana Mendis.

---
'Hemanthaye Wasanthayak' tackles socio-cultural issues
By Susitha R. Fernando
"Hemanthaye Wasanthayak" is a teledrama that revolves around a Sri Lankan family based in London caught in the cultural cross currents and also the differing religious beliefs.

Rodney Widanapathirana a journalist by profession has directed this teledrama telecast every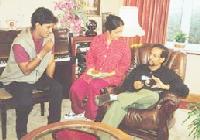 Tuesday at 8.30 pm on Rupavahini channel.
It has been filmed entirely in beautiful and famous locations in London.
The storyline of the drama centres around doctor Niranjan and his wife Nalani played by Vimal Alahakoon and Sriyani Amerasena, a couple living in London with their only son Sagara( Roshan Pilapitiya) studying to follow his father's profession.
The Christian couple Donald, a practicing lawyer(Anura Hagoda) and his wife Susan (Prema Ganegoda) live in London while their daughter 'Sanita' (Kanchana Mendis) living in Sri Lanka are family friends of Dr. Niranjan.
Living away from parents, Sanita carries on a quarrelsome affair with 'Jerome'. Fed up with this she leaves for London to join her parents. Here she meets Sagara who does not show much interest in her.
Meanwhile Sagara carries on with 'Brenda' a foreign girl but with the entrance of another foreigner 'Tom' into their lives turns the story to a triangular love affair.
Broken hearted Sagara meets with an accident and now it is Sanita who comes to attend on him with the permission of their parents. Left alone by Brenda, Sanita's care brings new hopes to Sagara's life.
Though belonging to different religious beliefs the two families do not take any caste or other differences friendship between two youngsters blossom. But with the arrival of Sagara's unmarried and aristocratic aunt 'Karuna' to London on a vacation a series of unfortunate events befall the two families. She strongly opposes Sanita helping Sagara and she puts the blame on Sagara's parents for keeping a blind eye to the events that have led to an affair between the two youngsters.
Persuaded by the interfering aunt the horoscopes of the young couple are matched. But a disaster is forecast for the man who marries Sanita.
Destined to go different ways, the separation of the young couple affects the peaceful family lives of Sagara's parents.
And with the children's separation the relationship between the two families is torn apart and Sanita and her family move out of the area.
Sagara and Sanita enter wedlock with total strangers which eventually end unexpectedly. But they are finally united.
The cast include Karen Hartright and Michael Russel, two foreigners among a host of local stars.
The screen play for the film has been written and jointly produced by Sriyani Amerasena with Prema Ganegoda and Anura Hagoda.

---
Muhurath ceremony for 'Sathya'
The muhurath ceremony for the teledrama "Sathya" made out of an award winning novel by Rathnayake Thilakaratne was held recently.

Screen play has been written and directed by novelist Sarath Dharmasiri. The main roles in the teledrama are played by Cyril Wickramage, Ashoka Peiris, H. A. Perera, Rex Kodippili, Semini Iddamalgoda and Thamara Dilrukshi.

---
'Me Mage Sandai' at the Elphinstone
The second screening of the internationally acclaimed film "Me Mage Sandai" (This is my moon) directed by Ashoka Handagama will be held at the Elphinstone Theatre, at 4.00 and 7.00 pm on August 21.

The film is based on the return of an army deserter to his village with a Tamil girl and the events that take place due to their odd presence.

The cast of "Me Mage Sandai" comprises Saumaya Liyanage, Dilhani Ekanayake, W. Jayasiri, Linton Semage, Hemasiri Liyanage, Somalatha Subasinghe.

---
Prasanna to launch a fund
Internationally acclaimed film director, Prasanna Vithanage is to initiate a special fund to grant financial aid to artistes and mediamen who fight for their rights in courts.

The fund to be started on August 21, initially with the money Mr. Vithanage is to get as legal cost in his case against Minister Sarath Amunugama who was in charge of the National Film Corporation (NFC) and was held responsible for the unlawful delay in releasing the award winning film "Purahanda Kaluwara" (Death on a Full Moon Day).

The legal battle sparked off when the release of the film depicting a father who is a waiting the return of his son from the war, was prevented by the minister from being screened for security reasons. This was after it was released for the unlimited exhibition by the Public Performances Board.

The Minister justifying his argument had said that the country was on a war footing and the film would affect the morale of the security forces.

The film director brought this case to courts claiming that his right to freedom of expression was violated with the suspension.

However court held that with the Minister's suspension the right of the filmmaker had been violated and ordered the Minister to pay Rs. 50,000 personally as costs and NFC Rs. 500000 as compensation. The bench also directed that the film be released before September 15.

Speaking about the outcome of the case Mr. Vithanage told the TV Times this it shouldn't be taken as a personal victory for him but that of all the filmmakers and the viewers.

"Purahanda Kaluwara" won Best Actor award for Joe Abeywickrema at the Singapore International Film Festival (IFF), Grand Prix at Amiens IFF in France and NETPAC jury award at Friboug IFF and has been screened at several other international events.

---
Song for the Children
At a time when children are aspiring for peace a special children's song praying for peace, has been sung by Kumara Ekanayake. He also directed music in the children's song Punchi Lamai composed by Hemasiri Halpita.

Shenya Thelge, a grade 3 student of Methodist College, Kollupitiya accompanies Kumara in this song, while Nadesha Fernando accompanies him singing in harmony.

Along with this song, "Senuri Duwa, Adara Yuwathiya," two other songs which was also composed by Kumara are released. He hopes to release these songs to Rupavahini and to other radio stations.

---
MRH hosts American tourists
The Group of Tourists from Express International in USA were in Sri Lanka to witness the Kandy Esala Perahera despite the Travel Advisories. They stayed at the Mahaweli Reach Hotel in Kandy from August 1 to 4. The local handling agents for the Group was High Elms Travels. Pictured above is the group along with their local Tour Leader, the Assistant Manager of Mahaweli Reach Hotel Rodney Armstrong and Guest Relations Officer Thanuksha Ratnayake.

---
Sea food at its best at the 'Continental'
Situated at the lobby level, Pearl Seafood restaurant is uniquely designed to facilitate seating in an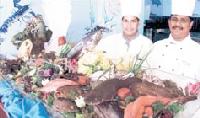 air-conditioned environment, with a view of the Indian Ocean or in the open air.

Pearl Seafood restaurant is the only speciality seafood place in the Ceylon Continental Hotel in Colombo.

The excellent catch of seafood is displayed where one could choose from and have the chef prepare it just the way you want, in the show kitchen, with you watching all along. With pricing according to the gramage of the fish, which gives a reasonable deal to all.

An accompaniment to the delicious seafood meal would be the wines from our very own cellar such as Chablis, Muscadet, Pouilly Fuise, Pouilly Fume.

With a calypso band providing you with entertainment, this restaurant creates the perfect ambience and serene setting to entertain guests from overseas.

The Ceylon Continental Hotel Colombo comprises of 250 rooms and suites, with each overlooking the serene blue ocean.

These rooms are furnished to international standards and are equipped with mini bars, telephones with IDD connections, Modem connection for your lap top computer, TV with local and International channels.

The new look of the lobby is now with an elegant and beautiful interior and hotel's prersonalized service enables it to provide an excellent service for the most discerning traveller.

La Vita Restorante, the Pizzeria and Italian restaurant offers a wide variety of Italian delicacies, with a panoramic view of the Indian Ocean.

French restaurant, all modern discotheque are the new things on the card with an expansion of the hotel.

---
Domestic tours the name of the game
With the current situation in the country offering very limited seat capacity for passengers to travel overseas on leisure the Travel Club, a pioneer in operating package tours out of Sri Lanka to many destinations overseas has introduced three domestic packages operating every weekend during the holiday season commencing August.

The first tour will be catering to the interest of history and culture visiting Yapahuwa and many world heritage sites located in the cultural traingle such as Anuradhapura, Polonnaruwa, Sigiriya, Dambulla and Kandy. The second tour catering to a mix of culture and relaxation operates from Colombo to Kandy, Nuwara Eliya and Kitulgala and the last one is catering to the adventure and wildlife enthusiasts operating from Colombo to Kitulgala, Ella adventure park, Yala and Bentota. On the adventure tours you have every opportunity to engage in a range of activities such as White water rafting, Canoeing, Mountain biking, Rock climbing and Trekking. It also gives you the opportunity to visit places not very frequently visited by Sri Lankans, such as Embekke and Gadaladeniya temples, Sithulpawwa, Hummanaya etc.

It's an ideal opportunity for Sri Lankan families to discover the beautiful places in our own country at a time when everyone has time in hand and holidaying is the mood.

All inclusive packages at affordable prices in two categories of hotels are offered with 5% discount for students, senior citizens and for persons taking more than one tour.