---
Sunset on the beach
By Laila Nasry
The 'golden mile' of beach off Beruwela looks every bit as idyllic as in the glossy tourist brochures. A vast stretch fringed with gently swaying palms against a blue sky and the Indian Ocean rushing to the shore.

A closer look and the facade shatters. The beach is desolate. No more can you see skimpily clad tourists basking in the blistering sun and surf. The sturdy branches planted on the beach on which colourful beach wraps and sun hats once hung, look naked, only the ever present sili-sili bag fluttering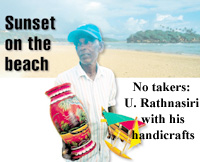 in the breeze. Gone are the sun-burnt beach boys. A few tradesmen sporting their wares walk aimlessly around.
Sales like the monsoon have simply failed to materialise.
Sri Lanka's tourism industry is reeling in the aftermath of the LTTE's devastating attack on the Bandaranaike International Airport. All sectors have been hard hit; the big tour operators and resort hotels but also nearing desperation are the many thousands who earned their living on the fringes of the trade. The beach boys, boatmen, restauranteurs and shop keepers who lived on earnings they made from the tourists.
"Business nung anthimai,(business is at its worst)," says Lalith Gomes whose cart of ornamental shells and coral is a familiar sight close to the Mount Lavinia Hotel. He has wooed its guests for the past 20 years. "After the attack on the airport my business has come to a virtual standstill," he laments adding that once the remaining guests leave the Hotel, he might have to pack up and go home.
Recalling a time during the season when he earned as much as Rs. 5,000 -6,000 every day, Gomes cannot take in the present slump. "Even during the off-season I used to make at least Rs.100 or 200 a day," he said.
August, he says, was a typical family month. Though off-season the hotel would be full of tourists from Belgium, France, Holland. He says the children loved his stall and always insisted on buying some of the shells. "I had good business then. I built my house and my family and I lived a comfortable life."
He cannot prevent tears springing to his eyes as he grapples with the hard reality of trying to find another livelihood to the job he has known all his life. "I have five kids to support (three girls and two boys of whom one is disabled). I will wait and see for another month because I have invested Rs. 20,000 in this stock. But if the going gets bad I will start a fruit stall in town. Hopefully that will work out," he says dismally.
Mohammed Jiffrey of Beneton Gem and Jewellery of Wadd-uwa hurriedly switches on the lights and fan in his shop apologizing as we enter. He explains that they are in the process of closing down indefinitely. "There are no tourists coming at all, so it's pointless to keep the shop open." The shop is bare: jewellery cases and glass wall cabinets which once held beautiful and intricately worked gold and silver jewellery stand empty. Almost as if reading my mind he says, "We have locked everything up in the safe, because there are no customers." Only the credit card machine, a calculator and an English-Italian dictionary are evidence of a once thriving business.
Launched just a year ago, the shop had built up a steady clientele. Some 25 to 30 couples would come in every day and they recorded Rs. 6-7 lakhs in sales for a month on average. "Sometimes the foreigners would give us orders and then we would make around Rs. 20 lakhs per month. Even last month business was good," Jiffrey says.
With the onset of the season in November in mind, they had placed several orders for stock, which have since been cancelled. "But we cannot return the goods we already have. We have taken them on credit and it's not right."
This shop is the last in an extensive closing down operation, he says. "We have closed our branches in Waskaduwa and Benthara, our batik shop next door and even our factories." What would become of their jobs and lives, they cannot even begin to comprehend.
"I can't think of another job. I've been in this field for over six years and know no other." Jiffrey says he will go back home to Kandy but will continue to travel to Colombo during the weekends for his gemmology classes with the hope that after the hardship will come some relief.
Carrying cartons of Benson and Hedges and Malboro cigarettes, Padmasiri walks the length and breadth of the Beruwela beach. Suddenly spotting a lone foreigner he runs up to him saying "sir, sir cigarette" trying to persuade him to buy a pack. Obviously not interested, the foreigner waves him off and continues walking. But undiscouraged Padmasiri walks abreast, striking up a conversation which eventually ends up with the foreigner making a purchase.
"Viyadama shape karaganna thamai mechchara duk venne, (we are undergoing this hardship just to even out the costs)," he says matter of factly, adding that in his 18 years as a cigarette seller there has never been such a bad patch for business. "There was never a off-season as such in these parts of the coast and we used to make at least Rs. 3,000 for a month, which was enough to support myself."
Recalling the JVP era he says even then there were tourists on the beach and relatively good sales. "But now, no one is even willing to come to our country."
A. Jinasena faces the same dilemma. Wiping beads of perspiration from his brow he says that though he owns three handicraft shops along the coast, this was the first time he has been reduced to walking on the beach to sell his wares. Having issued cheque after cheque to purchase the goods, the biggest obstacle now is in covering those costs.
"I can't start any other business because I have no money. All the money is in the shop." Carrying two statues of a seated Buddha he walks along the coast in search of an elusive foreigner...a potential buyer.
U. Rathnasiri and Silton Silva are less enterprising, their age posing a hurdle. Holding a bicycle rim from which dangle all kinds of chains and with the handicrafts wedged in the sand they sit on the beach in the scorching sun and scan the horizon for a tourist. "We've been on this beach since the days when the Barberyn Reef Hotel was set up nearly 30 years ago." A sale is a once in three days occurrence now if they are lucky, a far cry from their past Rs. 8,00-9,000 monthly income.
Rathnasiri hopes to take up wood work or become a labourer. "I have children but they are not willing to make a living on the beach the hard way like me. So I have to support them." His friend is despondent. "I have aged a lot walking these shores and now I don't have the strength to do anything else." A row of motorboats is moored at a pier on the Bentota River with no customers in sight. A beach boy sporting a Backstreet Boys t'shirt makes his way towards the boats. His brother does the tours but "He doesn't come this way now. What's the use? there are no tourists to take around. Awwe karawenawata vada hondai gederata wela nidaganna eke.( it's better to sleep at home than getting burnt in the sun)."
From a little arcade of makeshift wooden shops at Beruwela flutter sun-dresses, wrap-arounds and all types of colourful clothing. The shop owners are seated in one corner busy catching up on the village gossip. "We come here eat, sleep, chat and go home," they say honestly. But now has come a time when they have no other alternative but to close shop. "This has been our bread and butter but in a week's time once these tourists go, it will all come to an end."
"In these parts there is nothing much a woman can do other than dress making and selling clothes. We can't go out to fish."
Having invested lakhs in this business they are disappointed that there has been no relief provided even by the government.
Heading back we see Padmasiri speaking to a tourist in fluent German and hope, for his sake that he can make a sale. The sun shines bright, but the future looks so bleak for them all.