In brief
Franklin and Nishendiren outclass Indian counterparts
Sir Lanka's top junior players N.S. Nishendiren and Franklin Emmanuel proved themselves as good future prospects when they eliminated a number of top Indian junior tennis players on their tour of India recently.

N.S. Nishendiren reached the finals in the under 14 singles event of the Bangalore AITA South Zonal when he beat the top seed Dhruv Sundar and Gaurav Sundar the number 3 seed. However, Nishendiren lost to K. Vishnuwaden in a close match 4/6, 6/3, 3/6. In the Madras AITA South Zonal tournament, Nishendiren once again reached the final of the under 16 event when he upset Hari Prasad the No 2 seed 6/1, 1/6, 6/3. K Vishnuwadan once again has the better of Nishendiren winning 3/6, 3/6 in the finals.

Franklin Emmanuel dominated the under 14 event at the KTC-AITA South Zonal tournament when he won the singles title convincingly beating J Koushik, the No 3 seed 6/1, 6/3 and M Vinod the No 2 seed 6/1, 7/5.

As an official commented, India has many world class tennis players and we are encouraged by our players' performance.
Indian players expected for Tennis Nationals
The SLTA in order to create more interest in tennis and to give local players more experience and competition has decided to invite a number of top Indian players for the Tennis Nationals which is scheduled from the 11th of August to the 2nd of September. Due to the large number of entries expected for the Junior Nationals the SLTA has divided the tournament into three categories.

The Sri Lanka Veterans' Nationals will commence from the 11th of August and continue until the 16th while Open Championships from the 18th to the 24th and the Junior Nationals from the 25th August to the 2nd of September.
National tennis selectors picked
The General Committee of the SLTA has nominated five selectors for approval to the Ministry of Sports. P. S. Kumara has once again being chosen to head the selection committee. Kumara has been widely acclaimed for bringing in strict criteria for selection into National teams. This has boosted and activated Sri Lanka junior tennis. The five selectore are P. S. Kumara (Chairman), Tryphon Mirando, Iqbal Bin Issack, Janaka Fernando and Isuru Gunesekera.
Golfers to Brisbane
Three golfers from Sri Lanka have qualified to participate in the 10th Anniversary Mercedes-Benz Trophy, Asian finals to be staged in Gold Coast, Brisbane, Australia.

The three Sri Lankans qualified for the event at the tournament held in Nuwara Eliya.

Nine countries will participate in the Asian finals, with a warm-up round to be staged for the professionals.

Nine countries will participate in the event. They are: Brunei, Malaysia, Singapore, Thailand, Taiwan, Indonesia, Philippines, Korea and Sri Lanka.
Three couples win a visit to the Malaysian Motorcycle Grand Prix
Three lucky couples have been selected to view the 2001 Malaysian Motorcycle Grand Prix sponsored by Cinzano. The winners for the motoring event, to be held in October this year, were selected as a part of the consumer promotional campaign carried out for the Cinzano brand.

At a press conference held recently to draw the names of the winners, the Managing Director of International Distillers Lanka Ltd. which overlooks the distribution of the Cinzano range in Sri Lanka stated that the winning package would include an air ticket and accommodation for two nights.
Tangalla in final
A scintillating unbeaten 178 by prodigy Samantha helped Tangalla School for the Deaf and Blind to enter the final of the All Island limited overs cricket tourney played at the Dutugemunu MMV grounds at Battala.

Tangalla batting first totalled 223 for 1 while Monaragala School of Deaf and Blind could only total 220 for 3.

Skipper Deshapriya scored an unbeaten 84 with 13 fours supported by Lalith who scored 44 with 8 fours involved in a partnership of 105 for the 5th wicket.

Samantha captured 2 wickets and showed his all-round abilities scoring his second successive century with 2 sixes and 33 fours.

Samantha and Thilakasiri won the man of the match awards for the partially sighted and blind respectively while Desahpriya, the skipper of the losers Monaragala won the best bowlers award with Samantha walking away with the best batsman's award.
Berchman to coach Maldivians
Sri Lankan Berchman de Alwis has been appointed the Maldivian under 19 National Coach by the Maldivian National Cricket Association (MNCA).

The former St. Joseph's allrounder, was the cricket coach of Majeediyya School under 15 and 18 teams moulded by him to become the champions.

He has five players from his school picked to represent the Maldives in the under 19 ICC cricket tournament in Nepal in October this year.

The Maldives under 19 team is to be captained by one of his pupils.

Berchman has ordered the MNCA to give the Maldivians a lot of match practice. He has organised a six match tour of Sri Lanka commencing August 24 in order to get acclimatised to play on turf pitches.
NSB and PB bag TT titles
National Savings Bank and People's Bank bagged the Nationalised Services Men's and Women's A Division titles at the championships worked off at the Rupavahini Corporation Gymnasium. National Savings Bank beat Sri Lanka Central Transport Board in the Men's final while People's Bank beat Sri Lanka insurance Corporation in the Women's final.

The champion NSB team comprised Prabath Indrajith, Sarath Wijesooriya and Waruna Goonawardena while the People's Bank comprised Ira Ruwanpathirana, Sudharma Malaviarachchi and M. Pushpakumari. National Savings Bank B won the Men's B Division title with Sri Lanka Insurance Corporation.

Runners-up with State Engineering Corporation, the Men's C Division champions and Government Press as runners-up.

BCC won the Women's B Division title defeating Bank of Ceylon Sri Lanka Rupavahini Corporation won the mixed doubles crown with Sri Lanka Insurance Corporation as runner-up.
Government Services Volleyball in October
The seven divisional volleyball championships conducted by the Government Services Volleyball Association will be conducted for its affiliates in October. The divisions are A, B, C, D and E and over 40 and 50 championships.

Entries will close on September 10th, the Secretary Government Services Volleyball Association said.

---
Forget our differences unite for reconciliation - Kiriella
By Bernie Wijesekera
Let's forget our differences and get together to unite the nation for reconciliation, said the Minister of Tourism and Sports Lakshman Kiriella at the launching of the book - "Retired Hurt" an autobiography of Roshan Mahanama held at the BMICH Hall on July 31.

Kiriella, was the chief guest, while Sarvodaya leader, Dr. A.T. Ariyaratne was the guest of honour.

It was a red letter day for Roshan Mahanama - the gentleman cricketer, who played the game in the correct spirit when he started his trailblazing career in 1986 as an opener along with Sidat Wettimuny against Pakistan. He had to face many setbacks and humiliations to his personal career, but still believed in putting the country before self. Humility was his code word. People from all walks of lives the clergy, politicians (parliamentarians from the blue and green corners), diplomats, past principals of Nalanda G. Wickremaratne, Atukorale and Dharma Gunasinghe and the present head Mr. Premaratne, former coach Gerry Gooneratne, friends and wellwishers and the present Sri Lanka team headed by Sanath Jayasuriya, former presidents of the Cricket Board, Tyronne Fernando, Upali Dharmadasa, Thilanga Sumathipala and Srimani Dissanayake (wife of late Gamini Dissanayake) were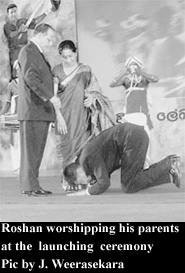 among the distinguished gathering.
Minister Kiriella, continuing his speech said that he was honoured to be present at this ceremony to speak a few words to a cricketer who has played a dynamic role on and off the field to further uplift the country's image at home and abroad. My vision is to promote sports among the rich and poor to bring about togetherness for nation building. At this juncture the country is bleeding due to hatred and jealousy. Being a Buddhist, the Dhamma preached by Buddha was that all are equal sans caste, or race.
People do make mistakes. No one is a Paragon of virtue. Today we are all assembled here even for a short time to honour a sportsman, who has prematurely retired with dignity when he could have enjoyed playing for a few more years.
The reasons are best known to him. His wife must be happy for his timely decision, unlike politicians who don't retire, but just hang on.
Speaking in a lighter vein, Kiriella said a cricketer once uttered "my vision is failing, I want to retire, but wants to take upto umpiring," brought forth shrills of laughter. I hope Roshan is not going to take up umpiring like his father Upali". Incidentally Upali was the president of ACCUSL, so was Kiriella. Both did much to uplift their image.
Finally he said, though Roshan has retired, still he could contribute much to the game which helped him to gain worldwide recognition.
Tony Greig, the former England captain, now turned commentator, paid a glowing tribute to Mahanama. "He is a good friend of mine and has done much for the country's upsurge on and off the field. I love Sri Lanka and admire the way they indulge in this willow wielding sport. They climbed the Everest in cricket at Lahore in 1996 defeating Australia in the W.C. final. It was on unstinted team effort. Roshan, too had his share with his hawk-eyed catches which won for him and for the country worldwide acclaim. Without malice to none he has spoken and written the truth regarding Glen McGrath's conduct. He proved though he was not on the field. The video justified his comments. It's good reading for all," Greig added.
Dr. Ariyaratne said the book is good reading for any young aspiring cricketer. How one should play and conduct on and off the field. "I have known from his school days at Nalanda. He behaved and played the game in the correct spirit and led by example. The same school produced Stanley Jayasinghe with whom I played.
I was a teacher at Nalanda. In the '40s and '50s the batsman never waited at the crease but just walked out, before the umpire raises his finger. But times have changed, but one must still strive to maintain its traditions," Dr. Ariyaratne added.
Mahanama, who proposed the vote of thanks, firstly thanked his parents Upali and Swarna, who nursed and nurtured him. It was their guidance that my brother and self went places in life. There are many people, who have helped me to reach stardom, too numerous to mention. As a schoolboy Nelson Mendis, who taught me the fundamentals and taught me adhere to the laws of the game. I owe him a token of gratitude.
Later in life I had to undergo mental stress and pushed around like a pawn in the chess board. But my wife stood by me at all times. She was a guiding light to me.
If this book became a reality then it was due to my affectionate friend David Cruse and his amiable wife Kathy from Melbourne. They gave me all the encouragement and support.
To Roshan happiness and sorrow are inseparable twins. They could be compared to passing clubs.
His first coach Nelson Mendis who also spoke paid a glowing tribute for Mahanama's not only for his exploits on the field but also conducted himself well. Sri Lanka should produce more cricketers like Mahanama who could be an example to others.

---
Our athletes confident
Channaka de Silva reporting from Edmonton, Canada
Ethiopia's Gezahegne Abera won the first gold medal of the 8th IAAF World championships here at the Commonwealth Stadium winning the men's marathon in the only event of the opening day yesterday while Sri Lankan athletes prepared themselves for the big event with another practice session last morning.

The championships began with a magnificent ceremony that lasted for four hours during which the marathon started and finished at the main arena while England's Prince Edward and Princess Sophie graced the opening.

With two days of bright sunshine and warm weather greeting the Lankans, they had a fruitful outing and most of them said they were quite pleased with the work-out and were confident of performing at their optimum level.

The first event for the Sri Lankans was the Men's 400 metres first round heats that were scheduled to be run at 9.45 p.m. Sri Lanka time last night. Asian champion Sugath Tillekeratne was to run in lane three of heat number three and had recorded the second fastest personal best among the runners in that heat. The fastest personal best timing holder of the heat was Kevin Young of United States who incidentally has the fastest personal best of all competitors in the 400 metres event. Young who has a personal best of 44.09 was to race in lane one and will no doubt help Tillekratne's timing as only the first three in each of the seven heats and the three fastest losers will qualify for the three semi finals. In this drastic qualfying for the semis the competitors are reduced from 56 in the first round, directly to 24 in the semis without a second round as was the practice in the previous meets. Tillekaratne who is running in a major international meet after an year since running at Sydney Olympics last year was sidelined by a nagging foot injury but claimed that he has now come back to his best. He blamed the extra hard newly laid track at the Sugathadasa stadium for his injury and revealed that he has competely stopped practicing there due to that factor. "Not only me, but many others have injured themselves running there. It is too hard" Tillekratne said. However he said he was gradually peaking for the event gradually and was confident of performing well though coming back straight into World championships is fiery baptism after a long lay off. Sri Lanka's other competitors in the event was Rohan Pradeep Kumara who was to run in the heat lane seven of heat six. Kumara who holds the Sri Lanka record has posted a personal best of 45.68 and was also confident of giving his best. Legendary US runner Michael Johnson will not race in the individual event having won the World championship 400 metre title continuously for four times in 1993, 1995, 1997 and 1999 but will run in the relay as part of his farewell tour. The change of dreaded cold weather into a bright and sunny one was the best bargain Sri Lankans have got and may have come as a gift of god to atone for the disastrously arduous journey from Sri Lanka to Canada lasting forty hours at a stretch including a ten hour wait at Vancouver for a domestic flight to Edmonton. In the wake of the International Amateur Athletic Federation (IAAF), the organisers of the championships shedding the Amateur part from its name and adopting the name of International Association of Athletics Federations, the championships will now offer record financial rewards and a further boost to take the best out of the athletes. More than 3000 athletes from at least 200 countries are chasing more than $ seven million US in prize money with an additional bonus of $100,000 US on offer for all the world records established at the championships.

---
A Tribute
Sir Donald a great cricketer, a great Australian and above all, a great human
By Roshan Mahanama
The recent death of Sir Donald Bradman, undoubtedly the greatest batsman this world has ever seen and probably will ever see, caused genuine sadness among cricketers and cricket-lovers all over the world.

Wherever he played he won the hearts of millions of people with his superlative performances, treating the leather with almost contempt and proving to all that the willow reigns supreme in the hands of a batsman of class. The artistry with which he executed his strokes and amassed tons of runs would always remain in the minds of all those who were fortunate enough to see him in action and to a lesser extent those who have seen him on the electronic media.

No superlatives can do justice to describe the feats of the great master. If I attempt to do so, it would be an exercise in futility. However, apart from the legendary nature of his batting skills and contribution to the game what impressed me most about the great Sir Donald, is three-fold.

The first, is his genuine humility which is the hallmark of all great human beings who have made an indelible impression and left their footprints in the sands of time. I experienced this outstanding quality first hand, when I had the honour and privilege to have tea with him during one Aussie tour when I represented Sri Lanka.

The second, is his intrinsic quality of shunning publicity and leading an exemplary life as a distinguished citizen of Australia, in peace and harmony. Even kings would have loved to have his company but he steered clear of all pomp and pageantry.

The third and the most important quality from my standpoint, is that at all times he played the game in the true spirit of sportsmanship maintaining a high standard of conduct and behaviour on and off the field. He was a gentleman cricketer in the fullest sense of the word. He added greater sparkle to the great game of cricket.

Many cricketers in contemporary times would make the game of cricket cleaner and richer, if only they can emulate the great Sir Donald, not fully but even in a small, small way.

May the turf lie gently over him!

---
LOLC leads points table
LOLC registered their fourth consecutive win when they beat Singer Industries by 25 runs at Campbell Place.

With one more match to be played in the first round, LOLC has already been named as the Group Champions.

When LOLC faced the fourth match were without three of their star players (who had to take part in the annual insurance fixture). But with sheer determination, the team performed admirably well.

A fine bowling spell by KT, who claimed 4 for 5 runs restricted the opposition to 95.

LOLC batting first, were struggling at 18 for 3 at one point. However, two good partnerships thereafter enabled the home side to get to a respectable score. In this, Ajith did well to get 40 runs, while Susan and Kushan played well to score 24 and 21 runs respectively. In the bowling department, apart form KT, Jehan took 2 for 18.

---
Sajiana shows promise of a future athletics star
Sajiana Biyanka Sirimalgoda showed promise of turning out to be a future prospect when she set a new 100 metres record in the Under-17 age group at the recently concluded Zonal Athletic Meet.

Sirimalgoda, a student of Anula Vidyalaya, Nugegoda also walked away with the best athletes award for her achievement in the 100 metres record clocking 13.2 seconds.

At the National Schools Sports Festival Sirimalgoda excelled in winning the same event in 1999 and emerged the winner of the 100 and 200 metres at the Sir John Tarbat Meet too.

She was awarded the Sportswoman of the Year last year at the colours nite showing promise and is being coached by Dileema Peterson.

Sirimalgoda was also the Under-15 netball captain of the school.

---
Russel, Suresh fightback triggers bookie clash
By Sheela Raval
Going for a play and then eating out is a typical Sunday evening for most Gujaratis in Mumbai. Thirty-something Jayanti Malad is no exception. But for him, last Sunday turned not to be more than just a routine play-n'-eat-out affair.

Jayanti was surprised to see his name flashed on a side curtain in the middle of the play. He was asked to rush to the threatre's administrative office immediately.

On reaching the office, Jayanti was shocked to see two policemen waiting for him, fingers inches away from the triggers of their guns. He did not even get the time to understand what was happening as he was sneaked out through a backdoor.

Two buttonmen of the underworld don, Dawood Ibrahim, were suspected to be waiting outside for Jayanti Malad, at the theatre's entrance. Supari (contract money) was given to kill Jayanti Malad and Ramnik Borivali as they tried to defy fatwa of sauda fok given by Karachi-based mafia don, Dawood Ibrahim Kaskar.

The don's lieutenant, Chhota Shakeel, issued an order to bookies in Mumbai — over 200 in all — to stop payments against the bets laid on the Sri Lanka-New Zealand cricket match in Colombo last Wednesday.

But Jayanti and Ramnik, two leading bookies who accepted bets on the match, in defiance of Dawood's orders, had gone ahead with payment proceedings because they had made a commitment to their respective punters for paying margins.

For them it was a question of their "reputation and word." Now, both have been provided armed protection by the Mumbai Police to protect them from the don's wrath.

Dawood and his associate bookies are said to have lost over Rs 10 crore in the Wednesday match. According to sources, Dawood suffered a personal loss of about Rs 2.5 crore with Sri Lanka's victory against New Zealand.

He not only declared that the match was fixed and he wouldn't pay anything, but also that all saudas (deals) on the match should be considered null and void soon after the game finished on July 25. This resulted in the Mumbai betting market losing Rs 25 crore.

Sources in betting circles reveal that Dawood is mad with the sudden twist in the game. New Zealand played so well that its victory was priced at just 5 paisa against Rs 20 for Lankan victory. Sri Lanka, which was struggling at 27 for 4 wickets, changed the game after a sensational partnership between Russel Arnold and Suresh Perera. Perera, who is primarily a bowler, batted so well that Lanka won the game.

The sudden swing and unexpected result changed the scenario completely for D-Company — from expecting a sure, huge profit to suffering heavy losses. The same night Dawood called some of the big bookies and Shakeel called middle-level in Mumbai to convey the message that no deals would be honoured on the Sri Lanka versus New Zealand match and if anyone dared to go against Bhai's ruling, he would have to face the bullet.

The order specifically targeted Shobhan Mehta (who is said to be connected with Sachin Tendulkar's father-in-law) and his 30 other associates, because the needle of suspicion for fixing the match points to Mehta and his cronies.

But Mehta refutes all the charges. Says Mehta,"Business cannot be won at the point of a gun, one has to be professional and must honour one's word even in odd circumstances."

On the afternoon of June 29, Chhota Shakeel made a conference call to 29 top bookies at 1.30 pm and discussed the matter of settlement. But this half-an-hour call ended with the final verdict from the don. He said he suspected foul play from Mumbai and ordered them to stop payment against bets placed during the Wednesday match.

According to Mumbai police, these are face-saving tactics for the Dawood gang as most of the bookies who work for them have faced heavy losses. If they are declared defaulters even once, business will be lost forever. Says a leading bookie from south Mumbai: "Betting over cricket matches is such a lucrative business for mafias that every month they simply take away Rs 25 to Rs 30 crore from India alone. The stake is so high that they can go to any extent to cover their loss and earn profit."

Naturally this is not an isolated incident and conveys a clear message from the Karachi-based mafia boss that he cannot be among the losers. At least in the betting game.

(The Newspaper Today, India)

---
Nandasena best amateur golfer in S.E. Asia?
Shortish at 5'6" Nandasena Perera, ball boy and caddie turned amateur and professional golf champion has been identified arguably as the best amateur golfer in South East Asia.

With a remarkable high performance crop of achievements behind him the simpleton remains in the background of the Royal Colombo Golf Club limping with Arthrities round his two knees. Battling against painful odds to remain in the game the little genius still plays off a scratch handicap hoping to comeback to competitive golf. We wish him well. May I now catalogue his crop of high performance achievements.
Amateur Honours
1988 - Sri Lanka Amateur Champion; 1988 - Malaysian Amateur Champion; 1988 - Singapore Amateur Champion; 1989 - Sri Lanka Amateur Champion; 1989 - Indian Amateur Champion; 1989 - Pakistan Amateur Champion; 1990 - Sri Lanka Amateur Champion; 1990 - Malaysian Amateur Champion; 1990 - Asian Games runner-up in China.

Professional Honours

1991 - Sabah Masters Malaysia Champion; 1991 - Singapore P.G.A. runner-up; 1991 - New Zealand P.G.A. runner-up; 1992 - Malaysian Open runner-up.

He claims that his most memorable games were the Asian Games final in 1990 in China when an untidy chip cost him a Gold Medal. Then he speaks of the Malaysian Open Finals when he lost by 2 strokes to Vijay Singh who later became the US Open Champion. Great games, tremendous opponents, and untidy shots at crucial moments.
Hole in One
Bird Watcher Nirmal Ranasinghe took his eyes off mini skirts and the feathered variety to concentrate on his newly acquired 7 wood. Playing in the happy company of Dian Jayasuriya, Lalin Samarawickrema and Ajantha Mylvaganam he gave the trio a stunning shock when his Ultra No. 3 ball responded to a 7 wood off the 16th tee. Moving high to the left of the pin the ultra was captured by a kind breeze just enough to drop the ball in front of the pin and inch into the cup amidst high jubilation and a spontaneous baila by the Caddies. As tradition has it Ranasinghe had to play host at a painful cost all because of a rare, unique and bloody fluke.
Ladies
"Duchess" Abhayaratne has taken over as Secretary of the Ladies Section. Suwaneetha Selvaratnam is the new Captain.

The duo are quite formidable and as long standing members of considerable experience and Ex-Champions too a rewarding future is assured for the ladies. Radha Sunderampillai is pushed into prominence again with the heartening news that the 2 Dutch Professionals Anita Bischop and Hans Steven soon after their assignment in Sri Lanka submitted a comprehensive report on their Coaching scheme with special emphasis on the Clinic for kids under the wing of Radha.

The Royal and Ancient was so deeply impressed that they have gifted 10 new Golf Sets towards the kids clinic at the Royal Colombo Golf Club. Tremendous effort and great reward. Well done Radha.
UL Classic
While I write the Grand SriLankan Airlines Classic will be in full swing where near 200 golfers, their wives, girlfriends and families will pack Nuwara Eliya to capacity.

The weekend will be studded with Cocktail Parties, Buffet Dinners and Lunches, Jazz Jams, Leg Shows and fashions and a harvest of other entertainment all put together by that impressario Harin de Costa, the irrepressible General Manager of the Grand Hotel fully supported and lavishly sponsored by SriLankan Airlines.

I am too ill to get there. I am battling to recover from an ailment documented by the authorities as "Newmonia" (Pneumonia) while the rupee crisis in my life continues with little signs of relief.