It was past 9 p.m. last Monday when a group of young men arrived at Major Raj Fernando playground in Kurana, on the western outskirts of the Sri Lanka Air Force Base at Katunayake.

Clad in casual clothes, they alighted from a Mitsubishi Rosa coach carrying bulging white polythene sacks, commonly known as "Pohora bags," for they are used widely to pack fertilizer. Some appeared to weigh heavily.

As the coach bearing the name board "MATARA" in Sinhala, drove away, what seemed a picnic got under way. The youth ate bread with jam and drank water or orange juice. To allay any suspicions in the neighbourhood, they clapped hands and sang Sinhala songs. Later, they changed into dark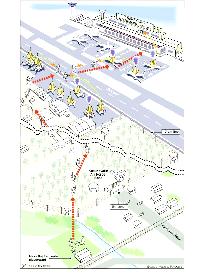 coloured uniforms and disappeared.
At least two persons were not convinced by the behaviour of the group - S. Sabian Dayananda Fonseka of nearby Rajasinghe Road, and his friend Thilak. They felt something fishy was going on and decided to inform a SLAF guard room a short distance away. The journey there was interrupted when they met a Sergeant and a Leading Aircraftsman (LAC). The duo were part of a regular, armed perimeter patrol. Their task was to police the area ahead of the barbed wire defences and to interact closely with the public who lived in the neighbourhood.
Mr. Fonseka and his friend told the airmen what they had seen. Later, all of them walked towards the now deserted playground and found three polythene sack loads.
They had contained uniforms, sliced bread, orange juice, bottles of water, sarongs, shirts, slippers and some tablets. The two airmen, who made a cursory examination, reportedly remarked there was no cause for worry. Mr Fonseka and his friend went home. That was around 9.30 p.m.
The group of youth had overcome their first possible chance of detection. They arrived at a lonely spot to cut open the concertina wire fence and set foot into the country's largest air base, a sprawling,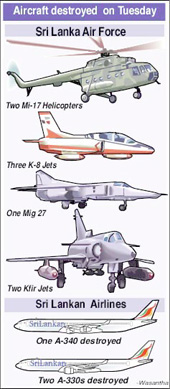 700 acre complex, once home to Britain's Royal Air Force.
Here acres and acres of coconut trees blended with office complexes and residential quarters where officers, men and their families, over 8000, worked and lived. On the southern end, which overlooked the runway, used both by the Air Force and airlines operating from the Bandaranaike International Airport, lay some of the high security zones. On one end is the highly secured Jet Squadron - No. 10 for Israeli built Kfir jets and No. 4 for Russian built MIG 27 ground attack aircraft. The area which includes hangars and other buildings, is covered on either side and behind by two chain link fences, running parallel to each other, separated by some eight feet. The parking apron is located in the unsecured front, divided from the runway only by a wide, concrete storm water drain. The jets cross a bridge to enter the runway for take off or landing. The area is so strictly restricted to authorised personnel that not even wives of those deployed are allowed entry. Adjoining the Jet Squadron, similarly secured by twin chain link fences, is the No: 4 Helicopter Squadron, another high security zone.
The airmen's jargon for these secluded areas is "V zones." Besides parking jets and helicopters inside the hangars in the two respective zones, Air Force officials also usually allow some to remain in the apron ahead of them.
This is on the grounds that the apron is considered one of the most safe areas, since the rear and the sides are covered by chain link fences and separate guard points are established to provide security.
The runway in front,they felt, made it more secure. Upon crossing the main gate to enter the Air Force complex, entry into Jet or Helicopter Squadrons are through another outer enclosure secured by a chain link fence.
It was 1.15 am on Tuesday. An Air Force sergeant, who is deployed in an SLAF base in Vavuniya, was returning on home leave. He was walking towards a married quarters close by, when he noticed some persons crossing the road, well ahead of the outer enclosure. Instead of going home, he walked towards a guard point and told the corporal on duty. It has now transpired that the corporal had not informed the officer responsible or initiated any other action. Thus the group of youth overcame possible detection for a second time.
Barely half an hour later, a group of men were seen moving around near the guard point at the Jet Squadron. A sergeant on duty immediately radioed the Operations Room to ascertain whether they had detailed any ambush parties for an operation. This was a routine regular exercise. "Yes," came the immediate reply.
There was some confusion. An ambush party had in fact been assigned a task but that was nowhere near the Jet or Helicopter Squadron. But that came to light only much later. The sergeant, satisfied by the response from the Operations Room, took it easy. For a third time, the youth had escaped detection.
By now, they had trekked some three miles through coconut land and passing building complexes. Their movement, at one point, appeared to have been delayed. At an armoury, airmen were taking charge of weapons for a pre-dawn firing exercise.
The youth now cut open a hole in the chain link fence, between the Jet and the Helicopter Squadrons, and gained entry. Mysteriously power supply in the surrounding area was temporarily disrupted when this was taking place. Forming themselves into two groups, they entered the storm water drain and parted in two directions. One group took a right turn to go in front of the Jet Squadron whilst the other turned left to go in front of the Helicopter Squadron. It was not yet 2 a.m. The two groups waited, evidently watching both the air base as well as the international airport. It has now become clear the groups wanted to make sure foreign airlines had taken off from the BIA just after mid night. They had been aware, there were no flights from foreign airlines at pre dawn. At 3.50 a.m. one group moved to surface on the edge of the runway, just outside the Jet Squadron. Another moved further and surfaced right in front of the Helicopter Squadron. They were on the Air Force end edge of the runway. Then all hell broke loose. The group who were picnickers only six hours before, were trained Black Tiger suicide cadres now. They began firing Light Anti-Tank Weapons (LAW), Rocket Propelled Grenades and Grenade launchers (40 mm) at aircraft parked on the apron, just opposite the hangars at Jet and Helicopter Squadrons. And suddenly, the night lit up as flames and smoke billowed sky high. Black Tiger cadres had begun the most devastating attack in the 18 year long separatist war.
As an assortment of aircraft were engulfed in fire, both groups attempted to simultaneously force their way into the hangars in the two squadrons. More jets and helicopters lay parked inside. The guerrillas wanted to destroy them too. Bitter gun battles ensued with the airmen guarding the hangars. The guerrillas began spraying bullets from General Purpose Machine Guns. They pierced through the galvanised sheets of the hangar doors to cause substantial damage to aircraft inside. The doors looked like sieves. Canopies in some of the jets bore bullet holes. So did various parts of the bodies. Helicopters had damage to their windshields and other areas. That included some that were assigned to VVIPs.
SLAF Base Commander at Katunayake, Air Commodore R.A. Ananda, who was asleep in his chalet was woken up by a phone call from an officer. Even while learning about it on the internal phone, he could hear gunfire. He phoned to tell his Commander, Air Marshal Jayalath Weerakkody, "Sir, we are under attack." Soon the hot lines of leading personalities in the defence establishment in Colombo were agog with the news. A Duty Officer at Army Headquarters had woken up Army Commander, Lt. Gen. Lionel Balagalle, after he received the news from a specially trained Commando Unit stationed at the Bandaranaike International Airport. The Unit's task was to deal with hijack situations. Commando and Armoured units in Colombo were ordered to immediately move out to the international airport.
Troops from the Navy's Western Command were also rushed. Chief of Defence Staff, General Rohan de S. Daluwatte, drove to the Joint Operations Headquarters. Joining him there were Deputy Defence Minister, Gen. Anuruddha Ratwatte, Lt. Gen. Balagalle and Navy Commander, Vice Admiral Daya Sandagiri. Finding it difficult to obtain a helicopter from Katunayake due to the heavy fighting, Air Marshal Weerakkody, had driven to the Air Base. Re-inforcements were yet to arrive and fighting was still raging outside the Jet and Helicopter Squadrons. Airmen resisted attempts by the Black Tigers to break into the hangars. They still remained on the edge of the runway firing machine guns at the closed hangars and engaging the airmen with assault rifles. Three airmen, taking cover near the hangars dropped dead when they were hit. During some 45 minutes of gun duels, eight guerrillas were killed and their bodies lay strewn in the area.
Just before the fighting broke out, Air Traffic Controllers at BIA had given clearance for SriLankan Airlines flight UL 315, an Airbus A 340, to land. Captain Ravi Thambipillai, comman-ding the aircraft Alpha Delta Delta, was bringing in 315 passengers from Djakarta and Singapore. A 12 member crew was on board. When he touched down, Air Traffic Controllers assigned him slot Alpha 14 in the parking bay. He logged chocks-on-time as 3.35 a.m. That is the time the aircraft's self power system, or the engines, are knocked off. When it is logged on GMT, it is referred to as Zulu time. The passengers had disembarked and were waiting for their baggage to arrive.
A while earlier, Captain Gamini Gunatilleke, had arrived from Male bringing in 102 passengers on board Alpha Delta Charlie, an Airbus 340. The Colombo-Male run was usually operated on an Airbus A320 but that Tuesday there were 243 passengers. Hence the bigger aircraft was flown. However, on the return journey, all 106 passengers who had booked for the flight, had checked in. So UL 106 left Male half an hour early to Colombo. A scheduled arrival would have led to a diversion since the fighting had broken out by then. The aircraft was assigned slot Bravo 4. These passengers had also disembarked and were awaiting the arrival of their baggage. With eight of their colleagues dead, six Black Tiger cadres found it difficult to move towards the hangars. So they sprayed more machine gunfire and turned towards the international airport. Only six airmen were guarding the entry point from the runway. It is located almost directly opposite the Helicopter Squadron, across the runway and the parking aprons. As they crossed the runway, the guerillas fired with general purpose machine guns (GPMG) Oil tanks began to leak. It was followed with fire from 40mm grenade launchers. Fire immediately engulfed the aircraft - Alpha Lima Foxtrot, (Airbus 330) which was parked at slot Alpha 17. Its fuel tanks had been filled and the aircraft was ready for a flight to Rome later that morning. A team of airmen led by Flight Lieutenant Sulochana Manapperuma, shot dead one of the guerillas. Later another who killed on the Bravo side of the Apron. Their bodies lay on the Apron.
Pandemonium broke loose. Technical personnel on the ground ran for cover. The news reached the terminal building. Security staff barked orders to the passengers to leave immediately. There was no time to collect baggage. Customs, Immigration, airline staff, employees in duty free shops, airport restaurants and the passengers rushed out. A massive stampede began. With no transport available, many, including tourists, walked along the Canada Friendship Road, turned towards the road leading to the Export Processing Zone to continue their trek along Baseline Road to Seeduwa. There was panic as they spread the news that the airport was under attack.
Alpha Lima Echo, an Airbus A 330, which lay at parking slot Alpha 13 was towed and parked at slot Alpha 18. That was done following fears that the fire on the first aircraft would spread. In the rush, the aircraft was positioned in the wrong direction, facing the BIA Air Traffic Control Tower or eastwards. Usually they were parked facing westwards. A guerrilla, who emerged from nowhere, placed an explosive charge as he and three colleagues moved towards the terminal building. The aircraft exploded into flames.
The empty terminal building was now occupied by four Black Tiger guerrillas. Two of them were inside whilst the other two climbed the roof of the terminal building. Dawn had broken. Army commandos and re-inforcements had now arrived and a fresh round of gun battles ensued.
A loud explosion ripped the terminal building raising fears that a bomb had exploded. It soon transpired that cornered by the commandos, a guerrilla had exploded explosives strapped to his chest. It occurred near the baggage handling area. Later, another bomb with a timing device was deloused. A commando died in friendly fire. More fighting continued with another guerrilla committing suicide. Three more airmen were also killed. The time now was 8.35 am on Tuesday. One of the guerrillas on the roof of the terminal building fired a Rocket Propelled Grenade. Alpha Delta Delta, Airbus 340 which had returned from Djakarta and Singapore burst into flames. There were more than 100 armed airmen and other security forces personnel on the ground when the attack came but miraculously none of them were hit. Later, they shot dead the two guerrillas on the roof. That was how three Airbus aircraft of SriLankan Airlines were hit by the Black Tiger guerrillas. "The last 36 hours have probably been some of the most traumatic and indeed challenging in the over 20 years history of this airline", SriLankan Airlines Chief Executive Officer, Peter Hill declared. Besides the three aircraft destroyed, three more (two Airbus A 320s and an Airbus A 340 which returned from Male) were damaged. The two A 320s had over 200 and the other, 17 bullet holes. Fighting had just ended. Captain Pujitha Jayakody, one time Flight Operations Manager, taxied away an A 340 from the scene, as the other aircraft burnt. He did this single handedly. There was no technical staff to push the aircraft back. With the help of airmen, he removed the stairway that remained attached and taxied out.
When the nearly six hour drama ended, the Colombo International Airport was closed. Incoming flights were diverted to Dubai and to South Indian airports.
World's leading media were all focusing attention on what was going on at Katunayake. Tour and travel operators began to worry over future visits by their clients to Sri Lanka. Foreign governments began to work on fresh travel advisories. If disaster management was much talked of during peace times, there was none in place after the worst attack in Sri Lanka's post independent history. Official responses to the media in Colombo, both local and foreign, hardly related the story except to speak about the complicity or responsibility of the opposition United National Party. Tourists and foreign nationals stranded, unable to return home, were left high and dry. When the all clear signal reached the Joint Operations Headquarters (JOH) later on Tuesday, Gen. Ratwatte and military top brass flew into the airport. Carrying out a first hand study on what had gone wrong, they ordered that the runway be cleared immediately. With that done by late afternoon, Air Force Kfir interceptor jets and MIG 27 ground attack aircraft rolled out to attack guerrilla targets in the north and east.
It was felt that the LTTE should be given an urgent message - they had not succeeded in destroying the air capability of the Air Force. There was also an added reason though in reality the position was not so. If the LTTE was planning to attack Jaffna town, in the aftermath of the terror in Katunayake, it was argued that the air raids would further disturb them.
President Chandrika Bandaranaike Kumaratunga ordered a full investigation by the Criminal Investigation Department. CID Director, Asoka Wijetilleke, detailed a team led by SSP A.N. S. Mendis.
CID detectives began to uncover some startling details. At the Major Raja Fernando playground, the Black Tiger rebels had left behind some tell tale evidence. That included empty casings that once held Night Vision Devices and material used by manufacturers to pack grenades and RPGs. There were 14 pairs of high heel shoes and civilian clothes. There were also left over food and other items. Inside the Air Base, the attackers had left behind three General Purpose Machine Guns (GPMGs), a 40 mm Grenade Launcher, three Rocket Propelled Grenades, nine Chinese built T-56 rifles, eight explosive charges, six Light Anti-Tank Weapons (LAW), Gas canisters, Flares (made in Sweden), ration packs (made in Norway) and a hitherto unidentified Silencer gun. They also carried an improvised device equipped with charges, to cut open fences.
The body count and the pairs of shoes made detectives believe there were only 14 Black Tiger guerrillas involved in the incident.
However, they susp-ect that there were others who had dropped the group at the playground and those who led the attackers into the Air Base. Inside collusion is not being ruled out. A full probe is under way.
Detectives have arrested the Sergeant and the Leading Air Craftsman. The Serg-eant from Vavuniya and the other who manned a guard point were among those who are being interrogated. They have also recorded statements from Air Commodore Ananda and other senior officers at the Air Base.
Details of Tuesday's incidents played exte-nsively at the National Security Council meet-ing on Wednesday. President Kumaratunga, who presided, commen-ded the security forces for bringing the situ-ation under control. Air Force Commander, Air Marshal Jayalath Wee-rakkody, responding to a point made by President Kumaratunga, declared "The Air Force takes the full responsibility for the incidents. Those responsible will be punished after a full inquiry." Air Marshal Weerakkody also said he would request that the Ministry of Defence conduct an inde-pendent inquiry of its own. A civilian group, which will include retired members of the judiciary, is expected to be appointed next week.
The fact that there has been no intelligence warnings has become the subject of conve-rsation in influential sections of the Gover-nment as well as Oppo-sition parties. It is true that none of the State intelligence agencies made any reference. However, the National Electronic Warfare Centre (NEWC) head-quartered in Anura-dhapura, sent out a warning to the head-quarters of the Army, Navy, Air Force and the Police Special Task Force about a threat elsewhere. This follo-wed a high frequency Tiger guerrilla radio intercept. This is what it said:
"LTTE HF TRANSMISSION INTERCEPTED REVEALED LTTE PLAN TO ATTACK GOVT. FORCES POSSIBLY ON 24th JULY 2001. POSSIBLY IN AREA OF KARADIY-ANARU BATTI-CALOA. KARUNA HAS DIRECTED RAMESH TO CARRY OUT THE ATTACK AND DETAILED INSTRUCTIONS HAD ALREADY BEEN PROVIDED."
Was this, once again, a ploy by the LTTE to mislead the security establishment ? There was no attack in the East, or for that matter in the North, during the period referred to. That was the time the attacks occurred at Katunayake. It is no secret that the security establishment, has in the recent, past fully believed LTTE threats which have come to light only through radio intercepts. One such instance was the failed "Operation Agni Khiela," launched on April 24, this year. When the operation was under way, a radio intercept spoke of an LTTE cadre saying that the attack came when Tiger guerrillas had planned to launch one.
The attack on Katunayake is not the only instance where State intelligence agencies have not been able to warn of an impending assault. From the beginning of the separatist insu-rgency, there have been innumerable occasions which show intelligence gathering is no easy task when it comes to the LTTE. A few examples – Massacre of 138 Sinhala civilians at Sri Maha Bodhi, Anura-dhapura on May 14, 1985, Bomb blast at Pettah bus stand on April 21, 1987, that killed 110 civilians, assassination of Deputy Defence Minister, Gen. Ranjan Wijeratne on December 18, 1990, Massacre of 192 civilians at Palliyago-della, Anuradhapura and Agbopura, and the bomb explosion at the Sri Dalada Maligawa on January 25, 1998.
But, ironically, it is not intelligence that was lacking over last Tuesday's Black Tiger attack. It was common sense, which evidently, was lacking among those at the Air Base responsible for security. Gross negligence would not have occurred if they were aware of some past events. They were common know-ledge even to a discerning high school student. The attack at Katunayake came during "Black July", an important month in the LTTE calendar. Altho-ugh there were no major incidents last year, an idea of how Tiger guerrillas have observed this in the past can be seen from the following incidents:
July 5, 1987: First Black Tiger suicide attack on Nelliady Central College where troops were billeted.
July 13, 1989: TULF leader, Appapillai Amirthalingam, was assassinated.
July 16, 1989: PLOTE leader, Uma Maheswaran, was assassinated.
July 25, 1993: Attack on Janakapura Army detachment.
July 30, 1995: Land mine explosion killed Brigadier Nalin Angammana and three other Army personnel at Mukkural, Batticaloa.
July 4, 1996: Brigadier Ananda Hamangoda and SSP Carlyle Dias were killed in a suicide bomb attack in Jaffna town.
July 14, 1996: LTTE shot down a Pucara bomber aircraft.
July 16, 1996: Sea Tiger attack on the Navy's command ship Edithara.
July 18, 1996: LTTE attack on Mullaitivu military base.
July 19, 1996: Attack on Navy gunboat "Ranaviru".
July 24, 1996: Bomb explosion on Colombo-Alutgama train at Dehiwela which killed 60 civilians.
July 25, 1999: Suicide bomb attacks on vessel Newco Endu-rance.
July 29, 1999: Suicide bomber assas-sinated Dr. Neelan Tiruchelvam, MP.
If these events were forgotten, last Tues-day's attacks began, when the group met first for a picnic, exactly on the 18th anniversary of the nation's worst ethnic violence in July, 1983.
If that was also not known, the most important event occur-red some three weeks ago. It was from the SLAF Air Base at Katunayake that Kfirs and MIG 27s took off to bomb LTTE positions in the North. As exclusively revealed in these columns last week (Situation Report – July 22, 2001), the Special Branch, an intelligence arm coming directly under the purview of the Inspector General of Police, reported that the LTTE had planned to launch an offensive to re-capture Jaffna town within the first two weeks of July. In the absence of President Kumaratunga, Prime Minister, Ratnasiri Wickremanayake, gave the go ahead to bomb guerrilla targets to prevent such a take over.
These attacks came about despite Norwe-gian mediatory efforts to bring about peace talks. On a previous occasion, when troops launched "Operation Agni Khiela," the LTTE complained to Norwegian facilitators that an offensive had been launched, report-edly despite alleged assurances to refrain. In that backdrop, the Government wrote to Norway praising the "indefatigable endeavours" of then Special Envoy, Eric Solheim and called upon them to continue their peace efforts. This time there was no such complaint. The LTTE retaliated at Katunayake.
When the aerial attacks, to ward off a so-called LTTE offensive to re-capture Jaffna town came about, a US Embassy spokesman in Colombo declared "While we respect the right of any nation to defend its territorial integrity, it is also true that violence begets violence." If that is correct in respect of the Katunayake incident, the coming days and weeks are fraught with more danger. The renewed air raids on guerrilla targets is sure to be followed with offensive operations on the ground. That is bound to draw more reprisals. And that will for sure derail the peace process and pave the way for a fresh round of heavy fighting.
And now, some disturbing questions arise about the Special Branch report on the planned LTTE attack. Was it a LTTE ploy to leak information to goad the government into action so the guerrillas could retaliate? It will be important for the Government go deeper to find out how this report originated. Could it be possible that the report was based on disinformation and was unwittingly believed ? Barring air raids three weeks ago, if more troops were pumped in from other areas to stall a guerrilla offensive into Jaffna town, would not the other areas been depleted ? Was this a part of a grand plan to divert attention from the City and suburbs so the attacks at Katunayake could easily be carried out ? Only a further probe into the credibility of this particular Special Branch report will show.
The failed "Operation Agni Khiela," or other similar offensives, have only led largely to heavy casualties and loss of military hardware. But, attacks on the Air Base and the international airport, are different. It has had a devastating effect on the nation's tourism industry thus badly affecting the economy. It has given the Government a bad name, that it cannot even ensure the working of the country's only international airport.
It has prompted several important foreign Governments to warn their nationals not to come to Sri Lanka. With all this, whether the three inquiries – one by the CID, one by the Air Force and another by the MOD – will lead to any action being taken against gross neglect and dereliction of duty by those responsible is the billion dollar question. If one is to go by past examples, many have received promotions and higher appointments. The casualty, as has always, been the media who have been highlighting these national crimes. They are targeted by the State run media and goons with malicious personal campaigns based on pure canards. It seems to have become part of the media culture of some sections of the People's Alliance now and was in full show this week. During the past two years, Air Chief, Air Marshal Weerakkody, has been fighting an unsuccessful battle to shift fighting aircraft from Katunayake. At first, plans were afoot to operate from Vavuniya and activity shifted to Anuradhapura. This historic capital did not provide room for expansion. Plans were made to develop either Hingurakgoda or China Bay where the SLAF has bases. But the LTTE acquisition of Surface to Air Missiles prevented this move since both bases were near the eastern theatre of conflict. Thereafter, the expansion of a runway at Sigiriya and the development of the existing base in Sigiriya got under way. This has taken another turn after the Archaeological Dept. protested to UNESCO. The UN body now wants the SLAF to remove their entire base from Sigiriya, which is part of the Cultural Triangle. If this is not done, there will be no continued UNESCO support forthcoming. The development of the Sigiriya airfield remains suspended after a Court order following protests by environmentalists. They argue it would be harmful to the environ-ment, particularly to the historic sites at Sigiriya.
Tuesday's attack reflects an inadequacy and inefficiency in the planning and implem-entation of a security system to prevent infiltration by guerrillas and minimise damage thereafter. By extension, it makes a mockery of the entire security system in the City itself. In the light of the Katunayake disaster, it appears to be more of a hindrance to the general public than an effective counter terrorist meas-ure. One of the repeated complaints by public who use the BIA is the shoddy treatment meted out by Air Force personnel responsible for security at the entry point. They say they are not only delayed but harassed and humiliated by ill trained and rude men.
"They ask us to alight from the vehicle. They check our pockets, baggage and our vehicles. They are impolite, rude and very inconsiderate. We spend nearly an hour or more with them before queuing up outside airline counters for a three hour wait," said one irate passenger who travels abroad regularly.
He added "But Velupillai Prabhakaran sent his men without a passport or an air ticket to walk right into the runway and the aprons to leave a trail of destruction costing billions and billions of rupees. Next week, things will be back to what they were again. Who cares…."
That encapsulates the saga of Tuesday's disaster at Katunayake.