---
Hearts and mines
Amidst mines and bombs, these female soldiers work beside their male counterparts along the Medawachchiya- Vavuniya Road
By Kumudini Hettiarachchi
Deadlier than the male, is the thought that crosses my mind as we speed along the Medawachchiya-Vavuniya Road at 7.30 in the morning. For in their jungle green khaki and camouflage uniforms, blending with the land dotted by palmyrah trees, can be seen women, not carrying babies, but cradling T-56 rifles, doing their duty by the country.

They have many duties to perform. They clear the roads early morning, walking in a line along with their male counterparts looking for mines and bombs. They do the road pickets or guard duty along this main supply route and also the railtrack to Vavuniya. They man the Medawachchiya checkpoint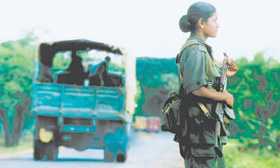 with male soldiers, checking each and every person heading into Vavuniya or leaving it.
They are deployed in Vavuniya town, and also at Piramanalankulam, giving a kind word here and there to the weary men, women and children who are waiting to cross to the uncleared areas or have come over to state-controlled territory. They are also in charge of maintaining the internal line at the Wanni Security Forces Headquarters in Vavuniya and have been deployed in Mannar.
Seventeen-year-old Lasantha Sumathipala from Bandarawela was on picket duty near Poonewa on the Kandy-Jaffna Road, when we stopped to speak to her. Her family didn't know she had applied to the army two years ago, but now accepts that women too have a duty towards their country, like the men.
Lasantha's day starts when the army lorry picks up all the women soldiers from the main camp of the Fourth Battalion of the Women's Corps in Medawachchiya or the detachments along the way and drops them off at a certain point to clear the road at 6 a.m. Along the route each one stops at her designated point, while a second lorry brings two colleagues to keep her company.
They work in threes on two-hour shifts — one person guarding the road for two hours, with the next taking over after that. While the partner is on the road, the other two spend time in the tiny camouflaged make-shift hut in the scrub jungle. Their food and tea are dropped off by the lorry. They leave their points only as dusk falls and "the boys" take over for the night. No women are on duty along the road at night. They do the night guard only at the camp.
What if they have to answer a call of nature, while they are far away from the camp? "We finish all that in the morning, but if we want to use the toilet, we get back to camp when the lorry comes," says Lasantha who has been serving in the area in the past two years after training.
For most of them, their home economic situation has also been a small contributory factor for them to join up. A soldier from Kantale says her people are very poor and the Rs. 8,000 or more that she earns every month helps to keep the home fires burning.
"Katuka rassawak" (A very difficult job), this private says, but they do have a lot of fun in the camp when they are off duty. "They eat, drink, watch a movie before hitting their bunks." It reminds her of the fun times she had at school in Kantale.
They have also had no problems with the "boys", they are unanimous in their agreement. In fact the men soldiers are very supportive.
At the Headquarters of the Women's Corps Fourth Battalion at Medawachchiya, we are stopped at the gate by women soldiers with guns and a Regimental Policewoman carrying a cane.
After checking our credentials, we are sent through. Everywhere there is a woman's touch in this camp, where men are scarce. Everything is spick and span and there is even a bakery, where we are offered delicious fresh, hot "maalu paan" straight off the oven.
In charge of the camp is Lt. Col. Amita Owitipana, one of the pioneering group who joined the then male bastion in 1979. Now holding the highest rank that women have reached, that of a Lt. Col., (there are four other women in the same rank) she commands the Fourth Battalion, with 700 women under her serving in the Wanni, including Vavuniya and Mannar.
"Our girls have to provide security to the main supply route which is the one taken by all the convoys bringing soldiers and food to Vavuniya," says Lt. Col. Owitigama, a civil engineer.
Coming from a marriage where her husband is also an army officer, this kind of job has posed no problem for her. She has a four-and-a-half-year-old daughter who was with her but is now in Colombo with the grandparents because she has to go to school.
"I grew up in an environment where the army was the main topic of discussion because my father was in the army. This is a different kind of job, but a very interesting one," she says.
The Fourth Battalion, Lt. Col. Owitigama explains, is a comparatively new regiment raised on February 10, 1999. The soldiers, between the ages of 18 and 22, were given one and a half months' training. The only stipulation they have to keep to is that they cannot get married for three years after joining the army.
At the early stages when women joined the army, there were a few problems with the men, but stern disciplinary action taken by the high command has put a stop to that. "Now there are no such problems," she says.
As Commanding Officer of the camp she is proud of the achievements of her girls, not only in the field but also at the camp. "The girls brought the sand and the rubble from a river close by to build the bakery. We only had to buy the cement," says Lt. Col. Owitigama who is "Ma'am" to her soldiers.
There are about 3,500 women in the army in the five battalions which form the Women's Corps, with about 30 officers in each battalion. This comprises both the volunteers and regulars. The First Battalion is based in Colombo, the Second in Anuradhapura, the Third in Dehiattakandiya, the Fourth here and the Fifth in Palaly, she explains.
Her face clouds over as she speaks of the casualties among her girls. It had been a double tragedy for the Fourth Battalion. "One girl was caught in a bomb blast, when she was travelling home on leave in an army lorry from the Wanni on October 25, 1999 and another was killed accidentally in Mannar when she was cleaning her gun on October 26, the same year."
For Second Lt. R.P.S. Kuragoda this seems an easier posting than the ones before. She has served in Dehiattakandiya and Welikanda. She was in Kanagarayankulam with 300 girls under her, when the battles erupted with the Tigers in Mankulam. "We heard the battles, the shelling and were on the alert. Then we were told to take just our weapons and carry only whatever we could, whatever that was very valuable to us, and make a tactical withdrawal," she says.
As we watch the Fourth Battalion on duty not only in the camp but also at checkpoints, we see the prettier and gentler face of the Sri Lanka Army. The feminine touch has definitely made the army more humane.

---
For five years, a desperate family has waited in vain for the return of their loved one from Saudi Arabia
'Bring back Amma'
By Randi Goonetilleke and Shezna Shums
"Please bring me home," is the urgent plea of a tormented Sri Lankan maid in Saudi Arabia whose hopes and dreams of a better life lie shattered.

But, Deekirige Siriyawathie's cries for succour have fallen on deaf ears and her desperate family has been going from pillar to post to try to get her back. It's been over five long years since she went

away.
"We want our mother back. It's so hard knowing that she's suffering far away from us," laments Siriyawathie's youngest son Chamil, 23, in their home in Wellampitiya.
And home has been an empty, lonely house since October 25, 1995. For that was the day, Siriyawathie took wing to Saudi Arabia hoping to provide a better life for her two sons — Indika Nissanka, now 25 and Chamil Priyanga. Her husband being unemployed added to their poverty. But it has turned out to be a nightmare not only for Siriyawathie, but also for her family. Soon after her departure, Chamil had turned into an introvert and dropped out of school.
Siriyawathie had secured her job as a housemaid in Saudi Arabia through a local employment agency. When in the first three months after her departure there was no contact, her brother D.K. Austin Jayaweera had phoned the house she was employed in twice. "I was allowed to speak to her only once and that too for just three minutes," he says. Siriyawathie was in tears and complained to him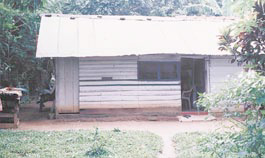 that she was being harassed, both mentally and physically. She had to work from morning till night, without even one proper meal, she had told him, complaining that she had not been paid her wages either.
Later in letters smuggled through other housemaids she had informed her family that she had fled from her workplace thrice, unable to take it any more. But her employer's brothers were in the local police and she was captured, brought back and beaten severely.
When her family went to the employment agency here, they in turn had contacted the agent and the sponsor in Saudi Arabia. Numerous faxes and letters had been sent to and fro, but the family has nearly lost hope of getting Siriyawathie back home safely. Though in her employment contract Siriyawathie was promised 400 riyals a month, no monies had been sent to the family. With the intervention of the employment agency here, the sponsor had sent her family just 1000 riyals last year.
Jayaweera's file on Siriyawathie gets thicker and thicker. Letters and faxes are scrupulously kept for future reference. A letter dated October 26, 1999 in response to attempts by the Sri Lanka Bureau of Foreign Employment (SLBFE) to intercede in this matter sent by the Labour Welfare Officer of the Sri Lankan Embassy in Saudi Arabia, A.S. Liyanawatte states: "Numerous attempts were made to contact the sponsor but, it appears to be that he deliberately avoids speaking to us." Arrangements are being made today to refer this matter to the Foreign Ministry of Saudi Arabia, he adds. Many attempts by The Sunday Times to contact the relevant official at the SLBFE were unsuccessful.
Meanwhile, matters seem to have come to a head at Siriyawathie's workplace, says Jayaweera. For on April 30, this year he had received a letter from her that she was forced to admit that she was not being harassed and that she was being paid her due salary.
That was the last her family has heard from her so what should they do now? Isn't there any government mechanism to help such housemaids?
Dare Sriyawathie's family hope that she is well? Dare they hope that she will come back safely? Only time will give them the answer.