A life dedicated to preaching Dhamma
By D.C. Ranatunga
Year:1926. Month: Poson (June). Date: 24. Exactly 75 years ago. A boy of 13 was ordained in the deep south in the distant village of Divigalahena in Kamburupitiya. Benson Wilmot Pujitha Gunawardena was his name. Once ordained, the 'Podi Nama' (novice monk) was given the name Madihe Pannasiha, Madiha being his native place.

His father, James Carolis Pujitha Gunawardena, a cousin of the creator of the Buddhist flag Carolis Pujitha Gunawardena, had embraced Christianity to become the headmaster of the Methodist mixed school at Paramulla. The mother, Bela Angelina Dhirasekera was a devoted Buddhist. It was she who prompted the young boy to enter the Order of the Sangha. The father was noncommittal.

Even as a four-year-old, the boy was fond of listening to Dhamma sermons, sometimes for two or three hours at a stretch. Having learnt his ABC in his father's school, he moved on to St. Thomas' Girls School in Matara and later for a brief period to Mahinda Vidyalaya, Galle. He returned to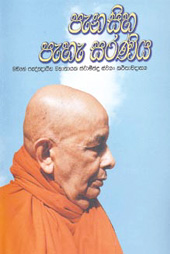 Matara due to ill health and joined St. Thomas' College.
The great nationalist, Venerable S. Mahinda, the Tibetan monk, made a big impact on the life of the young monk. He was most impressed by Ven. Mahinda's patriotic poems. Bhikkhu Mahinda had learnt under Venerable Siridhamma Kavidhaja Vinayacharya Weragampita Siri Revata Thera who, in fact, became Venerable Pannasiha's teacher as well. Among his most illustrious pupils was the founder of Vajiraramaya, Venerable Pelene Vajiragnana Thera, who before long got down the novice monk to his temple at Bambalapitiya. He came to Vajiraramaya on January 26, 1927.
As a forerunner to the Vajiararama Dhamma School, a weekend Dhamma class had been started as early as 1918. Venerable Narada conducted the class over the weekend. Among the earliest pupils were brothers Dudley and Robert Senanayake and Bernard Soysa.
Distinguished personalities - both lay and the clergy - used to call on Pelene Maha Nayaka Thera regularly. Kalukondayawe Pannasekera Nayaka Thera and Pandita Ahangama Pannaloka Thera were regular visitors. Scholars including Professor G.P. Malalasekera, Munidasa Kumaratunga, Senerat Paranavitana, D.B. Jayatilleka, Mudaliyar E.A. Abeysekera and novelist W.A. Silva were among the regular lay visitors. Poet Lionel Silva from Katunayake, a Catholic, also used to visit the Maha Nayaka Thera and D.S. Senanayake and S.W.R.D. Bandaranaike were among the national leaders who sought the Maha Nayaka Thera's advice.
An erudite preacher in later years, Venerable Pannasiha relates what a daunting experience preaching was in the early days.
"A lady who was affectionately called Matara Amma was like the unofficial matron of the Mallika Home for Elders. She used to come to Vajirarama to invite us to preach Bana at the Home. As the other Samanera and myself saw her we used to quickly get inside and lock our rooms. It was because being novices, it took us weeks to collect material for a sermon. However much we tried to dodge, Matara Amma would not take 'no' for an answer. She would go on banging on our doors until we came out and agreed to come for Bana. 'How can Podi Hamuduruwos learn to preach if they lock themselves in their rooms. You have to learn to preach well,' she advised us."
June has been a month of significance in the life of Madihe Maha Nayaka Thera. He was born in June. He was ordained in June. He received his higher ordination too in June. June 9, 1933 was the day he received his 'Upasampada' at the Gangaramaya, Pelena close to his birthplace. There were 24 Samanera monks who received higher ordination that day. A Sanghika Dana was arranged at his home to mark this memorable occasion. It was a significant day in his life. For the first time he was attending a 'dana' at his residence as a monk.
"All these years, whenever there was a 'dana' at my home, my father used to bring everything that was needed but never took part in offering the 'dana'. He quietly moved away from the house. On this day my father was there. From the moment the monks started coming in, he was there right in front to be seen by everyone. He then observed 'Pansil' and as a devout Buddhist, he served the 'dana' to the monks," he recalls.
Having continued his studies relating to Buddhism, Pannasiha Thera was attracted towards a special degree course ('Vidya Visharada') that Dr. Malalasekera planned for senior monks, in the Colombo University in the early forties. Even though he had not completed the 'Pandita' examination at the time, (that was the qualification needed) a recommendation by Pelene Maha Nayaka Thera as to his knowledge of the Dhamma was sufficient for enrolment. He was among 18 monks who were chosen for the three year course.
Apart from Professor Malalasekera, in the panel of lecturers included Professor D.E. Hettiarachchi, Professor O.H. de A. Wijesekera and Dr. Nandadeva Wijesekera. Hindi was taught by Bambarande Siri Seevali Thera. A retired Tamil government servant who knew his Sinhala well, taught Tamil. Patterson Silva, a lecturer from the Katukurunda Teacher Training College taught English.
The impact of World War II began to be felt at this time. The threat of Colombo being bombed made everyone leave the city. The Vajirarama monks too left for safer places. Pelene Maha Nayaka Thera and Narada Maha Thera went to Ashokaramaya, Nuwara Eliya. Denipitiye Sumanasiri Thera took the library books and moved to Bodhigiri Vihara, Pelwadiya in Ratnapura. Soma Thera and Kheminda Thera went across to Polgasduwa. Piyadassi Thera was at Samarasingharamaya, Udukawa. Pannasiha Thera decided to stay back for two reasons - firstly, someone had to look after Vajirarama, and secondly, the degree course was being continued in spite of the war situation.
"Life was difficult. Due to transport and other organisational problems, there was an acute food shortage. Colombo city was deserted. There was hardly any 'dayaka' to even offer us the bare essentials. One 'dayaka', D. C. Wijewardena used to bring some dry rations and hand over to Martin, the 'kepa karu' who prepared 'kiri bath' for the morning dana, rice, dhal and pol sambol for the noon dana. This was our daily routine menu until the crisis period was over," he relates.
The young monk was also given a responsible task by Admiral Sir Geoffrey Layton, Commander-in-Chief. Under the A.R. P. (Air Raid Precaution) he was given the responsibility of collecting any victims in the Bambalapitiya area in case of an air raid, bring them to Vajirarama, give them first aid and look after them until they were removed to hospital.
On April 5, 1942, he was due to broadcast the Sunday Bana sermon. An official vehicle took him to the broadcasting station well ahead of time since there was the danger of Colombo city being bombed. Close to the station was an Air Force base. The nearby racecourse had been converted to a temporary airfield. Before the sermon started, they heard the sound of aircraft and the explosion of bombs. The racecourse was a hive of activity with Air Force planes taking off in pursuit of the enemy planes. The radio station was not affected. Having spent 105 minutes in the station, he returned to the temple. He then learnt that the mental asylum had been bombed and ten inmates had been killed. Another 70 had been injured. Japanese planes had been shot at and they had crashed in several places including S. Thomas' College grounds in Mount Lavinia, Colombo harbour, Kelaniya, Kotte and Nugegoda.
One and a half years later, the Thera successfully completed the course and earned the 'Vidya Visharada' degree.
Having learnt Tamil during the degree course, he was confident of undertaking a social service to the Tamil population too. Right round Asokarama in Nuwara Eliya were tea estates. He decided to go there and preach the Dhamma in Tamil. It was something novel and unusual. The estate crowd - young and old - were keen to listen to a sermon by a Buddhist monk in their own language. The response was most encouraging!