Curbing the demon at home
The proposed Domestic Violence Act seeks to protect a woman from domestic violence and also provide for her economic well-being
By Feizal Samath
Wife battering is the commonest form of domestic violence against women but even hard-nosed activists shuddered on hearing of a recent case where a man threw acid on his estranged wife.

The man calmly walked towards the wife and threw acid on her, recalled Savithri Wijesekera, experienced executive director at Women in Need (WIN), a non-governmental agency that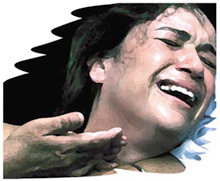 specialises in counselling battered women and helping victims of domestic violence.
The woman who came from a middle class background, survived the ordeal with bad burns and continues to look after her two children. Wijesekera says the number of victims of domestic violence is growing among middle and upper class women, though it was once a problem thought to have affected rural women only.
"The situation is alarming. It is not a rural phenomenon anymore. We are getting many middle class and professional women coming to us with problems and requests for counselling," she said. WIN is the only group to run a shelter for women in need.
Help is at hand now for battered women. Another women's group, after consultations and long discussions with other groups, has proposed legislation to establish a Domestic Violence Act to protect victims of violence and provide them quick relief.
The Women and Media Collective (WMC)'s proposals envisage a different approach altogether against the way current laws deal with to against women.
The most significant section of the Act provides for an abused woman to seek an interim protection order against her abuser, without lodging a complaint with the police. The proposed laws also give the court the power of arrest of abusers, even without a police complaint.
The whole purpose of the proposed laws is to provide protection to victims of violence by going before a court and obtaining a restraining order preventing the man from entering the house and from further abuse or assault, said Dr. Mario Gomez, senior law lecturer at Colombo University and author of two books on women's issues.
Gomez, who helped draft the proposed bill for the WMC, said there were extensive discussions with many women's groups and the rest of civil society before the draft was prepared. "Now we need to talk to parliamentarians to seek their support and look at the issue in a bipartisan manner."
WMC Joint Coordinator Kumudini Samuel said the WMC didn't realise the gravity of domestic violence until it put together a report in 1998/99 on acts of violence against women reported in the media. "We found that the incidence of domestic violence, including assault, grievous hurt, sexual violence and murder of women within the home was alarmingly high," she said, noting that society should not tolerate this behaviour by dominant males.
There are no statistics to illustrate the seriousness of the issue and experts say there is little to go on, in the absence of specific laws. There is a general reluctance on the part of affected women to go public with their plight. WIN says they received 3,000 'drop in' clients last year at the agency's centres in around five to six major cities while another 800 women called the agency and discussed their problems and sought counselling over the telephone.
Alcoholism has been blamed for women being beaten up by a drunken husband but Gomez doesn't subscribe to this view. "If there is another man in the house instead of the woman, will the drunken husband assault the man? No, he wields enormous power over the woman and beating her up is like a justification of his manhood," he added.
Women have fought back, in some cases taking the nearest sharp instrument and attacking the husband in self-defence. In one such case at Agbopura village near Trincomalee, a woman spent days hiding in a tree for fear of her farmer-husband, who assaulted her as often as he could invariably after consuming liquor.
Unable to bear the agony any more, the desperate woman stabbed and killed the man. She was imprisoned as her punishment. Some years later, she was released on early parole and continues to live with her children, working in the paddy fields and accepted by the village.
Drafters of WMC's Domestic Violence Act are hoping to meet parliamentarians from either side of the political divide and convince them to jointly present the bill to the legislature. Many of the proposals have been drawn from a similar South African piece of legislation. In South Asia, India has laws against domestic violence but some of the issues and protective mechanisms provided are different to the proposed legislation.
In the Sri Lankan case, the draft aims to protect the woman the moment she, or a group acting on her behalf, files an independent petition to the magistrate's court complaining that her rights have been violated. The magistrate can then issue an ex-parte restraining order barring the husband from entering her house or harming her in any way. An arrest order, if needed, is also provided for under the proposed laws.
The proposed bill says that every woman, man and child has the right to be free from all forms of domestic violence including all forms of physical, sexual, psychological, emotional, verbal and economic abuse.
Domestic violence has been defined as physical abuse, sexual abuse, emotional, verbal and psychological abuse, economic abuse where women are deprived of financial or other resources, intimidation, harassment, stalking, damage to property and entering a complainant's residence where the respondent and the complainant do not share a common residence.
Sumika Perera, coordinator at the Women's Development Foundation in Kurunegala, believes that economic dependence is one of the main reasons why abused rural women in particular are reluctant to leave their husbands.
"In many cases the husband is the breadwinner of the family and a woman would think twice before leaving the family in despair. Often she suffers in silence," Perera said adding that another problem was that most women in Kurunegala or in rural areas lived in their husbands' home.
But she said even in Kurunegala the number of middle class women, like teachers and bank clerks complaining of harassment and abuse by their husbands was increasing.
WMC's Samuel says that while present laws under the Criminal Procedure Code (CPC) have provisions that take care of issues like rape, grievous hurt and assault, the process is long-winded and doesn't work for women. "Women are harassed at the police station and asked to stay long hours to file their complaint. Many women are reluctant to file a complaint unless the crisis gets out of hand," she said. In recent years, police posts have set up special women's desks, manned by policewomen who handle complaints in a more friendly manner.
Ms. Samuel called for a strong lobby from civil society and the media to persuade Parliament to consider this bill as a non-partisan issue. WMC has met medical professionals, in addition to other groups in promoting the bill, and now plans to meet teachers, principals and lawyers to promote the bill.
Lawyer Gomez said domestic violence like any form of abuse that takes place at home is shielded from the public eye and rarely reported for fear of repercussions and shaming the family.
The proposed Act is unusual as it has elements of criminal and civil law, unlike other normal laws. In addition to issuing an interim order _ followed some months later by a permanent injunction after hearing the respondent _ the court can also order a specific sum of money for medical expenses, paying the rent or mortgage or looking after food needs.
There is also provision for the payment of punitive damages if the court considers it necessary. "While the purpose of the proposed law is to protect the women from further abuse, it also provides for the economic well-being of the woman and her children," said Gomez.
WMC's Samuel said that the current practice relating to police action on complaints of domestic violence was unsatisfactory. She said, "when a woman complains to the police that she has been harassed or beaten by her husband, often the matter is referred to a mediation council in that particular town. That council brings the two sides together to patch up differences. The woman continues to suffer in silence as the beatings continue during this mediation process."