Community concern
Reaching out to both children and adults, Navajeevana mobilises village support
By Hiranthi Fernando
To hundreds of people with disabilities living around Tangalle, Navajeevana has in-deed meant a 'new life'. The programme for home-based rehabilitation of neglected children with disabilities launched in 1987 with a small staff of three volunteers, has today blossomed into a successful model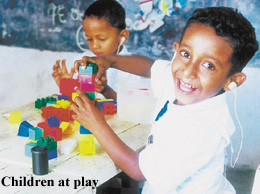 Community Based Rehabilitation (CBR) programme.

Located in a modest rented house, the 'Navajeevana' pre-school and rehabilitation centre in Tangalle is a hub of activity. In the garden, children swing happily on a tyre hanging from a tree. In one corner, a child with braces on his legs is being trained to walk. Another group is having great fun with paints, guided by Lizzy, a volunteer primary school art teacher from Britain. The common factor is that all these little children have some kind of disability.

There are hearing impaired children as well as those with various physical and mental disabilities.

In the Speech Therapy Unit temporarily housed in a container, Nadija, a qualified speech therapist is at work with two-year-old Sumith who has shown much improvement during the seven months he has been here.

In another classroom are pre-school children with hearing impairment. The first batch of five pre-schoolers now attend a normal school, the unit manager Monica said. One child, Buddhika, tops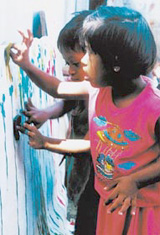 his class in a village school.
Physiotherapist Ranjit Kulatunga has his hands full in the physio-therapy unit. A 37- day-old baby, Mayuri whose right arm was paralysed due to a birth injury is brought from Dedduwawala twice a week for treatment. With two weeks of physiotherapy and exercising the arm at home, there has been a marked improvement.
Audio testing for deafness and the making of ear moulds for hearing aids are also done at the centre. Equipment for audio testing has been provided by Plan International, JAICA and the Tissa de Silva Trust Fund, while Wickremarachchi & Co. have trained the staff.
'Navajeevana' covers the five Divisional Secretariat areas of Tangalle, Beliatta, Katuwana, Dickwella and Angunukolapelessa, assisting not only children but also adults with disabilities.
"When we started in 1987, we did not have a clear-cut goal. Our aim was to give a service to the disabled," explained Ms. Kumarini Wickremasuriya, Project Director and founder member of Navajeevana. "A small group of interested people initiated the home-based rehabilitation programme for persons with disabilities. The need was there for early identification and intervention. Community Based Rehabilitation (CBR) was not practised much at the time and it was mostly home-based rehabilitation, known only to the parties concerned.
"In home-based rehabilitation, we try to change the disabled person. In CBR, while changing the disabled person we also try to change the attitude and role of the community. Disabled people are often looked on as not being able to do anything. Social integration and acceptance by society are very important," she said.
Initially, Kumarini said they used her home as a base and went out to the villages with three volunteer field workers. It was a difficult period as they were viewed with suspicion by the villagers. After obtaining funding from Cruistoffel Blindenmission of Germany, they took in seven more field workers and gradually expanded their area of work. A consultant, came in to train volunteers. As their services became recognized in the area and more people sought assistance, Navajeevana worked with the Social Services Department for basic training in CBR. It became very necessary to have somebody with a diploma in social service work to implement the programme in CBR and Jeevan Kodituwakku, joined them as Field Coordinator.
"We now go to the villages, recruit volunteers and form committees," Jeevan said. "One volunteer from each Grama Niladhari (GN) division was selected for a 12-day residential basic training course. We have made officials in the area aware of Navajeevana and also tried to inculcate a more positive attitude towards disabled persons in the community."
Today, Navajeevana has on its staff, four diploma holders and a full-time physiotherapist. Operating in 270 GN divisions, they have trained over 350 volunteers. Realising that the number of children with cerebral palsy was increasing, and physio-intervention was needed to rehabilitate them, clinics will be set up in different places. Pre-school teachers too have been trained by the National Institute of Education, to handle different types of disabilities.
"While working with the disabled, we give a training to the caregivers as well. We find there is social activity at the clinics and centres. Mothers interact with other mothers and see other disabled children.
This interaction helps them. Now the villagers know about the programme and we have more and more coming in but have to find the funds," Kumarini said.
Dimuthu, a little boy with Downs Syndrome runs away barking like a dog when anyone tries to get near him. He lives with his mother and grandmother in a mud hut. Their priority is not the disability but a roof over their heads. Navajeevana got help from the JVP MPs of the area to donate Rs.15,000 to build a house. Construction has begun but they still need money for the roof. Efforts to get Dimuthu to the centre have been unsuccessful. His mother works at a fibre mill to support the family and the field officer of the area is trying to find a villager who would be willing to bring the boy to the centre.
Navajeevana comes across many such cases where financial assistance is needed before the disability can be addressed. In Dikwella North, a family of three disabled people, live in a small mud hut. Karunawathie earns a pittance making coir rope, which the Navajeevana volunteer, Mala helps her to sell.
Several disabled people have been assisted in setting up self-employment projects. Rammika Jayasuriya, who has been blind from birth, runs a little grocery store and also packets items like pepper, medicinal herbs, sweets, peanuts, which he successfully markets with the help of his wife Geetha. They have now requested the help of the Social Services Department to buy a grinder so they could grind their own curry stuffs for packeting. Nishantha 18, a mentally handicapped youth has been given a training in making ekel brooms which he hopes to sell to a boutique nearby.
"The state or any one organisation cannot achieve CBR. It has to be a collective programme," the Project Director points out. Despite the need for increased funding and a permanent premises for a centre, Navajeevana continues to provide an invaluable service to the disabled and their families.