Appreciations
He was true to himself - H. T. Gunasekara
A breath of fresh air - Stanley William
He was true to himself
H.T.Gunasekara
Col. Hector Thilak Gunasekara who died at the age of 79 was a man with extraordinary qualities. One of the Gunasekara brothers famed for their prowess in cricket at Royal College, he was fourth in a line of six brothers in the school cricket team.
Of them the most renowned was the physician-researcher, cricketer and former Director General of Health, the late Dr. D. B. (Barney) Gunasekara, who as a schoolboy represented the national side.
One recalls Thilak as a schoolboy leader in the 1940s. He was then too, as a school prefect a strict disciplinarian. In a school play, a "Mock Trial", he played the role of a villager, a poultry thief, "Thetha Kukula", facing trial for his misdeeds. From then onwards, Thilak was called 'Thetha' affectionately. Another theory was that Thilak used so much oil on his hair that it seemed wet. In 1941, he enlisted as a commissioned officer in the British army during World War II and served in Trincomalee.
After the war and following Sri Lanka's independence, Thetha served in the new Ceylon Army's artillery division, and was lost to cricket. However he was a good cricketer. Some time later, and now past his prime, he represented Lanka at cricket in many of the games against Commonwealth teams, and the Gopalan Trophy, while he represented the SSC in club tournaments.
Thetha's contribution to the army received a final tribute at the military funeral accorded to him when the then commander in his message read out by Major General A. K. Sooriyabandara said: "Colonel H. T. Gunasekara was a 'gunner' who maintained the true spirit of the regiment. The indelible imprint he has left behind will remain in the hearts of the gunner family for many years to come.
He will be remembered by the country and the army not only for his sincere and genial personality, but for his excellent service to the army and his motherland."
As the buglers blew the Last Post one recalled the life of this remarkable man. A man of great simplicity he used the people's mode of travel to get to his stations of duty, the church, for he was a very religious man, the cricket coaching sessions he held at the Tamil Union Club and meetings with friends and colleagues. He was a great admirer of Don Bradman and was proud of his meeting with him in 1948 when Thetha was ADC to the then Governor General.
One of his recent concerns was the sliding standards in our country, which he put down to the lack of discipline and leadership.
He was even critical of our own cricket teams' performance in Test cricket. He was of the view that they had no concept of batting to save a game which he believed was also part of the game itself.
There was much I came to learn about and admire in this simple man. His legendary self-discipline, his self- effacing manner, his concern and love for fellow beings, and his dedication to the causes he believed in.
He was truly representative of what Shakespeare meant: "To thine own self be true". Not for him at any time the pomp and pageantry of high social living, or the attention of the publicity machine, but Thetha earned and won the love and affection of all those who knew him and whom he served, and whose lives he truly enriched.
May he rest in peace.
Dr. R.O.B. Wijesekera
---
A breath of fresh air
Stanley William
On April 7, Bak full moon poya day, Stanley William had an appointment with the Diyawadana Nilame of the Dalada Maligawa, Niranjan Wijeyaratne. Being a devout Buddhist, following in the footsteps of his late father B. H. William, he was looking forward to this meeting. When alighting from his car he asked his wife Mala whether she had the tray of flowers and began climbing the steps that led to the Maligawa with his hands joined in veneration. He had scarcely climbed two steps when his wife noticed that he was unsteady on his feet. Soon after he breathed his last, suffering no pain and meeting his destiny on sacred ground.
Stanley inherited both position and responsibility with the sudden death of his father at the age of 49. With a Master's degree from Cambridge University, Stanley flew back home to take over the family business.
I first met Stanley in strange circumstances, when ironing out some personal differences. I could not help but admire this man for his humility and willingness to forgive and forget. He firmly believed that to err was human but to forgive was divine. He was quick to understand human weaknesses and accept responsibility if he had committed a fault.
The most striking features of Stanley's personality were his charm and simplicity. None would have believed that he had everything that people yearn for - status, power and wealth. He had a kind word for those in want and firmly believed that any act of kindness should not be deferred. Stanley was like a breath of fresh air. Even with those whom he met for the first time, he had the knack of making a lasting impression.
As a founder Director of Sampath Bank, Stanley was a pillar of the bank. When he was Chairman he reached out to his management and staff not only by displaying kindness and understanding but also being a stickler for discipline. Ill-health triggered his premature resignation from the post of Chairman. To his last day however, he served as a Director. The bank has lost a founder Director who from the very inception took a keen interest and worked tirelessly towards its steady growth and prosperity.
The World Fellowship of Buddhists counted Stanley as one of its loyal members for over 30 years. His absence will indeed be felt. Buddhism has lost a devout follower who rose to every occasion whenever his advice and support were required.
Stanley gave the Alumex Group of Companies a sound leadership after his late brother, Elmo had worked towards the realisation of a cherished dream. Stanley at the helm of Alumex in its formative years was a motivating force.
The William family has indeed lost the pivot on which it revolved. His only surviving brother, Chandana and sisters Flora, Viola and Shantha are poorer without the love and concern he showered as the big brother. Mala, his wife, his daughters Shakila, Nadira, Nirupa and son Prakash together with sons-in-law, Shanaka de Mel, Shanaka Kumaratunga and Sanjeev de Silva and the grandchildren, he was devoted to, will miss the love and affection he showered on them.
May he attain Nibbana
Kalinga Senewiratne
---
Companions cry for rights
By Harendra Alwis
In 1995, a small group of 'Companions' set forth on a 'Journey'. Six years later, they have grown into an organization involved in a wide range of activities, with links to networks of activists and human rights groups.
They have got many accolades in recognition of their work; yet theirs is a journey like no other. Hardship, controversy and very little support have been their lot. They are a group ostracized by society and treated as criminals under archaic laws coming down from colonial times, because of their sexual orientation - which is no fault of theirs. They are the gay, lesbian, bisexual and transsexual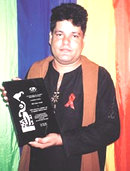 men and women of our country, who form about 10% of the population.
Now the International Gay and Lesbian Human Rights Commission (IGLHRC) has recognised the contribution of Sri Lanka's 'Companions on a Journey' for their work in HIV-awareness creation and their positive contribution towards gaining gay, lesbian, bi and transsexual rights.
Their vision is "to contribute in creating an environment where society will accept, respect and support people with alternative sexualities such as gays, lesbians, bi-sexuals and trans-gender persons: To ensure that they live in freedom with respect and dignity; to win equal rights, social and legal recognition of sexual minority communities."
In reaction to a "malicious" letter published in a local newspaper, the Companions and their women's support group had filed a complaint with the Sri Lanka Press council. Recently the Sri Lanka Press Council gave its verdict, rejecting the complaint and condemning lesbianism as sadistic and salacious. The Press Council also fined Sherman de Rose of the Companions, who had filed the complaint. It was indeed ironical that in the same month, the Companions were awarded the 'Felipa de Souza' by the IGLHRC for their "outstanding contributions, striving to defend human rights of all those who are subjected to discrimination because of their sexual orientation, gender identity or HIV status".
The Companion's Centre and its members have come under both physical and verbal attacks, but Director de Rose says, "We are not talking about the morality of homosexual behaviour. What we are saying is that we are not criminals and we deserve to have the privilege to enjoy all the rights that we as human beings are entitled to."
"Homosexual behaviour and homosexual identity are two different things. Just because someone engages in homosexual activities, that does not make him a homosexual. society looks at gays and lesbians through a sexually-tinted eye piece which could be the root of all the discrimination," he explains. They have set up two 'drop-in' centres in Colombo and Kandy to counsel and help those with irregular sexual identities.
The Companions' "soft approach" may be the result of the initial hardships they had to go through, but "the younger generation", they say, "is more militant in their struggle to win their rights. they are as any human being would be, entitled to chose their path to freedom."
The Companions have come a long way in creating a society in which people talk about these matters and express themselves freely. Yet, the road stretches ahead towards the ultimate goal of creating a society where there is tolerance and respect for such minorities. Theirs is a struggle for a dignified life for all such minorities; but their efforts would only bear fruit when we accept them for what they are, respect them and embrace them as brothers and sisters.