Contents
---
'The Very Best of The Bee Gees'
By Sanath Weerasuriya
Gibbs brothers,popularly known as 'Bee Gees' are the group of this week's'Original Music Competition'.

No popular music act of the 1960s, 1970s, 1980s and 1990s experienced more ups and downs in their popularity that the Bee Gees, or drew more of a varied audience. Beginning in the middle-late 1960s as a kind of Beatles-like ensemble, they quickly developed as songwriters in their own right and perfected a strange mix of progressive-pop music. Then, after hitting a trough in their popularity in the early 1970s, they reinvented themselves as perhaps the most successful white disco act of the decade, only to see their own popularity disappear along with the dance beat they championed; and they have since made a successful comeback in virtual every corner of the globe except the United States.

The group was also rock's most successful brother act. Barry Gibb, born on Sept. 1, 1946 in Manchester, England, and his twin brothers Robin Gibb and Maurice Gibb, born on Dec. 22, 1949 on the Isle of Man, were three of five children of Hugh Gibb, a band leader, and Barbara Gibb, a former singer.

The three Gibb brothers made their earliest performances between shows at local movie theaters in Manchester in 1955. They performed under a variety of names, including the Blue Cats and (reportedly) the Rattlesnakes.

Their early lives were interrupted when the family moved to Australia in 1958, resettling in Brisbane. The trio, known as the Brothers Gibb - with Barry writing songs by then.

In 1967, they returned to England and had their first chart-topping single there with "Spicks and Specks". Their first English recording, "New York Mining Disaster 1941", released in mid-1976 made the top 20 in England and America, and established the pattern of the group's work for the next two years. They had successful follow-ups with "Holiday" and "To Love Somebody".

The Bee Gees single "Massachusetts" was a chart-topper in England and launched the group on their first wave of stardom. Their albums were unusually well put together during this period, reflecting the influence of the Beatles. Bee Gees First, as their first UK/US album was known, had its weak spots.

The group enjoyed two major hits in 1968, "I Started A Joke" and "Gotta Get A Message To You" both from Idea. It was in 1969 that the trio lost the momentum they'd build up.

The brothers, however, were unable to agree on which song was to be the single. The result was Robin Gibbs decision to leave Barry and Maurice. Eventually even Barry and Morris Gibb parted company.

Finally, in 1970, they decided to try and reform, and the result was "Lonely Days", the group's first No. 1 hit in America and their first gold record in the United States. They enjoyed another huge hit with "How Can You Mend A Broken Heart" in 1971.

Then, in 1977, coming off of their recent success, the group was approached about contributing to the soundtrack of a forthcoming movie called Saturday Night Fever. Their featured numbers, "Stayin' Alive", "How Deep Is Your Love" and "Night Fever", each made No. 1 on the charts, and the album stayed in the top spot for 24 weeks, even as the film broke existing box office records.

The group had another No. 1 album with Spirits Have Flown in 1979, and three more No. 1 singles in "Tragedy", " Too Much Heaven" and "Love You Inside Out", but their days in the upper reaches of the American charts were numbered. In 1981, the Living Eyes LP didn't even make the top 40. A new album in 1989, One got a good reception around the world and even generated a top-10 US singles.

Look for 'The Very Best of The Bee Gees' at M-Entertainments dealer outlets and grab an original copy for yourself.

But still you can win five Original albums of 'The Very Best of The Bee Gees' by answering the simple question on the 'Sony Music / TV Times coupon'.

To enter this contest, all you have to do is to answer the question on the coupon and send it to the address given below.

The address is "Listen to Original Music Contest, No. 45, C/o Maharaja Entertainments (Pvt.) Ltd., 330, T.B.Jayah Mawatha, Colombo. 10.

Tel: + 941672425-8, Fax + 941699070. E Mail: me@lgo.lk

All the entries must be originals from the TV Times and no photocopies or faxes will be entertained.

All correct entries will be drawn by a panel of judges. The entries should reach the above address by May 8, the latest.

The decision of the judges will be final and the names of the winners will be announced in The Sunday TV Times accordingly.

Here are the winners of contest no. 41. The winners of two Sony Original CDs are Michelle Jayaranjan of Battaramulla and Mrs. Kathleen Anderson of Negombo. The two audio winners are Gaston Clogstoun of Moratuwa and C. Anderson George of Colombo 13.

The 10% off gift vouchers go to W.M. Nayanajith Ranjan Ekanayake of Balangoda, Sarath Wijayawardena of Ratnapura, Shaharina Lye of Thilladiya, Sarah Dias of Moratuwa, C.L. Ratnasuriya of Kadawatha and Dayan Navaratne of Narammala.

The Poster winners are Mrs. Basma Azad of Colombo 3, Nigel Edirisinghe of Wattala, Asela Jayasuriya of Kotte, R. Krishnakantha of Kotagala and Vasanthi Kuruppu of Colombo 4.
---
'In Harmony' with jazz
Jazz group 'In Harmony' comprising four veterans from the music scene, will start their performances at Hilton JAIC from Wednesday, May 2 at 'Union Bar & Grill Room'.

They will be featured at UB & GR on every Wednesdays from 8.00 p.m. Rienzi Perera, Ray Gomez, Anton Goonatillake and Bonnie Perera certainly need no introduction to the local music scene and with their combined versatility, the repertoire will include songs of James Taylor, 'Simon & Grafunkel', Don Maclean, the Beatles and the Eagles - all in typical acoustic style.

Stay tuned for the music of the 60s, 70s, and mid 80s with "In Harmony".
---
Saybhan on new track
This year has been declared as the year for Dialogue of Civilisations by the United Nations Organization on an earlier suggestion made by Iranian President Dr. Khatami.

Saybhan Samat having earlier played with the Jet-Liners, Sam the Man and the Gaylords also having had his own band Saybhan and the Tempo which played scintillating music in the 1970's now has ventured to promote Dialogue of Civilisations through the international language of music by playing Mostazafeen music which is music for oppressed, depressed and unhappy people in the mental rehabilitation centres, home-for-the-aged centres, orphanages, prisons and for injured soldiers in their camps and at hospitals too. The name of his band is SAYBHAN AND THE SOCIETY BAND.
---
TNL Sticker Jam Winners
The streets will seem a little less exciting for a while. Because after an immensely successful 8-month run the TNL Radio/Thai Airways/Celltel Infiniti Sticker Jam came to an end on March 21.

It was the end of a phenomenon that started outside Petco Lanka, Bambalapitiya, on July 23rd, 2000, and finished up outside Keells Super, Mt. Lavinia on the 8th March 2001. During this time the TNL Crew gave away over 40,000 stickers (wow!!). For those of you who are interested in numbers, that was 15,000 Celltel Infiniti stickers, 10,000 Lite 89.2 stickers and 17,000 TNL Radio/Thai Airways stickers.

TNL Radio also gave out 6 air tickets to Bangkok, Thailand, courtesy of Thai Airways and 5 cellphones from Celltel Infiniti. The winners were drawn from among the people who filled in the form given to them with the stickers and sent them back to the TNL Radio offices.

The winners of the Thai Airways return to Bangkok are, Rajiv Fernando, Niroshan Dassanayake, Thilanka Dewapura, Jerome Labrooy, Halindra Jayasinghe and Michael Haluwana.

The winners of the cellphone are Glynis De Silva, Joseph Perera, Kris Martenstyn, Mrs. C.D. Dahanayake and Suresh Sunderdas.
---
Clarence leaves Sunday Jazz Jam
All leading jazz musicians will gather at the Sunday Jazz Jam on May 6 at the Gymkhana Club from 12.30 p.m. - 6.30 p.m. to wish the flamboyant percussionist/drummer, Clarence Corera, bonvoyage.

Clarence will be leaving our shores to the States with his wife and son.

Many exciting "Specials" are scheduled at the jam, including a Latin three-jazz drum battle which, will feature Clarence as one of the drummers. Make sure all jazz lovers to be at this Sunday Jam session.
---
'Hapana': Another story for kids from TBI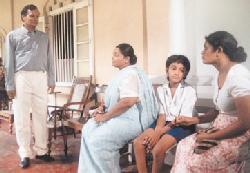 "Hapana", an adaptation from a novel by the same name by the late T. B. Ilangaratne is being telecast every Sunday at 7. 30 pm on ITN.

Amaris, who is the elder child in a family of nine, is an intelligent young boy. His father died due to a dispute with a foreigner.

Amaris was sent as a domestic to one Nanayakkara's, who is a medical officer. Nanayakkara has a son and a daughter and the son was kidnapped by an unidentified gang.

Nanayakkara tried to find his son but he could not. Finally he got transferred to Anuradhapura from Kandy. During this time Nanayakkara's family members and Amarais went on a tour in which , an unidentified gang kidnapped Amaris to be sold to a Treasure Hunter and was handed over to one named 'Mama', who has locked up Amaris in a cave as with several other children. "Mama' is keeping these children as sacrifice for a treasure, which is worth millions.

Few days later Amaris and two other children escaped from the cave. Again they were caught by the gang members, but Amaris escaped and he got a lift in a vehicle, transporting illegal timber.

At a check point the vehicle was stopped by the police when Amaris explained everything to the police officers.

Later police raided the jungle and rescued all children, including Nanayakkara's son with the help of Amaris.

The main roles are played by the veterans Joe Abeywickrema, Cyril Wickramage, Ananda Wickramage, Sanoja Bibile, Nilanthi Munasinghe and Susila Kottage.

Produced by Edwin Kumaragamage, edited by Sanath Rathnadesh De Alwis, music is directed Nelsan Dharmasena, art directed by Hemachandra Perera and Kithsiri Gamage is behind the camera.
---
Vintage French film fare
By Susitha R. Fernando
Celebrating the 50th anniversary of French cinema at Cannes Film Festival, twelve French cinematic expressions will be screened in Colombo.

Twelve films shown at Cannes, one of the most important international cinematographic events in the past five decades, will be released at the Elphinstone Theatre from May 11 to May 22 everyday at 2.30 and 6.00 pm.

The Film Festival is organised by the Embassy of France and the Alliance Francaise in collaboration with the National Film Corporation.

The list of films to be screened at 2.30 pm are:

Friday May 11- "La Bataille du rail" (1946) 'The Railway Battle'

Saturday May 12 "Les vacances de Mr. Hulot" (1953) 'Mr. Hulot's Vacation',

Sunday May 13- "Les 400 coups" (1959) 'Trouble Maker'

Monday May 14- "Un Homme et une Femme" (1966) 'A man and a Woman'

Tuesday May 15- "Les Choses de la vie" (1970) 'Little things of Life'

Wednesday May 16- "Le Dossier 51" (1978) 'File no. 51'

Thursday May 17- "Un Dimanche a la campagne" (1984) ' A Sunday in the open country'

Friday May 18 - "Therese" (1986) 'Theresa'

Saturday May 19- "Cyrano de Bergerac" (1990)

Sunday May 20- "Van Gogh" (1991)

Monday May 21- "Ma saison Preferee" (1993) 'My Preferred season'

Tuesday May 22 -"Ridicule" (1996)

Starting with "Ridicule" (1996) at 6.00 pm on the first day, the films screened previous day at 2.30 pm will again screened at 6.00 pm.

"La Bataille du rail" (1946) The Railway Battle, a film made by Rene' Clement in memory of the railway employees who fought the enemy the end result of which is a sober and truthful document.

"Les vacances de Mr. Hulot" (1953) Mr. Hulot's Vacation, a cinematographic humor is about Mr. Hulot, a likable eccentric who leaves in his old car on vacation.

"Les 400 coups" (1959) 'Trouble Maker' was awarded with the Best Director at Cannes 1959 and nominated for an Oscar. Disliked by his parents especially by his mother Antoine Doinel plays truant with a friend. After having stolen a typewriter, he is placed in a school for delinquents but he escapes.

"Un Homme et une Femme" (1966) 'A man and a woman' revolves around Anne, a script writer and widow and Jean-Louis, a racing-car driver who is also a widower. They both in their thirties meet and fall in love.

In the film 'Theresa', Therese Martin who is a very young Carmelite is by nature joyous, open and idealistic. But with her father's death, the realities of life in the convent among others have a deleterious effect on her health. She not only has to fight physical pain and suffering, but also the doubts which test her faith.

"Cyrano de Bergerac' the film set in 17th century Paris is the tale of Cyrano de Bergerac who is secretly in love with his cousin, Roxanne. But the girl's heart beats only for the handsome Christian.

The film 'Ridicule', the opening film at Cannes, had 12 nominations for the Cesar, Golden Huge Award and the Grand Prix at the Chicago Film Festival, 1996 and Foreign Press Award, Paris, 1996.

Versailles, 1780, in the Courts of Louis XVI. Gregoire de Ponceludon has come here from his home state in search of an opportunity to meet the king, in order to inform him of a very serious problem- the drainage in the Dombes region.

But before approaching the King, he has to confront the King's courtiers and outdo them with his wit.

The entrance for the festival is free.
---
What's up with ETV's Hollywood movies ?
Shehara Perera, Janaki Silva and Berni Dissanayake of Moratuwa write..........................
Last two weeks ETV has scheduled its Hollywood movie on Sunday night but did not telecast it.

We are Hollywood movie fans and ETV is the only channel catering to our needs. Sunday movies are great, even though they are pretty old.

Please bring back this movie belt again and give us some good films.

Family movies also are popular, but the programme time does not go down with our schedule.

Can you change the time of 'Family Movie' to Sunday morning or towards late in the evening.

Also thanks to Swarnavahini for fantastic Monday movies but cut down with advertisements. With these ads the movies run into very late night. We have the school next day and we think, the working adults too have the same problem.

Please try to be fair by your viewers, Swarnavahini.
---
Bouquets for Swarnavahini & Sirasa TV
Sunimal Fernando of Panadura writes.....
'Kathura' on Sirasa is the best programme, I have seen for a long time on Sri Lankan television industry.

Premachandra (Vijaya Nandasiri) and Kodituwakku (Wilson Gunaratne) are the ideal characters for these roles. I do not think anyone can do it a better way than them. They are so real, humourous and ideally fit in for real life politicians.

'Kathura' is a living example for other stations to do a viewer oriented programme.

Some TV programmes are produced to satisfy the director, producer or the sponsor not to fulfill the viewers' needs.

When talking about teledramas, I thank Swarnavahini has eaten into the most of the teledrama segment of the 'Rupavahini' viewers.

Swarnavahini telecasts some of the top tele-dramas of the present times. 'Ek Muruganganaviyak,' 'Soo Seta Mayam', 'Nethra Mangallaya' are to name a few.

Sirasa has failed in this segment. But they have developed a strong English movie viewership lately.

I request both Swarnavahini and Sirasa to cut down their programmes on Hindi at least on weekends specially on Sundays. It is sick to see this Hindi invasion on all channels on Sundays.
---
Three cheers for the Golden Chimes
Rohan de Fonseka of Ratmalana writes....
I am a fan of the great song composer, writer and singer the late Mr. Clarence Wijewardena who introduced Sinhala pop music to Sri Lanka.

Recently the Golden Chimes headed by Shanaka Perera together with his wife Lankika have released their maiden compact disc, which I had the pleasure of listening to. While listening to this CD it took me back to the early 70's, when this style of music was originally introduced to Sri Lanka by the late Mr. Wijewardena.

There have been many singers and bands coming up in the recent past who's songs have been spoken about so highly and forgotten so fast.

The type and style of music which Clarence Wijewardena gave us will linger in our ears for a long time. I recently met Mr. Gerald Wickremesooriya a one time record producer under the " SOORIYA" label, who released many of Clarence's great hits on discs during the early 70's, when I happened to visit his music shop to purchase a cassette.

During a conversation with him about the Clarence era I was made to understand that the band Golden Chimes was originally started by the late Mr.Clarence Wijewardena together with Shanaka Perera and since then have been in the seen for nearly 30 long years through many hardship and changes in their line up.

What touched me about their new CD is that they are the only band in Sri Lanka to continue the style of the great Mr. Clarence Wijewardena.

I hope their new songs will help to fill the void left by Clarence.

While wishing Shanaka, Lankika and the boys for a job very well done, may the grace of god take them all from strength to strength to give us many more hours of your music which will last in our ears for a long time.
---
Stop this advertising madness
Rohan de Alwis of Pita Kotte writes..........
After reading the letter from Gihan Serasinghe of Battaramulla last week, I thought it is time to express my views on the subject of advertising.

I am really happy to see at last, someone is courageous in writing about this advertising nonsense. I fully agree with him.

It is painful to watch the same advertisement repeated one after the other on some sponsored programmes.

Advertisements should be run on regular intervals. Different advertisements on different products should be shown in between programmes or at given gaps.

But showing the same thing one after the other will won't do any better to the product other than creating a rejection.

I don't know, who's idea was that to repeat the advertisement. Either station or the advertising firm, but I know most of my friends and relations hate to see this development and they are rejecting the product.

'Kotmale' advertisement with Murali and 'Ole' drink ad on a boat (that is a very poor quality ad, as they promote the bottle as a 'leak sealer' but not the drink) are few I can remember.

Surprisingly all these ads are run on Sirasa TV or MTV.

Can authorities look into this pathetic situation?
---
European Food Festival at Galadari
A European Food Festival will be held at the Galadari Hotel from May 4 to 12.

An extensive dinner buffet, will give all patrons an opportunity to flavour food from all member nations of the European Union and its authentic recipes.
---
Indika scoops gold in UAE
Chef Indika Nishan Pereira is flying high, with his chocolate sculpture of a falconer, winning gold in a major cookery show in UAE.

Indika, for the past two years a Commis Chef at Emirates' Al Maha Desert Resort, scooped the gold medal in the recent Emirates Salon Culinaire 2001 at Dubai's World Trade Centre.

His chocolate sculpture Al Sayyad, The Hunter, has now gone on show in Al Maha's restaurant, near the resort's daily falconry displays, and draws admiring looks from guests.

Indika spent many hours of his own time working on the intricate piece. It depicts a Bedouin with a falcon by his side, a theme which sums up the desert traditions and Arabic way of life which Al Maha aims to recreate.

Indika trained in his native Colombo, working first on preparing dishes with fruits and vegetables. His cookery trainer realised he had talent and encouraged him.

How did he choose his theme? "Al Maha sums up Arabian culture and the nomadic way of life", he says. "Our Head Chef Ashoka suggested the idea of a hunter, and I worked from imagination an sketches."

Why use chocolate? "It's a mixture of butter and salt, a difficult medium to work with, so I knew if I did well in the show, I'd score very high marks."

There was just one problem: "How to keep the chocoholics away!"
---
French Cuisine show
A French Cuisine Festival will be held at the 'Gables' of the Hilton Colombo from May 18 to 27 at 7.00 p.m.

Redolent of herbs, garlic, olives, anchovies, and spices steeped in tradition - French cuisine has always been a firm favourites in the gastronomique scene.

Aromatic sauces that adds flavour to the mouth watering dishes will be prepared by Chef Jean Louis Delphin, Master Chef in French cuisine, who is ready to take you on this culinary journey at the Gables.

Dishes ranging from Fish to Poultry topped with French Cheeses to delicious creamy desserts are down on the cards. To compliment these an array of French wines will also exalt the promotion Chef Jean's background hailing from Paris awarded the best chef in the West of France is ready to offer delightful variations in French cooking.
---
Bonsoir on brides and grooms
If you are intending to tie the knot in the near future this is something you should not miss! Brides, Grooms here you go!

This Monday the focus falls on jobs, which revolve around weddings. To find out the real cost behind a wedding, Bonsoir crew spoke to people involved in wedding-related-jobs. Nigel and Jeanette help couples plan their wedding, in short they do the "running around for you" Bonsoir camera then visits the homes of a marriage broker and the famous Kandy-based designer Aldo Perera.

Also they spoke to Michael Wijesuriya about designing the bridal and to Thilina Soysa about the hairdos!

Next they move to flowers, the name simply cannot forget is Ms Forbes. She readily tells us of her experiences in this long-lasting business. Musician Mary Anne David, a household name in Sri Lanka and photographer Wedasinghe also voice their opinions on their respective trades.

A cross section of people, young and old here and abroad share their memories of that "big day". Before the end of the programme to gather more tips for your wedding, Bonsoir leaves you to browse around the bridal fair, which took place last month in Colombo.

"Bonsoir" Monday on ITN