---
Special Lessons
An integration programme opens the door to 'normal' schools for 'handicapped' children.
By Laila Nasry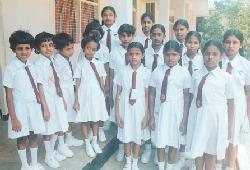 Shezni Nizar watches my lips carefully as I ask her, "Oyata aasama vishaya mokakda?" (What is your favourite subject?). 'Gunun', (maths) she replies, after a short pause. Currently preparing for her O/Ls, Shezni is one of the success stories of an Education Ministry integration programme that has afforded ' special ' children like her the opportunity to experience a regular school life.

Born with a hearing deficiency, Shezni had a speech impediment. Having entered Samudra Devi Balika Vidyalaya's Special Education Unit for children with deficient hearing , she learnt to lip-read. She was also given speech therapy and taught language skills. The training at the unit was aimed at helping her join the mainstream class.

"We don't intend keeping the children here forever. Instead we equip them with skills that'll help them stand on their own," says Padmini Perera, the head of the unit. A majority of the children in the unit are between the ages of 6- 9 years. Once they reach a sufficient standard to cope with a normal child's work they are integrated to Year One or Two depending on their ability.

"When they come to me, they are unable to even blow a cotton ball away," says Mrs. Perera. "Their breathing is not developed and they cannot project sound." This is mainly due to a hearing deficiency.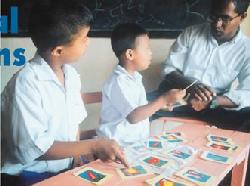 Lip - reading is thus taught with the aid of a mirror so that they can follow what is being said to them. Exercises are done as part of the speech therapy to help them respond. "We teach them to make sounds and thereafter words. Sounds are fed through headphones and children are encouraged to repeat them. At times they just mouth the words. Then I take their hands and place one on my throat and one on theirs and repeat the word. They feel the vibration in my throat and try to do the same with theirs.
"Sign language is not advocated as it doesn't encourage speech and most people would not understand what is being said. In a bus, their ability to say 'Colamba' instead of signalling it, would take them to their destination," Mrs Perera explains. After integration, the students are monitored. "They come to me once a week and continue the exercises and I encourage them to talk about their school work and how they are coping. In addition they are given vocational training in sewing, flower arranging etc. "They have also shown signs of being good athletes, artists and singers," says Mrs Perera.
Once in the normal classes, these children have found heartening support. "I have a lot of friends," Nadeesha who is in Year 9 is quick to add.
"Some times when my daughter doesn't understand what needs to be done for homework, her friends write a note to me in her book explaining everything," A.B. Anoma, mother of 12-year-old Onali says, adding, "now my girl is able to come home and tell me about the good day she had at school." Parents are overjoyed with their children's progress. Even little Dilki admonishing her father for being 'dark, fat with a big stomach' and asking him not to come to school was received with pleasure as she couldn't speak a word before.
Support has also come from another all-important source_the other teachers. "They constantly come at the end of the year asking if they will get a student for their class," says Mrs. Perera.
However, W.P. Samarasinghe who heads a similar unit at Lumbini Vidyalaya has not had the same success with integrating special children into regular classes.
Attitudinal problems surrounding these children are his biggest problem. "In my school these children are sometimes sent back after integration, with teachers telling me they cannot cope, when all that the children need is a bit of extra coaching," says Mr. Samarasinghe.
The biggest setback as Mrs. Perera sees it is parents being unaware of the potential for development in the case of children with some disability and hence failing to bring them at an early stage. "It's easier to correct them when they are small."
In a Year One class in Lumbini Vidyalaya, little Bhagya sits in the midst of 40 kids. The 'kiyaveema' lesson is in progress and Bhagya awaits her turn. Bhagya had a congenital disability, but after years of training she has found her place among her peers. "Everyone loves Bhagya," says her teacher, Sripali Indika. Though at first she was a bit shy, she is now very comfortable with her classmates. "She copes well, but I give extra help by keeping her an hour after school." The children too have formed a support group. "Chamodi, her best friend helped her come out of her shell and her friends even accompany her to the bathroom," the teacher pointed out.
In another classroom, nine-year-old Harsha is busy drawing a rabbit. Like Bhagya he was a slow developer. Earmarked for integration, he is considered on par with an average Year One student. "We hope to start him off from the beginning of next year," says M.A.Senarath Bandara, the Master-in-Charge of the Special Education Unit for Children with slow mental growth. Harsha has been in this unit for the past three years. The unit was set up in Lumbini Vidyalaya in 1992. "Their intelligence levels can be rectified with continuous training," says Mr. Bandara of the other seven students in his class. The children are enrolled after assessment. Generally at five or six, their capabilities would be that of a two or three-year-old. "We look at their ability to eat and drink alone and if what they say can be understood to an extent, the child is admitted." But unlike in a 'home', the facilities are those of a classroom. "The toilets are not close by and there are no volunteers to look after the kids, so they have to be in a position to point out their needs."
The walls of the unit are plastered with Gunasena's Pinthura hodiya, charts with numbers 1-20, parts of the body and face. The children are taught everything from holding a pencil to reading and writing. "They learn to add, subtract, the alphabet, 'parisaraya' and self-help skills. Twenty minutes is the longest duration of a lesson. They get tired and restless fast, then we switch to something else like handwork." Mr Bandara points to a number of pin-ups with pride. "We always find hidden talent." Collages, drawings, models out of building blocks are on display. "They make great houses with perfectly balanced doors and windows."
Though the numbers are small, handling such a unit is far from easy, "especially since I handle it alone," Mr. Bandara explains. "The children cannot be left alone for a moment. One child develops fits and needs to be watched. They could also harm each other while playing, because it's beyond their comprehension that if they hit another child with a bat it's going to hurt him." Thus he has to be careful with the toys they are given to play with. Further, these children forget easily. "Sometimes when they come after a holiday they can't remember what they had learnt earlier." However, all that is compensated for when one child qualifies to enter the Year One class. "The satisfaction then is unbelievable."

---
Better facilities now
The Special Education Units for children with hearing deficiencies and slow mental development were set up as far back as 1969. Today there are around 800 government schools around the island equipped to deal with 'special' children.

A special education training unit at the National Institute of Education (NIE) in Maharagama conducts a programme for teachers and currently there are around 40 teachers undergoing training. "A growing number of teachers are opting to specialise in this field of education," says K.M.Nandasena, Additional Director of the Education Ministry, Special Education Unit. This has led to an increase in the number of schools with such facilities.