The battle of Jaffna - Final part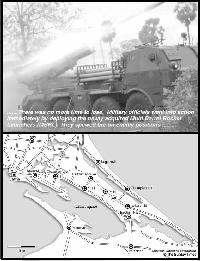 After a humiliating withdrawal from El-ephant Pass, last year, troops began to consolidate their defences at Pallai, a coconut palm fringed area about 15 kilometres north of Elephant Pass. It lay stride the A-9 Jaffna-Kandy highway.
On April 30, fierce fighting erupted and troops were forced to fall back further to the rear, to Eluthumadduval. From there, the defences on the east ran to Nagerkovil. On the west, it extended to the Kilali lagoon. Fears grew that an LTTE thrust to break through Eluthumadduval defences would mean they would forge ahead towards Jaffna town.
Then Media Minister, Mangala Samaraweera, had introduced tough new regulations under the State of Emergency. He met management representatives and top executives of media organisations on May 4 to brief them on the provisions and to appeal to them to adhere to it.
He dropped a bombshell during these briefings. He said the Tiger guerrillas needed to advance only another five kilometres to bring their artillery guns within the reach of Palaly, where both Security Forces Headquarters, Jaffna and the Sri Lanka Air Force bases are located. That would mean the port at Kankesanthurai will also come under artillery range.
With no land based supply route to Jaffna, attacks on the air base and the port would effectively cut off supplies and thus isolate the troops. At Temple Trees where President Chandrika Bandaranaike Kumaratunga was personally supervising measures, several questions came to the fore. How does one stop the Tiger guerrilla advance towards Jaffna with aerial bombardment capabilities of the Sri Lanka Air Force depleted? If due to unforeseen circumstances the troops are trapped, how would they be evacuated from the peninsula? How would the country react to shocks caused by troops abandoning Jaffna? How would one cope with the adverse media publicity, both locally and abroad?
These were foremost among many questions. President Kumaratunga appealed for assistance from four countries, India, Pakistan, China and Israel.
President Kumaratunga also asked the Commanders of Army, Navy and Air Force to come up with plans for evacuation of their men in the event of a crisis. She also presided at a top level meeting with senior Cabinet Ministers to formulate the Government strategy. The discussions centered on halting developments in Jaffna that would cause an adverse fall out. Explaining the reasons for placing the country on a 'war footing', Mr. Samaraweera said the "vast majority of our people don't feel the pain of war". He said the peace process will go on despite the intensification of the military campaign against Tiger guerrillas. In another unexpected development, President Kumaratunga also met a group of retired Army and Navy officers, the majority of them who supported the PA during the 1993 Parliamentary Elections. They were briefed by General Rohan de S. Daluwatte, Chief of Defence Staff.
Later, they formed themselves into a Committee to make recommendations on various specific areas where there were shortcomings, Electronic Warfare, Psychological Operations, Colombo Security among others. The weekly Cabinet meeting on May 3 went on till the wee hours of the following morning. Ministers agreed unanimously to place the country on a 'war footing' and promulgate tough new regulations to seize property or services of persons, ban meetings and publications on grounds of national security. These regulations also placed further curbs on censorship of the local media and brought in the foreign media too.
Military officials and others were named to run essential services and civil security. Troops together with Police were empowered to search premises or arrest any person. Minister Samaraweera told a briefing for the foreign media the need for the evacuation of troops from the Jaffna peninsula has not arisen but added he did not rule out such a possibility. Similarly he also did not rule out the possibility of the LTTE advancing a further five kilometres towards Jaffna. He warned racist elements are trying to create a communal backlash and added 'civil defence committees' have been set up to deal with such a situation.
As embattled troops fought a fierce enemy that was closing in on the northern capital, the crisis purchase drama, first played in 1995, was re-enacted in Colombo. Suppliers of defence equipment and arms manufacturers had filled the city's star class hotels. In what seemed Government to Government transactions, deal after deal was being put through. They included battle tanks from Czech Republic, fighter bombers from Israel, fighting ships from Israel, mortars from Iran, mortar locating devices from United States and communication equipment from the United Kingdom.
The Defence Ministry insisted the local agents of the suppliers were not welcome and were being kept out to prevent them from making commissions. A wise move.
Unlike previous years, the purchases amounted to a staggering 800 million US dollars or a staggering Rs. 5920 billion. An amount that surpassed the cost of defence procurements for any year in the past seven years. If officials in the Ministry of Defence believed their bi-lateral exchanges with the suppliers had in fact kept out the local agents, they were in for a disappointment. If most of the deals were secured by the powerful and the influential, the commissions were monumental. One dealer was up by 37 million US dollars while another was in for 17 million US dollars. The list goes on. And this 800 million US dollars was spent after five years and 25 days of war.
Having secured the Elephant Pass sector and ousted troops from their defences at Pallai, the LTTE stepped up their thrust towards Jaffna. Then came a message from the LTTE that was to send shock waves in some sections of the defence establishment and a sudden spurt of euphoria on the others.
That was when Media Minister, Mangala Samaraweera, was facing the CNN camera at an interview at the Information Department. News arrived that the LTTE had made an offer for a temporary ceasefire. The interview was interrupted as Director of Information, Ariya Rubasinghe, briefed Mr. Samaraweera about the contents of an LTTE news release from London. This is what it said: "The Liberation Tigers of Tamil Eelam (LTTE) wishes to state that they were prepared to declare a temporary ceasefire suspending all armed hostilities against Sri Lankan armed forces to facilitate the beleaguered government troops to be evacuated safely from Jaffna peninsula. Minister Samaraweera responded to a question and gave the Government's response. He said that there was no question of a troop pull out.
"Troops will be withdrawn only after there is a peaceful settlement," Mr. Samaraweera declared. He said the LTTE call for a temporary ceasefire was a psychological operation. This view was later expressed by Director of Information, Ariya Rubasinghe to other foreign media. Two days later, the LTTE declared that its 'commando units' had taken control of a section of the strategic Navatkuli bridge, barely three kilometres from the Jaffna town and cut off the A-9 highway in that sector. An LTTE press release claimed that the offensive was resumed following what it called "Sri Lanka Government's rejection of a ceasefire proposal put forward by the Liberation Tigers. The LTTE offered a cessation of hostilities to facilitate the safe evacuation of Sri Lankan troops trapped in the Jaffna peninsula. The Government rejected the peace proposal as a ploy of psychological warfare".
The LTTE thrust to seize the Jaffna peninsula continued. Troops put up stiff resistance and inflicted casualties on Tiger guerrillas. But wave after wave of Tiger cadres stormed security forces positions whilst mortar and heavy artillery rained on them. President Chandrika Bandaranaike Kumaratunga had a series of crisis meetings with the National Security Council. One night, Overall Operations Commander, North, Major General Janaka Perera, was on hand to give a briefing on the prevailing situation. He expressed confidence that troops will be in a position to bring the situation under control.
However, he said he required additional troops and equipment immediately to meet the rising threat.
Now Government leaders and military top brass were making a last ditch attempt to save the Jaffna peninsula from falling into Tiger guerrilla hands. After an emergency meeting of the National Security Council, with President Chandrika Bandaranaike Kumaratunga in the chair, on May 18 reviewed reports from the battle areas, it became apparent that urgent measures were necessary. They weighed various options and discussed whether Security Forces Commander - North), Major General Janaka Perera, should be asked to fly to Colombo to be briefed on these measures. In view of the heavy responsibilities cast on him in the battlefront, it was decided otherwise.
Deputy Defence Minister, Anuruddha Ratwatte, arrived in a helicopter at the Northern Command Headquarters in Palaly amidst the rain of LTTE artillery and mortars. He was accompanied by Lt. Gen. Srilal Weerasooria (Army Commander), Vice Admiral Cecil Tissera (Navy Commander), and Air Marshal Jayalath Weerakkody (Air Force Commander). Chief of Defence Staff, Gen. Rohan de S. Daluwatte, who was away in South India on a personal visit, flew to Palaly the next day.
Even as the top level team chaired conference after conference, artillery and mortar shells were falling in the high security complex, the nerve centre from where military top brass were directing the military campaign against Tiger guerrillas. Heightening concern was the fact that guerrillas had infiltrated the belly of the complex and were ranging mortars into important areas including the airfield and the Kankesanthurai port, the only landing point for logistic supplies and fuel for use by troops in the peninsula.
If a few mortars and artillery shells fell within the complex on May 18, it was intensified the next day. The fall of shells caused damage to a section of the runway preventing aircraft from turning around after they land.
Shells also fell within the KKS port and the adjoining buildings, part of the Cement Corporation complex. Artillery and mortar attacks on the airfield and the port prompted the authorities to immediately order the halt of all fixed wing aircraft flights.
When shells began falling for the first time on May 18, SLAF helicopters on ground were airborne and moved to a safer location. Similarly, artillery and mortars falling on the KKS port forced the closure of all operations. Unloading of urgent military cargo and fuel was interrupted. Hours later, ships moved to the deeper waters from where unloading operations were being carried out. Supplies were being loaded to smaller vessels and moved to a safer coastal area.
The worst fears entertained by the military establishment had now become real. There was no more time to lose. Military officials went into action immediately by deploying the newly acquired Multi Barrel Rocket Launchers (MBRL). They spewed fire on enemy positions and, at least on May 19, slowed down Tiger guerrilla mortar attacks. Pakistan which was the first country to respond had airlifted the MBRLs. Time and again, senior Army officials talked to their men to ensure their morale remained high. The Government introduced a cash incentive of eighty rupees per day to soldiers. A similar incentive of Rs. 100 per day was also paid to officer cadres deployed in battle in the north.
If infiltrated Tiger guerrilla cadres had smuggled in a large number of 81 mm mortars, seizing territory and forcing troops to fall back to shrunken defence lines had brought the high security defence complex at Palaly within artillery range.
Supplementing the barrage of MBRL fire on suspected LTTE positions were aerial attacks. Two Israeli built Kfir jets and two re-commissioned Chinese built F-7 jets repeatedly pounded points from which LTTE fire was suspected to emanate. Pilots confirmed they had several successful hits but no details were available.
The LTTE stepped up its military campaign in the peninsula. In a surprise move, they also launched attacks on Tanankilappu, Ariyalai and Navatkuli areas. Subsequent attacks on Columbuthurai and the Gurunagar area made it clear they were making a final push to seize the Jaffna town. Repeated LTTE calls to residents to vacate their homes had some effect. When a continuing curfew was lifted for a few hours, some of the civilians in the town area fled. The troops, to their credit, fought back and thwarted several Tiger guerrilla attempts to move into the town area.
Whilst making a push for the town, groups of Tiger guerrillas also moved in a westerly direction from Navatkuli. That advance saw them seizing the adjoining Kaithady area including an important bridge there. There were reports on May 20 that LTTE groups had moved beyond Kaithady to Sarasalai and Madduvil, a move which appeared to be an attempt to either encircle or bring under mortar range troop positions east of Chavakachcheri.
However, they admitted troops had 're-adjusted' their defences by withdrawing from Kilali area and from adjoining defences. They also said they were continuing to pound LTTE positions with artillery causing them heavy damage. As battles raged in the peninsula, public attention then focussed on the arrival of new weaponry to bolster efforts by the troops. The Special Media Information Centre admitted that such items have been sent to the north but avoided any mention of what they were. In fact, even before the fall of the Elephant Pass Defence Complex last April, the Government had done away with tender procedures to procure over 800 million US dollars worth of military hardware for urgent use by the security forces. As exclusively reported in The Sunday Times of April 30 last year, representatives of manufacturers in seven countries were called for discussions at the Ministry of Defence 'on a Government to Government' basis. The countries were Russia, United Kingdom, Pakistan, Iran, Czech Republic,Israel and Singapore. Local agents will not be permitted to represent principals." Urgent help from several countries undoubtedly saved the LTTE move to seize Jaffna.
As the world media speculated on the imminent fall of Jaffna, there were a flurry of diplomatic activity. The Sunday Times today reveals exclusively some of these developments. Fearing that Jaffna would fall into Tiger guerrilla hands, the Government was involved in a series of diplomatic overtures. President Chandrika Bandaranaike Kumaratunga was regularly in touch on the phone with Foreign Minister, Lakshman Kadirgamar. The situation in Sri Lanka was a grim as it ever could be. The lives of 40,000 soldiers lay in the balance. There was an urgent need for foreign assistance. Help was sought from many countries. Details are contained in the Special Assignment report that appears on this page. Requests made to the United States, neighbouring India and Israel assumed greater significance than others. The Sunday Times has learnt the details. Here is how these countries responded: UNITED STATES The question of evacuation was not feasible in view of time and other political constraints. However, the United States sent a warship. It remained in international waters off Sri Lanka while the Jaffna crisis continued. The Government received official confirmation of their presence from diplomatic channels. INDIA Although Prime Minister, Atal Behari Vajpayee, was known to have remarked "don't talk about evacuation" to his own officials, the Indian Government did respond positively. They made it clear any form of humanitarian assistance would be provided. That included evacuation of troops. But such a move would in no way include Indian troops placing themselves in a confrontation situation with Tiger guerrillas. Support was also to be provided to evacuate civilians from the north since a large number had made such a request. However, Indian officials confessed that an evacuation plan was a nightmare even for their military top brass. The logistics involved were mind boggling. The Government made no formal request for evacuation in the belief that such a situation would not arise. However, it the situation did worsen, plans for an appeal were very much on hand. ISRAEL The military expertise of Israel was desperately required despite domestic political compulsions from the Muslim Congress. The responses were varied. Long before the military debacles, the Government had planned to establish diplomatic relations with Israel. President Chandrika Bandaranaike Kumaratunga had given the go ahead. But the move was to anger late Muslim Congress leader, M.H.M. Ashraff. He secured the signatures of 60 Mps. The matter was temporarily shelved. Later, Israeli diplomatic missions in Singapore and New Delhi were to make overtures to Colombo to establish diplomatic relations. Most dealings with Israel were being carried out through third countries. That included military procurements and training programmes. When Palestenian leader Yasser Arafat, visited Sri Lanka in 1998, the Government raised the issue. He was asked what he thought of Sri Lanka establishing diplomatic relations with Israel. He replied "That is okay. But the timing is not right." With the crisis situation, the Government, The Sunday Times learnt, was of the view that the time was ripe. President Kumaratunga had given him the go ahead. Then came secret diplomatic contacts. Queries were raised with the Israeli Government whether they could hurriedly send us fighter planes. The answer was yes but they insisted in first establishing diplomatic relations. A request was made that the planes be made available with the assurance that dpl links would be established. But, the Israeli preferred a formal resumption of relations first. A document was prepared and Foreign Ministry officials were reading to sign it after concurrence with Israel. A highly placed Government source told The Sunday Times President Kumaratunga had entertained second thoughts and wanted to drop the idea of re-opening diplomatic relations with Israel. This was after she was alerted to fears that it would draw street protests from Muslims. But it was too late. Formalities had been concluded by then. The Israelis had invited a Sri Lanka delegation to come to Jerusalem to sign the formal document. In view of the political sensitivities, the Government chose not to send a delegation to Israel. The agreement was signed in New York by Sri Lanka's Permament Representative, John de Saram with the then Israeli Foreign Minister. A simultaneous announcement that Sri Lanka and Israel had established diplomatic relations was made both in Colombo and Jerusalem.