It's a long way home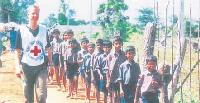 Firstthey lived in a bunker made of wood and sandbags.

As the shelling grew heavier, they had to move to another one, this time a more permanent structure, made of cement, which they shared with some 150 other civilians.

Then the LTTE took them to Nallur. From there they journeyed to Uruththir-apuram in Kilinochchi where they lived under a tree, for a month. They then built a makeshift shelter, with just enough space for them to huddle together at night and sleep side by side.

But their harrowing story had a happy ending, when finally under the care of the ICRC, they were reunited with their anxious parents last month.

War takes its toll on everyone, but the cost is perhaps highest for the innocents, the children of Sri Lanka.

For these 14 young boys and girls, the Vithaham Children's Home in Nunavil East, Chavakachcheri was a refuge. From low income and single parent families they had been sheltered and fed, under the care of Swami K. Paramasamy, at this home, which functioned as a boarding school of sorts.

That was until May 2000. As fighting between government forces and the LTTE intensified, the school was no longer a safe place for them. They were first moved into the wooden bunker and then to another.

It was a perilous existence. The continuous shelling was close and frightening and twice, the shells landed on the bunker, but fortunately, no one was hurt.

Later, transported by the LTTE to Nallur, they went to Uruththirapuram in the Wanni .

Here, the spreading branches of a mango tree provided them shelter. After some weeks, they managed to build an open shelter, where they could sleep.

A friendly family helped them and with some dry rations from the authorities, they managed to survive.

In June, last year, help came at last in the form of officials from the International Committee of the Red Cross (ICRC) who met up with the children and gave them clothes and other material needs.

Then began the long process of trying to reunite them with their families, who were distraught with worry over their children's safety.

After much red tape, there was yet another setback. The sailing of 'Jaya Gold', an ICRC chartered vessel on which they were to travel from Trincomalee to Jaffna, had been suspended due to bad weather. So they waited in anxious hope that the monsoonal disturbances would subside.

Finally on February 5, the ICRC provided a safe escort across the lines from Uruththirapuram and they sailed home to a happy family reunion.

Their nine-month ordeal had ended.

(Courtesy ICRC, Sri Lanka).