Peace moves stumble amidst Tiger build-up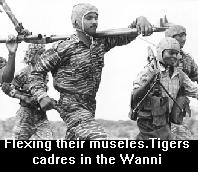 Defence Attaches of Colombo based diplomatic missions, gathered at the Conference Room at Army Headquarters last Wednesday for their regular monthly briefing on the security situation, chuckled with laughter when they heard the news.

Director of Army Operations, Brigadier Nimal Jayasuriya, was briefing them on a move by the Ministry of Defence to relax restrictions on the movement of some 24 items into areas dominated by Tiger guerrillas. This is particularly to the Wanni where such supplies will have to pass through security forces barriers.

Brig. Jayasuriya referred to, among other matters, the relaxation of restrictions on the movement of noodles. A Defence Ministry document he was reading from had said specifically that instant noodles were not allowed under this category. A curious Defence Attache asked why instant noodles remained a banned item. An embarrassed Army officer replied "people there (in the Wanni) did not know how to prepare them."

Needless to say the Defence Attaches were not convinced. One of them, gifted with a sense of humour, later remarked "if those people know how to boil eggs, they sure would know how to fry them." The thinking behind preventing the movement of instant noodles, it transpires, is because it would become part of an instant ration pack for Tiger guerrillas in the battleground.

Someone thought noodles (non instant), as the MOD listed it, would take time to prepare and would not be preferred by the fighting cadres. They would not have the time and patience to boil the noodles and prepare a meal. Not when they were fighting a war. Which intelligence report gave that highly classified information is not clear. Evidently some MOD official had taken it seriously.

Brigadier Jayasuriya spent considerable time explaining the reasons why the restrictions were relaxed on the 24 items. The document he was armed with was a letter from the Ministry of Defence (SMOD/129/16/1/R) dated 22nd March, 2001 (See copy on this page)

Signed on behalf of R.K. Chandrananda de Silva, Secretary, Defence, by W.A.S. Perera, Additional Secretary, Ministry of Defence, it was addressed to the Commander of the Army, Lt. Gen. Lionel Balagalle. This is what the letter said:

RELAXATION OF CONTROL ON ARTICLES TAKEN TO UNCLEARED AREAS

Ban on the following items has been lifted with immediate effect. Please instruct the officers concerned immediately.

I

a. Fruit juice packets

b. Soup cubes

c. Gelatine powder

d. Coconut oil

e. Roneo paper

f. Bristol board

g. Normal gum

h. Agricultural eqpt.

II

a. Aspirin based tablets

b. Balms

c. Vitamins

d. Anti Malaria pills

e. Rice

f. Cereals

g. Eggs

h. Noodles (non instant)

i. All types of drinks (cordials, soft drinks etc.)

j. Wines and cigarettes – both local and foreign

k. Brown paper

l. Soap

m. Tricycles

n. Chicks

o. Sleeping mats all types

p. Paint – except green, black and brown

"North East Rehabilitation Committee which is represented by the JOC, ESCO, Navy, CPC and Shipping Corporation etc., and meets every Tuesday, is expected to take final decisions, on granting of approval to carry items from cleared areas to uncleared areas. JOC representative is expected to consult SF Commander when and where such consultation is necessary, before reporting matters to the Committee for necessary decision making.

W.A.S. Perera Sgd./ R.K. Chandrananda de Silva

Additional Secretary Secretary Defence

Copies: Brig. Co-ord, Ops. Hq./MOD

CGES

SMOD/11/4/ARMY"

One would have thought that Brigadier Jayasuriya's closed door briefing to the Defence Attaches would have ended a rather embarrassing episode for the Government over the above letter. It was embarrassing because none of the items listed in this Ministry of Defence letter to the Army Commander were banned items.

Ever heard of civilians leaving the cleared (or security forces controlled) areas to the uncleared (LTTE dominated) areas being prohibited from carrying fruit juice packets, rice, cereals, eggs or soft drinks, among other items?

One reading the MOD letter would have thought the 24 items had remained banned since April 20, 1995 – just the day after Eelam War Three broke out. The corollary of this meant the Government had over the years denied to civilians in the Wanni their basic requirements like food and medicine – say aspirin and rice among other things. Might be soothing news to the LTTE, but this time it was not the regular punching bag of bureaucrats, the media, (who some scrupulously avoided), that was responsible for it. Somebody at the MOD erred causing embarrassment even to Defence Secretary, Chandrananda de Silva. Their letter to the Army Commander had been erroneously worded. Whilst the headline said there was a "relaxation of control on articles…", the first line in the letter spoke of a "Ban on the following items has been lifted with immediate effect…" That told the entire world a wrong story. Even the LTTE had been made to believe it.

There was no ban on the 24 items at all. A Gazette notification issued by the Government on April 20, 1995, only banned the following items: Weapons, explosives, crackers, fireworks, communications equipment, helmet caps (except those used by cyclists), binoculars, telescopes, compasses, uniforms similar to those used by the armed forces, iron and iron poles, oxygen and welding equipment, barbed wire, wire cutters, fuel except kerosene oil, camphor (except those used for religious observances), urea, penlight batteries, lead including lead items, petrol, diesel, sophisticated electrical and technical equipment, cement and spare parts for motor vehicles. These items were banned specifically in the North. In the case of the East, the following items were banned: Weapons and explosives, fire-crackers and fireworks.

The above items have remained banned and civilians are prohibited from carrying them when they cross security forces' barriers to enter Tiger guerrilla dominated areas.

As the Norwegian peace initiative continues, a relaxation on the movement of some of these gazetted items, with the exception of seven of them, was being formulated by the Government. It was to be incorporated into an agreement on humanitarian relief. It is this relaxation, yet to be formally announced, that was to come as a precursor to Government-LTTE peace talks. Why then an MOD letter to the Army Commander announcing a lifting of a ban on items which were not prohibited?

The answer was simply a problem relating to enforcement on the movement of goods by security forces personnel. Civilians passing through different security forces barriers were meted out different treatment. For example, a civilian carrying ten kilos of rice or ten packets of aspirin was told by soldiers manning a particular security forces barrier they could only carry half or less than that quantity. At another barrier, they were allowed the same quantity but were refused higher amounts.

This unilateral action on the ground by troops caused severe difficulties to civilians and led to reported shortages in the uncontrolled areas. It was to become a subject on which non-governmental organisations and other groups made repeated representations to the Government. Early this year, it was to become the subject of intense discussion between Defence Ministry officials and Commanders of the security forces. A study followed and the outcome was the MOD letter dated March 22. It came amidst contention by some Government officials that large quantities of food and medicine were reaching uncontrolled areas.

In fact, the Commissioner General of Essential Services, Sripathi Sooriyaratchi, told a recent conference at the Joint Operations Headquarters that stocks of rice moved to the Wanni had remained at the original level though there had been a large exodus of internally displaced persons from that area. This had come to light upon scrutiny of statistics.

That notwithstanding, in reality, what the Ministry of Defence has sought to set out was quite different from saying a ban on the 24 items has been lifted. The correct position is that from now on, any civilian could carry any quantity of the 24 items listed in the MOD letter to the Army Commander. Troops are under orders not to place any restrictions. A senior Government official who did not wish to be identified said " They could carry one packet of Aspirin, 50,000 packets or more. Similarly they could carry a bag of rice instead of a kilo. There would be no enforcement of any restrictions.

Even if the relaxation, in the form of a uniform MOD directive to military check points, was not necessarily fine tuned for the upcoming peace talks with the LTTE, it was to have an image-boosting effect, at least until new developments last night.

Just a day after the briefing for Defence Attaches, citing the MOD letter to the Army Commander, news agencies on Friday reported that the Government had relaxed the 'economic embargo' on the north – a move which was interpreted as the precursor to upcoming peace talks between the Government and the LTTE. Local newspaper reports followed yesterday. Some foreign news reports even suggested the relaxation was a quid pro quo for an impending LTTE assurance it would not carry out attacks outside the theatre of conflict, the North and the East.

These reports heightened expectations for a number of reasons. It was only last Tuesday, Foreign Minister Lakshman Kadirgamar, told Parliament that before the end of the current month, the Government would be in a position to make a definite statement regarding talks with the LTTE. This, he said, would include dates for such talks.

Adding further significance was the visit to the Wanni on Friday by Norway's Ambassador to Sri Lanka, Jon Westborg. Accompanied by the Embassy's spokesman, Thomas Stangland, he flew to Vavuniya by a Sri Lanka Air Force helicopter. They had arrived at Piramanalankulam by 10.30 am but could not cross the Army barrier. Those manning the gateway to uncontrolled areas had no orders to allow the two Norwegians and checked on the radio with the Security Forces Headquarters in Vavuniya. The latter in turn had been trying to reach Army Commander, Lt. Gen. Balagalle, but he had been busy with some official chores.

The SF Commander, Wanni, Major General Shantha Kottegoda, had then given the go ahead signal. The two Norwegians crossed into the uncontrolled area around 12.30 p.m. and spent the night at an LTTE guest house.

Mr. Westborg was not scheduled to meet LTTE leader Vellupillai Prabhakaran though there was a great deal of media speculation to that effect. He had scheduled a meeting with political wing leader Thamil Chelvan.

The prime objective of the meeting was to ascertain dates for peace talks. He was also to clarify with the LTTE leaders details pertaining to the relaxation of a list of items that could be moved into Wanni. That included the quantities involved and how they would be moved. The details of these "restricted items" were to be incorporated into a proposed agreement that dealt with humanitarian relief. It is this measure that would have resulted in a so called embargo being lifted.

However Mr.Westborg was in for other LTTE responses. Thamil Chelvan placed two new tough demands on the government — lift the long-standing ban on the LTTE and accept a ceasefire. The two demands will undoubtedly stall the peace talks.

Mr. Westborg was due to arrive in Colombo at 3.30pm yesterday. However, bad weather forced his helicopter to land in Anuradhapura and he reached Colombo shortly after 5.30 p.m. He was trying to seek an appointment with President Chandrika Kumaratunga last night.

Interestingly, it was not only Mr. Westborg's visit to the Wanni that ran into snags at the Army barrier en route to meet LTTE leaders. Norway's Special Envoy, Erik Solheim, who flew on his secret mission to meet Velupillai Prabhakaran in the Wanni on October 31 last year, also ran into confusion. After arriving in Vavuniya by an SLAF helicopter, he drove to the Army barrier. Personnel there were unaware of his visit and had no orders to allow him through.

That was until Army top brass in Vavuniya checked with a senior Defence Ministry official in Colombo through a telephone call. It was almost an hour later that he was cleared.

The new LTTE demands meant that Tiger guerrillas will not extend their unilateral ceasefire, which is due to end on April 23. The government will now not be in a position to announce a date for talks in view of this uncertainty. Earlier, moves for peace talks were to enhance euphoria among a wider section of the Colombo-based diplomatic community and peace lobbies. However in the security establishment, concerns grew about an LTTE build up and plans to resort to offensive action, if not before the end of its self imposed ceasefire on April 23, soon after it.

This is borne out by a number of reasons. They have received concrete evidence of LTTE fortifications at Pallai, the palm fringed stretch on the isthmus that links mainland Sri Lanka to the Jaffna peninsula. Rows of new defensive positions have been set up with bunkers stretching south of the Kilali lagoon on the west to south of Nagar Kovil in the east. This is on the expectation that the security forces would make a thrust to re-capture Elephant Pass. New Sea Tiger bases had also been established at several points in the north-eastern coastline. There have been reports of new weaponry being smuggled in.

In this backdrop, the confessions of a hard core LTTE female suicide cadre has heightened concerns. Sixteen year old Sivapalan Rajanandini alias Vinodha (LTTE's allotted cadre No 504) was arrested by the Special Branch of the Trincomalee Police during a search operation at Orrs Hill Road on March 19. She had been present in a house there.

Following revelations she made during interrogation by detectives of the Special Branch in Trincomalee, she was handed over to the Terrorism Investigation Division (TID) in Colombo. This was soon after she revealed that two female suicide cadres had already been sent to Colombo. Their targets were President Chandrika Bandaranaike Kumaratunga and Deputy Defence Minister, Anuruddha Ratwatte. Her colleagues Tamilini and Wimalini had been trained together with her in a secret LTTE hide out in the Trincomalee District, according to Vinodha. It was only thereafter the two had departed to Colombo.

Detailed TID investigations were then carried out under the direction of its Director, Gamini Dissanayake, SP. She reportedly made a string of confessions to Inspector Prasanna Alwis. There were several other targets the LTTE had decided on.

Vinodha had said her instructions from the LTTE leadership was to remain in Trincomalee and to carry out a suicide attack on retired Major General Asoka Jayawardena, Governor of the North East Provincial Council. Another target assigned to her was the late Muslim Congress Leader M.H.M. Ashraff's son, Aman Ashraff. If the execution of these plots were to fail due to their non availability, she had been ordered to travel to Anuradhapura to carry out a suicide attack on Opposition and UNP leader, Ranil Wickremesinghe. Though some government leaders tried to make out that she referred only to a 'Ranil', she has positively identified that it was none other then Mr. Ranil Wickremesinghe.

Paradoxically, it is the same Mr. Wickremesinghe who has been accused by some sections of the PA leadership of consorting with the LTTE. Needless to say there was discomfort among some intelligence top brass when their own men had to break the news to Mr. Wickremesinghe and warn him. That prompted the UNP to put off their Jana Bala Mehayuma (Operation People's Power) in Anuradhapura on April 8 and 9. And now the Government has offered to increase his security.

A significant point made by Vinodha was the fact that all the attacks tasked to her and the others trained with her were to be carried out only after April 24. This has raised doubts in the security establishment on whether the LTTE planned to call off its unilateral cease-fire on April 23 when it is due to end.

It is not clear whether the Leader of the Opposition had any plans to visit Anuradhapura after April 24. Intelligence sources say if the unilateral cease-fire is not renewed at the end of April, there were several events in the weeks thereafter which are of significance to the LTTE.

Main among them is May 5, when the LTTE will observe its Silver Jubilee – 25 years of its formal existence. Elaborate plans are said to be under way to observe the event.

Whether the LTTE will mark its Silver Jubilee on the negotiating table or the battlefield, or even both, the coming weeks will reveal.