gearing for a confrontation
Before crack of dawn last Friday, a team of commandos broke out of security forces defences at Muhamalai, located on the isthmus that links Jaffna peninsula with the mainland. They moved stealthily towards a small Tiger guerrilla camp and placed claymore mines in the area.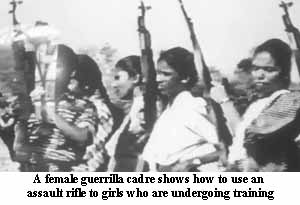 Soon after they ended the task and returned to their base, troops began an artillery barrage on the camp that was estimated to have had 30 cadres. Some of them who scattered to avoid falling artillery shells fell victim to the claymore mines. They exploded killing at least ten guerrillas according to officials at the security forces headquarters in Jaffna.
That was how security forces in the peninsula continued to keep the momentum of the offensive action against Tiger guerrillas. Commandos, Special Forces and troops were continuing small scale operations. This is whilst reserve troops assigned to divisions stepped up re-training activity in their present locations.
That coupled together with fresh procurements and those ordered months earlier but arriving now, the security forces seem to be fine tuning themselves. This is whilst newer equipment is being added to their inventories.
The latest is a fleet of Russian built BMP 3 armoured vehicles. Originally the fleet was much higher but financial constraints forced President Chandrika Bandaranaike Kumaratunga to prune down the numbers.
But a controversial deal to procure 10,000 pieces of light weight body armour for the Army was cancelled this week. Tenders for this procurement were called by the Ministry of Defence from registered suppliers. Out of eleven offers, a Technical Evaluation Committee, appointed by the Ministry of Defence, short listed three. Priority one was a British firm while a Hong Kong based company and an Israeli firm were placed second and third respectively.
It has now turned out that the British supplier, the firm listed as priority one, RBR International Ltd., is winding up business because of what it called an "increasingly bad financial situation." In a statement issued from its office in London, the firm said it has informed its bankers, Nat West Bank PLC, that they "have no alternative but to stop trading with immediate effect."
A deal with Sri Lanka was listed among the causes for its closure of business. RBR International Ltd., a two time winner of the Queen's Award for Export Achievement said.
"The causes for our reaching this state are many fold starting in January, 2000, with an aborted contract for Mexico City Police for 9000 vests, 3000 of which are still in stock, pressure on gross margins and finally the 1.5 million sterling pounds Letter of Credit from Sri Lanka, of which Nat West is only able to discount 50 per cent."
Both in view of the British firm's impending closure, as well as the controversy that has been generated over the impending award to that firm, the Ministry of Defence has decided to cancel the tender. Instead the Ministry is now looking for a Government to Government deal to procure the light weight body armour without delay.
Although the deal is off, the repercussions arising from the wide publicity generated, continues with an official probe now under way to ascertain some aspects that are worrying the Government.
The process of re-training and re-equipping the security forces comes in the backdrop of continued foreign support for the Government, which has repeatedly re-iterated that the military offensives would continue, despite the LTTE's declaration of a unilateral cease-fire for a second month.
Pakistan's military ruler, General Pervaiz Musharaff, sent his number two man, Chief of General Staff, Lt. Gen. Muhammed Yusuf Khan and a top level military team on a five day visit to Sri Lanka last month. Besides Major General Ehsan Al Haq, Director General of Military Intelligence in the Pakistan Army, a powerful slot, others in the delegation were Brigadier Khurshid Ahamed and Colonel Yaseer Ahamed Bujwa.
During talks with his Sri Lankan counterparts, Lt. Gen. Khan is learnt to have discussed further Pakistani assistance to Sri Lankan security forces.
Another visitor last week was Brigadier General Donald Wurster, Commander of the Special Operations Command Pacific(COMSOCPAC). He is the sole Commander of all United States Special Operations Forces in the Pacific and is also one of the component Commandeers-in-Chief of the United States Pacific Command.
His visit, according to diplomatic sources, was to review ongoing United States training assistance as well as those for the future. Besides meeting Chief of Defence Staff, General Rohan de S. Daluwatte and Army Commander, Lt. Gen. Lionel Balagalle, Brigadier General Wurster also conferred with senior officers tasked with training in the three services.
The visits of Pakistani and American top military personnel came just a week after a high ranking Czechoslovak military official ended a three day official visit to Colombo last month. He was Lieutenant General Jiri Sedivy, Chief of General Staff of the Czech Republic armed forces. He held talks with senior Sri Lankan military officials on ongoing military sales to Sri Lanka and on future procurements. A Czech ministerial delegation is expected in Sri Lanka shortly and further talks are to be held.
The Government's continued efforts to modernise and fine tune the military machine will continue despite the role played by Norway, as facilitator, to bring the Government and the LTTE to the negotiating table. President Chandrika Bandaranaike Kumaratunga has made it clear to the security forces top brass during meetings of the National Security Council that there would be no let up in the military campaign.
It is not only the security forces who are re-training and re-arming themselves. Despite its extension of a unilateral Christmas eve ceasefire by a further month, until February 24, the Government has concrete evidence to confirm the LTTE was also busy re-equipping and re-training its cadres.
During her meetings with Norwegian facilitator, Erik Solheim, President Kumaratunga, is learnt to have detailed some of these matters.
Besides daily mortar and artillery fire directed at security forces defence lines at Muhamalai, despite the existence of their own unilateral ceasefire, the LTTE had embarked on a number of other measures, while declaring it would not engage in offensive action.
In the Wanni, large numbers of civilians of varying ages were being put through training. Firstly, they were being introduced to various drills using poles. Thereafter, they were also being given weapons training. Pictures on this page, taken by cameraman Lakshman Gunathilake, from an LTTE video shows how this is being carried out in secure villages in the Wanni, including Mallavi, Puthukkud-iyiruppu and Mullaitivu. They include those where school children, both boys and girls are being trained.
Intelligence sources also speak of intense training being given to nearly 1500 newly recruited cadres in secret hide-outs in three different areas in the Batticaloa district – Toppigala, Kokkadicholai and Kanjikudichiaru. These recruits had been enlisted from Trincomalee and Batticaloa districts, according to these sources. Some of the groups are being trained for sabotage missions and for use of improvised explosive devices.
Last week, security forces in the Valikamam sector of Jaffna peninsula intensified security after reports that nearly 40 LTTE cadres had infiltrated the area. Refugee camps in this area are said to be among places where they tried to hide. In the past several weeks, troops have also been making a string of detections which included sniper rifles, assault rifles and explosives – an indication that weapons were being moved into the peninsula in preparation for possible strikes.
Anticipating a security forces thrust towards Elephant Pass, the LTTE is also known to be strengthening defences ahead of Pallai and surrounding areas. LTTE's group leaders, Karuna and Banu, it is learnt, have been tasked to prepare cadres for offensive action against security forces in the peninsula.
According to one intelligence source, small LTTE groups had found shelter in the controlled areas of the peninsula posing off as farmers.
They were not using radio communications but were sending messages to LTTE leaders in the Wanni using civilians who go there. Among the tasks assigned to them was to identify security forces artillery and Multi Barrel Rocket Launcher (MBRL) positions. They were described as LTTE intelligence cadres.
Security authorities in the north are also concerned about what they suspect to be the increased infiltration of LTTE cadres into the Jaffna University. The main elements, they claim, are the "Wanni Group" – students from the Wanni who have access to travel to their homes and return to the University periodically.
They spoke of plans under way for a major protest campaign to be staged at the Alfred Duraiappah Stadium demanding that Government takes immediate steps to alleviate the sufferings of the people. It is not immediately clear whether the proposed protest, like the one held in the Jaffna University premises last month, would also demand that the Government accepts the LTTE's offer of a unilateral ceasefire.
Intelligence agencies were also checking a report the Foreign Ministry received from a foreign capital where LTTE activity is high. The report claimed that the LTTE was in the market looking out for underwater missiles to attack a newly acquired Navy vessel. The report spoke of the LTTE wanting a spectacular victory. The LTTE is also known to be on the lookout for weaponry to meet the newer threats posed by the air superiority of the Air Force.
Thus, both sides are preparing themselves. For the Government, the move has been overt after rejecting LTTE offers for a ceasefire. For the LTTE, such preparations have come under their own self-imposed ceasefire.
With that due to end on February 24, the focus will once more shift to the battlefields of the north. That seems to be despite all the initiatives of facilitator, Eric Solheim.
---
New look Prabhakaran
LTTE leader, Velupillai Prabhakaran, has assumed a new look. This is how he appeared when he delivered the "Martyr's Day" speech from somewhere in the Wanni jungles.
He is without a moustache and now wears glasses. A cyanide capsule strung around his neck with a cord rests in the front pocket of his Tiger stripe fatigues.