When words killed a great man
Deeply disappointed over the treatment of the Namo Namo Matha, composer Samarakoon took his life
By Kumudini Hettiarachchi
Memories. Vivid memories of a beloved uncle. A happy-go-lucky man, but also highly strung, and emotional. Parties and baila competitions, with all the children taking part. Most of all poignant memories of the day when Loku Thaththa arrived in his baby Austin, parked near their gate and when he ran to greet him told him, "Puthe, mage oluwa galawala, when ekak hi karala." (My head has been removed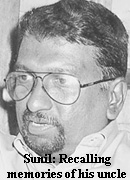 and another fixed.) The significance of which was lost on the boy who was only 11 at the time.

A year later, more memories...............a message from the Maha Gedera that his uncle would not answer the knocks on his bedroom door. Hurrying to the Maha Gedera, clinging to his father's arm, breaking open his uncle's door and finding him fast asleep.......permanently asleep, never to wake again.......an overdose of sleeping tablets.........a letter to Dudley Senanayake........a beautiful painting of the Buddha in meditation under a tree, with a deer at the edge of the jungle curiously looking on. The last painting of composer, lyricist, singer and painter Ananda Samarakoon.

"When Loku Thaththa told me that his head had been removed and another placed there, I was just a child and didn't catch the significance, until much later. He was, of course, referring to the substitution of Namo, Namo Matha, with Sri Lanka Matha in the National Anthem," said Sunil Samarakoon, nephew of Ananda Samarakoon, the composer of Sri Lanka's National Anthem.

Ananda Samarakoon committed suicide at the age of 51, one year and a few months after Namo Namo Matha became Sri Lanka Matha. "I remember the day he came home to talk to my father, as he usually did when he had a problem. When I went to greet him as soon as he parked his car, he put his hand on my shoulder and said those words about the oluva (head) in despair. He was never the same again. He became morose. They had changed it without even consulting him."

In the late fifties, controversy raged whether the ganaka in the lyrics of Namo Namo Matha were inauspicious. There was speculation that the country was facing tragedy, floods and other natural disasters because of them. But nothing had happened until August 1960, when the government of Sirimavo Bandaranaike decided to change them. The National Anthem was sung with the words Sri Lanka Matha for the first time in February 1961 on Independence Day.

It had been November 22, 1951, when Namo Namo Matha was accepted as the National Anthem, with a press release being issued by the then government on March 12, 1952.

The irony is that Namo Namo Matha was not composed as a national song, but was the last one in a song book Ananda Samarakoon called, 'Geetha Kumudini'. He had been inspired to compose Namo Namo Matha while on a plane, flying back from India (where he had been studying at Shanti Niketan for just six months) and on seeing his motherland from the air. As he didn't have money to publish 'Geetha Kumudini', he had sold his manuscript to printer R.K.W. Siriwardena for a song.

When the government called for entries to be considered as the national song, Ananda Samarakoon was in India once again, and his wife and brother Berty, Sunil's father, had submitted this entry. When Namo Namo Matha was selected, the princely sum of Rs. 2,500 Samarakoon received at that time, automatically went to the printer, because he had sold his copyright.

What this maestro couldn't understand was why there was a clamour for lines in the National Anthem to be changed. His parting words (before the drug overdose) in his letter to Dudley, then Opposition Leader, were that he did not want to live in this cruel society anymore.

But there were also happier times for the Samarakoons, when the three brothers would get-together with Amaradeva and hold 'jam' sessions into the night on the verandah of their house. There were also the family functions, where Ananda Samarakoon would persuade his nieces and nephews to hold baila competitions, mainly of his songs, and be judge and jury in selecting the winner.

Not only was he a composer and singer but also a good painter. Sunil recalls how his uncle never used watercolours, only paints made of natural ingredients. The red was made from a stone called sandalingam found in the south of the country, the green from midella and gotukola, the white from kirimeti or egg white and the black was taken off the lamp flame. To mix the paint he used cashew milk or divul kiri and it was the job of his nephews and their friends to roam the Samarakoons' ancestral properties on Pagoda Road, Nugegoda in search of those. They would also hang around while he painted.

"The paintings are as good as new because he used such colours. You cannot imagine that they are more than 40 years old," Sunil says.

Tragdey seems to have dogged Ananda Samarakoon. For he began painting in earnest and holding exhibitions abroad, after death snatched away his five-year-old son, Ranjith Aruna Deepa. Devastated when his son died of an incurable disease, Samarakoon had also composed the song 'Pahana Nivi Giya'.

"The surprising thing was that though he was born a Christian and attended Christian College at Kotte (now Sri Jayawardenapura Maha Vidyalaya) he never painted anything about Christianity. Most of his paintings were Buddhistic in theme. When he went to Shanti Niketan he was Egodahage George Wilfred Alwis Samarakoon, a Christian. When he returned he was just Ananda Samarakoon who had embraced Buddhism," says Sunil.

Though this great composer, singer and painter died a disillusioned and bitter man, his memory will linger on. For as the high and mighty and more so the humble men, women and children across Sri Lanka stand ramrod straight and raise their voices in veneration of their motherland, Ananda Samarakoon lives on in Sri Lanka Matha.