State homes: haven or hell?
In August last year, The Sunday Times Plus in a cover story highlighted the tragic death of a 15-year-old girl while in the care of the rehabilitation home at Ranmuthugala, where children were kept in horrific conditions. Here, Hiranthi Fernando visits Ranmuthugala and the newly opened children's home at Moratuwa, also under the Department of Child Care and Probation.
Conditions at the Certified Girls School at Ranmuthugala, Kadawatha, which came into public focus some months ago when a young girl died presumably due to neglect of a medical problem, still leave much to be desired. It was found that at that time the home did not have a responsible headmaster in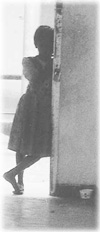 charge. The position had been vacant for two years.
The new Headmaster, P.W. Gunaratne, who took over on December 7 has a hard task ahead. The home, meant for 60, is severely overcrowded, housing as many as 150 children. This added to the neglect of many years makes the task even more difficult.
The school is situated on eight acres of overgrown land, which is being cleared by bulldozers to make way for the cultivation of vegetables and fruits. The dormitories are in a sorry state. The walls are dirty and the stench of blocked toilets and cattle (roaming freely on the premises) pervades the air. Some children sleep on mattresses on the floor, but Mr. Gunaratne said fifty beds and mattresses had been provided by the Probation and Child Care Department. He said that when these are set up in a new dormitory that is under construction, the situation would improve. He has also requested that the cattle be removed from the premises since they eat whatever is cultivated.
In one unused dormitory at the Ranmuthugala home, there is a gaping hole in the ceiling. Last September, twelve girls had broken through this and hidden in the overgrown compound. "We had many problems. The Matron used to hit us and scold us," said Wimala (not her real name) one of the runaways. "We were locked up in the dormitory the whole day. She allowed us out only for our meals and to wash our faces. We were allowed to bathe only once a week. If we asked for the pump to be put on to have a bath we were scolded."
"The situation is better now," says Pushpa (not her real name), who had attempted to run away on two occasions. " Now we can play and bathe, We are not locked up the whole day. I will stay here until I can get a job," Pushpa said.
The Headmaster explained that girls who are produced in courts by the Police for various reasons, are sent to Ranmuthugala for a period of three years after a court order. Some are young offenders involved in theft or drugs, while a large number are victims of rape, domestic violence or abuse while employed as servants. They are brought to the home for their own protection. And while at the home, contact with parents is maintained as far as possible.
According to Commissioner, Probation and Child Care Services S. Ranugge, the certified school at Ranmuthugala is run by the Provincial Council. Mr. Ranugge said he has seen a definite improvement at the school in the last month. The Department is now trying to get more living space and improve conditions at Ranmuthugala, he says. To provide a more homelike atmosphere, it would be necessary to break them up into smaller groups, where they could have more personal attention, he said.
Meanwhile, last year, the Department opened a Rehabilitation Centre at Moratuwa which functions on these lines. This centre is an experiment for the rehabilitation of severely traumatised children. "They need a healthy environment and personal attention," Mr. Ranugge said. The main aim is to enable these children to get back to their homes and communities.
This Children's Rehabilitation Home at Gorakana, Moratuwa, is in sharp contrast to the pathetic conditions of Ranmuthugala. The Rehabilitation Centre, run by the Department of Probation and Child Care Services caters to girls who have been abused. Set in a well tended garden, the sprawling white buildings present a peaceful, homely atmosphere.
Acting Matron Ms. Nirmala Ranaweera, said they have only 25 children at a time. Twenty are taken in a batch, leaving room for five urgent cases that may need to be accommodated. The children are sent to this home through the Department and not through the courts. There are 20 children at present in the home, aged from 10 to 17. The majority have been sexually abused. Others have been employed as domestics at a tender age and ill-treated. Most come to the home in a state of severe stress.
There are several cases where children had been raped by their fathers in the mothers' absence, Ms. Ranaweera said. One girl, now 16, had been raped by her father four times. The girl's mother had died when she was an infant. The girl finally went to the Police and reported the matter. The father is now in jail.
Another child, just ten had been raped while in domestic service, in the home of a gem miner and his teacher wife. She was brought to the rehabilitation home for her own protection having received death threats. Yet another child was at the home for her own protection since she was a witness to her father killing her mother.
The rehabilitation home, which was opened on July 18, provides a homely atmosphere for these abused and traumatised children. Ms. Ranaweera, who is in charge has had experience working with a children's NGO in conflict areas and has also followed a course on handling abused children.
The clean and airy bedrooms, each have four beds and mosquito nets. Each child had her own cupboard space. The bathrooms and toilets were tiled and clean. There is also a section with six bedrooms for visiting parents and a TV room as well. Since the children cannot be sent to school, lessons are conducted at the centre.
In the kitchen, two cooks were busy preparing the midday meal of rice, two vegetables, greens and chicken. The children help in the cooking. "Today, before the cook came in I made a 'billing' curry with them," Ms. Ranaweera said. "As girls, they must learn to cook."
In the garden outside, a section has been planted with vegetables. "We are teaching them to have their own home gardens," Ms. Ranaweera said. "The children help in the kitchen and garden. They have an exercise session in the morning, time for relaxation and creative work in the afternoon and sports in the evening. Children cannot be caged. They need space and freedom. They also need love and security. We cannot replace their parents but we work as a team here and do our best to give them love and care."
The Department would do well to set up more homes on the lines of the Moratuwa project if tragedies like that which happened at Ranmuthugala last year are to be averted.