---
Cosmic Ray
Inspired by eminent scientist Cyril Ponnamperuma and the Halley's comet, Ray Jayawardhana pursued Astronomy. A Harvard fellow, he is now on the trail of young planets
By Nilika de Silva
Halley's Comet, visible in the night skies above Sri Lanka in late 1985 and 1986 was one of the triggers that pushed young Ray Jayawardhana in the direction of astronomy. So fascinated by this rare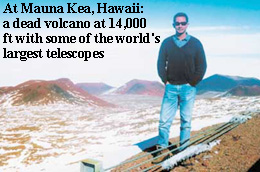 phenomenon was Ray that he joined other space enthusiasts on a trip deep south, to Matara to see the comet.

"There was this kind of excitement, and then Professor Cyril Ponnamperuma was in Sri Lanka at the time trying very hard to promote interest in science and astronomy. I saw him and was excited that a Sri Lankan had achieved such fame and made a significant contribution to science. He was a Sri Lankan role model," explains Ray who obtained his PhD in astronomy from Harvard last year. He is presently on a three-year Miller's Fellowship at the University of California, Berkley.

With his book "Star Factories: The Birth of Stars and Planets" hitting the book stores in California last month, and being used as a supplementary text in middle schools in the US, the 29-year-old Sri Lankan astronomer, has reached starry heights.

Newsweek magazine dedicated a cover story to his discovery of a planet-forming disc around a nearby young star. He now spends most of his time studying the planets forming around stars, attending conferences in various parts of the world, and collaborating with specialists in the field.

"In astronomy one of the most exciting areas right now is looking for planets around other stars, and trying to understand how they form, and also whether our solar system is different from the others and how unique or how common that kind of planetary system is," he said, generously packing into a minute,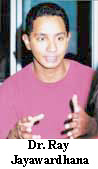 entire galaxies for my benefit.
In a bid to understand the origin of these systems and how they evolve, Ray is trying to observe them at different stages of formation, "to catch them at different ages".
In 1998, Ray was awarded a prize for achieving an important step in astronomy, "photographing a critical stage in the planet formation process".
"There are discs of dust and gas around very young stars, and then out of that condense planets. So we were catching that disc at a critical stage. Soon after, the planets had started to form and there were indications in the structure of the disc, there was a central hole for example, that suggested some of the disc had been cleared out, so some of the dust and gas had gone into making bigger things, like planets. Just like the planets in the solar system revolve around the sun, these planets revolve around other stars," he explained.
For thousands of years, people have speculated that there must be other worlds and they must be around other stars, other stars like our sun. They appear dim to us, just points of light because they are so far away.
"It is only very recently that people have found direct evidence that there are planets revolving around other stars," Ray said, adding, "We still don't have the technology to detect an earth-like planet. We can detect planets like Jupiter, the more massive ones that go around these stars, but we still can't take a picture of such a planet because the planet is too faint compared to the brightness of a star."
"One of the most exciting projects that I am involved in right now, is trying to directly take a picture of such a planet for the first time. Now that hasn't happened yet, so it's a big deal. Everybody is trying. There is competition from people in Europe, in the US among several teams," he said.
With "the nearest star four light years away" and "the fastest rockets now going at less than one percent the speed of light", work on the stars takes the form of "remote sensing", trying to understand as much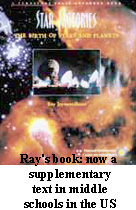 as possible from a distance. Incidentally, from the earth to the sun is eight light minutes.
Searching the night skies is one of the steps towards identifying evidence to support theories on the Milky Way. The two biggest telescopes in the world are 10 metre ones called Keck located in Hawaii. Astronomers are given five or six nights a year to use these telescopes.
"We've been allocated time to search for young planets. That'll be quite exciting because if you can take a picture of it then you really know it's there," said Ray adding "and then you can also maybe take a spectrum to see what kind of elements there are in its atmosphere. So you are starting to actually probe planets around other stars, almost like planets in our own solar system. That'll be really exciting to see if they have chemicals, water and oxygen and other sorts of chemicals that are signatures of life."
Although photographing a planet is not easy, as it appears faint next to a really bright star, Ray explained that soon after a planet is born while it is young, it is still actually quite hot and hence quite luminous. "So I am trying to look at young stars where planets might have been born recently and take a picture of a new-born planet," he said.
As a little child, Ray wanted to be "a pilot or an astronaut or something which just sounded really exciting". He was drawn "not so much by the science but the adventure part of it," he says. A student at St. John's College, Nugegoda and later Royal College, his interest developed through the astronomy society at school, the Young Astronomers Association which had Sir Arthur C. Clarke as its patron and through the Sri Lanka Astronomy Association.
So what's his life like these days? "Six days after I go back to the US, I go to Hawaii and then I come back for a week and then I'm off to Chile. That's where I do the actual observing and collect data. Then I bring it back as data tapes and analyse it on the computer at my office in the university."
Ray is also scheduled to organise a conference at the NASA centre in California, on the formation of planets around recently discovered young stars.
"The reason people are excited about planets is because we think that planets are the home of life. The bigger question naturally is 'Is there life out there ?' And this is a very scientific and methodical way of going about answering that question," Ray said, demonstrating the ultimate goal of the area of astronomy he specialises in.