By Annesley Ferreira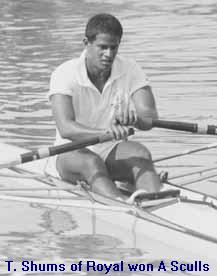 S. Thomas' bagged the 28th Regatta and walked away with the T. Noel Fernando Trophy aggregating 22 points at the Beira Lake yesterday. Royal, however, won the 32nd annual boat race and thus tied with 16 wins each in the overall series.
S. Thomas' leading with 22 points to six, lost the A Fours event to Royal's crew of T. Shums (Bow), S. Pieris (2), M. Dias (3), C. Seneviratne (Stroke) and A. Sulaiman (Cox) crossing the finish line in 3 minutes 20 seconds with the Thomians clocking 3 minutes 24 seconds.
In the first event for the day S. Thomas' bagged their alloted four points with D. Aluvihare (Bow), P. Wijenayake (Stroke) and E. Fernando (Cox) winning the B Pairs event in 4 minutes 22 seconds while Royal through T. Shums won the A Sculls event to snatch the lead 6-4 in a time of 3 minutes 51 seconds.
Thereafter the Thomians fought back to take the lead winning the A Pairs event with P. Ganegoda (Bow), T. Gunasekera (Stroke) and S. Kannangara (Cox) in a time of four minutes 28 seconds, the difference being just two seconds.
The Thomians increased the lead further to 14 by winning the B Sculls through N. David with a time of 3 minutes 54 seconds, the difference being a mere foot.
The Thomians won the B Fours through R. Bandaranayake (Bow), T. Gunasekera (2), D. Aluvihare (3), C. Hettiarachchi (Stroke) and E. Fernando (Cox) to increase their lead to 22-6.
---
By Marlon Fernandopulle
Opener Michela Van Dort stroked an elegant century to help CCC to register a thrilling two wicket victory with two balls to spare against NCC in a Premier Limited over game at Maitland Crescent yesterday.
Chasing a formidable NCC total of 247,CCC went through a few anxious moments before reaching the target in the fourth ball of the last over.The CCC reply was built around a fine century by Micheal Van Dort.The lanky left hander struck two sixes and three boundaries and played some delightful strokes on both sides of the wicket to hold the innings together and steer his team to victory.At Maitland Crescent :CCC beat NCC by 2 wkts.
NCC-247/5 in 50 overs (Naweed Nawaz 19 Aravinda de Silva 76 Hashan Tilakaratne 72 Susantha Pradeep 46 Indika Gallage 2/36 Amal Dalugoda 2/30)
CCC- 250/8 in 49.4 overs(Michela Van Dort 104 Roshan Mahanama 36 Hemantha Boteju 43 Ravindra Pushpakumara 3/34 Susantha Pradeep 2/48)
Charinda bowls Moors to victory
Moors off spinner Charinda Fernando picked up six wickets to send SSC crashing to a 24-run defeat at Maitland Place yesterday.
Batting first Moors did well to hit 210 runs.N. Cooray top scored with 49 while Dilhara Fernado was the pick of the bowlers claiming 5 for 32.
At Maitland Place:Moors SC beat SSC by 24 runs
Moors SC - 210 all out in 49.4 overs(H. Tilakaratne 23, R. Priyadarshana 29, N. Cooray 49; Dilhara Fernando 5/32, Tilan Samaraweera 2/28)
SSC-186 all out in 48.1 overs (Sanjeeva Ratnayake 43, Tilan Samaraweera 43, Hemantha Wickremaratne 36; Charinda Fernando 6/30, M. Perera 2/34)
Tamil Unon by 30 runs
A 106-run second wicket stand between Ruwin Peiris (95) and Gayan Wijeyakoon (35) helped Tamil Union to record a fine victory over Bloomfield at Reid Avenue yesterday.
At Reid Avenue:Tamil Union beat Bloomfield 30 runs.
Tamil Union-225 all out in 49.1 overs (Gayan Wijeyakoon 35, Ruwin Peiris 95, Indika de Saram 36; Kumar Dharmasena 3/39, Priyankara Wickremasinghe 4/51)
Bloomfield - 195 all out in 47.4 overs (Pubudu Dassanayake 38, Chaminda Ruwan 29, Kumar Dharmasena 48; Brigesh Jeganathan 3/41, Nuwan Shiroman 2/23)
Antonians surrender
Police defeated Antonians SC by 33 runs in a Premier League Limited over game at Police Park yesterday.
At Police Park:Police SC beat Antonians SC by 33 runs.
Police - 216 all out (P. N. Udawatte 31, N. Zoysa 33; M Alwis 4/30)
Antonians -183 all out in 46.3 overs (R. Peiris 39, J.Waranakawatte 47 n.o, D. Lokuhetti 25; H. P. A. Priyantha 3/27, N. Zoysa 4/290
Easy for Colts
Colts SC scored a runaway seven-wicket victory over Matara SC at Havelock Park yesterday.
Matara SC - 199/9 in 50 overs (P. Buddhika 35, S. Sameera 30, T Abeyasinghe 29; S Fernado 3/32 )
Colts - 203/3 in 39.5 overs C. Mendis 57, S Fernando 34, D. Samaraweera 48 n.o, S. Janaka 23 n. o)-BM
---
The SSC open squash tournament sponsored by the Sinhalese Sports Club and organised and conducted by the Sri Lanka squash Federation is scheduled to start on November 11, 2000 at the SSC squash courts.
This popular squash tournament which is held for the second successive year will be worked off till November 18, and the overall championships will have 13 events.
There will be events for junior boys and girls under 13, 15, 17 and 19.
The rest of the events to be conducted are Men's Open, Masters over 45, Men's Intermediate, Men's novices and Ladies open event.
President of the Squash Federation Lt. Col. Sarath Jayawardene briefing the media in this regard at the SSC pavilion said last year the championship had attracted 120 entries and for this year's event the federation expects around 150 entries.
This he said was mostly due to the Schools Squash Association's enthusiasm and Kandy districts participation.
Ranjan Samarasinghe secretary of the Federation pointed out that if the number of competitors are more they hope to conduct some of the preliminary round matches at the Gymkhana Squash courts.
He added that the events on the first two days commence at 9.00 a.m. and continue till late in the evening as they intend to complete the plate round before November 16.
On week days the events are scheduled to start at 3.00 p.m.
The entries for the championship are available at the SSC.
Entries will close on November 3 at 5.00 p.m. and the draw is scheduled for 6.00 p.m. on the same day. -JK
---
No quotations
No quotations have been called for construction of the new AAA Headquarters at Torrington Square where public money amounting to Rs. 2.9 million has been spent. The building was declared open on the birthday of the AAA boss. Funny, at the meeting which followed, the building leaked, which points that no proper job had been done.
In a mess
The financial controller of a leading sport who happens to be a female had been told to lay off from accounts spent for a new project, which runs into millions while someone else has been put on the job. This lady has threatened to bring this to the notice of the higher ups.
Outsiders in
How is that many unknown faces, supposed to be journalists, attended a press briefing to unfold the story of a top sports official who has been accused of defaming a sportswoman? Two officials however defended the stand. One wonders whether the outsiders present were brought for some other purpose. Those addressing this press briefing did not know whether they were coming or going!
With flowers
The new Minister of Sports who assumed office on Wednesday went on his rounds and was welcomed with a bouquet of flowers by the wife of the 'big mouth' who has been forced to change positions. God knows what was behind the move! Was she trying to curry favour?
Turncoats
Rover learns the Minister of Sports who visited the Sugathadasa Stadium Complex was welcomed by the officials there who spelled out to him that much progress could not be made since many unqualified persons (supporters from the former Minister) was employed there, which raised the eyebrows of the Ministry officials who accompanied the new Minister.
Clarification
Rover has been contacted and facts have been placed before him to the effect that nobody from the forces who were past swimmers of repute now turned selectors were involved in the dropping of a swimmer to the Sydney Olympics.We regret the error of last week.
Another section
Rover learns that the 'big mouth' is going around telling everyone, though he has changed his position from Sports to Samurdi, he will be involved in sports at every turn. Like in Mahaweli, Samurdi too is exploring the possibilities of having a separate section for sports.
---
From Bernie Wijesekera in Sydney, Australia
St. George District Cricket Club, one of the oldest in Sydney Australia will embark on a two week cricket cum holiday tour to Sri Lanka in April 2001.
The visiting Sydney Dist. Club has had a tradition of some past greats namely legendary Sir Don Bradman, Arthur Morris, Ray Lindwall, Bill O'Reilly, Norman O'Neill, A. Fairfax. Its present batting coaches, Brian Booth, Murray Bennett, Kerry O'Keefe etc., have shone for St. George DCA. It's a well-knitted side according to Harry Solomons who will play host to the tour party. NSW state players, Bret Van Dinson, Graeme Rummans and Scott Thompson, will be among the tour party.
This tour became a reality thanks to former Sri Lankan Harry Solomons, who is doing much to help promote his motherland Down Under. Solomons told The Sunday Times, they will play four matches - two in Colombo against CCC - the opener and the last match against Bloomfield.
The first, on April 10th - CCC. The second against Galle CC (Solomons hometown club) on April 12th on the eve of Sinhala - Hindu New Year. In Galle they will be housed at Unawatuna Beach Resort. The touring party will go sightseeing for 2 days which will include the Dutch Fort built in 1663.
From here they will travel to the Hill capital. Check in at the La Kandyan Resort. On April 14 to 17 enjoying the highlands of Sri Lanka. On April 16th play against Kandy CC at Asgiriya. They will also make a trek to N'Eliya and indulge in a round of golf and play tennis.
They play their final match against Bloomfield on April 18th, at Reid Avenue.
Besides playing cricket and enjoying the tourist attractions in this beautiful little island in the Indian Ocean, they will also do some community service by visiting a children's orphanage run by an Australian couple.
On April 7th depart from Sydney on SriLankan Airlines. Check - in at Oberoi Lanka Hotel.
End of the tour dinner at Mt. Lavinia Hotel. Local cricket personalities and members of the Australian High Commission will be among the special guests.
Bradman's batting for St. George DistrictCC 44 innings 3013 runs; Av. 91.30 Highest 246 Australia - 80 - 6996: AV 99.94 - Highest 334 Test. NSW. - 41-5813-98.53 - Highest 452 n. o. will be hard to beat in any level of cricket.
---
Sir Baron Jayatilleka MV and Vijaya Vidyalaya won a double each at the Granville Rodrigo Memorial Trophy rugby championships conducted by the Western Province Rubgy Association worked off at Siri Piyaratne MV grounds at Padukka.
Sir Baron Jayatilleka MV won the under 9 A division and under 15 titles while Vijaya Vidyalaya won the under 11 and 13 championships.
Results. Finals.
Under 9 A division: Sir Baron Jayatilleka bt Raddolugama Junior School by 10 points to 5.
Under 9 B division: Vijaya Vidyalaya Colombo 10 bt Siri Piyaratana MV by 10 points to 5.
Under 10: Sri Sangabodhi Grandpass bt Vijaya Vidyalaya by 10 points to nil.
Under 11: Vijaya Vidyalaya Peliyagoda bt St. Lucia's Kotahena by 15 points to 10.
Under 12: Kalutara MV bt President's College Maharagama by 20 points to nil.
Under 13: Vijaya Vidyalaya bt Royal College Horana by 20 points to 10.
Under 14: Kalutara MV bt Padukka MV by 35 points to nil.
Under 15: Sir Baron Jayatilleka MV bt St. Lucia's Kotahena by 20 points to nil.
---
The All Island school's seven a side hockey tournament 2000 conducted by the Old Wesleyites sports club and sponsored for the third consecutive year by Janashakthi Insurance will be held today at Wesley College grounds with an array of prizes on offer.
Navin De Silva of the OWSC speaking to the media in this connection said the above tournament was inaugurated in 1988 to celebrate Wesley's 125 years of educational excellence.
Owing to the sponsors long term commitment and popularity this tournament has come to stay in the school's hockey calendar.
'The standard of hockey at local and International level is much to be desired.
This could be due to inadequate level of competitive hockey played at school level.
Hockey is also not privileged enough like most other sports to find sponsors.
Therefore OWSC along with all hockey lovers appreciate the services of Janashakthi for joining hands with us in our bid to elevate hockey in this country' said Navin De Silva.
Twenty schools are expected to vie for honours in this years hockey sevens, 16 of which will be boys whilst four girl's schools will be the additional feature this year.
These schools both from Colombo and outstation were picked by the Sri Lanka Schools Hockey Association based on their current performance at district level.
The above tournament is to be conducted on a league and knock out basis and on regulation set out by the tournament committee of OWSC.
Boys-
Four groups of four teams each will play each other once, the group leader will be determined by awarding 3 points to the winner, 0 points to the loser and 1 point in case of a draw.
Semi final stage will be on a knock out basis where one group leader will play the other and the two winning teams will meet in the finals.
Girls-
The four teams will play each other and the group leader and the second team will meet at the finals.
Zahira College Matale will be the defending champions of this years hockey sevens with Joseph Vaz Wennappuwa as the runners up.
---
Richmond escape defeat
By Leonard Ratnayake
Richmond College, Galle narrowly escaped an innings defeat when a loud appeal for a leg before wicket was disallowed in the last ball by the Anandians, as the match ended in a draw at Ananda Mawatha yesterday.
Richmond who were trailing 162 in the first innings were 162 for nine in 98 overs at close of play yesterday, in reply to Ananda's 256 for eight in 54.4 overs. Ananda bowled the Richmond out for 94 runs in their first innings.
There was some outstanding all round performance by two budding youngsters Muthumudalige Pushpakumara and Thilina Kandambi who led the team in the forefront in all two days.
Richmond College - 94 all out (M Faizer 42;T Kandambi 4/14, M Pushpakumara 4/24
& 162 for nine in 98 overs (T.Weerasinghe 37, E Chaturanga 30;T. Kandambi 4/38, M Pushpakumara 3/46)
Ananda College - 256 for eight in 54.4 overs
M.Pushpakumara 82, T.Kandambi 50, B Talagalle 40; O. Wijesiriwardena 3/43, C Gunawardena 3/57)
Draw at Panniptiya
By Bruce Maurice
Thomian skipper M. Z. Kanaka's blazing 70 not out was the feature of the drawn cricket match between Dharmapala Vidyalaya and S.Thomas' at Pannipitiya yesterday.
Dharmapala MV - 254 and 140 for 4, (i. Indula 65 not out, S. Manoratne 38, D. Nanyakkara 2 for 26). S. Thomas'- 250. (M.Z. Kanaka 70 not out, H.S.Peiris 60 J. Mendis 68, R. Gunawardena 29, C.D. Harshana 3 for 50, D. Angiliyage 2 for 29, S. Manoratne 2 for 29).
---
By Leonard Ratnayake
Ten new meet records were established on the first day of the Sir John Tarbat Senior Championships 2000, organised by the Sri Lanka Schools Athletic Association at the Sugathadasa Stadium yesterday.
Only a solitary record was set up in the girls' events while nine records were broken by the boys at the end of the day.
Seven hundred and eleven girls from 88 schools are participating in this year's meet while the participation by the boys have gone up to 916 from 121 schools. This year the participation from outstation schools have been significant.Only 12 boys' and girls' schools are from Colombo while the rest are from the outstations.
Under 18 - L.G.A. Tharanaga Vinodani of Vijitha MMV, Dickwella broke the only girls' record when she cleared 1.60 metres in the high jump surpassing 1.55m which is the schools colours mark in the event.
Boys' records: Under 16 - 800m - 1:59:20 secs. by P.W.G.M. Pushpakumara of A. Ratnayake MMV, Walala; High jump - 1.87 secs. by Suranji Senarath of Maris stella Collge, Negombo.
Under 18 - 200m: 22.30 secs. by Chanaka Suresh Silva of Ananda College, Colombo; 800m - 1:55:90 (School Colours-1:58:00) by W.H.N. Chandana Ranasinghe of Anuruddha Kumara V. Nawalapitiya; 3000m - 9:20:5 secs. by N.K.B Herath of A. Ratnayake MMV, Walala; High jump - 02m (School Colours -1.88m) by W.P. Manjula Kumara Vijitha MMV, Dickwella; Paul Vault - 3.65m (School Colours-3.50) by M. Anton Nalaka Prasad of St. Sebastian MV, Kandana; Javelin Throw: 56.62m (School Colours-53m) by Arjuna Madusanka of De Mazenod College, Kandana; 4x100m - 44.2 secs by De Mazenod College, Kandana.
---
Bernie Wijesekera reporting from Melbourne, Australia
At the request of Sri Lanka's High Commissioner in Australia H.K.J.R.Bandara the Sinhala cultural and community services foundation President, Dr. Olga Mendis, in collaboration with the Sri Lanka cricket Foundation of Victoria represented by Dr. Quintus De Zylwa and Edward Gray have inaugurated a fund known as 'Susanthika for gold Athens 2004 Fund'.
Jayasinghe will be invited to attend this inauguration which will be held in Melbourne on a later date.
The organisers are making arrangements to give the children of the Sri Lankan community an opportunity of meeting Susanthika in person. This will be held at an open playing field. It is anticipated that both occasions will be well attended.
Susanthika's coach Tony Campbell is expected to be in Sri Lanka on November 1, to commence training sessions for her.
liance in the latter half. J.K