A mother's journey
By Shobha Menon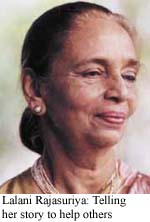 A large beautifully framed photograph of Sri Lankan President Chandrika Kumaratunga smiles at me as I sit in the stately drawing room, and admire the verdant colours of the well-maintained garden outside. I am at the Sri Lankan Deputy High Commissioner's home in Chennai, waiting to see his wife Lalini Gautamadasa nee Rajasuriya. She's just written an important book.

Lalini Rajasuriya's maiden literary effort, Beyond Those Walls of Silence, is a touching, autobiographical account of a mother's journey to bring her 'profoundly deaf' son from his naturally silent world to the world of sound beyond, setting him to stand tall, on what she calls 'the edge of a rainbow'. Published recently, it has been described by Dr. S. Kameshwaran, Prof. Emeritus, Madras Medical College, and Head of the Madras ENT Research Foundation, as "a splendid contribution to the teaching of the hearing impaired and should be translated into several languages and kept on the shelves of audiological institutions, otolaryngological societies, libraries of teachers of the hearing handicapped and as personal possessions of the parents of the hearing impaired". All proceeds from the sale of this book are to be donated to two institutions for the hearing impaired, one in Chennai and the other in Sri Lanka.

Lalini herself says, "It was about two and a half years ago that I decided to write this autobiographical story (with many names changed, of course, to protect identity) mainly because I wished to help other parents of hearing impaired children. I did check out, though, with my son whether he minded. He didn't. And then began countless hours of pleasurable reading and writing. Pleasurable because, in addition to recalling all those innumerable events, memories and thoughts of the past thirty years or more and putting them down as clearly and as lucidly as I could, it also brought out from their hiding places, in old trunks and boxes, dust laden diaries, yellowed pages of notes and references, dog-eared school magazines and class reports, crushed newsletters and lots more. All of them offered valuable information in conveying what might help other parents with hearing impaired children."

It was early 1964, when Lalini, pregnant with her first child, was informed that as she had contracted the Rubella virus the child she was carrying had a marked chance of disability. The commonest organ to be affected was the inner ear, causing nerve deafness. The Gautamadasas, however, decided to go ahead and have the child - and Mahinda was born, "the most beautiful thing in the world with the longest and blackest eyelashes the nurses in the delivery room had ever seen". But by the time Mahinda was a year old Lalini's worst fears were confirmed-he was diagnosed as a child with profound, congenital hearing loss in both ears.

Lalini says: "I must have felt depressed initially. But there was absolutely no time for self-pity. I remembered an article in the New York Times, on congenital deafness, which mentioned an association in Canada for parents of hearing impaired children. The guidelines they provided were truly my most invaluable and encouraging companions in the years that followed."

"Life with Mahinda began anew then. Every minute was used, to teach him to lipwatch and lipread." Lalini says, "The fact is, for the hearing impaired child, it is natural not to hear, he does not know anything about the world of sound. It is upto us to reach it to him. And I soon learnt that hard work pays. Slowly and surely my son began to respond and I was ecstatic." After this initial informal training at home, Mahinda received formal training for the hearing handicapped at a school in Bonn and later in a special school in London. Then came the big jump into a regular school in Sri Lanka first when he was 12, and later in a private school in Chennai. Lalini remembers clearly those difficult times, "It was so hard trying to convince the principals in the regular schools that this child could cope. Not to mention the extra effort we had to put in to make sure he did. Often I had to rewrite entire chapters in simple, easy to follow sentences, each with not more than two facts."

For Mahinda too, this transfer from a special school to a normal school was extremely strenuous. But his confidence and resilience pulled him through. He proved to be a real fighter, settling down reasonably quickly, both academically and socially, among normal children. And by the age of 18, he had chosen his career, as a graphic artist. Lalini emphasizes the importance of integration of a handicapped person into mainstream society. "We certainly cannot control the way other people behave, but we can control the way we do. Equip a handicapped child to handle any situation. Give him the confidence to face the world. It is the best gift you possibly can give," she advises.

Lalini continues nostalgically, "As parents of two other normal children, both my husband and I had to ensure at all times that Mahinda never felt inferior to his brothers. We had to make him feel he was not different, that he could feel secure in our love for him, at all times. I think it is very important that every parent of a special child understands this. From the time he is very small, encourage the child to participate equally in every activity. I remember, when we were in London, we lived in a really big house and I would give each child the task of cleaning a different window. That way each one could participate and everyone had fun! I made sure that if the children were invited for a birthday party, either all three would go or none at all! There was no way Mahinda was going to be discriminated against, at least wherever I could control the situation."

Speaking of her other children Lalini says, "as siblings of a special child, I think my two younger sons have grown up to be sensitive adults, they have empathy for anyone with a handicap. That is where I think the family atmosphere is important. For a child with any kind of handicap, love and security in the family environment are so crucial. He should know he is loved and accepted by everyone in the family, not just his mother. It is sad to see so many couples who are so shattered by knowing that their child is handicapped that they drift apart."

Born in Kandy, Sri Lanka, Lalini is the youngest in her family. She has four brothers and two sisters. "Being the youngest, I grew up very independent, doing things on my own, and preferred to find my own solutions in every situation. I suppose I could call that my best quality even now. I do have a perfectionist streak in me, and I still like to do my own thing, by myself, even if I have to learn by making mistakes." Artistically inclined, she loves painting, ikebana, bonsai and gardening. Lalini smiles mischievously, as she remembers, "When we were in China I asked this Master to teach me Chinese painting. This is actually done on thin absorbent rice paper (something like thin tissue paper) with a rather thick brush, which is handled very differently from the normal painting brush. I was 56 by then and he looked quite shocked. He tried to explain as gently as he could, that it was difficult, and that hand control was even tougher. Anyway, I told him to let me just try." She went on to master the art and began to paint so exquisitely that she was soon able to hold a joint exhibition with the Master himself.

About her life as the wife of a diplomat she says, "We have been in New York, Germany, England, Belgium, India, the Middle East and China, with stints in Sri Lanka in between. Exposure to so many countries and cultures is truly fascinating because you see and learn so much. Over the years I think I have learnt to be calm and controlled at all times, to do my best to maintain the reputation of my country, and be always conscious of the fact that I conduct myself well."

Lalini is 65 now. Her sons are all in their early thirties successfully managing their own lives and careers. Her youngest son left home in 1985. Life is more relaxed at this point. It is also a time to look back in happiness and pride. Her current routine involves official obligations as the wife of a diplomat and social work as a member of the International Women's Association. Always a gracious and charming hostess, to meet her is to discover an incredible expression of rare personal warmth. And as I take my leave of her, I think, to myself, "Lalini.... truly a beautiful name, for a beautiful person." - Courtesy Eve's Touch
Early training helped
Excerpts from Lalini Gautamadasa's speech on the occasion of the release of "Beyond Those Walls of Silence":

'Teaching my own hearing impaired toddler the first steps to language and speech, I felt, gave him a headstart in life. And the fact that he develped into an independent and self-assured young man, convinced me that those early years of home training, together with the love and understanding showered on him by his family, contributed greatly.

Realising the importance of the contribution the family could give a hearing impaired infant, I thought it would be useful if I could share my experiences with other parents in a similar situation and that's when I decided I would write my experiences down.

When I did make a start, I realised it had to be something more than a reference book or manual. It had to be a story if I had to succeed in really reaching out to parents - a story of my son's early life into which was woven all the speech and language exercises I carried out with him. It had to contain the important breakthroughs he made in those early years.

I had to relate those moments of anxiety and frustration as well as all those innumerable moments of happiness and joy, if I were to instil confidence in the mind of a parent. I also had to trace the transformation of a hearing impaired youngster who, in the beginning, only made incoherent sounds to a young adult who could stand all on his own.