For a few rupees more
Killer agricultural policies take their toll
By Lasanda Kurukulasuriya
A crisis in agriculture is driving Sri Lanka's paddy farmers to suicide. Crushed by acute financial distress and burdens of debt, thousands of farmers attempt suicide each year by swallowing pesticides, and thousands have died in recent years. In Polonnaruwa district alone last year 3,600 people attempted suicides, resulting in 145 deaths, according to Polonnaruwa Base Hospital sources.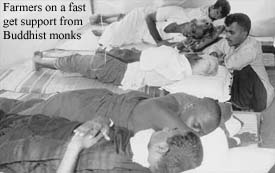 Pesticide poisoning was the number one cause of death in 1997 in four major paddy farming districts of the country — Polonnaruwa, Anuradhapura, Moneragala and Hambantota. In terms of absolute numbers the worst affected was Kurunegala, also a paddy district, with 6,858 cases of poisoning and 436 deaths, according to the Annual Health Bulletin published by the Ministry of Health. Nationally, "toxic effects of pesticides" ranked as the 5th leading cause of hospital deaths. There was no significant improvement in 1998.
These alarming figures tell a story of a crisis that has been building up from about the mid 1980s, under agricultural policies pursued by both UNP and PA regimes.
Paddy farmers have been unable to sell their harvest for a price that covers their cost of production. The hardest time for poor small holders is just after the Maha harvest when the New Year comes around. That's when social obligations and expenses mount, and the debt collectors - traders and middlemen - come visiting. This is the time when many suicides occur, farmers say.
"We toil in the fields for six months to raise a crop. When we bring the harvest to the marketplace, we are told by the traders 'today the buying price is so much.' The cost of producing one kilo of paddy is Rs.11, but the price we got this last Maha season was Rs.8 a kilo," says M.K. Jayatissa, a Polonnaruwa farm leader and co-convenor of the Working Committee for Protection of Farmers' Rights (WCPFR), a group comprising nearly 100 farmer organizations in and around Polonnaruwa. Consumers on the other hand, may pay as much as Rs.24 a kg to buy it in the open market.
In August this year paddy farmers in Polonnaruwa launched a massive protest demonstration in Hingurakgoda. It was called off when government acceded to their main demand with an assurance that it would buy the sudu nadu variety of paddy for
Rs. 13 a kilo. The demo drew an estimated 7000 participants on its sixth day from Polonnaruwa, Tissamaharama, Moneragala, Anuradhapura and surrounding areas. It had strong support from the sangha, with three monks joining eight farmers in a fast-unto-death, as part of the protest.
The government's implementation of the purchasing of paddy at Rs.13 a kilo has been slow, owing to delays in the release of funds from the Treasury, says Sarath Fernando, Secretary of the Movement for National Land and Agricultural Reform (MONLAR). "Low interest loans are also given to private traders. This is a mistake since they are not obliged to buy the rice at Rs.13. They buy from the farmers at a low price and sell to the government at Rs.13. The policy is to promote private traders."
The 29 demands placed before the government by farmers include the introduction of policies that would allow them to set the selling prices for their products; an immediate stop to imports of domestic produce such as rice, potatoes, onions and chillies; and the call for continued government support in matters such as marketing, provision of credit facilities, agricultural extension services, distribution of good quality seed paddy and revival and maintenance of ancient tanks.
Starting with the liberalization of markets and introduction of export oriented growth strategies by the UNP in 1977, successive governments have sought to encourage large scale private sector investment in agriculture and move from subsistence farming to export crops, in line with World Bank advice. The World Bank's views on agricultural policy in Sri Lanka are outlined in two documents, "Poverty Assessment Report" (1995) and "Non Plantation Crop Sector Policy Alternatives" (1996). Attempts to implement these recommendations have resulted in a reversal of the approach of supportive state intervention in domestic agriculture, analysts say. Among the measures that have adversely affected small holders are the closure of the Paddy Marketing Board (to allow the private sector to take over marketing), withdrawal of the fertilizer subsidy and liberalized rice imports. Other World Bank recommendations such as the attempt to make farmers pay for water, have not succeeded owing to resistance by farmer organizations.
In April this year, Agriculture Minister D.M. Jayaratne presented a resolution in parliament to dissolve the Paddy Marketing Board. The resolution was defeated with large numbers of MPs absconding from the vote. The PMB, however, has been inactive since 1996. The process of dismantling the PMB was started by the UNP. In his speech in parliament Mr. Jayaratne accused the UNP of introducing the proposal in 1990, selling 61 of the stores and reducing the number of employees from 2560 to 550.
Big projects fail
According to the World Bank, increased farm size is essential for specialization and the growth of commercial farming. But recent media reports indicate that attempts to commercialise agriculture, bring in large scale private sector investment and switch to export crops have failed in Sri Lanka. "Many commercial agriculture projects that were started in the early 1990s have been abandoned and the few firms remaining are complaining of low profits and high risk" says an article in the Sunday Times of 24.09.00.

Dedicated environmentalists and voluntary organizations have in fact shown that alternative approaches can work. Several projects have demonstrated that there is no need for the consolidation of small holdings that would push poor farmers off their land, nor the harmful, excessive use of agrochemicals.

CARE International, for instance, recently held an Integrated Pest Management (IPM) programme that demonstrated the benefits of scientific crop management to selected farmer groups. The results from their 40 Farmer Field Schools run from 1993 through 1998, show that profits can be increased by figures ranging between 38% and 178%, whilst avoiding indiscriminate use of agrochemicals. The average size of the farm plots was a bit less than two acres.

"One reason why farmers get into debt is their high cost of production" says Ashika Gunasena, CARE's Director for Monitoring and Evaluation. "Sri Lanka has the highest cost of production in the region, and the lowest yield."

The excessive use of pesticides and weedicides adds to the cost of production, besides being harmful to farmers' health and the environment. Agrochemical companies market their products heavily in agricultural districts, with advertising campaigns, demonstrations and distribution of free samples. "Farmers are practically left with the impression that if there are no pesticides, there's no crop," says D.M. Illangaratna, one of CARE's Project Directors. CARE's programme results showed that an IPM trained farmer spent on average Rs.411.00 per hectare per season on pesticides, as against Rs.2762.00 spent by an untrained farmer.

IPM is a regional programme of the FAO, with training delivered through voluntary organizations like CARE. It has shown successful results in other rice producing countries such as Indonesia, Vietnam, China and Malaysia. In Sri Lanka, the programme has left many farmers convinced of the benefits of environmentally friendly cultivation practices. In the pursuit of sustainable, economically viable forms of domestic agriculture, Sri Lanka's farmers have an ancient farming culture and heritage to draw upon. As one farmer remarked, "agrochemicals have come into the picture only in the last 50 years or so. Paddy farming has been happening in this country for 2500 years."
How do hospitals cope? Suicide by pesticide poisoning is the leading cause of death in the paddy districts of Polonnaruwa, Anuradhapura and Hambantota. In Polonnaruwa, the biggest paddy producing area in the country, the number of attempted suicides has been increasing each year, while the number of deaths has been decreasing, according to Dr. L. Siyambalagoda, Director of the Polonnaruwa Base Hospital. Hospitals are now better geared to dealing with cases of attempted suicide by poisoning he says. Last year a community based "suicide prevention programme" was started. Every hospital in the district also has a "suicide management programme" to deal with attempted cases. Dr. Siyamablagoda is now gathering data in a survey of the homes of last year's 3,600 poisoning cases, which resulted in 145 deaths in Polonnaruwa.
Cases and Deaths of Poisoning & Case Fatality Rate in major paddy farming districts 1997 Poisoning by Toxic Effects of Pesticides Toxic effects Total CaseFatality Drugs, Organophosphate Other pesticides of other Rate Medicaments and Carbamate substances, chiefly and Biological Non Medicinal substances Cases Deaths Cases Deaths Cases Deaths Cases Deaths Cases Deaths Polonnaruwa 425 15 636 60 364 33 829 56 2,254 164 7.3 Anuradhapura 815 7 1,464 185 507 81 1,173 16 3,959 289 7.3 Hambantota 453 1 530 28 212 18 254 2 1,449 49 3.4 Kurunegala 1,218 31 2,503 218 709 106 2,428 81 6,858 436 6.4 Moneragala 141 2 373 51 225 10 201 1 940 64 6.8 Source: Ministry of Health, Annual Health Bulletin 1997
---
Young girls hit by fear and pain
By Shelani de Silva
In the aftermath of an alleged drug addict piercing young girls with a sharp ring and then declaring he was an AIDS patient, people of Enderamulla off Wattala have been gripped by a fear psychosis.

The 20-year-old youth from Gampaha was reportedly mentally deranged. For the past few weeks the youngster has been roaming the streets of Wattala, Kelaniya and Enderamulla piercing young girls and instilling fear in them.

Some of his young victims speaking to the Sunday Times said the modus operandi of the young man who travelled on a push bicycle, was to jab them on the leg or shoulder with a sharp edged ring, and then ride off after laughingly warning them he was an AIDS patient.

After residents lodged several complaints, Peliyagoda police nabbed him on October 15.The young man had confessed to the allegations. It was later revealed that he had been a drug addict now undergoing rehabilitation and was suffering from a mental disorder.

Peliyagoda OIC Chandana Galappathi told The Sunday Times that parents of the young girls panicked because the youth claimed he was suffering from AIDS.

" We contacted his parents and found out that he was not having AIDS but was being treated for a mental disorder," he said.

Although the youngster is behind bars, there is still fear among the residents because of the AIDS factor.

The Sunday Times met two victims who were attacked within the space of 20 minutes.

Twenty seven-year-old Thushari Dissanayake employed at a Private Company had left home around 8.50 am. Just a few metres away from the main road, a young man had cycled up to her slowly. When she attempted to move away he had knocked her on the side.

She immediately felt pain to her right leg, and was unable to proceed because of the pain. Suddenly she spotted blood oozing from her leg and her skirt drenched with blood.

"Some of the villagers helped to take my daughter to hospital It was a deep cut that needed stitches," Thushari's mother K. D. Dissanayake said.

Twenty-year-old Nirosha who was going for dress making classes, around 9.20 am that same day was the second victim. But in her case he had tried to approach her twice.

" He came very close to me, and I thought he was trying to act funny so I scolded him. Then he tried to grab me and then rode off. After a few minutes he came back again and I tried to push him away.

He grabbed my hand and I felt something pricking me. When I looked down, blood was oozing and a piece of flesh was hanging out," Nirosha said.

Nirosha was immediately taken to hospital where she received three stitches. It was Nirosha who had been able to give a clear description of the accused to the police.

While the drama unfolded, the AIDS rumour too spread like wild fire. So much so that the victims have been compelled to take blood tests.

It is still a nightmare for these young girls who are afraid to step out from their homes alone.