Contents
---
Saga creates new songs
'Saga' the band, which is quite popular in the down South hotel circuit, has stepped into creating new songs for themselves.

Two Sinhala songs have already been written and the music arrangements are being done these days.

'Sihil Pawan Rel' is written by Hemasiri Halpita and Marius Fernando. 'Seethala Piniyame' is a creation of Marius and Shermal Mendis.

The boys hope to finish these two songs and release them to a radio channel.

'A CD or a audio would be a distant dream because we have to have at least ten new songs for a cassette. We do not want to do any cover versions on tape or CD' said Shanya, their lead vocalist.

'Saga' now comprises Asela Fernando (Keyboards), Shermal Mendis (bass), Lakmal Fernando (lead guitar), Marl Alwis (drums) and Shanya Fernando on vocals.

'Saga' performs at Neptune and Riverina hotels every Thursday and Saturday.

---
'Sanda Yahanata', speaks of politics of violence
By Susitha R. Fernando
'Sanda Yahanata' is a film portraying the prevalent political violence in the country and will be released from October 27 on the fourth circuit cinema halls.

The story revolves around a girl whose future is decided not by herself but by the maniacally blind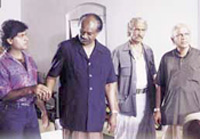 forms of violence that is used by everyone to propel them to the seats of power.
Viveka played by Sabitha Perera is the Grama Sevaka of the village and is the eldest in a family of four girls. Jagath Hathurusinghe played by Sanath Gunathilake supports a politician in the area and he is interested in Viveka. But she resists his advances due to many reasons including differences in political ideology. She also personally dislikes him. But the reason for the girl's opposition to his entreaties are not understood.
The politician supported by Jagath is Cletus Mendis. Jagath now basking in the rights of political power continues with his idea to even compel Viveka by force to agree to his proposal. Viveka has no power to fight against male dominance and political power of this society and all personal animosity against Jagath becomes ineffective. Her dreams to enter into a happy wedded life with the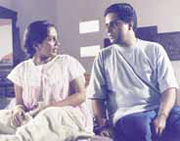 man she likes ends on her wedding day with the most pathetic experience in her life.
Would educated and headstrong Viveka be able to win her fight against male opposition and the political rivals. While the story continues the film ends in a tragedy.
'Sanda Yahanata' draws another angle on the evils politics.
Motivated to get anything through political influence, the film depicts how people who enjoy political power use cruelty and inhuman methods to control any form of dissent.
This cruelty and brutality pictured in the film are so bizarre that it sometimes disturb the audience and make them to momentarily close their eyes.
Speaking on the latest film, its director said, " Violence is a part of our lives today. It is closely linked with the present political system. The outcome of it is so serious that it does not only punish the people who are directly involved in it but all the others who are innocent,".
The film gives a clear idea of the ill effects of male dominated politics have on the women who raise their voices against the injustices caused to them.The cast of the film also includes Palitha Silva, Roshan Pilapitiya, Senaka Wijesinghe and Rashmi Paboda.
In the technical side, Lal Wickremarachchi has been behind the camera while editing is by M. S. Aliman. Sarath Wickrema has directed the music. 'Sanda Yahanata' produced by Anil Jayasuriya is scripted and directed by Mohammed Niyaz.

---
Simran: star with rare talent
By R. Kandasamy
In South India, on top of the popularity charts right now is an attractive girl, called 'Simran' She's believed to be so adventurous and amiable which traits have helped her to higher spots.

The hot star equally blessed with beauty and talent is currently working on 'Piriyamanawale' in Chennai. In comparison to Telugu films, she is less involved in Tamil films now and she has an explanation for this.

She says she is currently working on three Telugu films and she is extremely busy. Hence was forced to forego some offers in new Tamil films due to clashes with dates. Apart from that, Tamil or Telugu makes no difference to her.

In the Telugu scene Simran works opposite heroes like Chiranjeevi, Balakrishna and Nagaraj (Chiranjeevi's brother) these days.

Simran likes Telugu films not only for the glamorous roles but also due to the good characters she's offered . Of course, even Tamil films are glamorous as well but she feels there's better scope in the Telugu scene.

Simran who speaks of better scopes in Telugu films, mysteriously turned-down an offer in 'Thenali', by demanding a higher fee.

"I was so excited with the script and agreed to accept it spontaneously. But I was later made to understand that my role had some 'exposing' scenes as well.

I am against body exposure of any kind. I couldn't summon enough courage to refuse it point-blank, so I raised my fee to a level that they would not agree to. And believe me that tactic worked-out well" . That's her story.

But, Simran could have told the fact that she was against body exposure, couldn't she?

'True, but when the hero of the film was Kamal Hassan and director Ravikumar who could get the guts?'

But she turned down her role in 'Friends' genuinely due to clashing of dates.

Why did, Simran accept a negative and brief role in 'Paathen Rasithen'?

Although it was not a full-length role, it definitely had some impact on the story line. The character however turns positive in the end'. Does she think her latest Tamil release 'Unnei Kodu Ennei Tharuven' is a hit'?

'Not really, but the film deserved to hit the box-office. I feel if changes in some areas were made this would have hit the top. This hurts me.'

---
'Yaddehi Gedara' shows how a walawwa falls
"Yaddehi Gedara" is a teledrama on the tragic fall of a high caste Walawwa owner. It is telecast every Sunday at 8.30 pm on ITN.

The story revolves around 'Yaddehi Gedara Loku Bandara', a middle aged, rich man who lived during the 1950s when the people of low caste were looked down on and exploited with the power granted by the British Government.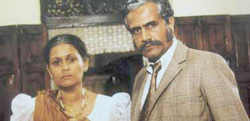 He was married to "Manampitiya Loku Manike" and lived with their little son, "Randunu Bandara". The maiden, "Elisamma" was the only outsider living in the house and no villager was allowed to enter the property of the 'Yaththehi Gedara'.
Loku Bandara's elder sister is married to "Rathu Bandara" who who is also rich and powerful. These two families have a close relationship. 'Thamara Kumari' is the only daughter of the Walawwa. The elders of the two families make plans to get their children married.
Meanwhile Loku Bandara comes to know about a hidden treasure in one of his lands. Daniel Mudalali who also knows about it influences Loku Bandara to use human sacrifire to get the treasure. Money motivated Loku Bandara determines even to sacrifice his own son to get the treasure.
Blind with the greed for money, Loku Bandara kills Elisamma, the servant who also knew about the treasure. The murder becomes a mystery to everyone.
Disturbed in mind Loku Bandara gives up his idea to kill his son at the last moment. But when he reached the place where the treasure is said to be hidden all the others have worked according to the plan to get the treasure.
Though Loku Bandara is able to send others away, Kapuru, the black magician goes on with his performance of killing the son of Loku Bandara, "Randunu" by pushing him down the peak of the hill. Angry Loku Bandara kills Kapuru on the spot. However Randunu narrowly escapes death but becomes crippled.
Convicted with the murder of Kapuru, Loku Bandara is jailed. Even after his release his behaviour seems abnormal. Though physically handicapped, Randunu studying in a temple becomes an Ayruvedic physician.
The earlier plan to get the two cousins, Randunu and Thamara Kumari, daughter of the Manampitiya Walawwa, to marry ends with the opposition of Randunu's father.
It is at this time that high class Thamara Kumari starts a love affair with a low caste but educated teacher in the face of opposition from her father.
Meanwhile Randunu, son of the mentally handicapped Loku Bandara wins the hearts of the villagers who come for medical treatment.
But Loku Bandara is still disturbed with what he has done his son and a waits the end.
The teledrama is directed by Gamini Perera and is produced by G. Mampitiya for M. G. Presentation. The cast with a number of talented small screen stars included Sriyantha Mendis, Buddadasa Vithanarachchi, Vasanthi Chathurani, Damayanthi Fonseka, Wijeratne Warakagoda, Kanthi Fonseka, Edward Gunawardena and Wasantha Wittachchi.