Ads: Let's 'face' it
By Laila Nasry and Ruhanie Perera
Suddenly your favourite TV programme stops at a most crucial point and the catchy tune of an advertisement begins - it's the much-groaned about 'commercial break'. Yet, even though we don't realize it, commercials become quite a part of our lives. At the very least it becomes a very interesting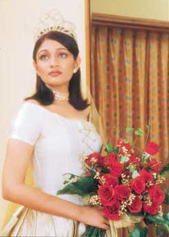 topic of conversation.

Take a good look at these commercials, whether it be for make-up, soft drinks, jewellery or even clothes. More often than not, the faces in it are alien (no we don't mean the bug eyed monsters!). Have you noticed that the drop-dead gorgeous girls and guys we drool over are almost never to be found here? Often because they are back in their homes - India.

This new emergence of Indian models can be attributed to the fact that there is a scarcity of Sri Lankan models. "It's the same hacked faces again and again," Mr Indunil Galapatti, the Creative Director of Bates Strategic Alliance put it simply, adding that Sri Lanka has very few model banks when compared with India, and is far behind in numbers when it comes to the availability of models. "Maybe it's our culture and the general conservative attitude of society that has most people either reluctant or

uncomfortable about appearing in advertisements," he said.
Rohan Piyadasa, a creative director at Phoenix Advertising agrees. "The choice is very limited over here compared to India. When an agency can't find the right model in Sri Lanka it's inevitable that they go in search of Indian models. Both recount innumerable times when they've searched high and low in Sri Lanka for particular models for a specific product - and failed miserably. "The clients when launching new products request for new, fresh faces, but faces like these are not available," added Mr. Galapatti.
So what is it that the Indians have that we lack?
"Professionalism," says Mr. Galapatti. Indian models are very comfortable in front of the camera and require little or no training when it comes to projecting the right image. "We give them the script and explain just once what we expect of them," Mr. Galapatti explains. "On the other hand using Sri Lankan models inevitably involves doing more than one take." A point of view that Indu Dharmasena, the General Manager of Axis Lanka (although she personally feels that local models should be encouraged to come forward) agrees with. "Most often Indian models are chosen because they are professionally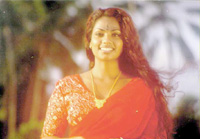 trained. In Sri Lanka it is mainly the established names in the business who are professional."
"It's not the looks," Rohan emphasises. "There are hundreds of good looking men and women in this country but very few with the right personality and attitude that fits the product." He goes on to say that the choice of Indian models over their Sri Lankan counterparts is partly to do with the fact that most agencies and their clients prefer going to India to shoot their commercials. "Production in India costs less, the editing and dubbing facilities etc. are better. The quality is better. Thus invariably Indian models are used."
Since most of the commercials are shot in India, cost wise, using Indian models actually works out cheaper, for it does not involve air fare, hotel accommodation and other expenses which otherwise would have to be borne if the agencies were to take Sri Lankan models. However if the Indian models were to be flown in, it would be just the opposite. To add to that Indian models are paid daily so if the commercial is shot or not shot or shooting is delayed for some reason, the models have to be paid. This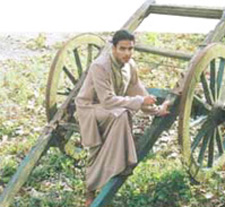 is not so for Sri Lankan models who are paid according to the product and the campaign.
But this does not deter agencies from opting for them. As Niroshini, Assistant Brand Manager at Hemas Marketing puts it - "when you just can't find the right local model to suit the personality we are looking for, you just have to look elsewhere." According to her they first look for a local personality, and try their best to avoid using foreign faces. "But it's of great importance to find the 'right' person to project the image we need. And when we can't find that person here, we then use Indian models."
"A couple of years ago there was a need to train models on the catwalk. That need was recognised and now there are schools to train them. Now there is a need for training which entails some amount of acting and learning to project a particular image. An Indian model comes with that type of training," says Ms. Dharmasena.
"Around six out of ten ads today feature Indian models. But personally I don't fancy Indian models," Mr. Galapatti stated. He highlights the need for more model banks with trained models and training for the new models entering the industry. "We need to have model training institutions to help our models which would give rise to new faces being injected to the industry."
Laila Gunesekere, the Creative Director of Grant Mccann - Erickson is more positive about local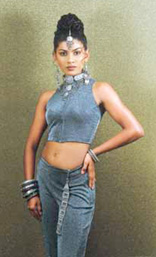 models. In her opinion when compared with a couple of years ago, today there is a decline in Indian models being featured on our advertisements. "A few years ago we certainly saw far too many Indian faces in Sri Lankan commercials, but I believe that now, things are changing - for the better."
"There was a time though when we did use Indian models and that was primarily because they acted better. As a result they were easier to work with and they had no hang-ups. Unlike when we used local girls who tended to be 'camera shy'. In addition, since Indian production houses and directors were used, it made economic sense to use Indian models." The great thing about the new generation of models, according to Ms. Gunesekere, is that they are versatile actors and wonderful to work with.
"The usage of Indian models is purely circumstantial. In the end it all boils down to the product, the script, and the cost," Rohan stressed. The fact remains that since it's 'of Sri Lankan, for Sri Lankans, then why should it not be by a Sri Lankan? It's time 'we ask for more'.
Enough talk about Indian models. Time to talk about their lovely Sri Lankan counterparts. Look hard enough and you find these 'new faces on the scene'. Uschi, who walked away with the Ms. Working Girl title this year, is seen more often saying 'cheese'. The 'chatty' Gresha appears on our TV screens living La Vida Loca and sinking her teeth into a Kandos 21 collection. Giving viewers a 'taste' of the pizza hut experience, Ayaz 'makes it great'. A cheery Dinasha washes away 'washing soap blues', while Durga is all chirpy in a potato crisp ad.
Designer and choreographer Senaka de Silva's answer to the question 'Why Indian models?' was simply - "because they have a totally different and very healthy attitude to taking part in commercials." "Our girls are very conservative and you can't depend on them because they are so concerned about what other people will think. Our society (especially the men) hold them back. On a more positive note he adds that hopefully the attitude of the new generation will change this social bias.

---
How far would you go to have fun?
By Uthpala Gunethilake
Though Ashok, Suneth and Sapumal were bosom pals in school, after leaving school, each went their separate ways and it was difficult to keep in touch regularly. So when one day they met each other by chance at Ashok's house, all three were determined to make the best of the day. Nothing could be more fun than a swim in the river nearby. The river was relatively unknown and therefore not infested by picnickers. So brimming with hundreds of stories to swap, and eager to be enlightened about the milestones they'd missed in each other's lives, the madly exuberant trio jumped into the water.

In the goodnatured melee aided by a bit of alcohol it was easy to forget that Sapumal was not quite confident about his swimming skills. Though at first he took care to keep close to the bank, by and by, unwittingly he waded further into the water. And somewhere between the lively banter and the gushing of the water, Sapumal's cry for help went unheard. When finally his friends looked around, they were a few seconds too late. Although the three friends were determined to make the day memorable, it was certainly not this way.

This is not fiction, nor is it merely based on an incident that actually happened laced with a bit of fabrication to suit our purpose. It is a true story. And no doubt if we opened a website asking for true stories about fun that missed its mark, and ended up hurting more people than who actually agreed to have fun, there would be a tremendous response.

When you are young, every moment with your friends seems packed with the potential for fun and you'd rather die than let such a moment pass without making use of it. This, coupled with the fact that a break from the fast-paced lives we live is always more than welcome, has made outings the order of the day. During a typical weekend (it doesn't have to be one of those exceptionally long ones), you will find restaurants, guest houses and hotels and every imaginable place which takes in guests in the holiday resorts and picnic spots in the country, brimming with revellers. And among them the majority would be the young crowd on office outings or friends getting together, most of them in their 20s and 30s.

No doubt all of us look forward eagerly to these outings. With the long lists of rules-of-conduct relaxed and time on your hands, such trips are often golden opportunities to really get to know your workmates, and simply, 'to have fun'. But on such occasions, sometimes we throw caution to the winds rather too carelessly in our determination to make the best of the day.

And have you noticed that we always want to go where there's a river, a waterfall or a beach ? If none of these are there, the pool in the hotel is in grave danger of being overcrowded. Sadly many of the accidents which occured on outings of this type have happened in these watery locations. And nearly always these disasters have been aggravated by the excessive alcohol consumption.

But these are 'accidents' in the pure sense of the word. The pranks played by the friends of the bride and the groom on the couple on their big day falls heavily into the category of fun-turned-horror. But the sad thing is that those are accidents that could have easily been avoided through a bit of sensitivity and good sense. There are countless examples, from the groom being thrown into the pool, to the couple being bathed with a mixture of flour, gold dust and water, to incidents too vulgar to talk about. The day ends up becoming a nightmare for the couple and their families.

The mission is 'to have fun', and you don't need many arguments to justify this simple and vital inclination. But how far can it go? If a moment of carelessness costs you the life of a friend, and many others a loved one, can a lifetime of fun make up for it ?

It boils down to the fact that you always need to be careful about what you do. You cannot put the blame on having fun and shirk all responsibility. Whatever you do is totally up to you, but when it affects the safety, dignity and wellbeing of others we all share a responsibility to be sensitive and act in an adult, mature, manner. As Nimmi (20) says, "if you are considered an adult you must remember to act like one."