Contents
---
Marie is back from Turkey
By Sanath Weerasuriya
'Marie is back'! I heard this at Hilton JAIC, while attending a press conference.

Who is Marie, Marie is back from where? How can be people so absent-minded and forgetful?

True, she was away for the past seven years. But Marie de Rosairo, one of Sri Lanka's top music ambassadors, cannot be forgotten so easily.

Marie de Rosairo is back in Sri Lanka and at least she will be in town for next four months performing with her true style.

Marie was in Turkey for the past 7 years performing at the Crown Plaza Hotel, Istambul.

'Turkey is a very warm hearted country and they are highly westernized. Pop, rock, rap, jazz, night clubbing casinos and fashions are not second to any western capital,' she said.

She has her own style of jazz singing where she blends evergreens with Lankan style. This was well accepted in Turkey, where Marie was treated as a national asset.

Marie de Rosairo plays a duo scene with Turkish pianist/key- boardist Kadri, who has behind him fifteen years of experience playing in nightclubs and hotels in Europe. I was lucky to have a musician like Kadri because he has his own chord structures and style, and I'm an off beat singer, so it suits me fine said Marie.

Turkey, which is now a popular venue for international show business and a popular choice for international artistes in pop or jazz to hold their concerts. 'Besides, international pageants for Beauty contests, Model Search, fashion presentations are held ever so often and with tourism booming, more hotels are being built to meet the new millennium. "Turkish pop stars are mega stars. The singers wear heavy glitering dresses and perform with constructed backdrops which reminds you of the early Hollywood era Marie added.

Also she said top names in the show business frequently visit Istambul.

Marie, a lover of Shirley Bassey, Dinah Washington and late Frank Sinatra will be on bandstand again in Colombo.

'I have not finalized the venue I'm going to sing. But it will be known very soon' she said.

Here the back-up musicians will be Dilukshi Sirimanne (Keyboards/Piano), Lucky Mannikkawasagam (bass) and Royle de Andrews (drums).

She will be in Colombo till January and if things work correct by, Marie's next assignment will be in Vienna, Austria.

---
Dancesport winners move ahead

The two couples who were winners of the Open Modern and Open Latin American events at Dancesport 2000, recently held at the Hilton Colombo, competed in the Millennium International Dancesport Championship which was held in Singapore on September 17, 2000.
Nalindra Fonseka and Lanka Aweriwatte, Sudev Abeysekera and Yoshita Abayasekera were the winners of the Open Modern event and the Open Latin American event respectively at the 5th Footwork Dancesport Championship held last month. The national carrier, SriLankan Airlines, sponsored the air passage for these dancers. These tickets were presented to them for being winners of Dancesport 2000.
Accompanying the dancers to the Championship was Dharshan Wijesooriya, Director, Footwork Productions, who was invited by the organizers of the Millennium International Dancesport Championship to officiate as an adjudicator.
Dharshan, who is qualified from the National Association of Teachers of Dancing, UK, was also invited as an adjudicator for three other International Championships held earlier this year in Singapore and Malaysia.
He is also a council member of the Asian Dancesport Council. The development of competitive Dancesport in Sri Lanka is bound to benefit due this alliance. In late September he was a invited to officiate as an adjudicator at the 2000 HK International Dancesport Championship. He will also be representing Sri Lanka at the annual general meeting of the Asian Dancesport Council in October.

---
Magie: first show in London
'Magie', the first film directed by Sriyani Amarasena will be screened at the Westminster Haro Campus Auditorium in London on September 30 for the first time. The film is based on the life of a woman selling fish and her determination to succeed.

The main roles are played by, Sriyani Amarasena, Lucky Dias, Dilani Abeywardane, Milinda Perera, Roshan Pilapitiya, Sujani Menaka, Samanthi Lanerolle, Swarna Ratnayake and Nihal Gamage.

Meanwhile Sriyani Amarasena is also producing another new teledrama in London, which is about a love affair between a Buddhist-Christian family, resident in London. A well known stage and cinema actress Prema Ganegoda, now living in England returns to the limelight with this teledrama after a long lapse. The script is by Prema Ganegoda. The main roles are played by Roshan Pilapitiya and Kanchana Mendis. It is being directed by Rodney Vidanapathirana.

---
'Suddie' depicts problems in married life
By Susitha R. Fernando
Suddie, adapted from a short story by M. D. Rettamma of Kerala into a telefilm will be telecast on ITN at 9.30 pm on September 29.

It has been directed by Anoma Rajakaruna and produced by The Women and Media Collective.

The story of 'Suddie' is woven around "Sudu", a smart and playful girl who loves dancing. Her whole world is filled with the dream of becoming a dancing teacher. But in a society where a girl is expected to play a limited role, to be too playful is not a desirable feature in a girl's life.

'Suddie' depicts the belief coming down the ages that the birth of a girl is considered a burden. The more girls in a family, the bigger the burden. Marriage is a time-honoured way for parents to free themselves from this burden.

As the older sister, Sudu is the sacrifice. Her dreams, her hopes, her life all given away in marriage. Even after this sacrifice, the importance of a married life, love and understanding between two people become secondary when marriage becomes negotiation, a deal involving property, goods and money.

What would be the future of a young bride who is not being cared for by her husband and hardly thinks of her interests when she had come all the way after sacrificing her dreams?

The story portraying a cattle farming family discusses a issue that is common in families found in any social strata.

"I have tried to discuss a common problem in day to day married life", said the director a Anoma Rajakaruna who had directed a number of one-episode teledramas and several feature films.

All the stars are newcomers and include Nishadi Ratnayake, Priyankara Ratnayake, Nimali Thaksila Vithanage, Nirmala Wijesekara, Nadi Kammelweera, Edward Gunawardena and Malee Jayaweera.

'Suddie' edited by Anoma Rajakaruna and Preeman Ratnayake is scripted by Priyankara Ratnayake and Ms. Rajakaruna herself. To the music of Navaratne Gamage, Amarasiri Peiris and Pradeepa Dharmadasa had sung the melodies.

---
Amaranath's new venture
Well-known filmologist and film writer, Amaranath Jayatilaka is planning to make a movie specifically designed for export for the first time in the history of the Sinhala film industry.

The film titled "Bheeshanaye Athuru Kathawak" is based on a novel and a story about the events of the insurrection in the years 1988 to 1990. 'Disappearances' during this period is the basic theme.

"The theme has an international appeal as there are nearly one million people affected by it.", Mr. Jayatilaka said.

In order to promote the sale of this film in the international film market, Amaranath is using the State-of-the-art film technology in the creation of his tenth Sinhala feature film. Bheeshanaye Athuru Kathawak" is the first Sinhala film to be photographed in Cinemascope with Stereophonic Sound System.

"Though it is new to us, all the Hindi films and almost all the Tamil films are made using this technology" said the director describing the art of making a Sinhala film with this technology.

As technical facilities are not available here, Prasad Film Laboratory, at Chennai in India is to provide them.

---
UFTAA: Travel trade showpiece in Colombo after 24 years
The Universal Federation of Travel Agents Association (UFTAA) has selected Sri Lanka as the venue for their World Congress after 24 years, at the BMICH from September 28 to November 2.

Sri Lanka hosted the 1976 UFTAA Congress, which was attended by over 1000 delegates.

Sri Lanka won the bid to host the 34 UFTAA World Congress by competing with nations such as Thailand, Egypt, Tunisia, etc. It is important for Sri Lanka to stage such events in order to develop the emerging markets and to irradicate negative perceptions prevailing about Sri Lanka in the rest of the world.

UFTAA, with its headquarters based in Manaco, has a history of over 30 years. It is a world body consisting of over 101 National Associations as its members, represented in over 100 countries worldwide. The primary objective of UFTAA is acting as a catalyst for the Travel Agencies, Tour Operators and Aviation marketing community and regularizing matters with the other Universal Organizations comprising providers of services to travel agencies, Tour Operators and Aviation Markets.

UFTAA membership comprises of specialized Travel & Tour Operators mainly from Europe, North and South America, Nordic countries etc. Hence, it is an ideal opportunity for members of the Sri Lanka Travel and Tourism Industry to meet the said important personnel in Sri Lanka and to tie up with them for future benefits.

The UFTAA Congress would attract over 500 delegates this year. This is in fact, a very high amount in the present context of convening a conference.

It is a great opportunity for Sri Lanka to host the said congress which would assist the destination with regard to image building and to develop tourism from the non-generating markets, which ultimately will increase the foreign exchange earnings to the country; said Udaya Nanayakkara the Chairman of TAASL

The Travel Agents Association of Sri Lanka (TAASL), has planned various itineraries to Kandy, Nuwara Eliya, Ratnapura, Galle, etc. with a view of showcasing the Tourism Product to the participants of UFTAA. TAASL is convinced that hosting the UFTAA Congress this year is well timed with the image stabilization of the destination and it will accelerate the desired results in the context of tourism.

The welcome dinner for all the participants will be held at the Holiday Inn Hotel sponsored by the Holiday Inn International chain. The farewell dinner will be hosted jointly by TAASL and Mount Lavinia Hotel at the Mt. Lavinia Hotel. The entire Travel & Tourism Industry will be contributing towards the success of the said conference. The national carrier SriLankan Airlines being the official carrier has contributed immensely by way of discounted air tickets for delegates in addition to contributions made by Ministry of Tourism, Ceylon Tourist Board, Sri Lanka Convention Bureau and all other relevant Travel Associations.

---
'Abhisamaya' portrays tale of a widow
Abhisamaya a new teledrama, deals with the life of a married couple and others, around them. The teledrama is now being telecast every Thursday at 9.00 p.m. on Swarnavahini. It is directed by Anurudda Jayasinghe who also wrote the script.

Anupama a pretty young lady from a wealthy family, widowed by the untimely death of her beloved husband, desires to begin, an entirely new life.

Her only sister Vindya who is few years younger to her, is different from Anupama. She falls in love with a young lad, Thivanka, one of her batch mates at the Campus.

At a party Thivanka noticed that Vindya enjoyed dancing with handsome young males. Later she married Ravi and left for England.

Anupama was too young and inexperienced, and finds it difficult to manage the wealth that her father left with her and hence she decides to invite Thivanka to be her manager. Then Thivanka gradually falls in love with her, resulting in marriage.

In the meantime Vindya returns from England on a vacation with her young daughter. Her sister's marriage with her former fiancé was a real surprise to her and she could not bear it up.

Thivanaka gradually loses interest in Anupama, simply because she was not able to bear a child. Knowing this situation Vindya starts to flirt with her former boy friend Thivanka. Vindya decides to divorce her husband and get married to Thivanka.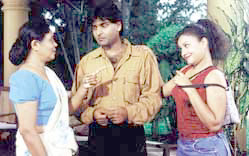 Meanwhile, Anupama seeks the help and advice of Thivanka's best friend Chandana to get over this critical situation. Chandana with great difficulty manages to take both of them to a medical specialist. Medical reports showed that Anupama is fertile but Thivanka is impotent. But Anupama and Chandana kept this a secret to get over this problem. Chandana makes an unusual proposal. Anupama loses her temper and suddenly slaps Chandana. But later Chandana manages to convince Anupama and explains that he made this proposal simply with the idea of helping her to get over the problem.
As a result, of their courtship, Anupama conceives, and brings the affair with Chandana to an end. Thivanka who comes to know of his wife's conception rejoices and decides to forgive his wife. He gives up his connection with Vindya and returns to his wife.
One day Anupama revealed the truth and showed the medical reports and swore that she entered this illicit liasion with Chandana only once and that too was with the sole intention of giving a child to Thivanka.
She also swears that she never had any connection whatsoever with Chandana thereafter. The main roles are by Palitha Silva, Nilmini Tennekoon, Semini Iddam-alagoda, Priyankara Ratnayake, Grace Ariyawimal, Lionel Wickrema, Ashen Manjula, Senaka Wijesinghe, Buddhi Wickrema, Ramani Fonseka and Tissa Udangamuwa.