Law and Citizen
Out you go
Dr. C. Ananda Grero
where premises are governed by the Rent Act the provisions of the Rent Act No. 7 of 1972 as amended from time to time are applicable. This Act applies to premises where the rent does not exceed one hundred rupees and also where the rent exceeds one hundred rupees for a month.

Section 22(1) of the said Act provides grounds for an action or proceedings for the ejectment of the tenant. Out of such grounds Section 22 (1) (d) deals with the following: The condition of the premises has, in the opinion of the court deteriorated owing to acts committed by or to the neglect or default of the tenant or any such person.

Citizen Newton is the owner of a fairly old house in Panadura - 22, Pearl Avenue. He gave the said premises on rent to citizen Perera on a rental of Rs. 100 per month. There were two trees, a well-bearing jak tree and a mango tree in the compound of this house. Citizen Newton gave the house on rent without including these two trees. Tenant citizen Perera cut the entire mango tree and a few branches of the jak tree that were spreading toward the roof of the house. Citizen Newton came to know about it and visiting the house saw that the ceiling of the house had been broken in two places along with the glass panes of two doors as well. Through his Attorney-at-Law, he sent a notice to quit to the tenant Perera. In the notice it was stated that the contract of tenancy between the two parties has been terminated on three grounds(a) damages caused to the building by cutting the top of the jak tree. Damage was estimated at Rs. 1000; (b) cutting of the mango tree, and thereby causing loss to the landlord Newton; (c) acts committed by the tenant or other inmates of the house by causing damages to the glass panes of two doors and to the ceiling of the house.

Time was given for him to quit the premises. It was further stated in the notice to quit that the tenant caused damage and destruction to the said two trees to take revenge on the landlord Newton as he enjoyed the fruit` of the trees.

After the expiry of the period given in the notice to quit, as the tenant was still in occupation of the premises, the landlord Newton through his lawyer instituted an action in the District Court of Panadura asking that the tenant and others in the house be ejected and that an order be given to recover damages and costs of action.

The defendant tenant Perera filed answer and denied his liability to pay damages or to quit the premises. After trial the District Judge held with the plaintiff Newton that there was deterioration of the premises and therefore defendant Perera was liable to be ejected and to pay damages of Rs.1000.

The tenant (defendant) Perera appealed against this judgment to the Court of Appeal. A similar appeal came up for hearing before a bench of two judges comprising Justice Goonewardena and Justice Viknarajah and the judgment of this case is reported in (1988) 1 Sri Lanka Law Reports at page 278. Names of the parties are L.F.A. Silva V Elenor Fernando.

Justice Goonewardena who wrote the judgment of this case referred to section 22(1) (d) of the Rent Act upon which the plaintiff (like Newton) came to court and drew the attention to words "if the condition of the premises in the opinion of the court deteriorated owing to acts committed by or to the neglect or default of the tenant or any such person." Having cited this section, he said that at the hearing of the appeal the question arose as to what particular acts had brought about such deterioration as complained by the plaintiff (like Newton). In fact an issue pertaining to such deterioration was also raised at the trial.

Justice Goonawardena said: "The District Judge was called upon to decide upon that issue with respect to deterioration of the premises and whether that was brought as a result of damage to the building itself (and not to trees). The District Judge not having found for the plaintiff (like Newton) regarding damage to the building as alleged, should have therefore held that it was not established that the condition of the premises had deteriorated and he should have dismissed the plaintiff's action".

Had the plaintiff (like Newton) proved that cutting of the trees caused damage to the house which resulted in deterioration of the premises then he would have succeeded in his action. But it was not proved. The Court of Appeal considered whether, if trees standing on the land are damaged, it can be said that there can consequently be a deterioration of the condition of the premises. According to Section 48 of the Rent Act premises means, any building or part of a building together with the land appertaining (belong to as parts to the whole) thereto.

It was argued by the counsel for plaintiff respondent (like Newton) that trees are attachments to the appurtenant land and thus form part of it and damage to trees could be considered as deterioration of the premises. Further District Judge has made a finding of such damage in favour of the plaintiff (like Newton). Justice Goonewardena said, that he cannot agree with the said argument that cutting of trees can bring about a deterioration of the condition of the premises.

The Court of Appeal reviewed the entire evidence led at the trial and it was found that both these trees had certain areas decayed in the region of the trunks and the act of cutting them was not motivated by revenge, but done with the interests of safety to persons and the house.

Although the District Judge held that act of cutting the mango tree and part of the jak tree caused the deterioration of the premises, the proper assessment of evidence did not establish that fact and the Court of Appeal disagreed with the finding of the District Judge. In the result both Justice Goonewardena and Justice Viknarajah allowed the appeal of the appellant defendant (like Perera) and dismissed the plaintiff-respondent's (like Newton) action.

Based on this decision, citizen Newton cannot eject the tenant Perera on the ground that the condition of the premises given on rent had deteriorated owing to the acts committed by or due to the neglect or default of the tenant Perera or any person living with him.

(All names are fictitious)

---
Continuity and change
By Hiranthi Fernando
Gopalkrishna Gandhi, the new High Commissioner for India in Sri Lanka is known to all as the grandson of Mahatma Gandhi. But this simple, unassuming diplomat is a personality in his own right, having during his career in the Indian Administrative Service, held various important posts. Before his current assignment in Sri Lanka, he served as Secretary to the President of India.

Mr. Gandhi has a BA and MA in English Literature, from St. Stephen's College, New Delhi. Fluent in Hindi, Tamil, Gujarati and English, he has published writings in English and Hindustani.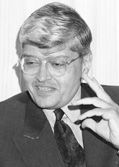 Gandhi: First Secretary now High Commissioner
Having served in Sri Lanka before as First Secretary in the Deputy High Commission of India, in Kandy, from 1978 to 1982, Mr. Gandhi has many pleasant memories of the country. "I see both continuity and change," Mr. Gandhi said speaking of his impressions of the country after 18 years.
"In our part of Asia, continuity is stronger than change. People carry a culture of inner strength and resilience which makes them bearers and developers of tradition."
On a recent visit to Kandy, he said he found that although new buildings had come up, a great sense of cultural tradition of the central highlands has been maintained with the confidence of a society whose basic values remain unaffected.
"I find even in Colombo, there is something to mark Colombo as a city," he said. "It is not just another port of call. It has a signature of its own which remains valid."
During his previous stint in Sri Lanka, Mr. Gandhi travelled extensively in the central highlands. He also visited Anuradhapura, Polonnaruwa, Sigiriya and Adam's Peak.
"Climbing Adam's Peak was one of the landmark experiences of our life, both for me and my wife," he recalled.
"It was a most unforgettable experience to go along with other pilgrims. To see the inverted image of the peak in the skies is an extraordinary experience. Seeing the Buddha in repose at Gal Viharaya in Polonnaruwa was also most enriching."
The High Commissioner said his stay in Sri Lanka was deeply fulfilling both in terms of the places they visited and persons of all sections of Sri Lankan society whom they got to know.
Mr. Gandhi's previous assignment in Sri Lanka was mainly with the plantation workers. As First Secretary in charge of Rehabilitation, he assisted in the repatriation programme of Indian plantation labour under the Sirima - Shastri Pact.
"My work was to assist in the rehabilitation of workers who were going back to India. I used to meet them on the estates and make advance arrangements for them."
Gopalkrishna Gandhi is the grandson of Mahatma Gandhi, but stresses that he is not an expert on Gandhi nor the best person to speak about him.
"I do not remember him as I was too young when he died but to most people in India, he is a living presence,"Mr. Gandhi said.
"Millions of people feel a kind of bond with him, which makes his own natural family a part of a much larger family, of the different communities and classes in India. It can be said that the description of him in India, as the father of the nation is not a political label but an organic acknowledgement of an association and an identification."
There are many people and organisations that don't agree with his views and have expressed their disagreement in fairly sharp terms, Mr. Gandhi commented. However, he said, his grandfather would have appreciated it as he did not apportion to himself the role of guru."The affection of millions of Indians came to him in tidal waves," he said. "This great current of support is a very vital part of our lives and is shaping our society, through many NGOs doing Gandhi's work among the deprived of India."
He said he recently read collection of speeches made by Mahatma Gandhi in Sri Lanka, during his visit in 1927.
"They show a creative compassion for the disadvantaged and a desire to cement the bonds between the two communities," he said.
It was his grandfather's creative compassion that made the greatest impression on him.
"He had the ability to enter into another's pain, to see things as the other person might see it. This is what made him universal. He is today undoubtedly a part of human inheritance."
Mr. Gandhi said his mother had visited Sri Lanka in 1927, with Mahatma Gandhi and his wife, her future parents-in-law.
She was the daughter of Rajagopalachari who was a close friend and colleague of the Mahatma in the struggle for Indian Independence. Rajagopalachari later became the first Indian Governor General.
"I learned Hindi, my language of first learning from my mother," he said. "Although she was a Tamil, she was very articulate in both. I derived from her a sense of respect for linguistic diversity and a respect for other languages as a vehicle for self expression."
Mr. Gandhi said he was much impressed by the accounts of Ceylon written by Nehru the first Indian Prime Minister, who visited here in the 1930s. "His descriptions of the tea garden workers is fascinating," he said.
"My own life among the tea plantation workers showed me the same qualities. I have also seen the Buddha statue at Anuradhapura Nehru mentioned in his 'Discovery of India'. I have to thank Nehru's writings for having introduced me to the concept of Metta, which is something that moves me very deeply."
Speaking of Indo-Lanka relations, Gopalkrishna Gandhi said they are as old as geology.
"They have a closeness which is like the closeness of relations and siblings. It is a fact that pre-exists any understanding or analysis. There is a natural development of the pre- existing connections over the centuries. Each generation adds to it and enriches it."
"Some complexities also develop but those are part of the texture. They are ingrained in the weft and web of our fabric. They don't weaken it but sometimes appear in contrasting forms. They don't change the inter-connectedness of the two civilisations."