He can do it, so can she
Trained in masonry, carpentry, plumbing, welding and motor
repair, these young women are more than ready to do a man's job
By Manori Wijesekera
A female auto mechanic? I thought I had heard wrong. But 21-year-old Achini from Goda Uda in Matara, wasn't joking. Currently undergoing training in motor winding and auto electricals, Achini hopes to obtain full-time employment in a service station as soon as her training is over.

Achini and her fellow trainees Suranji and Ariyaseeli were hunched over a vehicle engine, busily removing wires and adding and removing various engine components when I met them at the training centre at the Sumanaramaya temple in Goda Uda. The training programme is run by the World University Service Canada (WUSC) in partnership with the Goda Uda Welfare Society, who operate the training centre.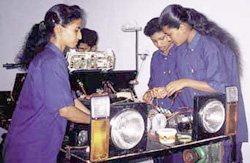 Achini, Suranji and Ariyaseeli practise their skills on a model motor engine
This training is part of WUSC's Project for Rehabilitation through Education and Training. Currently in its third phase, the project offers career-oriented training for young men and women (between 17 and 29 years) from low-income households in seven districts across the island. The training programmes average a 40% rate of participation by women. One of the key objectives of the project is to provide women with training in fields where there are employment opportunities but no training for women.
"Initially, when we first began the training six years ago in Matara, we had to almost beg the parents to send their daughters for the training. They were worried about the social stigma of their daughters entering trades that are associated with male workers. But now that they see young women from their villages who are earning well, or are self-employed and financially stable, we have more applications from women than we can cope with," said Jayatissa Manamperi, District Co-ordinator of the WUSC Programme in Matara.
The training programmes have a 90% successful employment rate. Programmes available in Matara include woodwork and mechanised carpentry, auto electrical and motor repair, computer hardware and electronic equipment repair, masonry and basic plumbing, tigmig welding, air conditioner and refrigerator repair as well as training in the more conservative fields of photography, jewellery making and basic nursing and care of the sick and elderly.
Achini has passed her G.C.E. (O/L) exams, and stayed home for a few years until she could find some means of employment. "When I first entered this programme 11 months ago, I was wondering whether motor rewinding and auto electricals was something I could do. But now that I've done the work, I don't think of it as a man's job at all," she said.
S.A. Chandima and Chanika Sanjiwani are currently undergoing their six- month on-the-job training in motor repair and auto electricals at Shantha Engineering Works. Their employer, N.L.A. Shantha is keen to take them on to his regular staff when they finish their training. "Their work is excellent. I think that being women, they pay attention to details. For example, they clean the carburettors - which is a messy job that most workers try and finish quickly - like they're cleaning a piece of jewellery. They pay a lot of attention to their work, and they are very hard working," he said.
Chandima and Sanjiwani are the second batch of WUSC trainees taken in for on-the-job training by Mr. Shantha. "I think we need to give these girls a hand. When I first heard about girls entering this field, I was skeptical. Girls don't usually like grease, they don't like to get dirty and I didn't think they would last long. Well, this is my second batch of trainees, so I guess I'm being proved wrong! I think these girls have broken the myth that there are some things women can't do."
Many of the young women who complete the training, if residing close to urban areas, find that employment within the town is easily accessible. But many women from more interior villages have opted for self-employment, or working in groups of two or three. This is particularly the case in trades such as masonry and plumbing, house wiring and carpentry.
Whether working in small rural villages or in the city centre, these young women have been breaking down societal constraints and traditions, albeit unknowingly. "Yes, I suppose I am the first woman from my village to study tigmig welding, but I didn't really think of it that way," said Udayangani who is four months into her training programme, and loving every minute of it. "I have always liked to fix things, liked to work with my hands. I know I can easily find a job in a welding workshop, and that's why I chose this programme."
Many of the female trainees, though initially concerned about entering a "man's trade", and working side by side with men, are now confident that they can do the job as well as, or even better than, their male colleagues. The WUSC training programme has a prominent component of gender sensitisation for all trainees, as well as further training for female trainees on how to deal with sexual harassment in the workplace and social pressure against their chosen vocation. Orientation to the non-traditional trades for women and gender sensitisation programmes are also held for parents and guardians, providing them with a forum for voicing their doubts - and sometimes, opposition - to their daughters' chosen trade.
"The first group of female trainees in the masonry and plumbing, and house wiring training programmes faced many obstacles from their families.
" There was a lot of derision and scorn about whether these girls could do masonry or house wiring. Could they clamber up ladders, could they lift and carry heavy cables and bricks, did they even know how to mix cement - these were some of the common and frequent comments thrown at these women," said Mr. Manamperi. WUSC met these prejudices head-on, by elevating the identity and perceptions of the trade he said. "For instance, what comes to mind when you think of a local mason? The "baas", right? A tough man, with a beedi behind his ear, clad in sarong and banian or bare-chested.
" That's the stereotype of the mason. And that's the stereotype that these girls were ridiculed with. So, we elevated the trade, we gave the girls a uniform of jeans and t-shirt, we taught them important and time saving skills in masonry so that soon these girls were being seen as very modern, professional workers, not to be derided but rather admired."
Another obstacle faced by some women is that prior to or soon after marriage, they are asked to leave these trades by their husbands. "Many men feel threatened by having their wives working in what is seen as a man's job.
"I have seen several of my students, very competent and skilled workers in their trade, leaving their jobs soon after marriage. But I think this will change.
Just as five years ago, we couldn't find a single young woman eager to join the auto electrical or welding programmes, and now we're flooded with applications and requests, in a few years women in these "male jobs" will be a regular occurrence and husbands will, like the rest of society, come to accept it simply as another job," said Mr. Jayantha Nanayakkara, an instructor in Tigmig Welding at the Sumanaramaya training centre.
Achini has one more month to complete her 12-month training at the centre, and then she will be assigned to a service station for her six months of on-the-job training. "I can't wait," she says, her eyes shining with eagerness, "then I can start to prove to myself and my family that this is a job that I can do."
Her words will be music to the ears of WUSC trainers, whose main objective isn't necessarily to change the face of the labour market by introducing women into trades and vocations hitherto dominated by men but to offer these young women the opportunity of acquiring a employment-oriented skill which will make them financially stable and secure.