Shedding light the safe way
By Chamintha Thilakarathna
At the Sri Megawanarama temple in Kongas Handiya, 15 miles off Mahiyangana town, excitement was growing. A truck loaded with safety bottle lamps had turned into the crowded gravel road leading to the temple. Mothers with children in their arms rushed to get a place in the queue that was building up, while others who weren't so quick on their feet pushed their children forward to represent them.

Having brought 6000 safety bottle lamps for 3000 families scattered over 20 villages in the Badulla district on the Mahiyangana border, this was the big day for the members of the Rotary and Rotaract clubs of Colombo Metropolitan. It was the culmination of months of planning and preparation. However, this was not the first time they had launched a project to save people from bottle lamp injuries, but it was their largest project where the recipients came from a district which records the highest number of burn victims of this nature.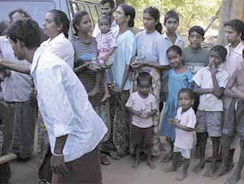 Waiting in line for a safety bottle lamp
The villagers chosen this time were deep in the heart of Mahiyangana. These people have no water services, no efficient transportation services. Not even a well or a tractor was in sight for several miles.
What most of us have taken for granted as basic essentials are unattainable luxuries to these villagers. In fact, they welcomed the distribution of lamps with so much gratitude that some of them described the project as a god's gift to save the lives of their children.
D.M.Wijekoon, Grama Sevaka of Medeyaya village for ten years said that every year around six to eight children die from burns caused by bottle lamp accidents in his village. This would mean there are roughly 120 burn victims every year in these 20 villages. Most of them are schoolchildren.
Project Chairman Rotaractor Onali Upeksha says this project was launched by Rotarian Michael Perera four years ago, the idea being to select rural sectors and educate them about safety lamps as a substitute to the ordinary bottle lamps, which can be dangerous.
"We distribute two lamps a family, free. However, we only hand over the safety lamps once they have returned the bottle lamps they already use, because if they continue to use these unsafe lamp, our efforts are in vain," she said.
President of Rotary Club Colombo Metropolitan, Primal Wijayanayake said that the advantage of this lamp was its shape and texture.
The safety lamp will not roll or easily topple. Nor does it leak. The damage is usually caused when bottle lamps break and when there is an oil leak. But this lamp is designed in such a way that if the bottle falls flat, the flame will die out.
R.M.Karunawathi, (30), a mother of three was among the relieved parents who came to collect her lamps. She confessed that she had no idea of a safety bottle lamp until this team put up posters a few weeks prior to the distribution.
The villagers were also told how they could make use of old marmite bottles to make bottle lamps which are similar in shape to the safety bottle lamp if they wish to make their own lamps at home.

---
Jesus crystal
By Uthpala Gunethilake
The day being dreary, there was no sunlight to filter in through the glass, bringing out the full effect of the carefully crafted glass mosaic behind the altar. But a tall tree standing just behind the glass panel lent a blurred green background, softly lighting up the figure of Jesus Christ, hands raised in prayer.

Though genuine handcrafted stained glass pictures are common in Christian architecture, this figure of Christ at St. Mathew's Church, Talangama, is special in that it has been made locally. And the proud craftsmen are Dwayne and Kishani Piyatilake of Architectural Leaded Glass Company, Ratmalana.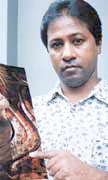 Dwayne Piyatilake
The panel is made of blown glass of various colours and texture. Pieces of glass cut into various shapes are assembled to form the whole picture. This is the art that Dwayne and Kishani specialise in. "This is genuine stained glass. All these years people had to import completed panels like these," they explain.
Stained glass is different from decorated glass, which is simply painted glass, where the colour fades easily. In stained glass, the colour is blended while the glass is being blown, and this is what Dwayne and Kishani use in their work. Pointing at the figure of Christ at the altar, Dwayne says, "This will last for nearly another 400 years, while decorated glass would last for about two or three years."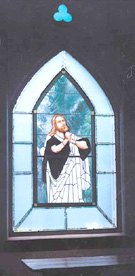 The figure of Christ at St. Mathew's church was a hurried job that they had to complete within a few weeks. The church celebrated 150 years on September 21, and this stained glass panel was installed to honour the occasion. .
"This is the first time we created something for a place of worship, and it needed extra attention and many consultations with church authorities in order to make the figure look exactly the way it should," says Dwayne.
According to Rev. Suresh Dias Bandaranaike of St. Mathew's church, the original drawing based on which Kishani and Dwayne moulded the stained glass panel, was done by Rhuani Rambukwella.
The extra bit of work has paid off. Although everyone was skeptical at first whether Dwayne could recreate the exact expression on Christ's face, and make the folds of the robe look natural, Rev. Bandaranaike now says that he is very pleased with the panel. And Dwayne and Kishani have been asked to create a similar panel for another church.