Teens in business
Ruhanie Perera and Laila Nasry talk to the Young Entrepreneurs of the Year

A president, a board of directors, shareholders, accounts, profits and projects. Sounds like a business in full swing. The only difference is that it is a group of very enthusiastic 18-year-olds who are running the show.

"We were determined to succeed," Young Entrepreneur of the Year, Swendri Weeraratne says with conviction. Having been given the challenge to start and run their own school company, Swendri and her team launched The Cuddles Company and have since tasted sweet success.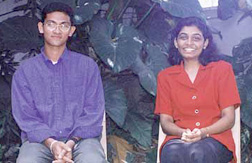 Agasti Liyanage and Swendri Weeraratne
It was an uphill task but one that they went at with all the grit and determination they possessed. The challenge was greater since it was the first time that their school Visakha Vidyalaya had been associated with the Young Enterpreneur of Sri Lanka (YESL) programme.
The Cuddles Company initially dealt with stationery items. "We first launched Vesak cards in two designs to be sold within the school," Swendri explained. But as the school also received cards from the nearby temples for sale, it ate into their market. "We had to revise our strategy and sell to those outside school." They then came up with the idea of a millennium card, to be sold both within and outside school. "A competition was held in school to choose the best design and we sold all of the thousand cards pretty easily because most of the big companies bought our cards," Swendri explained.
Having dabbled with cards, Cuddles diversified into pens with the college logo and design. They had to compete with the school bookshop so the young entrepreneurs launched into direct marketing going from class to class selling their pens.
During exam time they also came up with the unique idea of an exam folder which included a file cover and foolscap sheets. "We had instant success because this was very convenient. They then came up with a YESL badge, which to their delight was chosen by YESL to be worn by all young entrepreneurs. "This was a real boost for us," Swendri said.
An agreement with Nestle to come in and sell food drinks like Milo to the students for a month and a half, came next. "We thought we could capitalise on the fact that our tuck shop only served soft drinks." Part of the profits were utilised to donate garbage bins to the school and Rs. 2000 to bring a rural school into the YESL programme.
The company made a profit of Rs.39,000 overcoming many challenges thrown their way. "The bio-students had their own student company and were selling ice cream within the school. This indirectly hampered our market but we revised our strategies and got over the hurdle," Swendri said. They were initially perceived as a profit oriented programme. "We had to approach the teachers, talk to them and tell them about the programme which was difficult at first."
However it was the challenges that spurred them on. "I learnt never to give up whatever the circumstances. It's important to believe in what you do and your team." Like any good leader Swendri attributes their success to the great ideas, team effort and help from the teacher-in charge. "It was a collective effort" she insists.
Nevertheless running a company was demanding. As a prefect and involved in many extra curricular activities Swendri learnt to manage her time efficiently. "I had my own time table. But the help I got from my family was really what saw me through."
Having completed her A/L's and with a prestigious award under her belt Swendri looks to the future with the hope and determination of a young achiever. Already being approached with job offers Swendri has turned them down "temporarily" in order to study further. "I want to become a lawyer and I also want to go into the commercial field. Maybe I might start my own business one day."
In July 1999, Agasti Liyanage, Mahesh Abeygunewardene, Aasiri Wijeratne, Jawazim Jisty and Russun Chitrarinda - all of Richmond College - decided to set up their own business. Inspired by the ideas given to them by the Young Entrepreneurs of Sri Lanka (YESL) who had visited their school earlier, the company 'Melrich' was created by these five budding young entrepreneurs.
"We thought it would be a lot of fun, in addition to the knowledge and experience we would gain," says president of the company Agasti Liyanage. "We never dreamt that we would end up working that hard. But it was so much a part of us that once we got started we just couldn't stop," he adds.
There were many skeptics at first, but large doses of self confidence helped as did the support of their parents. All their hard work paid off when Agasti won the Most Outstanding Young Entrepreneur of the Year award.
Modest Agasti doesn't take all the credit. "Although the award was an individual one, the effort was collective. Everyone of the Board of Directors put in a lot of work. We were guided by our teachers Mrs. Janaki Gunewardene, Mr. Michael de Silva and Mr. Gnanadasa who were our consultants. We also had a lot of help from YESL. They used to advise us on challenges and problems and keep track of our progress." Little did Agasti know that they were being graded on their progress. He was too caught up having fun in the 'business world'.
Melrich's main line of business was pillows. Why pillows? There was a lot of competition within the school and the more common items like books and food items were already being sold. The boys wanted something different. "And to give us an edge over the others we cleaned the cotton by hand as against factory cleaned cotton," says Agasti. "So our catchline was 'athin nelu pulun'". It worked, for the demand was astounding. "We even got an offer to manufacture pillows for export."
The young Board of Directors when they were not tied up with the administrative work, cleaned cotton and made the pillows. "We even invented a little gadget that helped us to clean the cotton faster," Agasti reminisces. "We must have looked a sight because we were in goggles, cleaning cotton vigorously." Sure sounds like a lot of fun.
Unfortunately there was studying to do as the A'Level exams were coming up. And the time came when Agasti came up against the famous phrase every teenager hears at some point in time - 'it's time you settled down and studied.'. As a result the company with an almost Rs.50,000 profit was dissolved. "But it was such a learning experience," insists Agasti. "As a Commerce student, I was putting into practice everything I learned. The experience was very practical and made my lessons interesting and a lot easier to understand."
At present Agasti, having just finished his A'levels, is quite happy being a carefree 19-year-old. "I will continue with my studies at present" - Any dreams of being a successful entrepreneur are in the distant future. His only worry is that most people consider businessman to be rogues, and that is an impression he is determined to change. "If ever I go on to become a businessman, I will be a good one."
The business world is not just for the experienced. Given a chance anything is possible, any dream can be a reality. These teenagers sure seem to have what it takes.

---
The battle of the sexes
There are many mysteries of life, and probably the most baffling of them all is the phenomenon called 'the opposite sex'. I'm sure you've caught yourself tearing your hair more often than not over the unfathomable behaviour and thinking of members of this extremely enigmatic group of people. There would be countless occasions when you felt like slapping that old shoe across the face of someone of that extremely offending and insufferable 'opposite sex'. But the reality -though it's hard to swallow- is that we are all meant to exist in peace and in companionship (Gulp!).

Many a philosophical argument and coffee-time squabbles have been sparked off by this one puzzling question 'What makes them behave the way they do?' So one fine day, with daggers drawn and spears poised, the Mirror Magazine crew sat down hoping to clear up this absolutely fuzzy issue. With a little bit of imagination and help from the verbal version which follows, you can reconstruct what actually happened. And here we go, with the girls in the 'G' corner and the boys in the 'B' corner all ready to bash each other to mush!
On your marks, get set ...

G - Guys are immature! We base this conclusion on the impression they give us about themselves, in the way they react to situations, deal with responsibility and their outlook on life.

B - That is an unfair generalisation! Circumstances shape the maturity and responsibility of everybody, guys included. Therefore it is unfair to say that all guys are immature.

G - We are not making a generalisation! We mean that guys become men at a slower pace than girls become women. Society doesn't ask boys to grow up fast and even provides excuses for them, whereas they expect girls to grow up faster. We are not saying that it is unfair, we are just saying that it happens. As a result guys take their own cool time to mature.

- For example when it comes to responsibility, especially at school level, in a situation where peers of both sexes are working toward a common goal and responsibility is delegated, more often guys are either inefficient in their handling of the job or they shirk responsibility.

B- It's not that guys can't do it. When the situation arises, the guys are equally competent, if not more so at the job. Inefficiency and shirking are not unique to guys, they are equally present in girls. Responsibility cannot be delegated, and the above is probably a case of bad organisation.(and we know who volunteers to do that, don't we?)

G - Granted, responsibility cannot be delegated. But when you delegate work to guys they are more prone to shirking the responsibility that comes with the work. The problem is that guys think in terms of 'we'll cross that bridge when we come to it'. We can't go through life with that attitude. That is what leads to immaturity.

B - But everything depends on the situation. People (not just guys) react to different situations in different ways. Each individual situation presents different needs. Everything we do is dependent on those needs, even preplanning is in anticipation of a future need. If you are looking for a constantly mature being, we suggest you look beyond the human race.

G - Fine. But when there's a need to get something done, the girls take the initiative because the guys never seem to get to that bridge. This results in an almost automatic shirking attitude which is in effect their immaturity.

B - If guys shirked responsibility, then how come they have reached all the top positions, which demand responsible and competent attitudes. At a school going age, guys are all out to have fun and enjoy themselves, and well...taking on responsibility is not on the top of their list of priorities. That doesn't mean that they are incapable of it. In a 'crunch' situation, guys are perhaps more likely to remain stable and perform.

- The approach that guys and girls have towards things is different. It's absurd to expect them to react in the same way. The two sexes are poles apart, because nature made it that way.

The volume fades off and the picture blurs, as we move back to the real world...

And that was the argument, at least the printable part of it. After the blows (and not all of them verbal) had been exchanged, everybody was able to come to an agreement of sorts. The guys agreed that some of them could be immature at times while the girls too reluctantly agreed that not all the guys are that bad. So it boils down to a simple rule : You just can't generalise. Even though guys will always be guys, and girls will always be girls, there is a distinction between members of the same sex, or should I say species? And as for understanding the opposite sex, well, some things will always remain mysteries.

And so, it all begins. We're sure all of you out there are dying to...agree with the boys! (#@$%!? Bash! Paf! #!@) Ok...ok..ok..let's be fair - give your two cents worth and join the 'The Debate'.

Write in to us at,

'The Debate'
Mirror Magazine
C/o Sunday Times
P.O Box 1136
Colombo 2

Email:the debate_lk@yahoo.com