News
Money Market Update First Capital Ltd.
The inter-bank call money market and the overnight repo market
During the week ended 21st September, the inter-bank call money rate bounced back to 15.5% mark, on the back of the renewed liquidity shortfall.

The average liquidity shortfall climbed up to Rs. 9bn-10Bn from Rs. 4bn-5Bn that was in the previous week.

Further, as the Central Bank did not offer term reverse repos, the pressure on the overnight money market was renewed.

Consequent to the changes in the market liquidity position, the call money rate saw moving in between boundaries of 13.25% and 15.75%,. The term money rates too witnessed a revision. The weekly call money rate surged by 77 basis points to close at 14.40%. The overnight market repo rate too reached higher, and closed at 15%
Central Bank open market operations
In a bid to ease the pressure on the sky rocketing exchange rate, the Central Bank increased the overnight reverse repo rates by 50 basis points to 15.5%, while the repo rate remained unchanged at 11.75%. On Monday, the liquidity shortfall witnessed a sharp upsurge and since then it remained the same.

As the Central Bank open market operations, did not offer any term reverse repos, the borrowers reached reverse repo window on a daily basis. During the week the reverse repo window released Rs. 38.5Bn, averaging Rs. 7.7Bn a day. The Central Bank's proposal to auction repo and reverse repos, was postponed.
The treasury bill auction.
Rs. 2468Mn worth of treasury bills were offered in the bill auction held during the week. Total amount matured during the week was Rs. 2968Mn. Further, Rs. 500Mn worth of bills, issued in the special auction in early August, were retired.

Though the auction in general was oversubscribed, yet again the subscription level for 91day and 182 days were at a poor level. Forty Eight% of the amount offered was purchased by the Central Bank.

The rising momentum in the bill yield remained unchanged. The highest gain was witnessed in the 182 category. The spread between 91 days yield and the 364 days yield stretched to 200 basis points and we expect the spread to get narrower in the future auctions.
Treasury bond auction
Rs. 1000Mn worth of three-year treasury bonds were offered in the auction held during the week. The auction was over subscribed by more than three times. Given the prevailing liquidity crunch and the budgetary pressure on the domestic money and capital market, investors continued to bid high. The three-year bond yield improved by 16 basis points. Due to the prevailing high bond yields, most of the bond portfolios are affected. Therefore, the secondary market activities remain on very tedious note.
Foreign exchange - dollar spot movement
The Central Bank continued further with the unchanged dollar/rupee trading band, buying at Rs. 75.60 and selling at Rs. 79.47. During the week the dollar/rupee spot rallied almost to the Central Bank selling rate, on the back of the renewed buying interest for dollars.

The spot closed at Rs. 79.40, which was 90 cents higher than the week's opening.

The weekly spot average shot up to Rs. 79.02, as compared with the Rs. 78.46 of the previous week. Three months forward was quoted at Rs. 81.05 to 81.15Rs, while six months was at Rs. 82.55 to Rs. 82.70.


| | | | |
| --- | --- | --- | --- |
| | 91 Days | 182 Days | 364 Days |
| Last Week | 13.04% | 13.16% | 14.89% |
| This Week | 13.32% | 13.62% | 15.20% |
| Change | 0.28% | 0.46% | 0.31% |
| | |
| --- | --- |
| Maturity | 8-Sept-03 |
| Coupon | 11.00% |
| Amount offered Rs.Mn | 1000 |
| Amount Accepted Rs.Mn | 1000 |
| Weighted Average | 15.81% |
| Change | 0.16% |
---
Tea Update
Silver tip breaks record
The Colombo tea auction seems to have caught Olympic fever, as price records are being toppled more than ever before.

Last week, plantation officials said that a kilo of Organic Silver Tips sold at over Rs. 21,000.

The tea produced at the Koslanda Organic Tea Garden was brought by Ms. Ranfer Teas Private Limited. Silver Tips, which consist of only the bud instead of the two leaves and a bud as other teas is produced in limited quantities and is said be only produced in Sri Lanka.

Setting another record, the low growns weekly sales average surpassed the Rs. 150 per kilo mark at the previous week's auction, for the first time this year.

Brokers expect the weekly average in last week's auction to better Rs. 150.76 per kilo average recorded in the previous auction. Asia Siyaka Commodity Brokers reported that this was only the sixth occasion in the history of the tea industry that the weekly sales average for this elevation had achieved this level of value.

The other five instances were recorded in 1998, and the highest average was recorded in the same year at Rs. 154.23.

Meanwhile, most other categories recorded marginal up and downs. Brokers reported that this was more due to a drop in quality that in demand.

Brokers reported that the plantation workers strike was called off last week following presidential intervention.

Forbes & Walker Tea Brokers reported that President Chandrika Bandaranaike Kumaratunga met Minister of Estate Infrastructure Development and Leader of the Ceylon Workers' Congress, Arumugam Thondaman to discuss issues pertaining to the estate workers' strike.

They reported that a committee headed by Secretary to the Ministry of Finance, Dr. P. B. Jayasundara will be appointed to find a solution to the problem of the application of the devaluation allowance to the estate sector, in consultation with the relevant unions and employers, the Presidential Secretariat stated.

Forbes & Walkers said that President Kumaratunga appealed to plantation workers to return to work without delay, in the interests of the national economy, until a solution is worked out.
Market Report
---
Inching up on low turnover
Activity at the Colombo bourse was at a virtual standstill in the run -up to the elections. However the market inched up on low turnover with indications that retailers were ready to start gambling on the outcome of the elections. Plantation stocks edged up in value as workers who were on strike staged a temporary comeback. Analysts expect them to stay at work to provide a nest egg for their upcoming Deepavali festival

Meanwhile the All Share Price Index rose 2.75 per cent to close at 510.43 while the Milanka Price Index gained 4.22 per cent to register 829.71. The MBSL Midcap index edged up 0.80 per cent to close at 926.67. Average turnover for the week was Rs. 14.8 mn while net foreign outflows were Rs.22.6 mn.

"The equity market has been stagnant over the last couple of months. Elections spell uncertainty in the Sri Lankan market which has a high risk factor," Fund Manager, National Asset Management Ltd, Prabodha Samarasekera said. "Local portfolios have been restructuring and we have seen some buying and selling. Interest rates are moving up with one year treasury bills yielding over 15 per cent, something investors haven't seen in over three years," he said.

"Proposed float adjustments to the Morgan Stanley Capital Indices (MSCI) will see Sri Lanka's weight increase relative to other countries in Asia on account of the country's relatively higher free float," Head of Research, Jardine Fleming HNB Securities, Amal Sanderatne said. " MSCI's estimated free float for Sri Lanka is 60 per cent and is only outpaced by Australia and New Zealand in the Asia Pacific.

---
Long term plan for tourism a must - PATA president
By Feizal Samath
Sri Lanka should prepare a long-term plan to promote tourism taking into account that the war and ethnic conflict would probably continue for a while, similar to other foreign destinations where unrest or civil strife continues, says a top tourism expert.

"Planners should work out a long-term strategy or a kind of crisis-management plan to promote tourism in this country because crises are part of everyday life and affects most tourism destinations," argues Lakshman Ratnapala, President Emeritus of the Pacific and Asia Travel Association (PATA).

He told the Sunday Times in an interview, on the sidelines of a eco-tourism workshop which he attended in Colombo last week, that even if the war in Sri Lanka was to end tomorrow the ethnic conflict could go on for a while.

Tourism should be planned taking into consideration all these issues. However, he conceded, that given the difficult circumstances Sri Lanka has done quite well to attract more than 400,000 tourists last year and would hopefully maintain that level this year too.

Ratnapala, a distinguished Sri Lankan in the global tourism industry, worked at PATA - one of the biggest tourist promotion agencies in the world - for many years and ended up as its president and CEO in the mid-1990s. He now runs his own consulting firm based in the US city of San Francisco.

The former PATA CEO points to troubled destinations like northern Ireland, Egypt, Israel, Indonesia and even India and Pakistan where planners have successfully marketed tourism based on crisis-management policies. "We need to consider the issue of a level of instability in our planning like other destinations where there are problems but where these problems have not discouraged foreign visitors."

He defers with local planners on the wisdom of promoting mass tourism against smaller numbers but with higher spending capacity.

Ratnapala also believes the spending capacity of tourists to Sri Lanka is low not because of affordability but since tourists have very little to spend money on.

"Look at Singapore - the kinds of shopping and other attractive things on offer to drive more spending by tourists. Sri Lanka needs something similar in terms of shopping for tourists and places to visit outside hotels instead of relying on the same old batik, crafts and masks," he said, urging Sri Lankan planners to re-invent the industry and come up with new marketing ideas.

Ratnapala says however that the concept of mass tourism against low numbers, high-spending tourists is a problem faced by many countries and not Sri Lanka alone. "Many destinations count heads than money in terms of success."

He believes the success of failure of the tourist industry must be measured by the revenue it generates to the government and not by the tally of tourist arrivals.

In a presentation at an eco-tourism workshop in Colombo, Ratnapala said that all forms of tourism could be damaging to the society and the environment unless carefully and properly managed.

"Besides over visitation of natural habitat and pollution of cultural sites, a major concern is the capacity of local communities to absorb tourists without submerging their culture," he said, noting that communities at village level should be involved in tourism planning.

He says the Ceylon Tourist Board's projection of one million tourists by the year 2004 is disputed by foreign experts who forecast only half that number and hotel occupancy at 70 percent.

Sri Lanka has the potential for tourist industry growth being blessed by competent professionals in government and the private sector who compensate for the limitations in financial resources, Ratnapala added.

---
Lanka strengthens water resources management
Nearly two million people, thousands of businesses and hundreds of industries in Greater Colombo in Sri Lanka will benefit from the improved management of water resources through a loan totalling US$19.7 million approved by the Asian Development Bank an ADB release said. Among the institutional reforms that the Government has committed include establishing the National Water Resources Authority (NWRA) to manage and address Sri Lanka's worsening water supply situation. Inefficiencies have been exacerbated by the fact that resources has been exploited by a variety of agencies, each pursuing its own mandate, with no single agency having stewardship over the country's water resources. The objective of the project includes strengthening government's capacity to manage water resources in a sustainable, participatory and transparent manner and constructing critically needed infrastructure for control and measurement of water resources.

While Sri Lanka does not face a water management crisis, there are signs of increasing stress on water resources and competition between users. Lower river levels and increasing salinity intrusion into the Kelani River mouth is threatening the entire water supply to Greater Colombo, an area of 730 sq. km. The construction of the Kelani Conservation Barrage will restore the capacity of water-supply intake for Greater Colombo while six low-flow measuring weirs will be installed for accurate and reliable measurement of low flows in critical rivers.

The barrage will provide improved domestic water supplies to some 330,000 people in specific parts of Greater Colombo that are currently suffering interruptions in supply and low pressure, said Peter Logan, ADBs Irrigation Engineer for the project. Supply interruption and low pressure exist mostly in areas of low-income households in shanty-towns and slums. Almost half of the population in the area benefited by the barrage subsists below the poverty line, relying on communal stand posts for water with 40 to 200 households sharing one stand post, added Logan.

In developing NWRA into an effective agency, the project will support two pilot studies in water resource management in the river basins of Menik Ganga and Deduru Oya, where poverty is prevalent. A third basin, Attanagalu Oya, will be studied at a later stage once additional water resources data has been collected.

Through the database component, the project will also strengthen the collection, storage, management and sharing of data and information for surface water, ground water and water quality.

The ADB is financing 70 percent of the total project cost of US$28.2 million equivalent. The loan repayable in 32 years with a grace period of 8 years will come from ADBs special funds resources.

It carries an interest rate of 1 percent per annum during the grace period and 1.5 percent per annum thereafter.

The executing agencies for the project are the NWRA (the Water Resources Secretariat, which is the existing precursor of NWRA, will be the interim executing agency) and the National Water Supply and Drainage Board. The project is scheduled for completion in Dec 2005.

---
ADB to bridge digital divide
A majority of developing economies in Asia will remain on the losing side of the digital divide unless conscious policy efforts are made for the development of information technology (IT), according to the Asian Development Outlook 2000 Update. The Update which describes IT's prospects and policies in the region and its impact on developing economies, emphasizes that the region as a whole has tremendous potential for self sustaining rapid growth in IT in coming years.

The Asia-Pacific region possesses the market, technological capability and awareness for achieving this. With the encouragement of the Okinawa G8 Summit Charter and the proposed Japanese fund, the prospects for development are much improved.While countries like Japan, Korea, Taipei,China and Singapore earned high marks for developing telecommunications infrastructure which has made the information revolution possible, many developing economies in the region are in danger of being stranded on the wrong side of the digital divide due to lack of "e-readiness" and a weak "info-structure," the report warned.

The ADO Update says that a two-prong approach should be adopted in the overarching public policy for the development of the industry: promote the growth of IT and spread of IT and prevent the worsening of inequities both within and across economies.

The policy framework at the minimum should ensure that proper incentives encouraging the growth and dynamism of a competitive private sector – the engine of IT expansion – remain in place. While the Asia-Pacific region has inherent potential for rapid and self-sustaining IT growth, the role of a supportive and well-designed public policy is critical.

The Update said that an open and outward-looking policy stance combined with the maintenance of macroeconomics balances are public policy requirements for IT's development and diffusion. To address the digital divide, the report outlined the following elements as crucial in policies for IT diffusion: Enable the telecommunications infrastructure to grow - as IT cannot grow in the absence of a dynamic telecommunications sector, the public sector restrictions on the development of the industry should be removed Develop human resources - while computer literacy in the public services should be increased, it is also important to develop basic science and technology capabilities to understand, adopt and adapt it in sector-specific applications Encourage private enterprise participation - appropriate fiscal incentives should be provided to encourage private sector to promote. IT Provide adequate safety nets - specially to assist those who have been adversely affected by IT's diffusion.

Establish good governance - consistency in policy and greater transparency will support the growth of IT, If the digital divide is left unchecked, the powerful digital communications tools that many hope will enrich lives will only serve to further historic divides among societies in the developing nations. ADO Update said that developing economies in establishing policies for robust IT development should focus on these critical factors:· Support higher education in science and mathematics, Promote research and development Safeguard intellectual property rights Ensure standardization, regulation and quality assurance ADB has already taken steps to ensure that some of the positive impacts of IT are captured in its programs and sector projects and it can play a greater role in improving the provision of international public goods and services to help the region fully exploit its IT potential.

---
Millennium IT integrates MESDAQ
By Akhry Ameer
Millennium Information Technologies announced the successful implementation of MORE (MESDAQ Order Routing and Execution System) for the Malaysian Exchange of Securities Dealing and Automated Quotation (MES-DAQ) at a press conference held during the week.

Millennium IT, the solutions provider for the Colombo Stock Exchange was awarded the contract with a commitment to implementing the system in a three month period. Having won the 1.5 million dollar contract the company implemented the system in record time during the period May to July this year.

The solution comprises two modules of Millennium IT's 'mit-e.Effimark'Cap-ital Market software namely mit-e.Exchange and mit-e.Surveillance. The two modules enable MESDAQ to carry out automated trading as well as surveillance and monitoring of trading activities.

Another important feature of these products are that it is e-enabled which means that trading can be done from PC's with internet connections at various locations.

Some features of MORE include real-time monitoring and control presenting the regulatory authorities a complete on-line view of all activities of the market, empowering them to intervene instantly to suspend securities, participants and clients. The system also incorporates fully user-configurable front-end for traders and facilitates communication with other depositories and broker systems through its open interfaces.

The CEO of Millennium IT Mr. Tony Weerasinghe said, "The secret behind our success is the Dynamic Business Innovator (DBI). With the DBI we were able to implement 70% of the system within two weeks and prove to MESDAQ that we could do the job".

The DBI is a tool developed by Millennium IT that enables companies to express business rules in English-like manner, which makes applications adapt itself to the business environment.

For example, if the same software were to run our local stock exchange a simple change in business rules will restrict short selling to adapt to the local environment, without having to revert back to the solutions provider for a fresh solution.

MESDAQ was approved by the Malaysian government in October '97, recognizing a need for trading in growth and technology companies. "The reason for setting up a supplementary to the existing stock exchange in Kuala Lumpur (KLSE) is that the KLSE's listing requirements are heavily regulated and here we had small companies who wanted to raise large capitals and were not eligible for listing" said the visiting Executive Chairman of MESDAQ Khairil Anuar Abdullah.

Commencing operations in April last year the MESDAQ has been through three systems as a result of the failure of the original system by an internationally acclaimed solutions provider. This resulted in rigorous testing of MORE by independent auditors appointed by MESDAQ, the Malaysian SEC and its local brokers.

"That a Sri Lankan company was able to meet such high expectations, particularly in a country like Malaysia, that had widely adopted information technology as the driving force for economic growth, is something we Sri Lankans can all be proud of" added Mr. Weerasinghe.

Millennium IT designs and builds corporate specialised software for the international capital market and telecommunications industry. Its local clientele include MTN Networks, SLT, Sri Lankan Airlines, while globally it has implemented a capital market system in Mauritius and an auctioning system in Singapore among others. The company is also business partners of Sun Microsystems, iPlanet, Oracle Corporation and Cisco Systems. With the successful integration of MORE, Millennium IT has already been contracted by MESDAQ to develop its back-up system, besides winning another international contract worth US$ 18.2 million, to implement the first Asian Electronic Communication Network (ECN) that would connect 43 countries over a period of time.

---
Chamathka -A new approach to Sinhala readers
Sinhala magazines seem to have come of age. First there were the highly niche market specific publications that targeted everyone from women to youth groups. And now comes along a Sinhala magazine that calls itself 'a lifestyle magazine in Sinhala'. Chamathka is the name - the thinking behind the magazine reflects a good dose of positive thinking - optimism, according to publishers. Shila Publications who also publish Satyn, the leading women's magazine in English.

" If you look at the Sri Lankan society at large, specifically in the rural areas, we seem to grow up with a sense of accepting our circumstances. Some sort of 'karma' - mostly this type of an attitude begets pessimism. This sense of pessimism is fuelled by social and economic problems such as unemployment, social stigma of being unable to speak English, lack of opportunities in the village at backwardness, imposed upon most talented rural youth by their unfortunate circumstances,' says Nayomini Ratnayake Weerasooriya. Chamathka's Managing Editor who is also the Managing Director of the Company.

" When we looked at the idea of a Sinhala magazine on the drawing board, we saw an opportunity in opposing that sense of pessimism. When we conducted random research exercises in far off places such as Anuradhapura, Matara, Moneragala and Matale, we realised that the mainly rural based people responded well to a sense of optimism, as opposed to pessimism. People want to be told they can be successful. They can be gainfully employed, everyone, especially at a rural level does not have access to motivational seminars and Norman Vincent Peal type of optimsm. Yet, they do respond well and that is today in action in Chamathka," Weeras-ooriya said.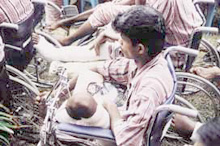 The beginning was optimistic too. Cham-athka was launched at a simple ceremony at the Army hospital. " To us, there was a youth group who desperately needed to see optimism in action - the disabled heroes warded at the Army hospital. That's where we started," Weerasooriya says. The first copy of Chamathka was given to a soldier who lost both his legs. The small musical show held afterwards, the first ever at the hospital, had the disabled army band Ranaviruvo performing and the disabled inmates of the hospital dancing. " Those who were bed-ridden, who could not walk, also danced in their own way. The whole thing was so touching, so full of emotions, it brought tears to everyone's eyes."
The message of optimism seems to have worked for Cham-athka's equally optimistic team. An optimistic lifestyle and a mix that targets everyone in the family, particularly the youth groups. That's Chamathka's formula for success, according to Weerasooriya and her team. "The Chamathka team is a young and dynamic group of men and women. We chose them for their sheer talent and commitment. Most of them are very young, filled with innovative ideas. They have their ear to the ground and it helps."
There's more to Chamathka, says Weerasooriya, than what the magazine promises the mass market reader. "We have gone further than that. We have developed an innovative concept - Tharunodaya is the Chamathka workshop that goes like a road show from town to town, village to village. The workshop targets youth - we share a day with them, sharing vital information with them such as making a proper loan application to a bank, discussing pro-jects they may have in mind and even imparting personality developing skills with them. In short, Chamathka brings entrepreneur skills to the village and invites the youth in the village to come to us with their aspirations and their ideas. Some may work, others may not - we are certain we can at least fuel one person's idea into a success."
The project is already looked at with much enthusiasm by the outstation readers - " In the villages, people love the fact that you come to them. As a publication, we have chosen to go to the village, instead of staying put in the city. I think it is very important for a Sinhala publication to go to the reader in his or her territory."
Chamathka workshops have been received well by the corporate sector too. Most of the companies and financial institutions, says Weerasooriya, are keen to join hands with the magazine in going deep into rural territory. " Personally, I feel we ought to give something back to the youth of the village who are as talented as any Colombo born youth might be. What they lack are opportunities - in developing themselves, in giving life to their ideas and concepts." Hopefully, Chamathka will step into do something to highlight their talents.
The magazine market is still in a growth phase in Sri Lanka. Only recently have magazines begun to have an impact on the Sri Lankan market place. For Weerasooriya pioneering an English women's magazine, Satyn, was a task many thought was a challenge.
Almost two years later, Weerasooriya says that Satyn plays a leading role in interpreting the way Sri Lankan women think and aspire, while giving them their own avenue for ideas, thinking and perceptions.

---
Asiaweek picks HNB
The Asiaweek magazine of September 15th 2000 has ranked Asia's largest 500 banks in terms of total assets. HNB has once again been acknowledged as the largest private sector commercial bank in Sri Lanka and has been ranked 400th largest in Asia, with a asset base of US$. 1,061 million. Other Sri Lankan private sector commercial banks which are featured in the top 5000 regional banks are Seylan Bank 427th, commercial Bank 434th and Sampath Bank 463rd largest in Asia, a bank release said.

In terms of profitability ranking too, HNB has been acknowledged as the best private sector commercial bank by Asiaweek. HNB's net profit of US$ 10.1 million has been ranked at 264th in the Asian region. Six banks in Sri Lanka including the two state banks have been ranked in the top 500 Asian banks. HNB has emerged as the largest bank amongst the private sector commercial banks in Sri Lanka, in terms of both total assets and net profits.

HNB was also ranked 1365th in the World in terms of Tier 1 capital strength by "The Banker" magazine published by the financial Times group established in 1926. The banker magazine, in their August 2000 issue has given the rankings beyond the 1000 strongest banks in the world in Terms of Tier 1 capital strength.

HNB by virtue of being the 1365th strongest in the world becomes the strongest private sector commercial banks in Terms of Tier capital strength. The Commercial bank of Ceylon has been ranked 1481st and the people's Bank as the 1644th strongest bank in the world, based on the same criteria. The Tier capital of HNB of US$ 65 million as at 31st December 1999 is the largest amongst the private sector commercial banks in Sri Lanka.

HNB was also featured in the top 10 banks that has shown an appreciable increase in its Tier 1 capital. In terms of the growth in Tier capital 1 capital, HNB has shown a 46.96% growth in comparison to the Tier 1capital as at 31st December 1998, largely due to the injection of new capital through the non-voting ordinary share in the latter part of last year and its retained profits for the year.

HNB is the only Sri Lankan bank which has been featured in the top 10 in Asia, in terms of growth in Tier capital, in the survey carried out by "The Banker magazine" published by the Financial Times.

---
Commercial Bank issues us dollar bonds
Commercial Bank has floated a series of new US dollar savings products specially designed for Sri Lankans with substantial foreign currency deposits and Sri Lankan expatriates.

These products, which take the form of fixed rate savings bonds, are available with maturities of 1, 2 and 3 years. The current interest rates are between 6.65% and 7.10% depending on the amount and the period invested. Interest would be paid quarterly, half yearly or annually, depending on each investor's requirements, a bank news release said.

These bonds are available in multiples of USD 1,000 and the minimum investment should be USD 10,000, Commercial Bank's Assistant General Manager (Treasury) Dula Weeratunga said. Explaining the difference between fixed rate savings bonds and NRFC Accounts, Mr Weeratunga said savings bonds primarily target the more affluent investors having an investable surplus of funds, whereas, NRFCs are primarily for those employed outside Sri Lanka who still have the need to make regular remittances to their dependents. The rates of interest on savings bonds are much higher than rates paid on NRFCs and are fixed for an agreed period even though the international market rates of interest may decline. Mr Weeratunga said Sri Lankan banks are able to pay much higher rates because they earn a higher rate of return on their US dollar advances.

---
Mobitel and Seylan offer mobile banking
Mobitel and Seylan Bank have now joined hands in introducing mobile phone banking over a wireless network. This tie-up between Mobitel and Seylan Bank will provide all customers the freedom of mobile banking, a news release says.

Some of the benefits Mobitel offers on the phone include receiving exchange rates, the ability to make out cheque book orders, information of the last few transactions made and the ability to make account transfers.

Further, customers have the choice of pre-programming their phones to receive credit alert and deduct alerts where they will be informed of each new transaction concerning their bank account.

This system also offers the customer the convenience of displaying their account balances on the mobile phone anytime without the customers having to phone the bank. Mobitel now offers their customer's added convenience by offering the latest currency updates anytime by dialing 124 SEND. Now Mobitel's network and services are in line with emerging new technologies for the 21st century, along with excellent customer and value added benefits.

---
AirLanka Travels offers package
Working with all airlines, AirLanka Travels Limited offers a comprehensive travel package for both in-bound and out-bound tours, ticketing and travellers cheques. Among the "Value for Money" package tours on offer are visits to destinations "off the beaten track", a news release said. These include exotic and romantic Casablanca and Morocco, among others.

The most popular among tour offers is an eight day tour of Egypt, guided tour of the Holy Land and special tours to the U.S.A. and Canada. Accommodation at all these destinations is provided at very competitive rates, the release added.

A member of the East-West Group of Companies, this tour and travel agency is manned by some of the best professionals around town. Chairman Nahil Wijesuriya is also Chairman East-West Group, while Managing Director is Vajira Wijesuriya, specialising in Business Development and Finance.

Other Directors include Avril Juriansz Wijesuriya, a familiar face in travel circles who is in charge of hotels and travels while Kshemendra Tilakasiri, an IT expert, is Director Operations. Roney Ousmand, also a well-known figure in the travel world is Director Sales.

---
First Class travel for life
Two First Class tickets to any destination on the Emirates network every year for life: that is the stunning prize being offered to three winners by Emirates, the Department of Civil Aviation and Dubai Duty Free in a promotion to mark the opening this year of the new Sheikh Rashid Terminal at Dubai International Airport.

Branded Tickets For Life, the promotion was launched earlier this month via a world-wide media advertising and marketing campaign. The three winners will be selected by means of a draw, with entry open to all passengers who travel on Emirates to, from or through Dubai during the months of October and November, a news release said.

Maurice Flanagan, Emirates' Group Managing Director, said: "Tickets For Life is one of the most ambitious promotions in which Emirates has ever been involved and offers an unprecedented prize to not one, but three winners. It is designed to promote travel on Emirates and also travel into Dubai. "

Tickets For Life opens up for the winners a lifetime of travel in pampered luxury with the award-winning cabin services, and inflight cuisine of Emirates First Class cabin, plus access to First Class airport lounges.

In Dubai, Emirates' First Class lounge is an oasis of comfort, offering bedrooms with en suite showers, fine dining 24 hours a day, television area, free Internet access, deep leather sofas and massage chairs to ease away tension.

To be eligible, passengers must travel on commercial tickets. Although entry is limited to one passenger per flight, passengers can enter every single time they fly on Emirates.

Passengers will find an entry coupon in every seat pocket on all Emirates flights during those two months. To enter, they fill in the coupon and then either hand the coupons to cabin crew or place them in special drop boxes at Dubai International Airport. Coupons will not be accepted any other way.

Only one entry per passenger per flight will be permitted. Passengers who travel during the validity period are strongly urged to keep their boarding cards; the winners may be required to show proof of flight.

On December 9, 2000, the draw will take place in Dubai and three winners will be selected. Each winner will receive two First Class tickets to any destination on the Emirates' network for life.

A major publicity campaign using print and broadcast advertising is launched today. Leaflets giving full details of the promotion's terms and conditions are available from travel agents. Further information is also available on the dedicated website HYPERLINK "http://www.firstclassforlife.com/"www.firstclassforlife.com

Tickets For Life is supported by the Department of Civil Aviation and the Dubai Duty Free.

---
SLT appeals to spare telephone poles during run-up to elections
With election fever hotting-up during the last few days, there has been a sudden surge in the volume of propaganda material being erected and plastered mercilessly on telephone poles.

This scramble to occupy whatever pole space left has caused a great deal of damage to the telephone Distribution Points (DPs), the telephone poles and its wires. As a result, the Fault Rate has suddenly shot-up, creating a great deal of inconvenience to customers in many parts of the country. Telephone connections to some business establishments, government offices and residences have been disrupted as a result of these damages in the last few days, a Telecom release says.

Therefore, Sri Lanka Telecom is making an appeal to refrain from using telephone poles for erecting propaganda material and other devices, which may disrupt the smooth functioning of these essential communication links.

It is an offence to use telephone poles for such activities. After every election in the recent past, SLT has had to undertake a major rehabilitation programme to repair most of the telephone poles and wires damaged, which require a lot of time, manpower and material.

This is not only a very costly exercise for SLT, but more so, for the country and the economy as a whole, when considering the disruption of vital communication links to overseas businesses, local commercial establishments, government offices, households and the loss of revenue to all parities concerned.

Over the last few months SLT has very successfully reduced the Fault Rate drastically, as well as expeditiously intensified the Fault Clearing Process, due to the newly introduced computerised monitoring system.

"This year we have been successful in clearing nearly 90% of faults, within a single day in Colombo Metro," said SLT's Head of Metro Region, Mr. G.S.P. Rodrigo. "The damage caused to DPs', poles and the wires had created an additional burden now, but we hope that all parties concerned will in future refrain from further damage, for the sake of national interest and general public service," said Mr. Rodrigo.

---
Japanese aid on the rise
Japan is the largest among the foreign aid donors to Sri Lanka. This aid provided in the form of concessionary loans, grants and technical co-operation, is utilised mainly for the development of infrastructure facilities in the field of economy, industrial development, agricultural development, fisheries industry, health and medical field, human resource development and conservation of environment, a Finance Ministry release says.

The Japanese Government has granted a substantial amount as aid to Sri Lanka from 1995 to 1999. In 2000 too action has been taken to grant a similar quantum of aid. Accordingly, during the first six months of the year 2000, 30 billion Yen (Rs. 216 bn) has been granted as concessionairy loans, and 6 billion Yen (Rs. 4.3 bn) as grants and assistance under technical co-operation for various development projects. In addition, 1.7 billion Yen has been granted for the development of fisheries harbour, for the provision of roofing sheets for low-income families, the release adds.

The construction of the southern super highway, development of national blood donation service, grant of assistance on concessionary terms for promotion of small and medium scale industries, implementation of Kandy and Nuwara-Eliya water supply project, renovation of Gampola and Muwagamuwa bridges and provision of necessary equipment to General Hospital, Matara are some of the projects, implementation of which under Japanese aid has been pledged for.

Implementing the government policy of improving the health facilities in provincial hospitals with the objective of uplifting the health services in the Sabaragamuwa Province, the Government of Japan has granted 554 billion Yen (Rs. 388 bn ) for stage I and 1428 billion Yen (Rs. 1042 bn ) for stage II the project for development of the General Hospital, Ratnapura.