---
The pluses and the minuses of Lanka
By Aubrey Kuruppu
A surfeit of cricket in the past two months and what has been the upshot of it all?
Sri Lanka came into the series on a bit of a high, having beaten the formidable Pakistanis 2-1 on their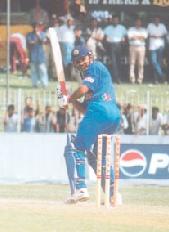 tracks - a feat not recently achieved by many Test teams.
Going back in time a further six months, had not the Sri Lankans beaten the awesome Aussies in both forms of the game. To think that, by common acclaim, the team from Down Under is the best in the business, be it the shorter version or the supreme 'Test'!
Sri Lankan tracks are the bane of many foreign teams. One look at the track and those pallied white faces become whiter still. Not so the Pakistanis and the Indians who can play on those surfaces. Not merely do these teams play spinners well. More importantly, they themselves possess spinners of cunning and repute. Saqlain may have been a non-starter, but in Arshad Khan and Mushtaq Ahmed the Pakistanis had spinners to worry the Sri Lankans, while teasing and tantalising them.
Wasim may not be as lethal as he was in his cricketing prime. Yet for all he remains a bowler of infinite skill and variety. (Quite possibly the Bard of Avon was mindful of the likes of Akram when he wrote, "Age cannot wither her, nor custom stall her infinite variety"!! His twin in destruction Waqar is quite obviously at the fag end of his illustrious career. Gone is the searing pace and the inswinging yorker that was his trademark.
The Pakistanis won a close first Test but then proceeded to humble us at Galle and take the series. Asgiriya restored a measure of pride with that memorable and mammoth 335 run stand for the first wicket. Yet one feels that had play been possible on the last three days, the Pakistanis could and would, have, "got out of jail".
Sri Lanka's domination of the Triangular Series was utter and complete and brooked no argument. Gunawardena continued to impress and at times even outshone his more illustrious left-handed partner. Sangakkara emerged, his free flowing style a pleasure to the eye. Kaluwitharana, sadly, began to slip into the shadows and with him Dilshan and more so Chamara Silva.
Came the South African Series, and the Sri Lankans took an early lead with that comprehensive innings win. Jayasuriya (148), Jay-awardena (167), Atapattu (54) and Muralitharan (13-171) were the architects. The skipper led from the front and the openers put on 193. The South Africans quite clearly had to get their act together.
They did just that in the second Test to triumph by seven runs in a pulsating match in which the real winner was the game of cricket. The transformation in the South African bowling had to be seen to be believed. Where it was ragged and expensive earlier, it was now more accurate and much tighter (Adams excepted). Klusener, Kallis and Boje played leading roles for the winners while Atapattu, Muralitharan and the indomitable Ranatunga almost took Sri Lanka to victory.
It was, in a sense, poetic justice that the final Test was drawn. After that early humiliation, the South Africans never allowed the local team to get too far ahead. They were clearly a side on the up. As the short series progressed, Sri Lanka's weak spots were brought into sharper focus. Jayasuriya, Muralitharan and Jayawardena performed with distinction in the third Test. Klusener (once again) Boje and Rhodes shone for the visitors.
The question remains. Where is the spin support for the admirable and indefatiguable Muralitharan? He cannot be expected to go on for ever bowling sides out all by himself. Quite apart from being physically taxing, it is also mentally draining. The outlook is black. Jayantha de Silva, Bandaratilleka and Herath have all been tried and found wanting. Dharmasena has not quite made it, remodelled action and all - Chandana is a possibility but he'll have to be 'carried' in another ten to fifteen Tests for him to gain place as a Test match spinner in his own right.
Sri Lanka's line-up has a kind of fragility and vulnerability that is worrying. Sri Lanka lost six wickets for 22 at Asgiriya and that collapse contributed in a large measure to the defeat. If, as sometimes happens, Atapattu and Jayasuriya depart early on, the door is well and truly open - Jayawardena is coming of age. Arnold, not quite with the exit of Ranatunga, Aravinda is a must for the South African tour. The bouncy track at Durban where the first Test will be played could prove to be a difficult proposition especially with the likes of Donald around. More experience is needed in the middle order. How about that forgotten man - Hashan Tillekeratne?
---
Jackie Dias takes golf title
The up-and-coming Jackie Dias with a nett 71 emerged the winner at the Ladies' Golf title at the Ridgeways and was awarded the Gratiaen plaque with veteran Nirmalalingam as runner-up with a nett 72.
The Gratiaen Jubilee Plaque was inaugurated in 1997 to celebrate the 50th year of the Ladies' Section of the Royal Colombo Golf Club.
The handsome plaque was donated by Mrs. Wendy Partridge in honour of her father the late E.F. Noel Gratiaen CMG, QC, who in 1952 was elected the first Ceylonese President of the club.
The Ladies' Golf Union August medal which counts towards the final score of the 16-round tournament sponsored by Hilton saw Heeran Bang with a nett 71 emerge the 9th round winner of the silver division with Yvonne Abhayaratne with a nett 72 finish as runner-up.
G.J. Jung with a nett 77 on back 9 won the bronze division with Heather Lourensz with a nett 77 runner-up.
Mrs. Pam Fernando gave away the Plaque to Miss Jackie Dias.
---
Match-fixing and drug-taking - who is to blame ?
* The Australia-South Africa cricket series commenced 16th August in Melbourne. * The Olympic Games commence September 15th in Sydney
By Barney Reid
Something is rotten in the kingdom of Sports these days.
Following their recent tour of Sri Lanka, South Africa's cricket team is in Australia this week to play a series of one day internationals - the second encounter this year between two of the world's top teams. The much publicized games will be played at the new Colonial Stadium in Melbourne - the first ever series of cricket matches to be played in a covered stadium, where rain and inclement weather will no longer be able to affect play. The third and final game will be played today.
The unsavory Hansie Cronje match-fixing affair- where the former South African captain was alleged to have accepted money from book-makers to influence the results of games - appears to have been sorted out.
But has it?
Why is it that so little evidence was unearthed following what appeared to be an exhaustive investigation over the last few months in South Africa and India? Cronje seems to have shouldered the entire blame for the match-fixing scenario - with lesser punishments meted out to Herschelle Gibbs and Henry Williams (significantly, the only two "coloured" players in the South African national team at the time).
When Cronje first informed the team of the incentive offered by a bookmaker to lose that ill-fated game in Bombay, weren't there eleven other players in the dressing room? Did not some remain in the room while further negotiations with the bookmaker took place?
Wasn't everyone in that dressing room therefore guilty by association - 'accessories before the fact' as lawyers might say? The availability of bribes to lose matches and limit scoring appears to have been common knowledge among the players - yet it is surprising that the offences took so long to come to light. Denial upon denial by both players and officials made the investigation so much more difficult. Had it not been for a chance tape recording obtained by the Indian police, nothing would have been revealed - and the cricket-loving public would still be cheering their heroes. oblivious to the fact that events occurring throughout a game could well be orchestrated by the bookies.
It certainly appears that the will of cricket officials around the world to seriously investigate these problems of bribery does not quite measure up to the gravity of the issue - with no one prepared to take responsibility for having let the problem fester over the past decade.
Perhaps what thwarts serious investigation are sponsorship dollars - as well as the six figure salaries these officials command. Who wants to rock a lucrative boat?
The other topical issue of drugs in Sport has a similar thread running through, leading to the sweeping of issues under the carpet. As new methods for detecting performance - enhancing drugs are being discovered, there is a definite reluctance of sports authorities to accept these detecting systems - or even to encourage research into their development. Whether it be China, Australia or Cuba, the initial reaction of authorities when one of their sports persons is accused of taking drugs is to appear dumbfounded. They defend their charges vigorously (it has to be a conspiracy, or a naive error in testing or even a mix-up of samples), casting aspersions on the motives of the accusers until it is proved beyond any doubt that the allegations are true.
One only has to look at former sports people who appear on television, especially the women looking no more than a shadow of their former selves. While it has to be accepted that muscle tone does wane with age, what we see are bodies that have shrunk almost beyond recognition after the body-building drugs have been withdrawn .
Just consider the interesting case of Warner Reiterer, a former Australian Olympic discus thrower (gold medallist at the 1994 Commonwealth Games and a finalist at Barcelona) who a few months ago had an attack of conscience and decided to document his experiences. In his book Positive he made the claim that many Australian athletes and swimmers were taking drugs. "Here was I doping for gold" he stated "another guilty athlete swallowed up by a massive sporting culture".
How did the Australian sports officials handle these revelations? Did they even launch an inquiry? A convenient meeting was arranged with Reiterer. He came out of the meeting refusing to name names - having been offered a position as Drug Educator at the Sydney Olympic Games. Everything is now forgiven and everyone is happy.
The question that should be asked is whether it really is possible that his allegations had no foundation. If that were the case was it necessary to offer the teller of fibs a sweetener?
It is seldom that athletes from the United States are caught out on a random drug test. Perhaps it is not really because they are squeaky clean - but because they benefit from the quaint rule that exempts American athletes from drug tests if they are 80 miles away from the test site! It is not uncommon for these sportsmen, upon getting a tip-off about an impending test, to get into their cars, drive to a point a safe distance away and make the telephone call to say that they are unavailable for testing. By the time the rescheduled test is conducted, the athlete is clean.
Could international sports survive in the 21st century if all those taking drugs are found out? I think not. I don't believe that the likes of McDonalds or Coca Cola will want to pour their money into a drug infested Olympic Games. Obviously the authorities know this too, hence cover-up after cover-up.
It used to be said that winning was not as important as taking part - Not the Victory but the Struggle used to be the athletes' motto.
These days it appears that the criterion for success in sports is not even winning - but being able to win without being found out.
Selected as Sri Lanka's schoolboy cricketer of the year in Sri Lanka, Barney Reid went on to captain Melbourne University in Australia and then play county cricket for Durham in England. He is today a respected cricket coach and umpire in Melbourne.
---
What ails - National Amateur Aquatic Sports Union!
By Annesley Ferreira
If one were to cognize the degree of organizational skills deployed by some super past swimmers holding corporate professional positions, one should read the "Sports Star" account of the Asiapac. The whole championships were run by a relatively new group of people of mix-ages, mostly young - who came together to make a huge success of it, and what it became to be. The late Honourable C.V. Gooneratne, who was the chief guest at the opening ceremony put it this way: "The bitter controversy was bared to the whole regional swimming world last evening. There are strong undercurrents working in the Sports Ministry. I hope none drown and may the better side win." In essence it capped the controversial involvement of the Ministry of Sports through the Directorate of the Sugathadasa Sports Complex. A newspaper said this of the 9th Asiapac, "The biggest sporting event with international participation to be held in Sri Lanka."
NAASU, as stated before, is still an anachronism of an organization born out of a family feud attempting to take control of the organization for their selfish ends. One influential faction calling themselves "NAASU" - got the then Sports Ministry support over the then Ceylon Amateur Swimming Association (CASA) - who were equally to be blamed as its then President was also an influential person, conducted the affairs of the CASA much to the harm of Aquatic Sport. This influential person and a decadent council affiliated organizations that had nothing to do with aquatic sports, including a nurses outfit - represented by a lot of servile and questionable affiliates supporting him for personal favours he gave he maxipulated to stay in office. It was really a clash of professions and personalities that they took out of the organization and/or aquatics that had been simmering for years before the breakaway became a necessity. Long before these "Carpetbaggers" came along, aquatic sports under CASA were full of dedicated and civilized administrators, who began it all in 1934, some of these impeccable persona were of the calibre of: Neville Jansz, Dudley Senanayake, Canon R.S. De Saram, Admiral G.M.R. De Mel, John Kerswill, to name a few. Since NAASU took hold of aquatic sports by a mediocre and an irrelevant lot, with this influential family in control and other shadowy associations, dominated aquatic sports - began the degradation of the swimming environment to what a sad situation it has come to be.
NAASU conducts some twenty one (21) meets throughout the year - figuring a little under two meets a month. Sixty percent (60%) of these meets are irrelevant and not a role for a controlling body of sports to hold - led to the substantial decline and erosion of this propular sport and highly respected, particularly, among clubs that were essentially engaged and enjoyed the sport of aquatics. Lack of knowledge alone of aquatic sports run largely by a group that has, litterally never seen a swimming pool - came to be in charge, creating havoc, a direct result of the decline of aquatic sports.
This can be best described to the swimming stroke of butterfly. Until very recently, butterfly stroke of NAASU was referred to as the "Dolphin" stroke. There is no such thing as "Dolphin" stroke - dolphin is the kick in the butterfly stroke, as opposed to the breast stroke kick in the butterfly (previously referred to as the scissor kick, etc) anywhere in the world, including the fina (the governing body of international aquatics), has such a stroke as "Dolphin"!
In respect to records and records keeping: When NAASU announces a breaking of a national and/or other record after some fifteen years, the record itself is some 25 seconds behind an Asian or any other standard - shows the decadence of swimming.
Here is the Calendar 2000 aquatic programme to illustrate the point. Deceptively, records are kept with a person privately. Records are reported by referring to the previous year's programme of the respective meet - often inaccurately stated. Records for the respective meets are seldom or never published beforehand for the benefit of the competitors - in most cases, record breakers lament that the records are tampered with and have no faith in the manner the records are maintained by the NAASU administration. NAASU has no Record Keeper that maintains records for accuracy and authenticity - a negligent and dereliction of NAASU's administrative responsibility.
Occasionally, records are listed and adopted at NAASU Executive Comm-titte (Exco) meetings in a willy nilly manner. All are happy as the lot know nothing what has been ratified - the record breaker laments years later that the record established is not on "record". A carefully maintained registry of records by the casa is with someone and not available for posterity of the sport and researchers. Some years ago, when an attempt was made to revive the Fishtail Aquatic Club, on contacting Major Boris Marks, the younger of this famous Anandian, National and Ceylon Swimming Champion, Geoff. The first thing Boris asked was, "Where are my records?"
NAASU has no work programme to develop aquatic sports in outstations despite sponsorships going abegging. Number of the "so called" premier clubs have no street address and those who have lost interest in the sport as their own representatives occupy positions in NAasu for brevity - having no notion of an idea as how to run the affairs of a national sports association, leave alone developing the sport in their clubs. Seeing this weakness the Sports Ministry gives a hoot to NAASU and runs roughshod over these poorly equipped, weak and meek officials.
Recently a supremo in the Sports Ministry is supposed to have remarked that, "Sri Lanka's swimming is so poor and behind, other participants in their respective events finished only to see the local swimmer just taken the plunge," described appropriately the state and level of NAASU's swimming standards in Sri Lanka. This same supremo is also directly responsible for running not only aquatic sport but also all Olympic sports in Sri Lanka. The supremo still remains "Supremo" and runs the affairs of sports as if it his fiefdom.
---
National Amateur Aquatic Sports Union of Sri Lanka Aquatic Sports Calendar
No. / WHEN / HELD / EVENT/ FACILITY/ REMARKS
01 February Age group Relay Championships Sugathadasa StadiumPool/50 Metres Institutionalize all age Group Meet
02 March Annual Open two mile sea SWM -63RD Beach opposite Mount Lavinia Hotel Institutionalize this - non-standard swim
03 March Novices swiming & Diving Championships Ananda College swiming pool/50M Institutionalize all novices meets
04 March Age group synchronized swiming Championships Other Aquatic Club - 33 1/3 Meters Same as item 01 above
05 March Novices water polo championships Royal College swimming pool - 33 1/3M Same as item 03 above
06 March/April Pentathlon swimming championships - 28th Sugathadasa Stadium pool/50 meters A Naasu conducted meet
07 April National swimming championships/short course Overseas swimming poo/25 meters A Naasu conducted meet
08 May Novices sychronized swimming championships (levels) S.S.C. Swimming pool/33/ 1/3 meters Same as item 01 above
09 May Junior National Water polo Championships Sugathadasa stadium pool/50 meter A Naasu conducted meet
10 May Age Group swimming & Diving Championships Sugathadasa stadium pool/50meters Same as item 01 above
11 June Masters swimming championships Otter aquatic club - 33 1/3 Meters Institutionalize masters aquatics
12 July Outstation novices swimming championships Royal College swimming pool - 33 1/3 M Establish outstation organiszation
13 July SAF age group swimming & Diving Championships Sugathadasa stadium pool/50meters A Naasu conducted meet
14 July Naasu league water polo championships Sugathadasa stadium pool/50meters A Naasu conducted meet
August 14th Asia Pacific age group swimming & Diving Championships Chinese Taipei A Naasu selection conducted meet
15 August Age Group synchronized swimming championships S.S.C. Swimming Pool/33 1/3 meters Same as item 01 above
16 September Outstation swimming championships-21st Sugathadasa stadium pool/50meters Same as item 01 above
17 October National & Intermediate synchronized swimming championship Sugathadasa stadium pool/50meters A Naasu conducted meet
18 October National water polo chhampionships Sugathadasa stadium pool/50meters A Naasu conducted meet
19 October National & Intermediate swimming & Diving championship Sugathadasa stadium pool/50meters A Naasu conducted meet
20 November Inter Club Gala Royal College Swimming Pool -33 1/3 M to be organized by clubs in rotation
21 November Inter Club Water Polo Championships Sugathadasa stadium pool/50meters to be organized by clubs in rotation
NAASU CONDUCTED MEETS ARE THOSE INDICATED IN ITEMS 06 & 07, 09, 13 & 14 AND 17 THRU 19. SOURCE: NAASU
---
Vladimir : a fierce competitor
First to break 15 mt. barrier in 1,500 m
A fierce competitor and a persevering student of long distance swimming, Vladimir Salnikov, a Russian, was the first to break the 15-minute barrier in the 1,500m Freestyle event.
The feat came in the 1980 Moscow Olympics when he clocked 14: 58:27.
Twenty years of age then, Salnikov was to repeat the Sub-15 minute feat three more times in the decade. But what he certainly missed at Moscow was the challenge, in particular, from top U.S. Swimming members, who were absent owing to the U.S. led boycott. Ironically, Salnikov had trained for the important day in the U.S., where the Russian Coach, Sergli Vaitsekhovsky acknowledged that the best coaching facility had been provided. Salnikov showed his mettle by winning three gold medals in that Olympics.
Salnikov was not to rest on that laurel, true, he was stopped from repeating his feat in Los Angeles in 1934 because of his country's boycott of the games. But four years later, at Seoul, Salnikov was to bag an Olympic gold again in his pet event. In doing so he barely failed to record another sub-15 minute effort but provided a new dimension to endurance swimming. But for his resolve and hunger for excellence, apart from the encouragement from his wife, Marina, a sportswoman herself, it might not have been possible for Salnikov to make a winning return.
He also had to complete his doctoral thesis on long distance swimming and what better way than becoming only the third swimmer after Duke Kahanamohu and Dawn Fraser to win an Olympic gold after an eight-year gap, Salnikov was the oldest at 28 in Seoul.
It was in 1976, as a 16-year old that Salnikov first took the plunge-in to an Olympic pool. Coached by the famous Koshkin, the lad set new European marks in 400m and 1,500m Freestyle.
Thereby signalling his arrival on the world scene. In 1978 he set a world record in 400m Freestyle and then came the Moscow triumph which pitchforked him among the greats.
In all he set 11 world records but, more importantly, for 12 years Salni-kov was unchallenged in long distance races. In between he also had the distinction of being the first to swim the 800 in under eight minutes. For a man with the temperament of a record-breaker, Salnikov had to leave the scene undefeated. That was also his coach Koshkin's expectation and Salnikov lived up to that.
- Thushara Kumarasinghe
---
Tea Traders retain Challenge Trophy
By Bernie Wijesekera reporting from Radella
The annual Colombo Tea Traders-Up-Country Planters Sports Festival held in Nuwara Eliya over the weekend proved to be an instant success.
There was keen competition in the respective disciplines where no quarter was given and none asked for. In the end CTTA retained the Tea Board Challenge Trophy.
The Up-Country Planters did well to win at cricket, thanks to Dennam Madena, who smashed a stroke-filled 81 to thrill the fans in the thottams. They won by two wickets in a game marred by fickle weather, played at the new-look Radella grounds.
The much looked forward to rugby match at the same venue produced exciting fare. The planters after being led 3-0 at the break won 7-3. It was a fine gesture on the part of CTTA when they allowed three of their players to play for them when they were short. At times the Planters often not sure, had 16 players on the field.
Former Sri Lanka and CH&FC 'lock' Lanil Tennakoon showed his old touch. He did well to convert the try for the Planters to win in a rousing contest in the end both victor and vanquished embraced each other. Trevor Nugawela coach-cum-player played a decisive role for the planters.
CTTA did well to win the golf-stableford points. The planters were represented by Vernon Tissera, Nimal Perera and Sarath Sirisena.
The winner's three best scores were better than the Planters. CTTA also won the tennis 2-0 and squash 5-0, where Sriyan Senadeera excelled. In billiards and snooker it was deadlocked at three-all.
The festival was signed-off with a get-together and a social held at the Radella Club.
Results: (Tennis) - Sriyan Senadeera (CTTA) bt. Gehan Perera 6-1, 6-1, Sanjay Herath and Sanjay Karunaratne (CTTA) bt. Dushy Perera and Dayan Madawela 9-4, 9-2.
Badminton - Planters won 5-0, team - Dushy Perera, Rohan Weerakoon, Dayan Madawala, M. Ousmand, Channa de Costa, L. Abeywardena, Gihan Perera and Nihal Weerakoon.
Squash - CTTA won 5-0, Kushani Daluwatte bt. T. Ellepola 9-0, 9-7, Sriyan Senadeera bt. Mahen Madugalle 4-6, 6-3, 6-3. Games 3, 4 and 5 were walkovers for CTTA.
Venues - Cricket, rugby, squash - Radella. Golf N'Eliya Golf Course. Tennis Maturata Club. Badminton/Snooker, Talawakelle Club.
---
Hobbs and his outstanding sportsmanship
Hobbs' Test career against Australia began on a rather disappointing note. He was a member of the England team that was captained by A.O. Jones that toured Australia in 1907. Jones fell ill on the eve of the first Test in Sydney, and it became a foregone conclusion that Hobbs will get his place. Instead, the selectors did an odd thing.
Which fortunately proved to be a success. George Gunn of Nottingham, had also travelled on the same boat to Australia on a health trip and not as a member of the side. And instead of Hobbs, he was asked to play. Hobbs was bitterly disappointed and thought he had been treated very badly.
However, Gunn did not let England down and proved to be the hero of the Test by scoring 119 and 74. In the next Test at Melbourne, Hobbs made 83 and almost equalled Gunn's feat by scoring a century in his first Test against Australia. Finally, in the fifth Test at Sydney, Hobbs and Gunn put 134, in a partnership, that according to those who saw it, has not been excelled for classical batsmanship, by any other two English batsmen in Australia.
In his first Test Innings in England against Australia, Hobbs was out for a "duck". It was a spiteful Birmingham wicket.
Australia batted first and Blythe and Hirst routed them for 74. When England batted, Hobbs was LBW to Macartney for a "duck". Macartney then bowled MacLaren for 5 and then bowled Fry for a "duck". But England won that Test by 10 wickets. Hobbs making a brilliant 62 not out in the second innings.
This was the period when England was embarrassingly rich in batting and those in the side did not dare fail. Still, with his own place in the team on the line, Hobbs was responsible for one of the most sporting gestures in a Test match. It was the Leeds Test. Hobbs went onto his backfoot and forced a ball on the on-side. In doing so, he knocked off a bail. The Australians appealed for hit wicket. But the umpire gave him not out, because he thought that Hobbs had finished his stroke after he had played the ball.
But Hobbs knew that he was legally out and two balls later, deliberately played right across a straight ball and was bowled. Herbie Collins also spoke in glowing terms of Hobbs' outstanding sportsmanship. It was in a match between Surrey and the Aussies at the Oval and Hobbs was very keen to do well in front of his home crowd. Gregory got one past his bat, and it gave the bails the merest of flicks.
The bails fell gently off. So faint was the flick, that the ball was not even deflected as it went through to the keeper Oldfield. Hobbs, having failed to hear any sound stood where he was. The Australians then appealed, but the umpire also, not hearing any sound, gave Hobbs not out. But Herbie Collins who was standing at short-leg, saw what had happened. 'What happened, Bert?"
Asked Hobbs. 'The ball just flicked the bails, Jack,' replied Collins. 'Well, in that case if I am bowled I had better go,' said Hobbs, as he turned and walked off.
That was a great test of character on Hobbs' part. To be bowled for a 'duck' in front of his own crowd against the Aussies, particularly, when the umpire had given him not out. And Hobbs was the idol of the Kensington Oval.
Hobbs was at his best, particularly on a wet wicket. His century against Australia at the Oval in 1926 when England won back the 'Ashes' on a treacherous wicket, was a real cricketing gem.
And as usual, he had to shield Sutcliffe. Hobbs was also a brilliant fielder at cover point. He had a deadly short arm throw and nine times out of ten, he would knock the stumps down from cover point.
- Bruce Maurice