---
Sri Lanka chases Asian Squash title among 15
By Nilika de Silva
The Sri Lanka Men's and Women's Squash teams, playing at the 10th Asian Squash Championships, presently being held in Hongkong are fielding many teen players.
Nineteen-year-old Kushani Daluwatte, fresher on the senior team, is the youngest on the women's team while Navin Samerasinghe(18) is the baby of the squad.
Kushani seeded No. 1, at the recently concluded Squash selections is a recent past pupil of Visakha Vidyalaya, while Navin is a student of Stafford International School.
A trainee tea-taster at John Keells Limited, Kushani appreciates the encouragement and understanding shown to her in her work environment. "Even though I am still on probation, they let me have leave for the tournament," she said.
Incidentally Kushani has been seeded first in every Sri Lanka team she played in. The last time she played in Hongkong was five years ago. It was the Asian Championships Under 19 and Kushani's first international tournament. In '97 she captained the Under 19 Girls' Team to India and in January '99 she captained the Under 19 team to Malaysia. She won her first Open title, the 'SSC Open' in November last year.
Kushani an allrounder throughout her 12 years at Visakha was a Badminton player as well as a squash player. Excelling in Oriental and Western dancing she also participated in Javelin, Putt, Discus, and was a House Captain. Kushani was the Sri Lanka schools Squash champ in '99.
Expressing her sentiments on her recent performance in the selections Kushani quipped, "I am happy that my parents are happy."
"I haven't become the National Champion as yet. So that'll be my ambition," Kushani who was the Junior National Champion continuously from under 16 to Under 19 said.
Kushani's titles include Under 11 champion - 1991, Under 13 Champion -1992, Under 13 - 1993, under 15 - 1994, Under 17 - 1996, Under 17 and Under 19 -1997, Under 19 Champion -1998, and Under 19 Champion -1999.
My coach, Army Sergeant Sathar Dean, basically helped me to get to this position. And his warning even after I emerged unbeaten in the trials was, "Even though you are No. 1 now, you better come back and train to become National Champion," she said.
A student of Stafford International School, Navin Samerasinghe is the youngest player to win the Sri Lanka Squash Nationals at 17 years 6 months. Navin is the current Senior and Junior National Champion and the only player to hold both Junior and Senior titles in the same year.
The men's team comprises the winner of the Signature Cologne Championships in February this year, teenager Hirantha Gunasena. Hirantha who won the Junior National Championship for three consecutive years from '96 - '98, has gained much exposure in tournaments abroad. Team mate Janaka Suwaris, winner of the Centenary SSC Squash Championships in '99 has represented SL at the Asian Senior Squash Championships in '94 and '96.
The Sri Lanka Women's team captained by former National Champion Shivanthi Kotage, comprises Kushani Daluwatte, Sulakshana Abeygunawardena and teenager Dharshika Kempitiya. The Men's team is captained by Saman Tillekeratne, Sri Lanka's only world-ranked player who has returned from France to accompany the team for this tournament. Saman is a professional coach and Sri Lanka pins much hope on this player.
Six times National Champion Gihan Fernando is the coach of both the men's and women's teams for the Asian Championships while Wing Commander Ranjan Samerasinghe, Vice President of the Squash Federation is the tour Manager.
The 10th Asian Squash Championships is taking place from July 5th - 12th and is seeing the cream of Asian squash players vying for the Plate Trophy.
---
10th Asian Squash Championships, in Hongkong
The Sri Lankan Squash team, consisting of both men and women left on Monday 3rd July to Hong Kong to participate in the 10th Asian Squash Championship. 15 countries have confirmed participation in the men's event of which the firm favourites are Pakistan and Malaysia who will be fighting for top two places whilst Sri Lanka is expected to be in the running for 3rd or 4th places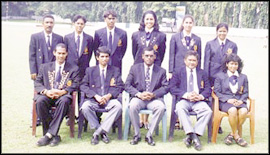 having, to battle it out with Hong Kong, Singapore and India depending on the draw.
The other countries are Japan, Philippines, Chinese Taipei, Kuwait, Thailand, Jordan, Korea, Qatar and Macau.
With Saman Thilleke-ratne playing for us this year together with the two talented young ones Hirantha Goonesena and Navin Samarasinghe our chances seem brighter to pull off a very much anticipated victory into a 3/4 slot or on a bad draw at least to 5th place which would be a first in the history of Squash at an Asian Championships.
The fourth member of the team is veteran Janaka Suwaris. At the last Championship, Sri Lanka ended in 10th position.
In the women's event, 10 teams are due to take part with Malaysia going in as firm favourites with Hong Kong, India, Japan, Singapore fighting for the next few places. Sri Lanka will have to fight for the 6th place at least with Thailand, Korea, Philippines and Chinese Taipei.
Experienced Shivanthi Kotage leads the team ably supported by Sulakshana Dias Abeyegunawardene making her 2nd tour and freshers Kushani Daluwatte and Dharshika Kempitiya. It would all depend on the draw and to which group we would eventually belong to.
Wg. Cdr. Ranjan Samarasinghe is the overall Manager and former National Champion Gihan Fernando is the Coach.
MEN'S TEAM
SAMAN THILLEKERATNA [CAPTAIN]
The only Sri Lankan Squash player to have held a PSA World Ranking. Now resident in Paris, Saman is a professional Coach and a European Circuit player with wide experience. He is a former National Champion in 1998 and was sole representative from Sri Lanka at the Commonwealth games in 1998. Was recognised a talented and tough player who took Pakistan's Humyan Khan to five sets in the Plate Semi Finals match in Malaysia. Has also represented Sri Lanka at the junior Asian Junior Squash Championships, SAF Games and the Asian Games. Has had much exposure on the PSA cricuit in many European countries.
HIRANTHA GOONESENA
18 years of age. An outstanding and talented young Squash player with much potential who was the Junior National Champion for 3 years running from 1996-1998 and Runner-up in 1999. Represented Sri Lanka at the last Asian Senior Squash Championships in 1998 and the Asian Junior Squash Championships in 1999. A widely travelled player with exposure in many foreign Championships in Hong Kong, Malaysia, India and Singapore. Currently he is performing well and was the winner of the signature Cologne Championships in February 2000
NAVIN SAMARASINGHE
18 years of age. The current 1999/2000 Senior and Junior National Champion and two times Sri Lanka Schools Squash Champion in 1999 and 2000. An outstanding and talented young Squash player with much potential.
He is the youngest player to win the Sri Lanka Squash Nationals at 17 years 6 months and is the only player to hold both Senior and Junior Titles in the same year. Represented Sri Lanka at the Asian Junior Squash Championships in 1999. Has gained much exposure playing overseas in Malaysia, Hong Kong, India, Singapore, Australia, England and Scotland. Has been placed fourth in the Asian Junior Circuit. A student at Stafford Internaioal School. A fresher and the "Baby" of the team.
JANAKA SUWARIS
A veteran squash player who has maintained his standard over the years outplaying the much more fancied and younger players through hard work and determination. Has represented Sri Lanka at the Asian Championships in 1994 and 1996. Won the Centenary SSC Squash Championships in 1999.
WOMEN' S TEAM
SHIVANTHI KOTAGE [CAPTAIN]
A former National Champion who has represented Sri Lanka at the Asian Senior Squash Championships in 1996 and 1998. She made a comeback after a 2-year lay off. A much experienced player who is expected to do well on tour.
SULAKSHANA DIAS ABEYEGUNAWARDENE
Has represented Sri Lanka in the Asian Junior Squash Championships in 1993 and 1995 and the Asian Senior Squash Championships in 1998. She also participated in Junior World Championships 1995. Was runner-up at the La Kandyan Open and Centenary SSC Squash Championships in 1999. An Accountant by profession attached to the Corporate Finance Division of KPMG and also reading for London LLB Degree. Making her second tour in the Senior Championships.
KUSHANI DALUWATTE
The Junior National Champion from 1997 - 1999. She represented Sri Lanka at the Asian Junior Championships in 1997 and 1999. Runner-up at the Sri Lanka National in 1999 and was also the Sri Lanka Schools Squash Champion in 1999. Has performed well in tournaments throughout the year. Making her first tour in the Senior Championships.
DHARSHIKA KEMPITIYA
Represented Sri Lanka at the Asian Junior Championships in 1997 and 1998. Has been the Runner-up in most of the Under 19 junior events played last year. Making her first tour in the Senior Championships
---
Plans by the Sri Lanka Aquatic Coaches and Teachers Association
Over the last 2 years, SLACTA has grown to an organisation of nearly 100 members (96 to be exact). As with any organisation, the committee will need to address whether we are meeting our members' needs and decide how we can best meet those in the future if we are to retain our members.
To encourage new members to join we have a free coaching book to give away after joining and upon booking into their first course.
COURSES
Over the last 2 years we have primarily focused on setting up a world class teaching and accreditation scheme that can be managed, run and administered by its own members. To this end I think we have overwhelmingly succeeded.
This system is designed on building information progressively from one course to the next. With a 3-step Teaching scheme and a 3-step Coaching scheme, that both allows for special interest areas, we will impact swimming from the youngest to the oldest, from the slowest to the fastest, from the novice to the elite.
The first course was held with a great deal of uncertainty. NAASU were approached for funding but were unable to meet the cost. With no funding, we were unsure how many would attend and whether we could break even. However we decided to forge ahead with myself paying all up-front costs.
It is important to note that all courses (with the exception of the Disabled Courses that was funded elsewhere) have made a loss. All courses were charged at the lowest cost possible. In practice the course fees nowhere nearly covered our costs. However the sale of equipment, books and additional membership fees at the courses helped to offset those losses.
We have been fortunate to have the use of the Overseas School of Colombo as a venue. Future courses could be run at Sugathadasa Stadium if suitable costing can be arranged.
Details of the courses run are as follows:
• Level 1T (Teachers): Course #1 May 1999 (54 participants) and Course #2 in September 1999 (36 participants). (4 and 5 days respectively). Course fees were Rs. 1,000 for foreigners (2 attended) scaling down to Rs. 300/- for outstation SLACTA members. Both courses cost between 32,000/- and 35,000/- to run.
This was particularly rewarding as a number of people stepped up to lecture for the first time and passed with flying colours. By grooming our members into the role of lecturers, we can ensure that such courses continue after I go. The big test will come in July with a course entirely run and lectured by our people - minus myself.
We are now looking at taking the course out to Kandy and hope to have some news on that front soon. Nihal Ellegala will be course co-ordinator if it goes ahead.
• Disabled Swimming Teaching and Coaching: An exciting initiative made possible with a grant from the Australian High Commission. The money enabled us to bring leading coach Anne Green from Australia for 2 x 5-day courses, one in July 1999 (35 participants) and the other in January 2000 (25 participants). She also conducted a 2-day refresher/extension course (17 participants) for those who attended the 1999 course, and a 3-day Classification workshop (20 participants). Courses were free to participants.
• Level lC (Coaching): Held in February 2000 with 60 coaches in attendance (5 days).
Level lCA (Coaching Adults): This, along with Disabled swimming is one of 3-specialty coaching courses (2 days). 22 people attended.
• CPR (Cardio Pulmonary Rescucitation): To become fully certified in any course, all participants must have a current CPR certificate. 3 courses in 1999 have been held to date at the St. John Ambulance Brigade headquarters (3 hours duration per course).
• First Aid:
An allied area to teaching, coaching and water safety in general is that of first aid. Those who have followed all the courses would be 'sold' on the necessity of accident prevention at all costs, and safe practices so as not to put our swimmers at risk. However in the event an accident does happen, it is comforting to know there are those with the skill to provide emergency first aid. 7 people completed the 3-day course.
• Level 2 Coaching: This course has been scheduled for the last week in November and first week of December. I hope so as I have already put quite a bit of time and effort into planning it and have lined up some internationally trained people in their specific field to bring you the latest information.
• Level lCO.W. (Coach of Open Water): I have made a suggestion to NAASU that they consider any future IOC Solidarity grant money be spent on courses not yet touched on by SLACTA, but within our accreditation structure. With such a fine tradition in Open Water Swimming, it is an obvious choice to get an international coach to conduct a course and coaching clinic on Open Water Swimming, perhaps attached to one of the popular 2 - 5 mile swims. They are considering this suggestion at the moment.
FREE DISABLED LESSONS
Possibly one of the most exciting outcomes of Anne's visit and our Australian High Commission grant was the establishment of free swimming lessons for disabled orphans from the Suhada Home.
Originally this once per month programme (which meets on the first Sunday of every month from 4 p.m. to 6 p.m.) was conducted by volunteers who needed to complete their ten (10) hours practical teaching experience in order to gain their Level 1TD or lCD certificate.
-Anita Iossifidis
(Contd. - next week)
---
Arjuna "More sinned against...."?
By Michael Roberts
For a figure short and somewhat wider than the average cricketer, Sri Lanka's captain Arjuna Ranatunga cast a long shadow during the 1998-99 summer. Whether strolling his singles, commenting severely on Australian crowds, or wagging his finger at an umpire, he tested a host of assumptions about cricket behaviour. Did his militancy constitute, as Alec Stewart decided, "a disgrace"? Or was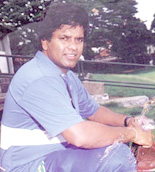 he, in the words of no less an authority than Peter Roebuck, "a cricketer on beautiful provocations"?
Rather than addressing this question directly, it is perhaps more fruitful to ask two others. From where does Arjuna's intense competitiveness spring? And why does he arouse, especially among Australians such intense feelings?
It is not as if Ranatunga is a newcomer to the school of cricket combat. International cricket's longest-serving player, he has always been a fighter, often at the outset of his career in losing causes. Australia saw evidence of his resilience in their first two Tests against Sri Lanka, at Kandy in April 1983 and Perth in February 1988. Deteriorating pitches on both occasions favoured the team winning the toss, and in both cases the Australians made the most of these advantages in completing victories by more than an innings. But in both cases Ranatunga stood tall, making 90 and 92 in the former match, 55 and 45 in the latter, top score in three of the four innings.
Ranatunga also stood out in other on-field circumstances. Sri Lankan cricketers were renowned for their gentlemanly qualities. Asked about "sledging" on their 1981 tour of England, their assistant manager replied ingenuously: "Sludging? What is sludging?" Ranatunga soon discovered it, and was apt to return it. The story goes that on an occasion, Captain Ranjan Madugalle was being subjected to a fearsome assault, by ball and mouth from Imran Khan. Ranatunga told Madugalle to concentrate on his batting and began needling Imran so that the abusive focus shifted towards him, at which point Ranatunga issued Pakistan's skipper a typical challenge, "You have the ball. I have the bat. Let's see who wins."
The incident gains sharpness from its cultural context, for it involves a reversal of traditional Sri Lankan hierarchy; it is a mallie (younger brother or junior) protecting an aiyya (elder brother). And it is not the only way in which Ranatunga represents an inversion of cultural form. Indeed, the roots of Ranatunga's feisty nature and streetwise cricketing style cannot be understood without attending to Sri Lanka's social and political background.
The higher echelons of Sri Lankan (Ceylonese) cricket in the three decades after 1945 were dominated by cricketers emerging from the elite denominational schools of Colombo and Kandy as well as the premier government school, Royal College. These were westernised, English-speaking men. They profited from the social clout attached to a fluency in English and a particular upper-class lifestyle. A few of them were not above adopting airs and looking down on the vernacular-speaking yakoes (wild rustics) and "sarong-johnnies" - to use Ceylonese English jargon. The power of the English language in this era is indicated by the fact that Sinhala speakers subject to its force referred to it in the 1960s as the kaduva, or sword.
The westernised elites, however, were under challenge. The electoral overturn of 1956 that brought to power the Sri Lanka Freedom Party, a centre-left coalition led by the Bandaranaikes, has even been referred to, in exaggerated terms, as "the revolution of 1956", because it was a groundswell of the underprivileged seeking a place in the sun. It was also an expression of linguistic nationalism among the Sinhalese and included an explicit hostility to the primacy of English. But the transformations in the political order took time to permeate the cricketing arena. It was not till the late 1960's and in 1970's that talented cricketers from Ananda, Nalanda and Mahinda began to challenge the primacy of the Royal Thomains et al. These were also the elite schools but had originated in the Buddhist revival of the late nineteenth century, and their schoolboys were Sinhala-speakers partial to the directions arising from the transformations of 1956. One can consider Bandula Warnapura's appointment as captain of Sri Lanka in 1979 as an approximate marker of the moment when products of these schools gained primacy in the highest levels of Lankan cricket. Ranatunga, therefore, represents the second and third generations of players from this background.
The Ranatunga family was in the vanguard of this social change. Arjuna's father was a politician within the SLFP. Democratic politics in Sri Lanka has, for many decades now, been punctuated by intimidation and violence. It is said that the Ranatunga home was vandalised and a car burnt on one occasion - presumably by local supporters of the United National Party. In brief, young Ranatunga is familiar with the hurly-burly of politics.
None of which is to say that Ranatunga is abrasive in demeanour at all times. Indeed, in common with the majority of his cricketing peers in the Sri Lankan teams in recent decades, his interpersonal style is characterised by a measure of shyness. On social occasions he is courteous and restrained. An English journalist expressed amazement at the ease and patience shown by Ranatunga during the official function for the cricketers in Adelaide recently. On countless occasions his fork-with-morsel of food was arrested on its journey so that he could respond to requests for autographs and pictures.
Two gestures on Ranatunga's part after Sri Lanka had won the World Cup in March 1996 display his instincts for healing. On returning to Sri Lanka he made a point of taking the trophy to the home of Srima Dissanayake, the widow of Gamini Dissanayake, a former President of the Board of Cricket for Sri Lanka, who had been instrumental in securing full Test status for Sri Lanka at the ICC in 1981. As UNP leader, Dissanayake had been assassinated by a suicide bomber in 1994 as he addressed an election rally during his presidential campaign. Party lines are firmly demarcated in Sri Lanka, and the son of an SLFP politician displaying such reverence to the memory of an ideological enemy was remarkable.
The second gesture was caught on camera immediately after the triumph at Lahore. Referring implicity to the victory over Australia, after encountering so much strife in that land a few months previously, Ranatunga was asked whether "revenge was sweet". With a broad smile Ranatunga replied, "I would not use those words." Few Sri Lankans would have been so magnanimous. Many would have thought the defeat of the Australians, whose umpires had so maltreated Muttiah Muralitharan, and who had declined to visit Sri Lanka during the Cup because of a perceived threat to their safety, could not have befallen nicer guys.
The Australians, by contrast, have not kept their thoughts innermost. Mark Taylor, Shane Warne, Ian Healy and Mark Waugh have been blunt in expressing their dislike for Ranatunga, and the Australian media has often published similar sentiments; long before, in fact the incidents at Adelaide Oval on January 1999 blotted Ranatunga's copybook further.
In doing so, however, they have probably revealed as much about themselves as about Ranatunga. Consider, for example, the criticism of Ranatunga's physique, and his style of walking some singles. This vexes Australians sorely. When Ranatunga was runout in a one dayer after the Australian tour, the television round up programme Sports Tonight made footage of his wicket, its "Play of the Day", its gleeful presenter gloating, "We enjoyed that." Yet when challenged about it while acting as guest commentator during an England-Sri Lanka match at the SCG Steve Waugh struggled to explain why Australians found Ranatunga's habit so annoying. Tony Greig raised the issue in non-confrontational style when Ranatunga was batting and asked, "Does it matter (that he walks)?" Waugh could not clarify how it did except to affirm that it was irritating.
The irritation arises, perhaps, not from the original habit, but in its continuance when Ranatunga knows how annoying it proves. He has even claimed that his walking/running is designed to manufacture overthrows. This seems a post-hoc rationalisation. I suspect that any study of videotapes from the 1980s would show Ranatunga walking his runs occasionally, especially in the tropics. It is, as Sunil Gavaskar would say, a means of conserving energy so as to bat the better.
Other elements of the Australian chorus against Ranatunga may arise from cultural misunderstanding. One ritual complaint has been that Ranatunga and his cricketers seldom fraternise at the end of a day's play by attending the traditional post-match drinks at which the rigours of the day are laid to one side.
But, speaking broadly, there is no bar culture in Sri Lanka. Though the Sinhala speaking players of the 1970s and after, did develop a familiarity with Western lifestyles in the course of their cricketing travels, most are ill at ease in pubs and bars. This discomfort is compounded for some by a lack of fluency in English. If they do imbibe alcohol, the Sri Lankan players prefer to do so in the cosy environment of verandahs or drawing rooms.
It is also possible that a degree of cultural misunderstanding was at work during the contretemps at Adelaide Oval when Muralitharan was no-balled.
Many Australians considered Ranatunga's finger-wagging to be deeply offensive. However, finger-wagging is commonplace in Sri Lanka as a form of emphasis. It is particulalry pronounced in political speeches, but can punctuate any debate.
Among Sri Lankans it is perhaps a more conscious tool when one is chastisng someone for an unethical transgression. Emerson, the umpire even in the opinion of non-partisan commentators such as Botham and Roebuck, was transgressing, grandstanding. There is no doubt that Ranatunga deemed Emerson's action to be a transgresion that called for chastisement. His responses, of course, also consituted a transgression. In the heat of the moment, however, the Sri Lankan cricketers were in an impossible position - whatever their response they were going to be losers.
Even without this plea in mitigation, one might also, in the righteous response from so many, detect a hint of double standards. Wasn't the last Test captain to remonstrate so forcefully with an umpire an Englishman, Mike Gatting, who brought a Faisalabad match to a standstill by assailing Pakistani Shakoor Rana? And how many Australian teams have moaned and bitched about umpiring across the subcontinent? Perhaps there is the taproot of the antipathy that western cricketers, media representatives and spectators feel for Ranatunga; the way he demonstrates that what's good for the goose is also good for the gander.
Michael Roberts is on a quick trip to Sri Lanka, Tita Nathanielsz was able to persuade him to release this interesting article. We also acknowledge the courtesy extended by The Wisden Cricketers' Alamanack, Australia.
---
Yousuf Youhana 'The man for the future'
By Ramesh Joseph
When he first picked up a bat and struck a ball, Yousuf Youhana was only looking for an avenue to spend some time playing with his brother. Those streets of a Railway Colony in Lahore were not ideal to hone one's batting skills. The bat he played with was actually a piece of timber used for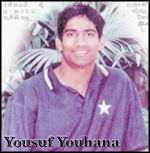 belting clothes. The ball was actually a ping pong ball.
Those memorable 'Test' matches he played with his brother indeed fired Youhana's imagination and he saw only a future connected with cricket for himself.
Youhana is another product of a system which baffles one and all. How come Pakistan unearths such fabulously talented cricketers? The quality of talent is superior and Youhana is another glowing example of this phenomenon.
Youhana is the man for the future as far as Pakistan is concerned. He has a burning desire to emulate Javed Miandad and that cannot be good news for the opposition.
Miandad is Youhana's mentor and Miandad is Youhana's inspiration. Miandad is the best thing to have happened to Youhana's career.
Having decided to model his game on that of Miandad, it was a challenge for Youhana to achieve his ambition. He renewed his devotion to the game and made giant strides. It was three years ago that he made his entry into international cricket and he has maintained consistent progress. The early phase of his international career brought more disappointments as Youhana discovered the hardships of the circuit.
Modest in his approach, Youhana lost no time in setting himself goals. The value of consistency was not lost on him and he managed to keep his place in the team. But it was cementing his slot that occupied his mind.
Youhana's style is based on the simple theory that to score runs you have to occupy the crease. Some of his mates, guided him to work on this aspect since his wide range of strokes meant that once in form he could score at will.
Wasim Akram, was one of the early supporters of Youhana. The Pakistani great spoke of Youhana's talent, "Watch him. He is our player for the future. I have not seen a batsman of his skills and temperament for a long time."
Javed Miandad changed his attitude towards the game. In association with his coach, Youhana adopted a very positive approach to batting and turned himself mentally to play long and match-winning innings.
The ability to read the ball early gives Youhana that extra bit of time to decide on his course. His batting revolves around his art to place the ball short of the fielders to pick runs. He also revels in picking gaps.
Players like Youhana need proper grooming and Miandad has spent a lot of time honing his technique. He has taught him the most important thing in cricket. To play the ball on merit.
He may not be in the same league yet as some of the leading middle order batsmen in the world, but Youhana is a cricketer who promises much greater deeds in the future. He appears a grafter on the surface, but within is the desire to be known as a stroke-maker.
Youhana's talent lies in building an innings, an art not known to modern cricket where the emphasis is on the slam-bang limited overs variety. He sometimes gives the impression of being cocky at the crease, but he dismissed it as "not true." He likes to take on the bowlers and it is not averse to verbal duels if required. This is just a by-product of his self-confidence.
As Youhana continues his journey to emulate Mindad, it is the team which stands to gain from this selfless cricketer. He comes across as a batsman who is only too happy to run two hard runs for his partner than look to boost his own interests. Players like Youhana are difficult to come by and when they do, they command all the focus. Youhana, at present, is basking in glory earned the hard way with a grand future beckoning him.