Drama: the time - less art
By Chatura Randeniya and Uthpala Gunethilake
Everyone Every one is a bit wary about theatrical adaptations of historical themes, whatever the language. And on our way to the Borella YMBA Hall on July 1, this was a nagging worry. But we were in for a rather pleasant surprise and left having thoroughly enjoyed an evening of drama.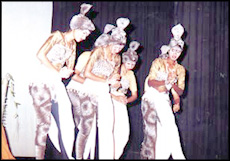 It was the finals of the 19th All-Island Annual Drama competition organised by the Young Men's Buddhist Association, and the tussle for first place was between Thurstan College, Colombo, Pin-nawala Madya Maha Vidyalaya, Rambukkana, and Kingswood College, Kandy. Popular dramatist Jayalath Manorathna, Mrs. Deepthi de Fonseka and Mrs. P. de Silva were on the panel of judges.
Pinnawela Madya Maha Vidyalaya bagged first prize at the competition , with a play portraying the timeless law of the universe, that in the end good wins.
With a bad-tempered gypsy sporting a heavy accent and making himself the object of laughter, more even than the monkey hopping around him, their play was from Salaka Jatakaya, titled "Nagasinnam". The play rollicked its way to the top, winning the prize for the Best Drama as well as a special prize for dance and music.
A very radiant gypsy, Cha-mpika Kumari Sema-singhe, who won the prize for Best Actress, said. " I was a bit worried about having to play a male character. But once I got used to it, it was enjoyable."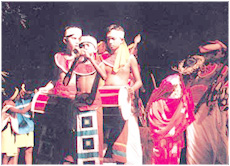 Thurstan College's play was 'Avaira Ruwa, an adaptation of Kosamba Jatakaya, relaying a message of love and non-violence even towards your enemy.The theme revolved around the feelings of the young prince Deeghayu who finds it in himself to forgive the king who murdered his father. He is torn between seeking revenge and his father's voice telling him to love even his enemies because only love can heal anger.
Perhaps the best thing about this portrayal was the fact that the theme was contemporary, however old the story may be, in that it portrayed all the frustration and anger one experiences through war, violence and crime. H.D.Susantha Sha-minda as Deeghayu was every bit the tortured prince and not surprisingly bagged the prize for the Best Actor. "I'm overwhelmed," he exclaimed. " I never thought I could do it, and now I'm glad I gave it a shot".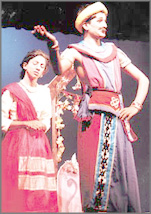 Kingswood College, Kandy called their play Andha-bhuta", adapted from the namesake Jataka story. The story was a mixture of love, deceit and gambling, the characters invoking much laughter. Their costumes deserve special mention, for they showed much care and preparation. The presentation was extremely clear with the Purohita (state counsellor) and the king who were involved in the wager, which is the main plot, narrating the story in a series of flashbacks.
The female characters played by the boys were especially captivating, with Suranja Chanuka Pussella who was a very convincing 'Mal Amma' winding up as runner-up in the Best Actor category. The cast of "Andhabhuta" walked away with the prize for the runners-up in the Best Drama category. All three productions were very much the efforts of the students themselves, with the teachers giving a helping hand where necessary.
The chief guest of the evening, veteran actor Joe Abeywickrama said in his speech that he was overwhelmed by the talent displayed on stage that evening; "Watching them brought tears to my eyes", he said.
The evening drove home the truth that with a bit of imagination, even stories first told many centuries ago can be moulded to bring forth a message for today. It only needs the kind of talent and enthusiasm that radiated from the stage that evening at the YMBA hall.
---
Mirror, mirror on the wall
For all you guys and girls out there looking for a change of face, take a look in the Mirror and you just might see what you're looking for, the Mirror Magazine, that is.

We are now offering you a chance at changing the way you look, for absolutely no cost to you at all. All you have to do is fill out the coupon below and send it in with a photograph of you to reach us on or before July 19.

If you are one of the lucky ones, you will then win a free make-over (and a new look) to suit your lifestyle from one of four leading salons in the country, i.e.

*Ramani Fernando Salons

*Ramzi's Hair and Beauty Salon

*Salon Nayana - World Trade Centre

*Kess

and also get tips on how to maintain your new look.

And that's not all. Once you receive your make-over, the Mirror Magazine will then do a feature article about you, with photographs of you before and after the make-over and your views on it.

But remember, the entries have to reach us on or before July 19.

Send in your entries to: Make-over C/o The Mirror Magazine No. 8, Hunupitiya Cross Road, Colombo 2 Tina turns it in

It's official. Tina Turner will be giving her famous raspy voice and high-energy stage show a permanent rest when she retires at the end of her current tour.

Turner, 60, announced her plans to a 75,000-strong crowd in Zurich as she kicked off the European leg of her '24-7' tour on Friday night. "I've done enough," Turner said. "I've been performing for 44 years.

I really should hang up my dancing shoes."

Turner, a grandmother, said she couldn't possibly sing without "jumping around" and acknowledged her performances were getting harder and harder to do.

"I can't keep up with Janet Jackson. I'm not a diva like Diana Ross," she said. "I'm rock and roll, but I'm happy I can do it one more time so people can remember me at my best."

Tina Turner (Anna Mae Bullock) was born on 26 November 1938, in Nutbush, Tennessee, USA. Her sultry, powerful voice, her incredible legs, her time-tested beauty and her unforgettable story all contribute to her legendary status!

She was only 16 years old when she started to work as a singer in R & B nightclubs and then joined Ike Turner's Kings of Rythym, who wanted to turn his local fame into national stardom and quickly saw the potential of the talented, but unmoulded, teenaged Anna Mae.

The two got married in Mexico between the birth of Tina's two sons - one son was Ike's and the other was the result of an earlier relationship of Tina's.

Before too long the Ike and Tina Turner Review was tearing up large and small R&B and Soul venues throughout the early and mid 1960s. In 1966 the recording of the Phil Spector production, 'River Deep, Mountain High' signalled a big crossover in her career. Tina became more and more recognized as the star-power behind the group's international success.

Even if Ike was a good musician, he was also a violent, drug-addict. After being frequently knocked down, Tina decided to give up her public and private life with him.

She divorced and refused to take a cent from the divorce, and was strapped with many huge debts as well. Around 1980, Tina was back on the hit with the album, 'Private Dancer'. Since then Tina released several hits and several appearances in different movies.

The rest is already history of the undisputed Queen of Rock and Roll!
---
What Catie did
Cate (Catherine Elsie) Blanchett was born in Melbourne, Australia on May 14, 1969.

The early years Cate was born to an Aussie mother and a Texan father. One of three children (she has an older brother Bob & younger sister Gen-evive), Cate was raised by her mother following her father's passing away when she was ten. Her fathers death had a tremendous effect on her life she says. "Everything changed when my father died of a heart attack. I remember waving goodbye ....and he never came back. It was a real turning point for me because I realised how fragile life is, and it made me determined to make the most of mine."

After growing up in Melbourne, she began studying fine arts and economics at the University of Melbourne, but departed, after a fashion, to continue her education via travel. After the expiration of her visitor's visa forced her to leave England, she eventually found herself in Egypt, desperate for money. In an effort to earn some cash, and get a crack at craft services, she signed on as an extra in an Arabic boxing film. It was the first time she had ever been on a film set.

Upon her return to Melbourne, she enrolled at Australia's prestigious National Institute of Dramatic Art. This decision would change her life. She recalled, "It was only when I realized how actors have the power to move people that I decided to pursue acting as a career".

Upon her graduation from NIDA, she joined the Sydney Theatre Company's production of Caryl Churchill's "Top Girls", then played Felice Bauer, the bride in Timothy Daly's musical "Kafka Dances". She won the Newcomer Award from the Sydney Theatre Critics Circle for her performance.

In 1995, she was nominated for Best Female Performance for her turn as Ophelia in the Belvoir Street Theatre Company's production of "Hamlet". Cate has been quoted as seeing her craft as "a process of accumulation and elimination". Her other theatre credits include 'Helen' in "Sweet Phoebe", 'Miranda' in "The Tempest", and 'Rose' in "The Blind Giant Is Dancing", "Oscar and Lucinda" with co-star Ralph Fiennes, and 'Nina' in "The Seagull".

TV stardom

In the realm of television, Cate co-starred in ABC Televsion's "Heartland", "Bordertown", "G.P.", and in ABC's popular series, "Police Rescue"and "Parklands".

She made her feature debut as a shy Australian nurse in Bruce Beresford's, Paradise Road. She next starred in Cherie Nowlan's debut feature, "Thank God He Met Lizzie", playing the title role. For this, Cate won the prestigious AFI (Australian Fim Institute) Best Supporting Actress Award.

In June of 1997, she married her soul mate Andrew Upton, a script and continuity editor she had met on the "Parklands" shoot. It was Cate's starmaking portrayal of Queen Elizabeth I in Shekhar Kapur's "Elizabeth" that shot her into the stratosphere in terms of both popular and critical acclaim. Her stunning metamorphosis from innocent, lovestruck young lass to the hardened, seemingly calcified, ruler of England was stunning and heartbreaking. Cate's cham-eleonlike qualities astounded both the industry and the public.

The acclaim

As a result of "Elizabeth", Cate was honored with the Golden Globe for Best Actress in a Dramatic Motion Picture, and was designated Best Actress for her performance by: The Broadcast Film Critics Association, The Chicago Film Critics Association, The London Critics Circle, The Golden Satellite Awards, The Toronto Film Critics Association, and The Online Film Critics Society.

She has also been nominated by her peers for the prestigious Screen Actors Guild Best Actress Award, and in February last year received an Academy Award nomination as Best Actress. Her film, "Elizabeth" received seven nominations in all, including, Best Picture, Best Cinematography, Best Art Direction, Best Musical Score, Best Costume Design and Best Makeup.

Cate was justly honoured with the BAFTA Best Actress Award, while "Elizabeth" was honoured as Best British Film, Best Score, Best Cinematography, Best Makeup, and co-star Geoffrey Rush was designated Best Supporting Actor, She also received a nomination for the 1999 MTV Movie Awards, as Best Breakthrough Female Performer.

On the move

1999 was a busy year for Cate. She had a cameo as Meredith Logue in "The Talented Mr. Ripley", from director Anthony Minghella (The English Patient), which stars Matt Damon and Gwyneth Paltrow. The film was released in the States on December 25 and is scheduled for release in early 2000 in Australia. Cate also co-starred in the comedy from Mike Newell - "Four Weddings and a Funeral", and in the black comedy"Pushing Tin" with John Cusack, Billy Bob Thornton and Angelina Jolie.

Cate is now on view in various parts of the world in the new film version of Oscar Wilde's classic comedy, "An Ideal Husband", with co-stars Jeremy Northam, Minnie Driver, Rupert Everett and Julianne Moore. Cate was also slated to produce and star with Geoffrey Rush in Cherie Nowlan's followup, "Dreamtime Alice" .

She is becoming increasingly well-known throughout the world not only for her distinct sense of style and fashion, but, for her charitable work on behalf of children's and women's causes.

Cate says

During a recent interview Cate had this to say of her career and life:

"I only have eyes for Andrew and, fortunately, he never gets jealous, even when I have to film intimate scenes. He knows the business and appreciates that certain scenes are important, even though I sometimes find them very embarrassing.

When I was filming my new film "The Man Who Cried", I met my co-star John Furtano one day. We rehearsed together that afternoon and were in bed together the next morning.

We just looked at each other as if to say: "This is the weirdest job. I don't know you, you don't know me. What are we doing?"

Sometimes, I can't believe how quickly everything has changed.

When I was nominated for the Best Actress Oscar for "Elizabeth" in 1999,1 got fabulous white roses with a card that read: Congratulations on your nomination - Calvin. I thought: "I don't know any Calvins", then I was like: "Oh my God, Calvin Klein!"

The strangest thing is, it was never my burning ambition to become an actor. And fame and money don't interest me.

It's great to know I've got work, but if you're unsettled in your private life, money doesn't make it better."