Lions roar in Colombo
Fighting Royalists loses Bradby first leg in one of the finest rugby matches witnessed in the season
By Jatila Karawita
Trinity powered by terrific tackling and, fabulous three quarter play from wingers Buwaneka Manamperi, and Mohammed Riyaz, and centre Kelum Silva, pulled off a deserving 32 points( two goals,three tries, and a penalty) to 25 (two goals,one try, and two penalties), win over a fighting Royal side, in one of the finest rugby matches witnessed for the season, where a total of eight masterly tries were scored by both teams, in their 56th annual first leg Bradby Shield encounter worked off at the Sugathadasa stadium last evening.

Trinity led by Flanker David Luchow, thus head to the home venue of Bogambara in a fortnights time, for the second leg of the Bradby with a neat seven point lead, over their traditional rivals.

The Lions who went into the game as the reigning Bradby Shield holders, turned on a attacking display of power-packed rugby by their two wingers Mohammed Riyaz and Buwaneka Manamperi, who each combined to run down three superlative tries within the space of the first 17 minutes, to virtually knock the daylights out of the Royalists.

That furious onslaught, rattled the Royalists to such an extent, that their normal pattern of play was thrown off guard by the Trinitians. Hill Capital lads took lemons with a handy 17-6 lead, which the Colombo lads found difficult to catch up in the end despite a spirited late rally in the second half.

Trinity began proceedings when in the second minute of play, Mohammed Riyaz the right winger off a three quarter move in a second phase attack, went over by the right corner flag as full back Thisal Jayawardene failed with the conversion to lead by 5-0.

In the seventh minute, Royal came first into the game through a 30 metre Dave Wijewardene penalty as scores read 5-3.

Riyaz moments later got into high gear, to show the Royalists a clean pair of heels once more, as he put the finishing touches to another slick three quarter move, to give the advantage to the visitors.

Jayawardene missed the conversion as Trinity led by 10-3.

Royal then reduced the deficit, through another Dave Wijewardene penalty, as scores read 10-6 by the 15th minute of play.

But Manamperi then brought the stadium alive, with a spectacular 40 metre run down on the left flank, to go under the posts as Jayawardene converted to extend the lead of the Lions to 17-6 by the turn around.

The second half also produced vintage rugby by both schools, as the Royalists made a good comeback to score a total of 19 points to that of 15 by the Trinitians.

But the big lead which the Blue and gold coloured jerseys conceded to their rivals at the breather made the difference in the end.

For Trinity centre Kelum Silva scored their first try in this half having beautifully intercepted a pass from his opposite counterpart to dash through to go under the posts.

Left winger Manamperi scored his second try of the match when he powered through untouched on the left flank but Jayawardene fluffed the conversion.

In between those two tries by the Lions Royal livened up the days game further mid way through the second half, through two brilliant tries by centre Haren Kaluarachchi who played a tireless game for the losers.

During injury time lock Dushan Lewke scored a pushover try for the Royalists but Jayawardene for Trinity was at hand to fire across a neat 25 metre penalty to hand his team a memorable triumph moments before the long blast of referee Dilroy Fernando.
Royal crush Trinity 50-0 in under 17 game
* Royal Second XV playing running rugby demolished their traditional counterparts Trinity by a record score-line of 50 points to nil in their first leg clash of the Under 17- Simithiarachchi trophy match which preceded the Bradby Shield game at the Stadium last evening.

---
Wonder Wasim whips Lanka
By Marlon Fernandopulle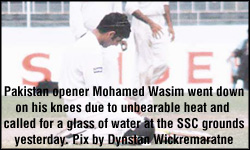 grounds yesterday.

Resuming at 53 for 2 the Lankans lost their last eight wickets for just 56 runs to be bundled out for 123 leaving the visitors 131 for victory.Despite Muttaih Muralitharan capturing three quick wickets and threatening to run through the Pakistanis, the visitors reached their target for the loss of five wickets, thanks once again to their 34 year old former captain Wasim Akram. He countererd the vicious spin of Murali effectively and guided Pakistan to a 1-0 lead in the three match series.

Earlier in the day the Sri Lankan batsmen paid the price for being overcautious and not being positive enough in their approach.They were up against some tidy bowling by medium pacer Abdur Razzaq and off spinner Arshad Khan who kept the batsmen guessing all the time.

The lanky off spinner first sent back the inform Marvan Attapattu(40) and Mahela Jayawardene(01) in quick succesion after which Razzaq forced Aravinda de Silva to edge an outswinger and offer a regulation slip catch to Inzamam ul Haq. Khan returned to take his third wicket when Romesh Kaluwitharana was adjudged caught off bat/pad by Younis Khan as Sri Lanka slumped to 82 for 6.

Former captain Arjuna Ranatunge was quick to follow his colleagues, offering a simple chance to mid wicket off Wasim Akram as the home team lost their 7 th wicket at 88 and were starring at defeat.

Chaminda Vass(20) and Nuwan Zoysa(13)raised the hopes of the Lankans with a 32 run stand for the 8 th wicket before Akram grabbed both batsmen in successive deliveries.Muralitharan edged the hat trick delivery but Akram returned to castle debutant Dilhara Fernando and bowl out Sri Lanka for 123. Akram who passed the 400 wicket mark on friday finished with 5/45,the 25 th time he has taken five wickets or more in a test.

The Lankans fought back defending the meagre target of 131 with the spin of Muralitharan. As was expected Sri Lanka most successful bowler Muralitharan brought a glimmer of hope to the Lankan camp when he grabbed three quick wickets, that of Mohamed Wasim,Yousuf Youhana and Inzamam ul Haq for the visitors to slide to 66 for 4 from a steady 51 for 1.Nuwan Zoysa then picked up Moin Khan with the total at 89 as the Lankans had a sniff at an outside chance for victory.But the arrival of Younis Khan and Wasim Akram dashed the hopes as the pair steadied the Pakistan innings by attacking Muralitharan and adding an unbroken 42 runs for the sixth wicket to guide Pakistan to a morale boosting victory.

---
Scoreboard
Sri Lanka first innings 273 (M.Jayawardene 77; A.Khan 4-62) Pakistan first innings 266 (S.Anwar 56, W.Akram 78;M.Muralitharan 5-115)

Sri Lanka second innings (overnight 53 for two)

M.Atapattu c Anwar b Arshad 40
(Short pitched delivery, square cut to cover point)

S.Jayasuriya lbw b Waqar 8

R.Arnold c Wasim b Akram 1

A. de Silva c Inzamam b Razzaq 21
(Outswinger, playing forward, edged to second slip)

M.Jayawardene c Wasim b Arshad 1
(Playing forward caught at forward short leg)

A.Ranatunga c Anwar b Akram 7
(Attempted glance over mid wicket)

R.Kaluwitharana c Younis b Arshad 6
(Playing forward, appeared to hit bat/pad ct. at silly mid off)

C.Vaas c and b Akram 20
(Attempted pull, top edge ct. at mid wicket)

N.Zoysa c Inzamam b Akram 13
(Rising delivery edged to first slip)

D.Fernando b Akram 0
(Playing from his crease, bowled through the gate)

M.Muralitharan not out 3

Extras (lb-1 w-1 nb-1) 3

Total (all out) 123

Fall of wickets: 1-14 2-25 3-67 4-71 5-73 6-82 7-88 8-120 9-120 10-123.

Bowling: Waqar 9-3-21-1, Akram 15.3-1-45-5 (1nb 1w), Razzaq14-6-23-1, Arshad 22-8-30-3, Mushtaq 1-0-3-0.

Pakistan 2 nd innings

S Anwar ct Fernando b Zoysa 06
(Short pitched ball,pulled to Backward Square leg)

M Wasim lbw b Muralitharan 13
(Playing back to a ball that spun back)

Y Yohana b Muralitharan 11
(Playing forward bowled off bat/pad)

Inzamam ul Haq ct Arnold b Muralitharan 13
(Playing forward ct at silly mid-off)

W Akram not out 20

M Khan lbw b Zoysa 11
(Playing forward wrapped high on the pad)

Y Khan not out 32

Extras (B-4,NB-4) 8

Total(for 5 wkts. in 42 overs) 131

Fall of Wickets 1-19, 2-51, 3-52, 4-66, 5-89

Bowling C Vaas 8-3-20-0 N Zoysa 13-1-38-2 M Muralitharan 17-3-53-3 D Fernando 3-0-14-0 R Arnolda 1-0-2-0

---
Peterites regains Fr. Basil Weeratunga challenge trophy
In the traditional Battle of Saints rugby match between St. Joseph's and St. Peter's played at Bambalapitiya last evening the Petes did well to regain the Fr. Basil Weeratunga trophy winning by 27 ( 2 goals, 2 tries and a penalty) to 7 ( a goal)

At the interval the Petes led 15-0.The Bambalapitiya School playing cohesive rugby dominated play.

Mario Oorloff scored two tries while Dilan Abeygunawardena and Lnkala Perera at try each. Prashan cooke, goaled two of the tries.

For St. Joseph's Shahe Boldsing scored all the seven points. He scored a try and added the extra points. Referee Sam Samarasekera

In another school match played on june 15, prince of Wales College defeated St. Sylvester's Kandy by 12 points (a goal and a try) to nil. played at Moratuwa. Lasantha Kakamal scored the first try. D. Pubudu added the extra points. The seconf try was scored by Nilusha fernando, which went unconverted. Referee Mahinda Jayawardena.-BW

---
Nadira through to tennis final
By Bruce Maurice
Nadira de Silva booked her berth into the girls under 18 singles final in a hard-fought win at the Colombo Open Tennis Championships at the National Tennis Centre Courts at Greenpath yesterday.

Nadira beat Nawahali de Silva 6/3, 6/2 on the opening day of the championships worth Rs. 200,000 conducted by the SLTA Playing Section.

All the seeded players won through with ease with only C.C. Vidanaarachchi who beat G.de.Silva 6/2, 7/5 in a tie breaker.

Results

Boys - U-18 Singles 1st Round

N. Nishendran bt R. Rodriguez - 6/0, 6/3.

D. Abeygunawardena bt D. Dias - 6/2, 6/1. D. Ranaweera bt R. Perera - 6/2, 6/2. C.C. Vidanaarachi bt G. De Silva 6/2, 7/5.

Boys - U-16 Singles 1st Round

C. Vidanaarachi bt D. Kaneshayogan - 7/5, 6/3.

R.Rodriguez bt D.Dias - 6/2 , 6/4. P. Haputhantri bt H. Jayasuriya - 6/4, 2/6, 6/0. S. Sabanathan bt R.Subra-maniam - 6/2, 6/0.O. Wijemanne bt S. Premananda - 4/6, 6/4, 6/4. A. Rupasinghe bt S.Wickrama-singhe - 6/2, 6/2. D. Abeygunawardena bt J. Ganendran - 6/2, 6/4. M. Jayasundera bt H. de Silva - 6/3, 6/2. D. Wijesuriya bt D. Senaratne - 6/3. 6/3. F. Emmanual bt G.de Silva - 6/1, 6/2. H.Godamanne bt A. Arulpragasam - 6/0, 6/0. N. Rajakaruna bt S. Patrick - 6/2, 6/0. U.Wickramasinghe bt D. Ebrahim - 6/0, 6/3. S.Sashivaranan bt N. Wickramasinghe - 6/0, 6/0

Boys - U-14 Singles 1st Round

N.Nishendran bt U. Wickramasinghe - 6/1, 6/3. O. Wijemanne bt S. Fernando - 6/0, 6/0. H. De.Silva bt G. Wirasekera - 7/6, 6/3. N.Nishendran bt K. Sudusinghe - 6/1, 6/0. Y. Jayasekera bt D. Wijesuriya - 6/1, 6/1.

---
HNB-B in final
Hatton National Bank B qualified to meet Sankem Lanka in the Mercantile B division cricket limited overs final, scheduled to be played at the P. Sara Stadium on Saturday June 24.

In the semi-finals played yesterday Hatton National Bank B beat Informaticis by 111 runs at the Colts grounds and Sankem Lanka beat Uni-Chella by 5 wickets at the NCC grounds. Hatton National Bank B beat Informatics.

HNB 218 for 9 in 50 overs. R. Jaymon 34, M.Gajanayake 16, D.Arnolda 16, Varuna Waragoda 17, M. Perera 22, D.Liyanage 23, L. Fernando 28, C. Perera 2/32, N.Hettiarachchi 2/40, N. Peiris 2/36. Imformatics 107 all out in 37 overs. J. Perera 19, N. Peiris 15, N. Mendis 22, D.Arnolda 3/26, H. Rushie 2/25.

Sankem Lanka beat Uni-Chella Uni-Chella 178 all out in 49.2 overs.

R.Handunhetti 29, W. Samaranayake 34, U. Dinuk 36, C. Liyanage 19, H. Alles 3/22, P. Jayasekera 3/31, K. Abeysekera 3/41. Sankem Lanka 181 for 5 in 47. 1 overs.

---
Late rally helps CH drown Navy 15-6
By Bernie Wijesekera
The defending Le Bond Trophy under-24 champions CH & FC had to fight hard to earn a 15 (goal, a try and a penalty) to 6 (two penalties), in their Cup semi-final match, at Havelock Park, last evening. Its beeing sponsored by Western Province RFU.

At the interval CH were leading 8-6 .

The Maitland Creascent Club virtually fielding their 'A' div. team were made to grope in the dark despite a well-knit side. The sailors played a robust brand of rugby and had the CH back division back pedalling. Their hard tackling, thwarted many a CH move. Though CH led by their hardy No. 8 Shyam Subaullah, but couldn't make much head way in the first half.

The sailors opened scoring with a penalty put over Shyam Pradeep, to lead 3-0. But CH hit back with a dandy try scored by scrum half Milinda Jayasinghe which went unconverted - 5-3, with the ball moving pendulum-wise. CH earned a penalty, put over by Dinuk Wijeratne to lead 8-3.

But the unyielding Navy hit back with another penalty put over by Shyam Pradeep to make it 8-6 atthe short whistle. In the second half Navy kept on pressing with the CH defence in a disarray They had two penalty kicks one in front 30 yards out. But Pradeep's kicks lacked direction.

The defending champions kept on pressing for nearly 10 minutes in the Navy '25' but failed to cross the line. It was a comedy of errors.

Minute before the short whistle CH got their act-together. Mohamed Tuan criss-crossed his way over the line to put the issue beyond doubt. Dinuk Wijeratne added the extra points.

Referee. Mahinda Jayawardena.

Old Zahirians win

In the Plate semi-final that preceded, the old Zahirians who were led 5-0 by the gritty Old Cambrians at the break, earned a hard fought 10 (a goal and a penalty ) to 8 (a try and a penalty) in a hard fought match.

For the winners fly-half M. Rinaz scored the solitary try. It was converted by M. Fazmi. Fazmi also put over a penalty to edge out the Old Cambrians in a thriller. For the Mortuwa club Roshan Dissanayake scored an unconverted try. While Danushka Bubudu put over a penalty. Referee - Priyantha Grero.