| | |
| --- | --- |
| Poorni, Photographed by ranjith Perera, Location: The Lodge - Habarana | Contents |
---
Moves to arrest music piracy
By Sanath Weerasuriya
Here is good news for all the music lovers in Sri Lanka, who listen to original music . The prices of Original Sony CDs have come down, English Original CDs from Rs. 1099/- to now only Rs. 799/- and Hindi Original CDs from Rs. 799/- to Rs. 550/- and for Original English cassettes to Rs. 250/- only and for Original Hindi cassettes to Rs. 150/-.

This has been done to kill the piracy in Sri Lanka by Sony Music ,so that people can afford to buy the Original CDs and Cassettes and these prices are cheaper than prices prevailing in neighbouring countries. Sony Music has appointed M Entertainments (Pvt) Ltd., as their sole distributor of Sri Lanka.

A collection of "Nothing But the Best Dance Hits- Best 2000", the album lives up to its name. 'Best 2000' album is the star attraction of this week's Original Music Contest.

It contains the biggest tracks that are pumping in the better nightclubs all over the country and the world. Tracks like: Blue (Da Ba dee) - Eiffel 65, King of My Castle - Wamdue Project, Get get Down - Paul Johnson, Better off Alone - DJ Jurgen presents Alice Deejay, Sun is Shining - Bob Marley feat Funkstar Deluxe, Kiss (When the sun Don't shine) - Vengaboys, We're Goin' to Ibiza (Hitclub Airplay Mix) - Vengaboys.

Other than these mega tracks, 'Best 2000 'also contains an updated 90-fied version of the Abba classic "Honey Honey", Lets "Live for Today" by Dreamhouse - (The guys that gave you the classic sing along track - "Sha la La), "Planet Love" - a great trance track by DJ Quicksilver and great tracks by up and comers like Tiggy, Solid base and Watergate.

The Sri Lankan market has always been historically in favour of dance music as a genre. With the exposure to more international avenues - like discotheques, magazines, the market has evolved to accept dance music that goes beyond 'Cheese' - i.e., beyond Modern Talking and Aqua.

Winner of the fabulous Original 'Max 6' CD of Contest No 7is D. Perera of Badulla. Winner of original audio cassette is R. Fernando of Ja-Ela and U. Jayawardena of Ratmalana.

The Sunday Times in association with Sony Music and Maharaja Entertainments (Pvt) Ltd., brings to you an opportunity to win original CD and Cassettes every week, of great artistes.

All you have to is answer the simple question on the coupon and send your entries by post to:

Listen To Original Music Contest No 10.
C/o Maharaja Entertainments (Pvt) Ltd.,
330, T.B. Jayah Mawatha,
Colombo 10.

Tel: +94 1 672425-8, Fax: +94 1 699070 E-Mail:me@lgo.lk before May 24, 2000 (i.e., within 10 days).

All the entries must be originals and no photocopies or faxes will be entertained. All correct entries will be drawn by draw.

Employees of The Sunday Times and Maharaja Entertainments (Pvt) Ltd., and their family members will not be entitled to take part in the contest.

---
'Rock-Squad' seems solid
Rock-Squad is a two-piece band consisting of veteran song writer composer and Recording Artist Channa Monnekulame and his wife Mignonne.

Channa and Mignonne used to play in the Hotel Resort Circuits as far back as the early 90's. but decided to take a break from the Music scene when the couple had to travel overseas with their eldest daughter Rebecca.

They now live in Sri Lanka. Channa's compositions range from a variety of Pop, Rock and Ballads. Channa also has worked very closely with Priyanka Beddevithana, a popular musician in Sri Lanka.

Channa had his education at St. Anthony's College Kandy. He had his first debut stage performance in 1971 with the Fortunes, headed by Stanley Peiris, who was the Arts Master. Channa had been handpicked by Stanley for various occasions such as Talent Contests in the Kandy District where he had won many awards. Mignonne too had taken part in many competitions and also both of them had been members of The Moratuwa Choral Society led by the late Lylie Godridge.

Channa has to travel very frequently overseas, at times stopping over in one location for just two weeks. He is currently working for a Company based out of USA handling operations in South East Asia. But there is one companion that travels with him all the way, his mate, a Yamaha APX-1 Travel Guitar.

Channa says there is no particular place or where you could write and compose a song. "Will you still be there for me" was composed at Subic Bay in the Philippines and it was in dedication for his father the late D.B. Monnekulame. Then he also wrote "Kids Love Loads of Fun" for the "Rainbows" on board an AirLanka flight between Bangkok and Colombo.

"Rainbows" comprise of his three little daughters Rebecca, Natalie and Brenda. The first song to be released by Rock-Squad "Sweet Sweet Love" was composed in Guam in a Hotel room, Channa said. Rock-Squad will be joining hands with one of the Recording Companies in Manila Philippines, where they will produce and market a few songs in South East Asia! Rock-Squad also plans to complete an Album by the end of this year.

Rebecca Monnekulame, Age: 9, Natalie Monnekulame, Age: 6 and Brenda Monnekulame, Age: 5 comprises "Rainbows"

All three girls are students of Our Lady of Victories Convent Moratuwa. The three girls love to act like the spice girls, whenever they are asked to sing at family gatherings. Rebecca, the eldest loves Ballet and also could play keyboards. Natalie and Brenda are good at singing and dancing.

"Kids Love Loads of Fun" was their first ever song to be recorded which is now being aired by SLBC. This song is a composition of Channa together with his wife Mignonne.

---
Bonsoir Vesak Special
Yasmin and Kumar invite you to join them on a special Bonsoir programme at the Gangaramaya in Colombo to mark Vesak Full Moon Day.

Bonsoir - 8.00 p.m. - Mon. 15th May - ITN

---
No Ball for HCIMA
'HCIMA Millennium Ball 2000' the dinner dance scheduled to be held on June 3 at Holiday Inn has been postponed indefinitely due to the prevailing security situation.

The inconvenience is regretted, said a press release from the 'Hotel and Catering International Management Association (HCIMA).

---
'The World is Not Enough'
Bond is back in Colombo
'American Beauty', 'Gladiator' and 'Haunting' are in line for release soon at the Liberty
By Sanath Weerasuriya
Finally he has come to Colombo. The sexy super spy James Bond is now in action at the Liberty Cinema in his nineteenth Bond movie 'World Is Not Enough' directed by Michael Apted.

Pierce Brosnan returns as super spy James Bond in this third successive 007 outing. He faces his toughest assignment in the 19th series of the longest running and most successful film franchise in cinema history. The latest production "The World Is Not Enough" cost over USD 110 million.

The latest 007 extravaganza, takes on a high tech adventure, around the world, starting from the banks of Nervion River in Bilbao, Spain to a spectacular high speed boat chase up the London River Thames, hurtling down thru' the Scottish highlands, skiing down picturesque Swiss Alps slopes, then to mysterious Istanbul, the Caspian Sea in Azerbaijan and ends in the Millennium Dome in London.

James Bond (Pierce Brosnan, in his third appearance in the role of the world's best known secret agent) barely survives a potential nuclear explosion in a vast oil pipeline in Turkey - all in the name of protecting beautiful oil heiress Elektra King (Sophie Marceau) from notorious international terrorist Renard (Robert Carlyle).

With nuclear weapons expert Dr. Christmas Jones (Denise Richards) at his side, Bond travels to Azerbaijan, the Caspian Sea and Istanbul. There, a former enemy (Robbie Coltrane) becomes a formidable ally before the final dramatic showdown in the claustrophobic confines of a nuclear submarine beneath the surface of the Bosphorus Sea.

The 'World Is Not Enough' is an exhilarating adventure that takes all of the compelling elements expected of the Bond series and sets them against the background of a contemporary crisis on the cutting edge of today's news.

'The World Is Not Enough' also stars Desmond Llewelyn, who returns as weapons and gadget wizard Q, as well as Dame Judi Dench who won an Oscar for her role as Queen Elizebeth in 'Shakespeare In Love' as M and Samantha Bond as Moneypenny. Robbie Coltrane reprises the character of double agent Valentin Zukovsky. The film also features John Cleese as Q's assistant, Serena Scott Thomas as Dr. Holly Warmflash, who ministers to Bond Maria Grazia Cucinotta as Cigar Girl and music artist Goldie as Bull, Zukovsky's chauffeur.

French super star (Sophie Marceau) plays the mysterious Elektra King (Brave Heart's Marceaus the beautiful daughter of a British oil tycoon owning oil refineries around the world. Her father is assassinated and she inherits a lot of money and power. It seems that Elektra is responsible for all the bad things. James Bond (Pierce Brosnan) is hired to investigate into his murder with the help of nuclear weapon expert Dr. Christmas (Denise Richards) as she could be the next victim. With her at his side he travels to Istanbul, where he must take on a villain who feels no physical pain before the final dramatic confrontation.

The key element in the production is the strikingly exotic locations and visually stunning scenery. The latest high-tech gadgetry is involved in this latest production such as hydro boat that operates in 3 inch water, a BMW (Z8) car, the absolute latest in surveillance and counter measure, missilles in headlamps, display to pick up conversation, and bagpipes that fire bullets and many more.

Another gadget driven-scene involves a helicopter attack on Bond with a 17 ft chain-saw suspended which cuts a car in half.

Another hallmark of James Bond films are the spectacular stunts. An element that added realism to the film was the actors did their own stunts. Brosnan did his own boat racing and Marceau was great on skis in the French Alps. The film boasts some of the most breath-taking action sequences ever photographed.

It is estimated that the total number of cinema admissions to all the Bond pictures is now way past the two billion mark. The Liberty Cinema in Colombo is showing 'The World Is Not Enough' to the packed audiences.

Meanwhile, according to Mr. Saban of the Liberty Cinema top Hollywood movies are in line to come to Colombo after the Bond film moves out.

'American Beauty', 'Gladiator', 'Double Jeopardy', 'Haunting' are some of the hot stuff to be screened in Liberty. 'Avalanche' will be the next movie at Liberty.

Sean Connery starred as 007 in the first five films, Australian actor George Lazenby played the part in 'On Her Majesty's Secret Service'. Connery returned one more time to star in 'Diamonds Are Forever'. Roger Moore became Bond with 'Live And Let Die' and starred as the British agent for a record 13 years in seven movies. Timothy Dalton took over the role for 'The Living Daylights' and 'Licence to Kill'.

Pierce Brosnan became the latest James Bond in 'Golden Eye', followed by 'Tomorrow Never Dies' and, now 'The World Is Not Enough'.

---
'Hai Hooi Babi Aachchi' New comedy in line
By Suni Jayasiri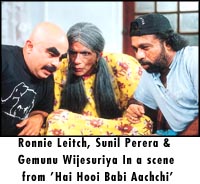 'Hai Hooi Babi Aachchi' is another new comedy film scheduled to be screened in Sri Lankan cinemas in the near future.

The film is based on a boarding house and its boarders.

Aunty Dotty runs a boarding house. She has three daughters - Rupika, Yasodhara and Payodhara. There are four boarders at Dotty's boarding place. Sahabandu and his friend Costa occupying one room and Kimbulpitiya and his side-kick Pussella occupy the other.

The story, in a nutshell, is the battle between Sahabandu and Kimbulpitiya to win over the heart of the eldest girl Rupika. Dotty prefers the latter, because he is an aspiring politician contesting a Pradeshiya Sabha seat. But Dotty's mother Babi Aachchi backs Sahabandu. The girl too loves Sahabandu.

Sahabandu enlists the services of a thug Malu Kade Jora to get rid of Kimbulpitiya, while he in turn, hires a thug called Belek Kade Saima to evict Sahabandu. But finally it is Dotty's mother Babi Aachchi, who hatches a plan.

Ultimately they get Dotty's approval for Rupika and Sahabandu to tie the nuptial knot.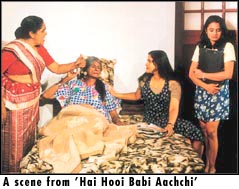 This two-hour comedy was written and directed by Herbert Ranjit Peiris. This is his first film since he did 'Ektamge' way back in 1977.
The film is produced by Lalinda Wijewickrema.
The cast comprises Bandu Samarasinghe, Ratna Sumanapala, Sajeewa Malmala Arachchi, Swarnamalie Gamalathge, Sasanthi Jayasekera, Wimal Kumara de Costa, Quintus Weerakoon, Sunil Hettiarachchi, Ronnie Leitch, Sunil Perera of Gypsies, Gemunu Wijesuriya.
Camera is by G. Nandasena, Editor and Asst. Director is Lal Priyadeva, music directed by Sarath de Alwis, make-up Mano Sevaraj, art director Wimaljith Dombagahawatte.
---

"Ira Bata Tharuwa":A mother in search of the daughter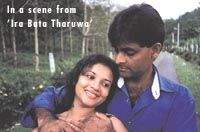 "Ira Bata Tharuwa" (Venus) is to be telecast on Rupavahini every Monday at 8.30 pm from next month.

The 15 episode tele drama is the first co-production completed in a joint venture in London and Sri Lanka.

It is the first production of film star Sriyani Amarasena, co-produced with few Sri Lankans in London.

Buckingham Palace, Trafalgar Square, Picadilly and Strat ford upon-Avon. The rest of the filming was done in locations in Mathugama, Agalawatta and Baduraliya.

"It was a remarkable experience to film a teledrama in London" Sriyani Amerasena said.

The tragic story of the teledrama is woven around a mother who goes to London in search of her lost daughter twenty years ago.

'Sirinatha Unanthenna', owner of a large property, lives with his second wife.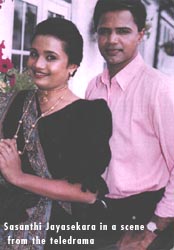 The couple with his wife Swarnamali Kumarihami lived happily though they did not have children.
Swarnamali was from a rich upcountry family and was the only child in 'Damunupola family'. Educated in a well known school, Swarnamali was boarded in the college hostel and came home whenever she got a free time.
'Abayadeera' who had finished his studies and waiting for the results was a son of servant in the estate belong to Swarnamali's father.
During Swarnamali's not very frequent visits to the state results in a friendship with Abayadeera. The friendship develops in to a love affair leaving Swarnamali with child.
The parents of the girl upset over the affair threaten the father of the boy.
Meanwhile 'Abayadeera' meets with a fatal accident and Swarnamali is sent to live with her family'.
After the birth, the child was handed over to a couple living in London Would this separation of the child and mother be forever?
The script was written by Daya Alwis. "Ira Bata Tharuwa" is directed by young Sudath Rohana to the music direction of Somasiri Meda-gedara.
The large cast includes Sriyani Amerasena, Daya Alwis, Sasanthi Jayasekara, Jaya Sri Chandrajith, Indrajith Navinna, Robin Fernando and many others from Sri Lanka and London.

---
Udayakantha's new film
Udayakantha Warnasuriya's 'Rajya Sevaya Pinisai' will be released in the prestigious fifth circuit soon.

According to Udayakantha, the movie is graded as a fifth circuit production, from the NFC and now waiting its release.

'Rajya Sevaya Pinisai' is the latest film on the late eighties terror period, written and directed by Udayakantha.

The cast includes Joe Abeywickrema, Sanath Gunathilake, Geetha Kumarasinghe, Linton Semage and other well known faces in the local movie scene.

The film is based on some true to life incidents that happened in this country ten years ago.

Meanwhile, the muhurath was held last week to begin the latest production of a new film by Warnasuriya.

The name is not yet given to this new film but the cast comprises, Ranjan Ramanayake, Kanchana Mendis and a newcomer Samanthi Nisansala.

This will be the fifteenth production of EAP films.
---

'British Film Festival 2000'
'British Film Festival 2000', organised by the National Film Corporation in collaboration with British Council will be held at the Elphinstone Theatre from May 22-28.

Some of the all time favourites and the current hits are lined up at this festival.

'Woman in Love' directed by Ken Russel will be screened on Monday, May 22.

The latest movies like 'Notting Hill', 'My Name is Joe' and 'Topsy Turvy' and 'With or Without You' will be screened on May 25, 26, 27 and 28.

'The Remains of The Day' directed by James Ivory and 'Sense and Sensibility' by Ang Lee will be on May 23 and 24.

The tickets are priced as Rs. 56 (balcony), Rs. 30 (ODC) and Rs. 20 (DC).

---
'Ultimate' is the latest in band
By Sanath Weerasuriya
'Ultimate' is the newest hit in the local Western music scene.

The six piece band is led by Manjula Gunasekera popularly known as 'Sudu' in the scene.

'Band of my own was my dream and I'm really happy to achieve my goal at the end,' Sudu said.

'Ultimate' comprises Sudu on keyboards, Thilak Dias on bass, Lal Weliwita on drums, Sudath Munaweera, Nicholas Gunasekera (Niki) on vocals and Corrine Almeida.

Niki is the newly found singer and this is his first appearance with a band.

Sudath was with 'Heat' and Thilak and Lal were two well experienced musicians in the scene.

'Ultimate' is in action at 'Thorana Lounge' at Hilton on Sundays and Mondays.

'We were at 'Cyclone' on Friday and Saturday for the last two weeks as the regular band Aquarius were on a overseas tour,' Corrine said.

Corrine, of course is just freelancing and she sings with other bands too.

'I still work with Gypsies. I do not want to be tied down with hotel contracts, that is why I always want to do freelance singing,' she said.