---
Zimbabwe take defensive stand
Channaka de Silva reporting from Matara
Zimbabwe 'A' resigned themselves early into a defensive mode killing interest of the game by their negative batting on the third and penultimate day of the third and final cricket Test against Sri Lanka 'A' here in Matara yesterday.
After beginnning their second innings 118 runs behind the visitors grafted on painstakingly for 48 overs just to score 51 for 1 by stumps.
Sri Lankan bowlers however looked less penetrative in the evening and the 1-nil series lead held by the locals after their victory inthe second Test is unlikely to improve if the Zimbabweans continue in the similar vein today.
Zimbabwe openers batted for38 overs before Douglas Marillier was bowled by left arm leg spinner Rangana Herath for 20 after two and a half hours. By close opener Raymond Price who batted for four hours to score just 13 had scored 13 not out in the second innings after a three hour stay. Earlier local boy Indika De Saram waged a lonely battle with a spectacular ton which was greeted warmly by his home crowd lighting fire crackers around the ground.
De Saram's dominance is clear by the fact that none of the other batsmen from both sides managed to reach at least 30 runs.
De Saram, who played for St. Thomas' Matara as a schoolboy entertained his home fans with an excellent 143 on the Uyanwatte Stadium where he grew up in his childhood to spearhead the Lankan reply as wickets fell at the other end at an alarming rate. The next highest scorer of theSri Lankan innings was tail-ender Herath who made 18 as the Sri Lankans were finally dismissed for 244 shortly before tea.
The wiry Tamil Union right hander smashed 13 fours in 288 deliveries in a determined six-hour stay at the middle. Skipper Tilan Samaraweera, De Saram's overnight partner, departed early yesterday after an 80 run stand for the fifth wicket with De Saram having pushed the total to 135. Samaraweera, who made a century in the second Test in Galle, made only 13 but stayed at the crease for 242 minutes.
Then Test spinner Rangana Herath associated De Saram in a 54 run eighth wicket partnership that brought the total up to 230.
Left hander Herath, who came in at no. 9, became the next highest scorer to De Saram with a fine 18, which lasted 78 minutes. Except for Indika De Saram, none of the other batsmen looked to be in command against the tourists as they did in the earlier two Tests.
Extras were the second highest contribution to the total with 20.
Left arm leg spinner Raymond Price finished with the best figures of 4 for 67 whilst skipper Angus Mckay captured 3 for 46.
SCOREBOARD
Zimbabwe A first innings - 126 all out
Sri Lanka A first innings - 119 for 4 overnight
Avishka Gunewardena b Mutendra 3
Pradeep Hewage lbw b Mckay 8
Indika de Saram ct. Marillier by Gavin Rennie 143
Kumar Sangakkara c Marillier b Mckay 0
Chamara Silva c Marillier b Peacock 10
Tilan Samaraweera b Mckay 13
Prasanna Jayawardena lbw b Raymond Price 7
Dinusha Fernando b Raymond Price 0
Rangana Herath b Raymond Price 18
Malinga Bandara b Raymond Price 5
Ranga Dilhara n.o. 7
Extras: (b-15, lb-3, nb-2) 20
Total: (all out in 101.3 overs, 421 mts.) 244
Fall: 1-21 (Gunewardena), 2-28 (Hewage), 3-28 (Sangakkara), 4-55 (Silva), 5-135 (Samaraweera), 6-164 (Jayawardena), 7-166 (Fernando), 8-230 (Herath), 9-232 (De Saram).
Bowling: David Mutendra 11-2-33-1; Angus Mckay 26-12-46-3; Ray Price 37.3-14-67-4; Daniel Peacock 18-2-56-1; Gavin Rennie 9-1-24-1.
Zimbabwe A second innings
David Marillier b Rangana Herath 20
Raymond Price n.o. 13
Greg Lamb n.o. 6
Extras: (b-5, lb-4, nb-3) 12
Total: (for 1 wkts,in 48 overs, 188 mts.) 51
Fall: 1-40 (Marillier).
Bowling: Dinusha Fernando 3-1-3-0; Ranga Dilhara 6-1-11-0; Rangana Herath 17-11-7-1; Tilan Samaraweera 13-8-6-0; Malinga Bandara 9-5-15-0
---
Army guns blast Kandy
By Bernie Wijesekera
The battle scarred soldiers provided vintage rugby at Havelock Park last evening when they had all cylinders firing to outclass the reigning A league champions Kandy SC by 26 points (a goal, 2 tries and 3 penalties) to 24 (3 tries and 3 penalties) in a rousing game yesterday. Army led 15-11 at the break.
It was a fine game of rugby dished out by both sides where the ball moved pendulum wise. Kandy had a heavy pack where they had the weight and strength to ruck and maul to plough over the light soldiers 'eight'. But to counter them, the soldiers had abundant stamina, guts and determination to be in contention to the bitter end.
The soldiers moved the ball constantly to make gaping holes in the KSC defence, despite the presence of fullback Nalaka Weerakkody, who was a beacon be it in defence or in attack forming the over lap. The crowds, for the first time, had the chance of watching a match where both sides gave nothing away. They are sure to make a come back which augurs well for the game, thanks to the soldiers, who showed improved skills of handling the ball. It was a fine display of running rugby. The showpiece of the match was the two superb tries scored by centre-three Vajira Jayatilleke when he breached the KFC defence to fall under the posts in the second half. Fullback K.A.Silva added the extra points.
Then, during the dying stages of the match Kandy leading 24-21 winger Mohammed Naushad scored a spectacular try despite being tackled by Weerakkody, to roll over the corner flag amidst jubilation for the soldiers to register a heart-throbbing 26-24 win.
In the first half B. Dharmapala, off a scrum in the KSC 25,
bull-dozed his way against a hapless Kandy defence for an unconverted try.
Fullback T.A. Silva with his kicking boots put over three penalties from varying angles and converted a try to put them in front. Kandy, despite getting much good ball, failed to run it and played in patches. Even with the presence of Asoka Jayasena in place of Pradeep Basnayake, couldn't fight their cause. Radhika Hettiarachchi, the hard-running winger was most impressive for the visitors with the scorching runs when he scored all three tries for the defending champions. Of course helped by the forwards which went unconverted. Weerakkody put over three penalties.
All in all it was a luke warm display by the Kandy back division where the fitter little soldiers with bruising tackling had them back pedalling.
Referee Dilroy Fernando.
---
SACK stun Trinity
By Aubrey Kuruppu
The Antonians stunned Trinity and sent them hurtling to defeat by 29 points (3 goals, 1 try, 1 penalty) to 18 (1 goal, 1 try and 2 penalties) at Pallekelle yesterday.
Skipper Ashan Cooray and Dissanaike, the Antonians halves combination, contributed in no small measure towards this famous victory. The Trinity back division showed flashes of speed. However the forwards were not at their best and this led to their down fall. Referee Shamrath Fernando
* In a tense bruising battle between two of the best teams in the hills Kingswood just pipped Vidyartha by 15 points to 13 at Nittawela yestyerday. At half time the losers were in front 10-7.
Trailing 12-13 Kingswood seized the lead a few minutes before full time. However in the verylast minute of play Vidyartha's reliable place kicker failed with a penalty that would have sealed the fate of Kingswood.
* St. Sylvester's, who are currently on a bit of a roll, created a surprise of sorts by beating Dharmaraja 5-0. The solitary try of the match came mid way inthefirsthalf through the efforts of scrum half Kumara.
The Rajans who boast of many U-19 national players found that this was just not their day. Rugged and nuggety Sylvestrians held on to that early lead to emerge winners.
---
Boxing trials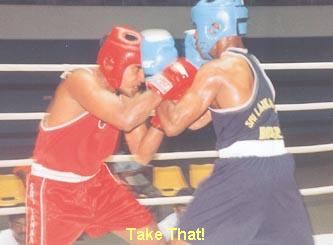 In a close punching bout C.L.K. Anthony of the Army (blue) beat K.S.C. S. Perera of the Air Force (in red) in the Welter Weight class at the Boxing Trials held at the Sugathadasa Indoor Stadium. These trials are being held in preparation for international meets. Pic by J.C. Weerasekera.
---
Thurstan sneak past Mahanama
By Jatila Karawita
Thurstan College, sans five key players through injury, were made to come out with all stops, to see off a fighting Mahanama College, as the former edged out the latter by 5 points to nil, in an evenly contested Inter-School rugby encounter, at Bullers Road yesterday.
At half time the scores were nil all.
Thurstan who went into this game, as the more fancied side on paper, were made to huff and puff their way to victory, by the unfancied Mahanama XV, before the Colombo 7 school, managed to pull it off in their favour, late in the second half.
---
Simultaneous bridge at Orient Club
The 14th worldwide simultaneous bridge championships conducted by the World Bridge Federation will be held on Friday, June 2. Over 100,000 bridge players from over 100 countries will participate in this unique event.
The Bridge Federation of Sri Lanka will conduct the event at the Orient Club on June 2 from 6.30 p.m. to 9.30 p.m. All bridge players are invited to participate in this event.
For further details contact the Tournament Secretary T. Shanmugalingam on 078641869 or Tournament Director S. V. Kandaswamy on 432049. Entries will be accepted till 6. p.m. on June 2.