News blackout: rumours rule the day
Taking advantage of a relative lull in the fighting in the past three days, both troops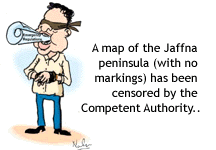 For the troops, who are war weary, it has been a daunting task. Censored Censored of them were forced to withdraw by April 22 from the strategic Elephant Pass Complex,
They were consolidating their defences in Pallai, a coconut palm fringed area nine kilometres north of Elephant Pass, when they came under fierce artillery and mortar attacks from Tiger guerrillas. Taking advantage of these barrages, the guerrillas attacked troop positions on the southern and north eastern flanks.
who came under intense pressure forced them to retreat Censored Censored
A press release from the Operational Headquarters of the Ministry of Defence said an officer and 13 soldiers were killed. A further 14 officers and 222 soldiers were wounded in action.
Barely a day later, the LTTE handed over to the International Committee of the Red Cross (ICRC) 42 bodies said to be those of soldiers. A further 17 bodies were handed over the next day. That alone brings the total of those killed in action to 73 not to mention the injured. This was reminiscent of the troop withdrawal and abandoning of Elephant Pass. Army Commander, Lt. Gen. Srilal Weerasooria, declared that eight officers and 80 soldiers had died. The very next day the ICRC declared it was handing over bodies of 126 soldiers.
Little wonder that after introducing far reaching regulations under the Public Security Ordinance, Media Minister Mangala Samaraweera, had to personally oversee the setting up of a Special Media Information Centre at the Information Department in Polhengoda, Kirulapone, to disseminate information on the prevailing security situation. This was under a tighter censorship on the local media and the inclusion of foreign media.
This is what the Op Hq had to say:
"On 30 April 2000 during daytime fierce fighting erupted in Pallai, north of Elephant Pass, ahead of the main defence line now being constructed after the vacation of Elephant Pass camp. The delay positions which were deployed were engaged by the terrorists simultaneously with a heavy volume of artillery and mortar fire. The troops manning positions in Ittavil, north east of Pallai, were engaged by the terrorists from north and south at the same time. They were forced to withdraw towards Vempotukrni with a large number of casualties. Similarly the troops deployed in Pulopallai and Pallai too withdrew to Vempatukereni in contact with enemy after receiving heavy casualties.
"Similarly troops are now deployed in their delaying positions, in areas north of Pallai ahead of the main defence line.
"During this withdrawal in contact 01 officer and 13 soldiers were killed in action. 14 officers and 222 soldiers were wounded in action.
"Own Artillery and Ground Attack Aircraft of the Sri Lanka Air Force engaged terrorist positions in depth. Monitored terrorist transmissions confirm large number of terrorists were killed and injured due to Artillery and air attacks."

Censored This is how it has been described "Similarly the troops deployed in Pulopullai and Pallai too withdrew to Vempatukerni in contact with enemy after receiving heavy casualties." Humorous enough. Is the Operational Headquarters of the Ministry of Defence trying to tell Sri Lankans and the outside world that both troops and the enemy fell back to Vempatukerni together? This Op Hq news release came 24 hours after the troops had made a retreat from Pallai.
Quite clearly, the fighting at Pallai had inflicted heavy casualties on both troops and Tiger guerrillas. A high ranking Army official who did not wish to be identified said during their artillery attacks to defend Pallai, 157 Tiger guerrillas had been killed in one encounter. This had included an LTTE top runger, Banu who is described as head of the Artillery Wing. The official claimed that heavy casualties and logistical problems have slowed down an LTTE thrust.
But other sources said the LTTE was re-grouping and were studying the new security forces defence positions. This was whilst directing sporadic artillery and mortar fire to keep the pressure on. They say a resumption of attacks can come anytime now.
Troops have now positioned themselves on the outer fringe of Eluthumaduval along the A-9 (Jaffna-Kandy) highway. Whilst their defences north easterly are linked to Nagerkovil, in the west it extends to Kilali where a Naval unit is also located.
Early this week, fears of an LTTE thrust to break through Eluthumaduval defences and forge ahead towards Jaffna led to alarm bells in the defence and political establishment in Colombo. This was underscored by Media Minister Mangala Samaraweera on Thursday night when he met representatives of the foreign media to explain the new regulations under the Public Security Ordinance and the new censorship.
At Temple Trees where President Chandrika Bandaranaike Kumaratunga was personally supervising measures, several questions came to the fore. How does one stop the Tiger guerrilla advance towards Jaffna with aerial bombardment capabilities of the Sri Lanka Air Force
President Kumaratunga appealed for assistance from four countries – India, Pakistan, China and Israel. For obvious reasons, what form of assistance was sought cannot be spelt out except to say they were directly linked to halting the LTTE advance to Jaffna. President Kumaratunga also asked the Commanders of the Army, Navy and Air Force to come up with plans
She also presided at a top level meeting with senior Cabinet Ministers to formulate the Government strategy. The discussions centered on halting developments
Disclosures made by wounded soldiers in interviews to local media were causing greater embarrassment. Intelligence warnings had spoken of attempts by radical groups to rouse communal passions and attack Tamils living in the City and suburbs.
By Wednesday, the Government response was taking shape. President Kumaratunga chaired a meeting of PA organisers. Deputy Defence Minister, Anuruddha Ratwatte, the man who ran the military machine and plucked all the kudos for military victories, explained how the withdrawal at Elephant Pass became necessary. Minister Ratwatte who told Parliament during last month's extension of the State of Emergency that Government would under no circumstances give up Elephant Pass made a new assurance.
Minister Ratwatte later gave a similar explanation to the Government Parliamentary Group. Other speakers were critical of media reports about Elephant Pass. One private radio station, one of them complained, had run interviews with persons purporting to be soldiers. But they were not. They called upon President Kumaratunga, who was in the chair, to take immediate action to prevent what they called the dangerous situation that was being created.
The weekly Cabinet session that began on Wednesday evening went on till the wee hours of Thursday morning. Ministers agreed unanimously to place the country on a "war footing" and promulgate tough new regulations to seize property or services of persons, ban meetings and publications on grounds of national security. These regulations also placed further curbs on censorship of the local media and brought in the foreign media too. Military officials and others have been named to run essential services, civil security and troops together with Police have been empowered to search premises or arrest any persons.
Minister Samaraweera told Thursday's briefing for the foreign media Censored

"civil defence committees" are being set up to deal with such a situation. " The Government has an option for every possibility," he declared.
Explaining the reasons for placing the country on a "war footing", Mr. Samaraweera said the "vast majority of our people don't feel the pain of war" He said the peace process will go on despite the intensification of the military campaign against Tiger guerrillas.
In another unexpected development, President Kumaratunga also met a group of retired Army and Navy officers, the majority of them who supported the PA during the 1994 Parliamentary Elections. They were briefed by General Rohan de S. Daluwatte, Chief of Defence Staff. Later, they formed themselves into Committees to make recommendations on various specific areas where there were shortcomings – Electronic Warfare, Psychological Operations, Colombo Security and human resources among others. They are due to meet President Kumaratunga in the coming week.
Whilst the intensity of operations in the peninsula has somewhat slowed down after the confrontations at Elephant Pass, there is considerable speculation and rumour in the rest of the country regarding the "war" situation. Not unnaturally, with the degree of media censorship in force.
The public starved of information of the war other than what is released through censored reportage is grist to the mill of exaggerated fact and rumour which, to a public already fazed with political and economic incredulities, only contributes to further distance itself from the grim reality of the crises facing the nation. A situation that does not inspire national fervour so essential at this juncture. To the contrary, it only adds to further scocio-political suspicions that have been a bane to the development and progress of this country.
It is admitted that irresponsible reporting could jeopardise security, a wholly unacceptable situation. But it also must be accepted that the media could play an essential and vital role to muster the nation to support the government at this moment of crises.
There is an undeniable public apathy to the conduct of the war created as a direct result of massive corruption and mismanagement. These have been, in the public mind, some of the reasons that have led to the military reversals and the current crises. They are matters of public interest and cannot be swept under the carpet. Public confidence and support can only be expected with openness and transparency. For that, freedom of the media is sine qua non. Over-censorship could well be counter productive to the national requirement.