Conquering the skies
Aviation buff Roger Thiedeman looks back on the pioneering days
The aviation age in Sri Lanka (Ceylon) dawned only a decade after this century began and a mere eight years since the Wright brothers did their thing at Kitty Hawk, North Carolina. It all started here when a Bleriot monoplane was imported in 1911 by an Englishman, Colin Browne. Not until 1943, however, did Ceylon take a giant step onto international aviation route maps. When Japan invaded Singapore in 1942, the vital aerial lifeline linking Britain and Australia was suddenly severed. The next year, a bold solution to this setback restored wartime travel and communications between both countries over the shorter Asian route.
Flying nonstop across the Indian Ocean, Catalina flying boats of Qantas Empire Airways began connecting Perth, Western Australia and Koggala Lake, Ceylon. Following their then-record 26-hour flight, passengers and mail were transferred from Koggala to Ratmalana to resume their journey to England by conventional landplanes.
The country's wartime rise to prominence as an aerial crossroads at the expense of Singapore is not without irony. Later, Colombo's centuries-old importance as a seaport was eroded when Singapore harbour became a by-product of one of the most dynamic economies in South-East Asia, if not the world.
Similarly, adverse political and other factors saw Colombo lose the strategic advantage it briefly enjoyed on global air routes that had proliferated in the postwar aviation boom. Today, renewed exploitation of Colombo's geographic potential as an air transport hub is a vital part of the business plan of SriLankan Airlines, the new incarnation of the former Air Lanka.
Now, back to the first plane to arrive in Ceylon. When the flimsy craft was unloaded at Colombo harbour on September 12, 1911, newspapers waxed enthusiastic over this new-fangled mode of transport. One journalist heralded "an epoch in the history of the island", proclaiming that "Ceylon is not going to lag behind in the attempt to conquer the air".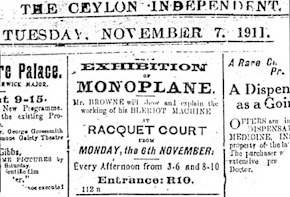 However, that conquest took time. First, Browne's aeroplane was exhibited at the Colombo Racquet Court during November. Throughout the display the Bleriot remained on the ground, although Browne regularly started the engine and revved it up to the delight of spectators.
Meanwhile, another aeroplane was brought to Ceylon by a German known only as Herr Oster. There soon ensued a race between Oster and Browne to become the first to fly in the skies above Ceylon. But, to qualify, both landing and take-off had to be controlled successfully. A discounted attempt resulted when Oster took off from the Colombo Racecourse, made a careful circuit, but lost control of the aircraft when descending to land. Clipping bamboo scaffolding at the Royal College building site, the plane plunged earthwards narrowly missing racehorse stables as it crashed. While its pilot recuperated from minor injuries, the airplane was repaired by a local wadu-baas (carpenter).
The identification of who actually made Ceylon's first successful aeroplane flight appears lost in the mists of time. There is evidence to suggest that Frenchman Marc Pourpe may have achieved that honour on December 10, 1911 (if correct, the date is significant: exactly 36 years later, the first national airline, Air Ceylon, made its inaugural flight from Ratmalana to Kankesanturai and Madras).
Over the next few years, aeroplanes remained the playthings of wealthy British planters, businessmen and the like. With no purpose-built airfields available, the racecourse and fairways of golf links were popular sites for aerial activity.
World War One vividly demonstrated the value of flying machines as vehicles of transport, communication and warfare. In the aftermath of the 1914-1918 war, Ceylon too recognised that aviation must be embraced if the country were to develop and progress.
As more Ceylonese became air-minded, it was decided to establish the country's first aerodrome on a site at Ratmalana. That plan reached fruition on November 27, 1935 when a de Havilland Puss Moth piloted by Mr. Harold Tyndale-Biscoe of the Madras Flying Club became the first plane to land at the new airfield.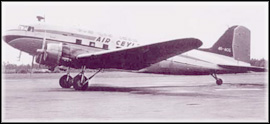 With the importation of more aeroplanes into the island, a civil aircraft register was instituted in 1936. Soon, the Aero Club of Ceylon was formed, catering to accredited and fledgling pilots alike. The Aero Club's Chief Flying Instructor was a former WW1 Flight Lieutenant, a popular Englishman named Robert Duncanson. Ceylonese women Daisy Croning and Janet Vairakiam also joined the growing band of private pilots.
Another milestone in Lankan aviation history occurred at Ratmalana on February 28, 1938 when a WACO biplane of India's Tata Airlines launched the Empire Air Mail service between Ceylon and the United Kingdom.
But before commercial aviation in Ceylon could proceed, a second world war provided an unhappy, inconvenient interruption. World War Two wrought death, destruction and human suffering on an unprecedented scale. Ceylon's "most dangerous moment" in the conflict came on Easter Sunday 1942, its events well documented here and abroad.
Of necessity, the war spurred rapid advances in aeronautical technology. It also provided the opportunity for many young Ceylonese men to take to the air. After serving the Royal Air Force (RAF) in overseas theatres of battle, they distinguished themselves in airline and airforce careers in Ceylon and elsewhere when the war ended.
Based in England, a Ceylonese woman also performed sterling service during the war. As a military pilot with the Air Transport Auxiliary, it was Aimee Jonklaas's job to single-handedly deliver new aircraft - Spitfire fighter planes one day, heavy Lancaster bombers the next - from factories to RAF squadrons all over Britain.
In 1947, with Independence for Ceylon around the corner, a national airline was mooted. Three war-surplus Douglas DC-3 Dakota aircraft were purchased for the new carrier, Air Ceylon. But even before the airline's first scheduled flight took place, its aircrew were accumulating valuable experience.
In its formative years Air Ceylon was a busy little outfit, despite a small fleet and limited route network. Charter flights went to Jeddah with Hajj pilgrims, to Burma with sacred Buddhist relics, and to Australia with a group of Ceylon Navy personnel. The latter flight, in 1948, very nearly ended in tragedy during bad weather over Singapore.
Misfortune struck Air Ceylon for the first time in December 1949. The DC-3 Sunethra Devi was destroyed in a landing accident at Trichinopoly, India but, fortunately, nobody was killed. Earlier in 1949, Air Ceylon spread its wings on scheduled international flights with a pair of Douglas DC-4 Skymasters, operated in collaboration with Australian National Airways (ANA). As international partners of Air Ceylon, ANA were later followed, successively, by KLM, BOAC, and French airline UTA.
Life aboard Air Ceylon had its lighter moments too. One day, during a flight to Jaffna, an elderly passenger asked Capt. Dion Bennett to turn off one of the Dakota's engines because the draught from the "fan" was making him cold!
Over the years, the Lankan carrier tentatively moved into the jet age, initially with Avro 748 and Nord 262 jet-props. Then, in 1969, Air Ceylon got its first, very own taste of pure-jet power when it bought a Hawker Siddeley Trident jetliner.
In the late 1970s, just when it seemed that Air Ceylon had shed the shackles of foreign influence, the airline appeared to be struggling. The government of the day dismissed Chairman "Paddy" Mendis, while the terrorist bombing of an Avro at Ratmalana didn't help matters either. Sadly, it all came to an end in 1979 as the nation's new carrier, Air Lanka, rose phoenix-like from the ashes of Air Ceylon.
In April 1998, Air Lanka was partially privatised, with Dubai-based airline Emirates taking over management rights and buying a 40 percent stake in the company. Earlier this year, Air Lanka's 20th anniversary celebrations were highlighted by a new image, logo, colour scheme and name: SriLankan Airlines.
Love it or hate it, SriLankan Airlines has the responsibility of ushering Sri Lankan commercial aviation into a new century, a new millennium and a new future. What that future holds, only time will tell.