When life was simple
As told to D.C. Ranatunga by M. J. Perera former Civil Servant and Permanent Secretary to the Education and Cultural Affairs Ministry
It was a simple and uncomplicated life for the villager in Sri Lanka in the early part of the 20th Century. Everyone had a bit of land, some more than others, with a couple of coconut trees and a house. Most people were self-sufficient in rice since they owned a few paddy-fields too. Those who did not have paddy land worked someone else's fields and shared the produce. They got half the yield as their share, under the ande system that prevailed then. I was born and bred in a village, a little away from Padukka. My father was fairly well-off but we grew up observing village traditions. Father himself worked a field close to our home and always encouraged us to join him. We followed him, sometimes reluctantly, carrying our own mammoties. During the harvesting season we spent the night at the kamatha, the threshing floor, singing, sivupada and helping the others in our own small way. Looking back I am happy we had such a grounding that made us appreciate our traditions and values.
Living in the village meant living with our culture...reciting folk songs, appreciating folk dances, watching the berakarayas beating the tom-toms. We rarely missed a thovil in the village. They were all-night affairs and for the most part, it was Budu Guna (virtues of the Buddha) that was sung. The temple was an important village centre. There would always be a pinkama on Poya day. The Vas season was special. A well-known monk from a distant place would be invited to preach and brought to a nearby temple, possibly in the adjoining village in procession.
The perahera was a colourful affair with dancers, drummers, boru kakul karayas and pinum karayas . Lee keli and what was known as low-country dances were the popular items included in the perahera. It was quite common to see a performance of episodes from a Kolam in the temple premises prior to the bana preaching. It was clean entertainment for the people.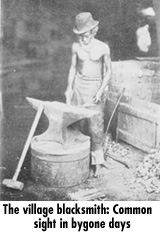 The village was self-supporting. Everything one needed was available within a one-mile radius. The blacksmith was in the kammala the whole day where the farmer could get his mammoty repaired or get a knife made.
The Veda Mahattaya was a highly respected person. I remember Aron Veda Mahhataya who was quite famous. There was the Dostara Mahattaya in Padukka (most probably he was a retired apothecary) whose assistance was sought if the Veda Mahattaya's medicine didn't work. The doctor always gave a 'mixture' (there were no pills or tablets then). It was only in case of a serious illness that the patient was brought to the hospital in Colombo.
Peace in the village was maintained by the Gammuladeni, the headman who was a government appointee. He could easily be identified because he wore a black coat with rattaran bottam (gold buttons). He knew exactly what was going on in the village and if a stranger was spotted, he was promptly stopped and questioned.
First letters
Schooling was no problem. There was the temple school where tiny-tots learnt their first letters, just as children do in montessoris today. I was just three when I was sent to the hodiya in the temple school. These were run by the Buddhist Theosophical Society (BTS) which Colonel Henry Steele Olcott founded in 1880. By six, I moved over to the Government School in Padukka town. This was in the 1920s. There were many missionary schools in the villages, even where there wasn't a single Christian. In some places there was resistance from the Buddhists and the schools were closed.
The town school was known as an Anglo-Vernacular school. A little English was also taught. These later became bilingual schools where both Sinhala and English were taught. Sinhala classes were held in the morning and English in the afternoon. Not many attended the English classes. Say, if two to three hundred came in the morning, not more than 50 were there in the afternoon. A small fee was charged for the English school. We had our own playground in the school premises. Later, the playground terraces were turned into agricultural plots where we grew vegetables. We were divided into groups and each maintained their own plot. We brought cow-dung from home and there was healthy competition among the groups. Learning agriculture was fun.
Education was thus not limited to the classroom. Even sanitation was taught. Police officers would come to school and teach us how law and order should be maintained. Thus we grew up in an atmosphere of good behaviour.
We were also encouraged to read the Sinhala classics and the Sandesa poems when we reached the higher classes. This helped us to appreciate the great works of literature written by our forefathers and realise what a rich literary tradition we had.
Though some of my brothers were going to Ananda College, my father decided I should go to Nalanda (I had a brother there too) which had been established just a few years earlier (1925). Those who came from the village were considered godayas because they thought we didn't know our English. I got the same treatment until my Cambridge Junior teacher, D T Devendra (he wore a smart white national dress to school) once called me up after a test and announced to the class that I had fared best in English. The boys never bullied me after that.
Village theatre
Folk theatre and dance forms existed in the village. Certain forms flourished in certain areas. The Kolam and the Rukada (puppet play), for example, were popular forms of entertainment in the coastal belt in the south around Ambalangoda and Hikkaduwa. Sokari was a form of dramatic entertainment in the up-country. Then there was the Nadagam that became popular in the coastal belt north of Colombo. Nadagam showed the Christian influence and was brought from South India. Christian stories would be related and religion was taught through these plays. Nurti was again an Indian import. While the Pothe Gura played a prominent role in the Nadagama threading the story through, the Nurti was divided into acts and scenes like European plays.
I remember when Dr Sarachchandra started collecting material for his book 'The Folk Drama of Ceylon', we were out together watching these traditional drama forms being enacted in the village.
It was a rewarding experience and it was so satisfying to find that these forms continue to exist in spite of modern forms of entertainment.
Theatre soon became very much a part of the national revival movement. Drama was used to instil a sense of patriotism among the people. Historical themes were selected for plays. Ancient kings figured prominently in these. Thus John de Silva's Sri Sangabo (1903), Sri Wickrema Rajasinghe (1906), Devanampiyatisaa (1914), Vihara Maha Devi (1916) and Dutugemunu were all based on well-known figures.
Tower Hall, built mainly to stage Sinhala plays, had been opened in 1910 with a play written by Charles Dias, son-in-law of its owner, G. D. Hendick Seneviratne. Titled Pandukabhaya it was also a historical story. Like John de Silva, Charles Dias too interspersed dialogues with songs based on Hindustan ragas. Among his better known plays were Sri Wickrema Rajasinghe, Othello, Kusa Jataka, Vidhura, Dharmasoka and Ratnavali.
The Nurti gradually declined giving place to a new type of social comedy and melodrama of which the best known are the Jayamanne plays presented by the Minerva Players. This was finally swamped by cinema.
Nationalist revival
Sinhala literature in the early part of the 20th Century was also tied up with the movement for cultural revival and social reform. Piyadasa Sirisena who could be called the father of the Sinhala novel, was a poet, novelist and journalist. He was a leader in the movement along with the best known social reformer of the day, the Anagarika Dharmapala. Through his newspaper Sinhala Jatiya, he was able to launch a crusade against the westernised upper classes who were forgetting their religion and culture and blindly aping the west.
Popular writer W.A. de Silva's works, influenced by English fiction writers, were more for entertainment and appealed to a wider audience. He led the readers into a world of romance and adventure.
Then there was Martin Wickremasinghe whose novels depicted the life and character of the people of this country. He wrote on life around him and his best works like Gamperaliya (1944) revolved round the village.
While the English newspapers catered mainly to the commercial sector, the early Sinhala newspapers were very much a part of the nationalist and Buddhist revival. The Buddhist Theosophical Society started its own newspaper Sarasavi Sandaresa which criticized the policies of the colonial regime and exposed misdeeds of government officials. The paper was edited by H.S. Perera (later the founding editor of the Dinamina - 1909) and its main contributor was the Anagarika Dharmapala, who started the Sinhala Baudhhaya in 1906. The influence of these newspapers is indicated by the fact that during the 1915 riots, both were banned by the colonial government.
These are just a few glimpses of the 'good old days'. Life was much more peaceful. Competition was much less. The 'rat race' was not on. Vast changes have taken place through the century. We await the 21st Century.
---
Village revolution-1944
He graduated after his children
S.K.Wickremasinghe on his father, literary legend Martin Wickremasinghe (1890-1976)
Moulding opinion was my father's primary aim, both as a journalist and as a writer. When I was small, we lived at Mount Lavinia and I remember him editing the 'Dinamina', working late into the night. Very often we were fast asleep by the time he came home. Lot of budding writers would visit him at home and he would patiently explain how they could improve their writing skills. When he found a skilful writer among those who contributed letters to the editor, he personally wrote to them, encouraging them.
Former President, Ranasinghe Premadasa was one of those who used to meet father at home. He was always a good conversationalist and had a wide circle of friends, Buddhist monks, artists and musicians. Novelist T. G. W. de Silva was a frequent visitor as were Dr. Ediriweera Sarachchandra and Sunil Shantha.
He wrote his first novel 'Leela' (1914) as a young man of 24. 'Ape Gama' (1940) was hailed as the first genuine attempt to discuss the village. To me his best work is 'Gamperaliya' (1944) and I remember how much time Lester James Peries and Anton Wickremasinghe had to spend getting his consent to make a film of the novel. He was not at all happy with the quality of Sinhala films and it was only because Lester had made 'Rekawa' which was different to other films, that he finally gave his consent.
His one love was writing, though he read a lot too. Even with failing eyesight he never stopped writing. 'Bava Tharanaya' which he wrote towards the end of his life became quite controversial. His last work 'Vyavahara Bhashawa Ha Parinama Dharmaya' was published after his death in 1976. All in all, he had over eighty works to his credit.
The Martin Wickremasinghe Trust located in his ancestral home in Koggala has published them as collected works. The Trust maintains the 'maha gedera' and has also set up a museum of folk culture in his memory.
His books have been published in English, Russian, Chinese, Bulgarian, Rumanian, Dutch and several Scandinavian languages and this is the greatest tribute to him. He also won prestigious awards like the Don Pedrick Prize ('Viragaya' - 1957) and the UNESCO Award for International Understanding ('Soviet Deshaye Negima' - 1964).
My father believed in self-study. He saw to it that all his children (three sons and three daughters) went to the university. After all of us graduated, my father did! (DCR)